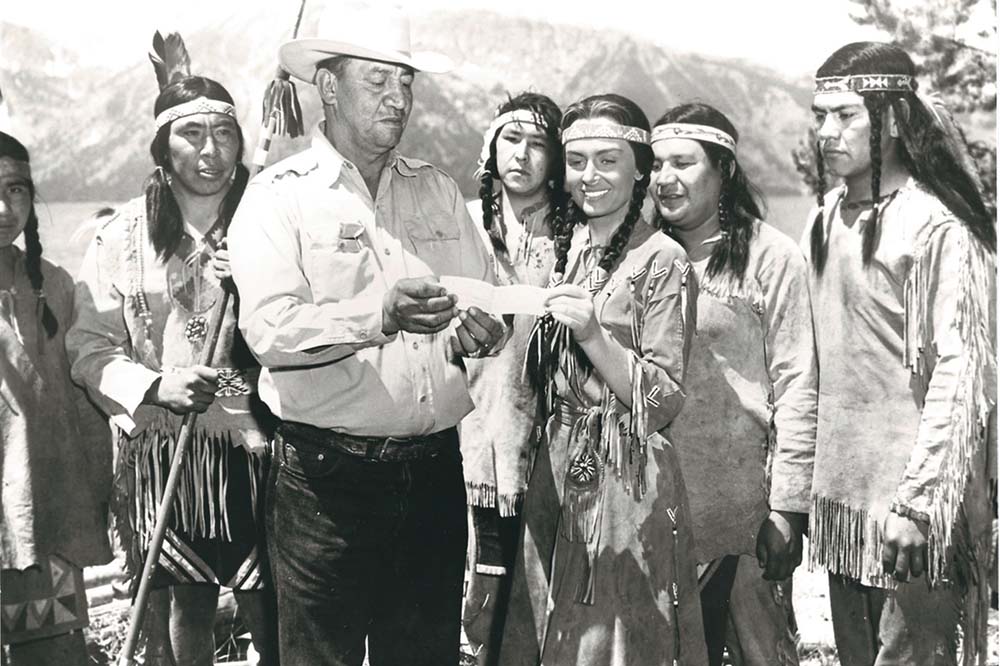 Details

By

Rob Capriccioso

Arts and Culture
Like the Joker wreaking havoc in the lives of the citizens of Gotham City, Warner Bros. seemed keen on creating chaos for the publication of a recent book on historical Native American representations in film.
But there was no Batman to come to the rescue of Liza Black, an assistant professor of history and Native American and Indigenous studies at Indiana University, who authored "Picturing Indians: Native Americans in Film, 1941-1960," which was published by University of Nebraska Press in fall 2020. (Full disclosure: Black was a professor who taught this reporter when she was previously with the University of Michigan.)
Black's 325-page academic tome provides a deep dive into the world of Native American representations in film during the glory days of the American western at a time when Indians were mostly presented in historical action-adventure dramas as a mean, wild race meant to be conquered.
"Native people are so often treated as sort of a resource extraction," Black told Tribal Business News. "Native peoples' resources have been extracted environmentally through the land, and this extraction continues through to show business and many elements of our society."
Movie studios, Black notes, liked to tell the same story over and again, presenting Indians as a menace that needed to lose to cowboys. It sold well with the American public; it created legendary actors like John Wayne and directors like John Ford. When Marlon Brando famously sent actor Sacheen Littlefeather, of White Mountain Apache and Yaqui descent, to decline his best actor Oscar for "The Godfather" in 1973, citing poor Indian representations in mainstream films, Wayne booed her from the audience — and maybe even wanted to fight her, according to some news accounts at the time. Actors, directors and studios certainly did not want to focus on this side of their lucrative show business careers.
Meanwhile, this wealthy system of poor representation helped set back the collective identity of American Indians as contemporary, living humans with complex stories of their own to this very day.
But in her research, Black found something notable and ironic. Through her exploration of volumes of studio records and publicity materials and the films themselves, she learned that Indians were sometimes treated well in these productions, some earned a decent wage, and some Indigenous participants actually enjoyed being in the movie business (while some had horrible experiences of inequitable treatment, too).
Film studios like Warner Bros. and Universal Studios would often take backstage, behind-the-scenes photos showing major stars including Rock Hudson, Charles Bronson, William Holden, Charlton Heston, Fred MacMurray, Lou Costello, Donna Reed, Lucille Ball and Desi Arnaz interacting with and seeming to enjoy being in the company of the very people they were depicting negatively in their films.
Much like Osage and other tribal citizens who are excited to be working in Martin Scorsese and Leonardo DiCaprio's "Killers of the Flower Moon," which is currently filming with the tribe's permission on and around tribal homelands, some Indians appreciated being in these historical movies. ("Who would have ever thought that Martin Scorsese and Leonardo DiCaprio would be at the Pawhuska Inlonshka (dance) on Saturday night?" Shannon Shaw Duty, editor of the Osage News, recently mused on Facebook. Shaw Duty previously noted that her husband is an extra on the film, which will reportedly chronicle the infamous killing of Osage citizens during a major oil boom in the 1920s. "Dang, Osages always doing big things," she said.)
Yes, Indian actors, were for the most part relegated to the background, as still happens to this day in many major productions (think HBO's "Westworld"), and were sometimes forced to color their bodies with brown paint to make themselves look more "authentic" in alignment with studio standards for what a real Indian should look like. But still, it was a living, and a better one than some of them could make on their reservations under a federal system that was trying to eliminate their tribes altogether.
'All for naught'
The fact that Black found positive examples of Indians who seemed to like working in the industry was one reason she became so frustrated when Warner Bros., at the eleventh hour of her book's production, pulled its permission for her to use several photos she had laboriously gathered. At the beginning of her hunt, she had been told by studio archivists that she wouldn't find anything of use or interest. Still, she kept finding gems. Many of them she presents on her own website, and she includes them in her scholarly presentations. Tribal Business News is reproducing a few with Black's permission.
"I don't understand why they don't want people to see these pictures," said Black, a citizen of the Cherokee Nation. "Because one of the points I'm making, which actually they could use to their benefit, is that the studios have been hiring Native people for a long time. They could deflect criticism, and say, 'Hey, we were actually going to reservations in the '40s and '50s, and we were hiring Indian people, and they were making money working in our movies.'"
"The movies were crap, but they were hiring Native people."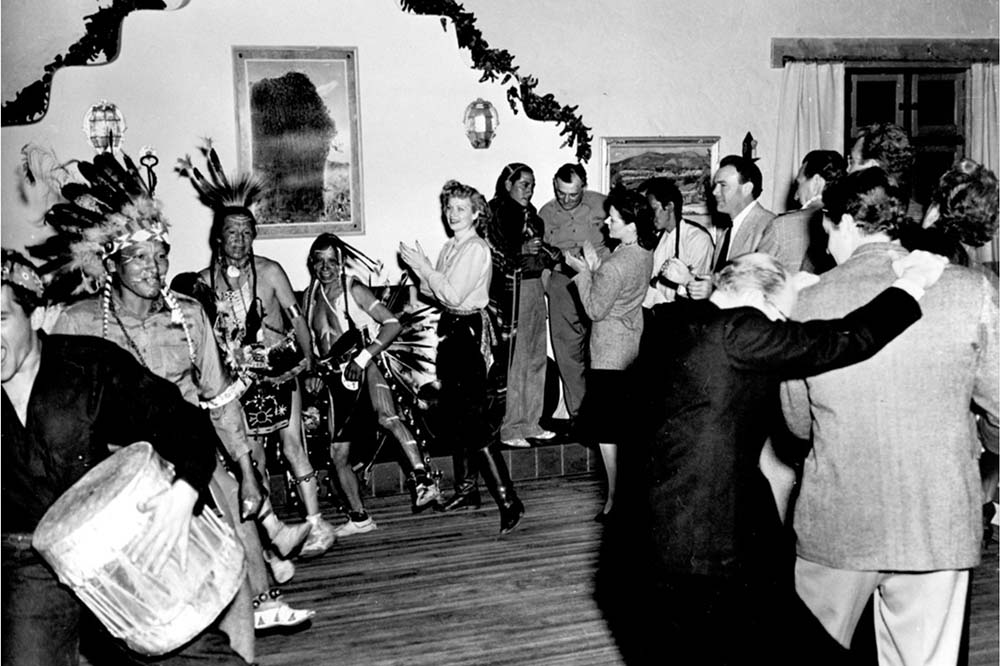 "Studios often used their photographers and publicists to create stories of play and friendship between Native film workers and non-Native actors," Black writes on her website. "Here we see unnamed Pueblo men dancing the conga with Desi Arnaz and Lucille Ball in Arizona." (Courtesy Liza Black)
"And there's a larger point: Why are these the property of Warner Bros.?" she asked of the photos. "And why did they go to the effort of sending studio photographers to take these photos and then never publish them, even at the time? Then these photos are housed in very expensive archives where researchers are allowed to look at them but not reproduce them? What is the point then?"
Some people have told her she shouldn't talk about what Warner did here, suggesting it might result in negative publicity or could be a "downer," but she said she is "thrilled" to talk about it, including in an October 2020 blog entry for her publisher titled, "From the Desk of Liza Black: The Book Warner Bros. Didn't Want me to Write."
"Harry Smith, a Mohawk man from the Six Nations Reserve graces the cover of my book, yet he and his family hold no legal title to that image," she wrote in her post. "They did not have to be consulted to use this image.
"Yet studios with massive assets hold license to thousands of archival photographs, and they refused to let me publish them in this book.
"I owned the photos, hired legal consultants to secure the licensing rights, even held a licensing agreement from the time when the book was under contract with another publisher, and my current publisher attempted negotiations with them as well.
"But all for naught. They gave permission by way of email, then followed that up with an email forbidding their reproduction in the book. In that way, the studios replicated the very same unequal treatment I document in the book."
Getting the runaround
Black's ownership of the photos is complicated by the fact that she originally obtained permission for some of them for her college thesis and dissertation in the late 1990s. Then, she was hired by Harvard University Press to write a book about this subject, and the studio regranted permission in the early 2000s for her to use up to 22 photos.
Because of familial circumstances, she took a hiatus from academia, and she ended up not being able to return to serious focus on the book until 2019, by which time Nebraska Press picked it up. She and her editor received new emails from Warner's licensing department that appeared to reup permission, but when it came time to put the permission in writing, the studio reneged.
"Warner Bros. was completely shady," Black said. "They never explained their reversal, and it's quite awkward to have two photos in a book about movies. I knew people would open a book about a visual medium and look for pictures and think, 'What?' I was devastated, gutted."
"I am not sure I can convey to you just how much correspondence has transpired between myself and various studio people about this," she added, looking through her files. "They have given me so much runaround, suggesting I talk to yet another person, or track down some obscure information. There is so much!"
The two photos that do appear within her book are of Rock Hudson, posing as an Indian named Young Bull while wearing a prosthetic nose in "Winchester '73" that had previously been worn by Boris Karloff. These came via consent from Universal Studios, whose permissions team were happy to share the rights, Black said. They even sent higher resolution pictures than she had originally obtained. The book's cover photo, of Native actor Harry Smith, came via the Everett Collection, an entertainment photo agency, and was not owned by a movie studio.
Questions remain
No one is certain why Warner didn't grant Black final permission. And the company isn't saying.
"Unfortunately, I am not able to make any comment," Julie Heath, vice president of Warner Bros. Clip & Still Licensing department, wrote in an email to Tribal Business News.
"It is hard to have any insight into why they revoked those permissions," said Matt Bokovoy, Black's editor. "Around the time we were confirming permissions, the Harvey Weinstein sexual abuse scandal broke, so it might have been a more organization-wide effort to blunt any negative publicity on the studio."
Bokovoy said that Black's original research into Hollywood studios' archives is so comprehensive and conclusive that the book "wipes away much of the previous scholarship on Native peoples working in Hollywood film."
"The response to Liza's book has been extremely positive, both in academic reviews and features in magazines like Ms. Magazine and other major media," he said. "It has sold way beyond the lifetime average for a scholarly book and looks to be a perennial seller and also for course adoption in (Native American and Indigenous studies)."
Sherry Hoesly, director The Permissions Group Inc., a copyright and permissions consulting company that unsuccessfully represented Black on this matter, is also perplexed.
"Permissions and rights managers often have approval levels they have to go through before they provide us with licenses," Hoesly said. "We are not always aware of these approval requirements, and have to respect the decisions made by the licensors we work with."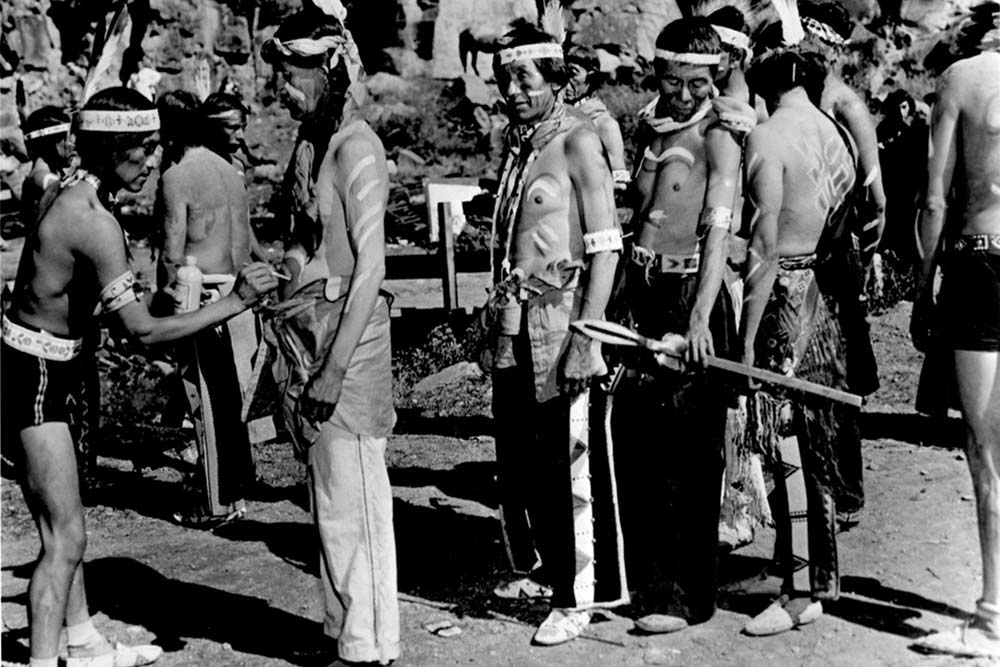 "Unnamed Pueblo men painting each other brown for their roles as extras in the film (Valley of the Sun)," writes Black on her website. "In spite of traveling all over the country to hire Native people for their films, studios painted them brown nonetheless." (Courtesy Liza Black)
Caroline Giordano, an intellectual property lawyer at Miller, Canfield, Paddock and Stone PLC in Ann Arbor, Mich., said the most important lesson for Black and other academics to take away from this situation is to always get an explicit licensing agreement, signed, not via email, for their exact use before deadlines become pressing.
"I understand it's very disappointing for her, and I have no idea what (Warner's) motivation may have been for doing that," she said. "It doesn't sound like what they did was unlawful. There could have been many reasons why it happened."
"It is an interesting case, and I'm sorry she didn't get to put those photographs in there because they are pretty interesting," Giordano added. "Hopefully she can go on, and with the next book, it will all be very clear up front."
Attention to Indigenous issues
Black is off to fight new battles. She announced in June that her tenure file has been submitted at Indiana University, and she will spend the next year as a visiting scholar at UCLA with the Institute of American Culture and the American Indian Studies Center.
And she's working on her second book. It's tentatively called "How to Get Away with Murder" and focuses on the transnational history of the missing and murdered Indigenous women crisis. In addition to the horrors involved in that situation, she's highlighting the love of the family members of the victims.
Her own theory for why Warner didn't want the photos to appear is rooted in the fact that today's culture is focusing much more intently on Indigenous and People of Color matters.
"These issues are becoming louder in mainstream media," she noted. "Maybe that's frightening to Warner Bros. — I don't know."
So Black will be her own Dark Knight. She says she'd love to curate an exhibition of the photos at a receptive place like the National Museum of the American Indian.
"Even better would be if a museum could feature the Native people whose images were used in those photos, or their descendents," she said. "I would love to edit or be involved with a collection like that."