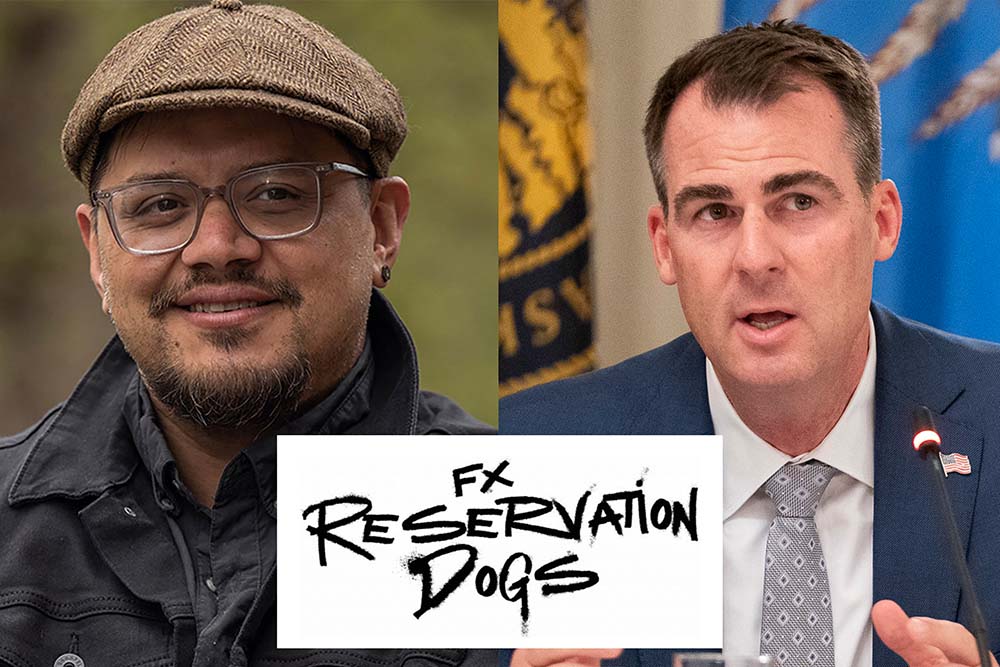 Details

By

Rob Capriccioso

Arts and Culture
As August rolled in this year, several buzzed about Indigenous-focused entertainment productions — at least three based in Oklahoma — were making major headlines. At the same time, the state's Republican Gov. Kevin Stitt was promoting business incentives he had recently signed into law in an attempt to increase the showbiz industry's presence in the Sooner State.
Under most circumstances, it would be a simple case of a savvy political move by an opportunistic politico trying to present himself in the best light given current fortunate events.
But Stitt's position here is one of hypocrisy related to tribal sovereignty, according to a number of tribal leaders and entertainment-focused American Indians from his state, some of whom have worked on the very productions the governor is latching onto.
They note that the governor has appeared to be basking in the glow of Sterlin Harjo and Taika Waititi's Reservation Dogs, filmed last year in Oklahoma, while at the same time fighting against Native American sovereignty both in real court and in the court of public opinion after Indian victories in the 2020 Supreme Court McGirt decision.
The high court's ruling, stemming from a case centered on criminal jurisdiction, found that much of eastern Oklahoma remains an Indian reservation because of treaties that had long been upended by the state and federal government. It has been widely celebrated by tribes as one component in a long-term battle to have their treaties honored and their lands restored.
Stitt, himself a citizen of the Cherokee Nation, is battling aspects of the ruling in various court cases, while trying to make it seem like tribes in the state are too weak to handle law and order issues, according to tribal leaders and lawyers in Oklahoma.
"It's just very hypocritical for the state to be challenging McGirt in the way that it is, in such an aggressive manner and try to maintain a public face that it is supportive of all of the amazing film and TV happening in Oklahoma right now because of our Indigenous nations," Mary Kathryn Nagle, an Indian affairs lawyer with Pipestem Law, told Tribal Business News. "It's not happening because of the hospitality of the Oklahoma governor or the state of Oklahoma."
"This is not just a morality issue, it's a business issue," added Nagle, who is a citizen of the Cherokee Nation and an accomplished playwright. "McGirt, as Creek Nation has repeatedly said, is good for business. The continued existence of tribal nations and their governments and their people is good for business."
A person familiar with the thinking of Sterlin Harjo, the Seminole and Muscogee creator of Reservation Dogs, says the filmmaker thinks Stitt is "full of shit" and "definitely a hypocrite ... riding the coattails of Native American strength."
That strength has only grown stronger especially on the Reservation Dogs front, with FX announcing on Sept. 2 that the critically-acclaimed show was renewed for a second season that's expected to air in 2022.
Harjo has not responded to requests for comment, which observers suspected could be because Reservation Dogs benefited from incentives to film in Oklahoma, and the situation could be complicated business-wise, especially given the season two renewal. However, the decision to film there was made because of Harjo's insistence that he wanted to make his project near his tribal homelands, as he does with most of his work — not to get any financial benefits from doing so, according to the person close to him. Harjo himself noted his affinity for filming near his home in a recent interview with Tribal Business News.
FX Networks spokesman John Solberg told Tribal Business News that the pilot for the series was shot in Oklahoma over a period of six days and then once picked up, season one was filmed in its entirety over another seven weeks. He said that the show is believed to be the first scripted series to shoot entirely in Oklahoma.
"The show offered a significant economic impact for the state of Oklahoma in a pretty short period of time," said Solberg, adding that he could not offer specific numbers because of company policy now that FX is owned by Disney. "And that was thanks to Sterlin and his desire to shoot there for authenticty's sake."
Basking in successes
Stitt's office has not responded to requests from Tribal Business News regarding the allegations of hypocrisy, but the governor did appear to take lots of credit on Aug. 3 during a ceremonial signing of the "Filmed in Oklahoma Act of 2021." On that day, less than a week before the premiere of Reservation Dogs on FX on Hulu, Stitt proclaimed it "film day" in Oklahoma. He grinned before photographers, issued press releases, and chatted happily with the local press. It was sort of like his very own red-carpet premiere, one observer said, noting that the Reservation Dogs premiere happened two days later in Los Angeles.
Just a couple of weeks before, a solemn-looking Stitt hastily left a state-sponsored tribal sovereignty forum in Tulsa after being jeered by many Natives who noted a lack of tribal representation on the panel at the meeting. Before the gathering, the governor had described as "unlawful" the Department of the Interior decisions relating to the McGirt case that gave tribes more authority. He also said the Supreme Court's ruling "does not apply outside of the limited context" of criminal jurisdiction.
Stitt has only ratcheted up his arguments against McGirt in the days since, and he continues to try to get federal lawmakers involved to weaken McGirt.
But on Aug. 3, surrounded by state officials, Stitt was all smiles, and state-sponsored photographs prove it.
"I am optimistic that the success of our thriving film and music industries will continue to flourish through this incentive program," Stitt said in a press release put out by the Oklahoma Film + Music Office, which runs the state's film incentive program under the Oklahoma Department of Commerce. "These rebates will attract productions that lead to a diversified workforce, high quality jobs and increased revenue for ancillary services. Film and music provide opportunities for Oklahomans, and I look forward to the continued expansion of these valuable industries."
The governor's press release highlighted Reservation Dogs, Killers of the Flower Moon and Wild Indian — as well as other projects created by and including Native Americans — as examples of current success stories under the state's various entertainment incentive programs.
Tava Maloy Sofsky, director of the Oklahoma Film + Music Office, also praised the governor therein: "With the support of our state and city leadership including Oklahoma Governor Kevin Stitt, we're incredibly honored to celebrate 'Film Day' in Oklahoma, recognizing the accomplishments of our dedicated local film workforce, infrastructure, educators and communities who've all played in an invaluable role in the success of the film, television and music industries in Oklahoma," she said in part in the press release.
The release continued to promote Stitt, saying that because he authorized the "Filmed in Oklahoma Act of 2021," he increased "the state's total film incentive cap and eligibility threshold to host major motion pictures and television series."
According to the release, the program offers a base rebate of up to 20 percent to qualified film and television productions working in Oklahoma, and it offers uplifts for filming in rural municipalities/counties, qualified soundstages, post-production/music services and television pilots/seasons. A $50,000 production budget, at minimum, is required for enterprises to qualify.
'The dissonance is strong'
Sofsky elaborated on the program in an email to Tribal Business News, saying the law "boosts our annual cap on our cash rebate program from $8M/annually to $30M/annually." She noted that the program's online portal opened on Aug. 10 and said applications are "pouring in."
"We're excited about the new and sustainable business and jobs this will bring to Oklahoma, coupled with our growing workforce and infrastructure including three new sound stages, expanding vendors and film friendly communities," Sofsky added.
Sofsky also said that with Oklahoma having 38 sovereign nations — and the first tribal film office, the Cherokee Nation Film Office — the state is "poised even more with our diverse workforce growing stronger more than ever before."
"We've also hosted our first TV series, Reservation Dogs, and the largest motion picture in our state's history, Killers of the Flower Moon, this year — again, Oklahoma's talent both in front and behind the cameras are being trained, discovered, and elevating Oklahoma's presence as a film hub in the U.S.," Sofsky said.
When Sofsky was asked whether she personally feels that the governor has been hypocritical in using Indigenous entertainment success stories to promote Oklahoma as an entertainment destination, she did not respond.
Tribal leaders, meanwhile, have plenty of thoughts.
"The dissonance is strong in some of these folks," Ben Barnes, chief of the Shawnee Nation, told Tribal Business News.
"The governor would love to take credit for these film initiatives, but he's got nothing to do with it. Even some of the city fathers over at Pawhuska would like to try and claim credit, and some of those folks are the descendants of the people that did the terrible stuff in Osage Country," Barnes said.
(Killers of the Flower Moon, currently being filmed by Martin Scorsese and Leonardo DiCaprio, is set to detail that story next year with many Natives represented in the film.)
Cherokee Nation Principal Chief Chuck Hoskin Jr. also weighed in, telling Tribal Business News that progress in developing the film industry is happening "despite that Gov. Stitt has been the most anti-Indian and anti-tribal sovereignty governor in generations."
"We cannot, and will not, allow the governor's efforts to undermine tribes, undermine the coalition of state, tribal and industry leaders who are committed to growing films and TV production in this state," Hoskin said.
Hoskin added that the Cherokee Nation remains committed to developing the film and TV industry across its reservation and throughout the region.
"This effort, led by the Cherokee Nation Film Office, helps create opportunities for Native films, more Native actors and actresses on screen and shooting on location throughout the Cherokee Nation Reservation," he said. "The tribe also has 330 citizens of federally recognized tribes in the Cherokee Nation Film Office Native talent database, which has been used to cast Natives in major motion pictures and television series as well as commercials and PSAs."
'Humanizing force'
Despite Stitt's opposition, tribal leaders in the state make clear they are not against working with state officials to improve show business initiatives in the region.
As an example, Hoskin said that the Cherokee Nation collaborated with state legislators to pass the law that Stitt is taking credit for that is aimed at increasing film production.
"We count on many state leaders as great partners to develop the film and TV industry in Oklahoma, including statewide leaders like Lt. Gov. Matt Pinnell," Hoskin said.
That Lt. Gov. Pinnell is favored by some tribes over Gov. Stitt on this front is clear. Like Hoskin, Chief Barnes pointed to Pinnell as a better advocate.
"Lt. Gov. Matt Pinnell … has recognized the value of Oklahoma tourism with the film industry being a component of that," Barnes said. "The lieutenant governor has managed the tightrope of navigating the animosity between Gov. Stitt and the tribes."
Nagle — who hasn't done any production work in Oklahoma, but who is working on a yet-to-be-announced TV project — believes that Stitt may be thinking about corporate donations and playing to prejudiced public sentiments about Indians in his continued battle against McGirt.
She does not expect simply because Stitt is a Native citizen that he will understand the hypocrisy of his words and actions.
"Just like there are citizens of the United States who understand what it means to be a citizen of this great country, we have some American citizens who don't understand that, who take it for granted, who are prejudiced and who make their decisions based on ignorance and not reality," Nagle said.
"We have a lot of education concerning some folks like Gov. Stitt who don't understand sovereignty, who have no comprehension of what tribal sovereignty is, why it exists, why our ancestors fought and died for it," she added. "Unfortunately, he needs a lot of education."
However, a show like Reservation Dogs could help, Nagle said.
"The stereotypical barriers are being broken down," she said. "It offers a window to humanize Natives and help people to see tribal nations as legitimate nations. It's a humanizing force."
--
EDITOR'S NOTE: This story has been updated to note that the crew behind Reservation Dogs shot the series in Oklahoma over a period of seven weeks.