PHOENIX, Ariz. — Indian Country Today, a digital platform providing daily news on Indigenous communities, has a new owner: a newly incorporated nonprofit based in Arizona.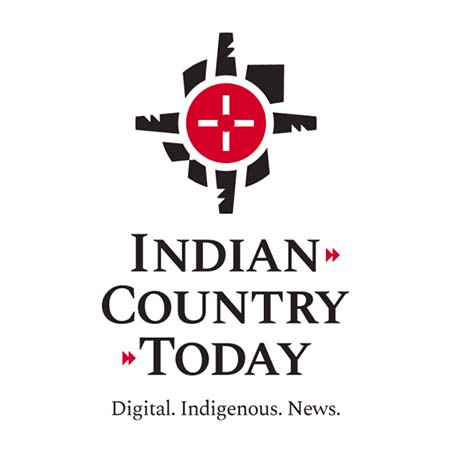 The news platform has been on-again, off-again under various ownership for the last 40 years since its founding as The Lakota Times. In 2017, the struggling business was donated to the National Congress on American Indians (NCAI) by the Oneida Nation. Last week, NCAI transferred its ownership to a new nonprofit corporation called IndiJ Public Media, which was started by the publication's current executives.
Under NCAI's ownership, Indian Country Today operated as an independent limited liability company, and will now transition to operate as an independent company.
IndiJ (pronounced in-didge), named from a combination of the words "Indigenous" and "journalism," was formed in November 2020 and is awaiting approval of its nonprofit status from the IRS, according to a statement from NCAI.
Karen Lincoln Michel (Ho-Chunk), the president of Indian Country Today, will run IndiJ.
Indian Country Today hosts a daily digital platform that covers news about Indigenous communities throughout the Americas. Additionally, since 2019, the company's broadcasts have been carried via public television stations including FNX: First Nations Experience and Arizona PBS, according to its website.
"This is a new day for ICT, which has a long history as a premier source of news for and about Indigenous communities, written and produced by Indigenous journalists," Lincoln Michel, president and CEO of IndiJ Public Media, said in a statement. "As IndiJ Public Media's name implies, our focus remains on Indigenous journalism while emphasizing our expansion into broadcasting."
Mark Trahant (Shoshone-Bannock) will continue in his position as editor of Indian Country Today. In 2017, NCAI tapped Trahant to restart the editorial operations, which had gone on hiatus after suffering a large financial loss, according to an interview at the time with the outlet's former publisher.
The most recent ownership shift has been in the works for the past 18 months, Trahant said.
"We have been growing so fast from three employees just four years (ago) to more than 20 today," Trahant told Tribal Business News. "Our broadcast continues to add public stations and our digital presence continues to grow. As we secure resources, I'd like to see us double the number of jobs."
NCAI Vice President Aaron Payment, who also serves as chairperson of the Sault Ste. Marie Tribe of Chippewa Indians, told Tribal Business News that NCAI received the baton from Oneida Nation three years ago to serve an interim role until Indian Country Today could transition to a contemporary and financially independent news source, and "that day is today."
"There are several emerging Native news sources owned and operated by American Indians. With exciting federal Indian policy changes on the horizon, including evolving federal consultation, delivery of nearly $31 billion to tribal nations in the American Rescue Act, tribal pandemic resiliency stories stories and an impending Infrastructure Bill likely to dwarf the 2009 American Recovery and Reinvestment Act, there exists an abundance of exciting news on the horizon," Payment said. "That we have Native news sources to carry these stories is gratifying."
Native American Journalists Association's executive director Rebecca Landsberry-Baker (Muscogee Creek) said that she was encouraged by Indian Country Today seeking independent nonprofit status.
"Taking these steps means that ICT will have greater editorial independence, which will always be a benefit to audiences reading and watching across Indian Country," Landsberry-Baker told Tribal Business News. "I wish the amazing team there all the best in this new, bright chapter of their history and look forward to their expanded scope of coverage."
Want more news about the $130 billion tribal economy?
Tribal Business News publishes thoroughly reported and well-crafted stories about Native businesses and entrepreneurs, growth and expansion strategies, best practices, economic data, government policy and other relevant business news. Tribal Business News is required reading for tribal council members and leaders of Native businesses, as well as state and federal legislators, policymakers, economic developers, entrepreneurs, bankers, lawyers and anyone interested in doing business in Indian Country.
Sign up for our free newsletter to track Native business and the tribal economy. Or sign up for a premium digital subscription ($99/year or $10/month— cancel anytime) to gain full 24/7/365 access to our business news reporting. Megwetch.