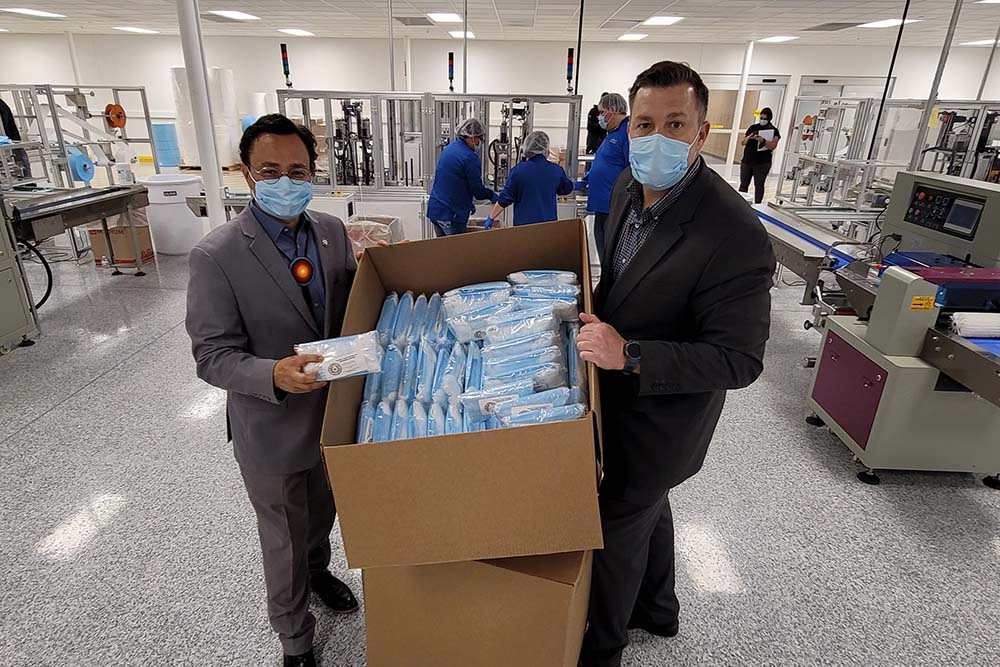 Details

By

Jenna Kunze

Economic Development
TAHLEQUAH, Okla. — After two months of manufacturing face masks in facilities built with federal COVID-19 relief dollars, the Cherokee Nation plans to ship between 50,000 to 100,000 of the personal protection equipment to India next week.
"Since we're producing our own, we thought this would be a great use to try and tend to India," Todd Enlow, chief of staff for the Cherokee Nation, told Tribal Business News. "Our heart goes out to India and the toll it's taken on their country."
India continues to break records as a second wave of coronavirus surges through the country. On Wednesday, the World Health Organization said India accounted for half of the reported cases globally last week, averaging about 300,000 cases per day for 21 consecutive days.
In sending critical equipment to India, the Cherokee Nation will join the U.S. government, which has delivered supplies worth more than $100 million.
Additionally, the Navajo Nation sent 1,400 handmade cloth masks to "help brothers and sisters on the other side of the world," President Jonathan Nez told Tribal Business News.
The Cherokee Nation began manufacturing its own personal protective equipment in March 2021 based on growing needs in the U.S. Using a portion of its $38 million in federal CARES Act funding, the tribe purchased 10 mask-making machines and installed them at two factories in Oklahoma.
The tribe's two new plants — a 27,000-square-foot facility in Stilwell, Okla. that formerly housed a Walmart retail store, and a smaller 6,000-square-foot facility the Cherokee Nation constructed 30 minutes away in Hulbert, Okla. — currently produce three-ply masks and N95 masks. As of Thursday, Enlow said the plant is making about 14,000 three-ply masks a day. Once the tribe gets the N95 machines online this week, that number will increase by about 60,000.
The masks are not yet Food and Drug Administration (FDA) certified — meaning they can't be used in clinical spaces — but the products are currently being distributed to Cherokee Nation residents as basic personal protection equipment. Enlow said the tribe will seek FDA approval once it gets all of its 10 mask-making machines online and streamlines production in the coming weeks.
The nation is working with the U.S. Commerce Department to coordinate exporting the masks to India.
"We've actually got them boxed up and ready to go, we just want to make sure we get it done correctly," Enlow said.
Moving forward, the tribe is in discussions with hospitals and a distribution company about selling its masks once they receive FDA certification. Enlow said revenue from the plants is directly tied to mask mandates over the next few years.
On Thursday, the Centers for Disease Control and Prevention reversed course and announced for the first time that fully vaccinated individuals do not need to wear a mask outdoors or in most indoor settings.
Enlow said the tribe anticipates remaining competitive in the market despite loosened mask restrictions.
"We knew that … there would come a day that demand would not be as high, but our focus would be on trying to generate the masks inside the United States and providing that not only to our health care system but also those inside the United States that would be interested in buying it local," he said. "Six months from now, a year from now, the clinical operations and hospitals will still have demand for it, regardless of a pandemic or not."
Want more news about the $130 billion tribal economy?
Tribal Business News publishes thoroughly reported and well-crafted stories about Native businesses and entrepreneurs, growth and expansion strategies, best practices, economic data, government policy and other relevant business news. Tribal Business News is required reading for tribal council members and leaders of Native businesses, as well as state and federal legislators, policymakers, economic developers, entrepreneurs, bankers, lawyers and anyone interested in doing business in Indian Country.
Sign up for our free newsletter to track Native business and the tribal economy. Or sign up for a premium digital subscription ($99/year or $10/month— cancel anytime) to gain full 24/7/365 access to our business news reporting. Megwetch.