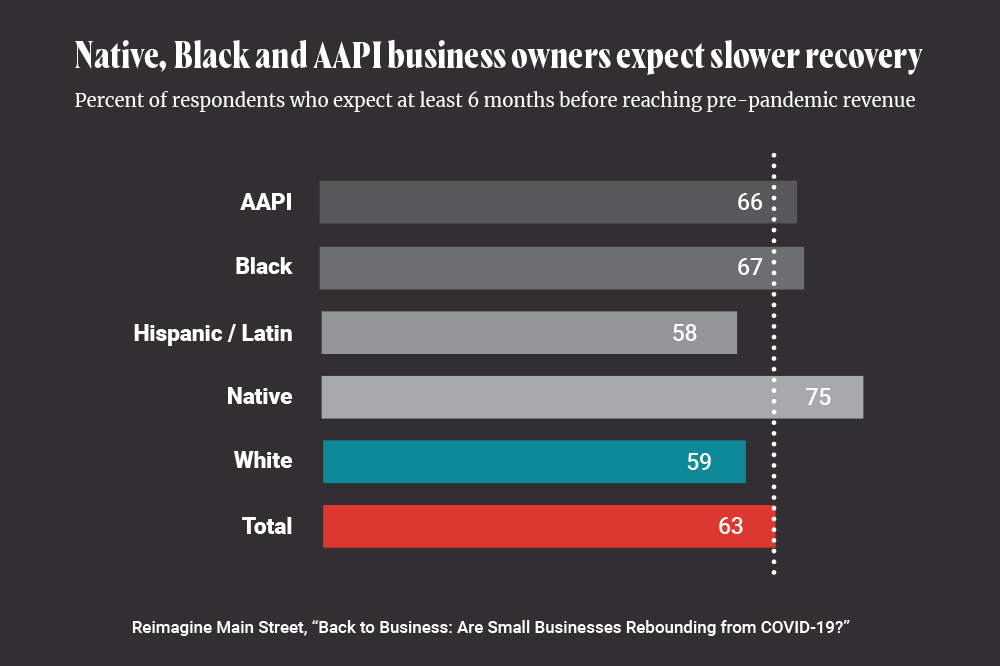 Details

Economic Development
WASHINGTON — A new poll that includes Native American small business owners finds larger amounts of pessimism among them compared to other entrepreneurs regarding post-pandemic recovery.
The survey, released May 25 by the Washington, D.C.-based research firm Public Private Strategies LLC, queried a variety of business owners about their feelings on a number of economic issues related to the period after the pandemic. It surveyed 49 Native American small business owners out of a total sample size of 1,341 participants who were also White, Black, Hispanic and Asian. It took place from April 28 to May 12, 2021.
Tammy Helevy, co-lead of the "Reimagine Main Street" campaign with the firm, said they partially relied on Clara Pratte, the former tribal engagement director for the Biden transition team, to identify Indigenous business owners to participate in the survey.
Now the CEO of the New Mexico-based Strongbow Strategies LLC, Pratte has also facilitated past surveys from the firm focused on small business owners and issues related to COVID-19. The Albuquerque, N.M.-based Native Women Lead organization and a couple of community development financial institutions (CDFIs) also assisted, Helevy said.
"On pretty much every dimension, the segment of Native business owners is less optimistic and expects a longer time to recover," Helevy told Tribal Business News. "They are generally struggling more. They have been hit very hard and have a larger hole to dig out of."
The poll found that far fewer Natives (53 percent) were optimistic about the future of their businesses compared to Hispanics (87 percent), African Americans (83 percent), Asians (72 percent) and Whites (70 percent).
Fifty-eight percent of Natives agreed with the sentiment that seeing the availability and access to vaccines made them more confident about their businesses recovery. Blacks (82 percent), Hispanics (78 percent), Asians (76 percent), and Whites (75 percent) all expressed more confidence on that front.
While Black business owners were most confident about the trajectory of the economy at 70 percent, Natives were least confident at 46 percent.
Blacks at 62 percent and Natives at 52 percent were most likely to report that their businesses were treated unfairly because of issues related to race or ethnicity.
Native business owners (75 percent) were most likely of all the polled parties to expect that it will take at least six months before their businesses reach pre-pandemic revenue. Blacks stood at 67 percent, Asians at 66 percent, Whites at 59 percent and Hispanics at 58 percent.
Independent of race, there was generally a low confidence in the ability to access capital among small business owners with less than $250,000 in annual revenue.
Chris James, president and CEO of the National Center for American Indian Enterprise Development, said upon reviewing the survey's findings that one of the reasons he senses there is Native apprehension is that tribes and Indigenous people in general "aren't necessarily aware of the resources available to them."
"[K]eep in mind the $20 billion allocated to tribes through the American Rescue Plan Act was just signed into law two months ago," James said. "We are spreading the word, including promotion for the Paycheck Protection Program and partnering with the Small Business Administration (SBA) to make Native restaurateurs aware of SBA's Restaurant Revitalization Fund, but we must all do our part to spread the word and connect tribes and businesses to helpful resources."
"I am confident this funding will reach the people and businesses who need it most — we just need to make sure it happens as quickly as possible before those who have struggled for the last 15 months lose any more hope," James added.
Matthew Gregg, a senior economist focused on community development and engagement with the Federal Reserve Bank of Minneapolis in Minnesota, said via email that one reason for negative Native attitudes expressed in the poll "could be the disproportionate share of Native-run businesses in sectors that were most affected by the pandemic (i.e, face-to-face industries like the entertainment sector)."
"For example, we also recently surveyed a group of tribal enterprises, tribal government and tribal organizations, some of which were Native-owned businesses, in March 2021, and the survey results show a large and persistent decline in revenues since the start of the pandemic," Gregg said, noting that his team's research also found a large share of respondents expected revenue to continue to decline over the next six months.
Despite the potential for federal funding to aid struggling Indian business owners, Gregg said that their past experiences of possibly failing to access monies offered under the Trump administration may be causing them to express concerns now.
"There may be a disconnect among Native business owners since meeting the eligibility criteria of receiving recent pandemic-related relief money such as the Payment Protection Program and Economic Injury Disaster Loan funding was difficult," Gregg said. "For example, we found that a small number of businesses (roughly one-third in our survey) had pre-existing relationships with lenders and to benefit from PPP loans, a business needed access to a lending institution."
For her part, Helevy said that Public Private Strategies is going to keep researching a variety of pandemic-related issues, and it will continue to work hard to include Indigenous perspectives. She wants more American Indian participants in future polls.
"We need to lift up Native voices and include more of them in subsequent surveys," she said.
Want more news about the $130 billion tribal economy?
Tribal Business News publishes thoroughly reported and well-crafted stories about Native businesses and entrepreneurs, growth and expansion strategies, best practices, economic data, government policy and other relevant business news. Tribal Business News is required reading for tribal council members and leaders of Native businesses, as well as state and federal legislators, policymakers, economic developers, entrepreneurs, bankers, lawyers and anyone interested in doing business in Indian Country.
Sign up for our free newsletter to track Native business and the tribal economy. Or sign up for a discounted subscription ($99/year — use coupon code "TBN21") to gain full 24/7/365 access to our business news reporting. Megwetch.