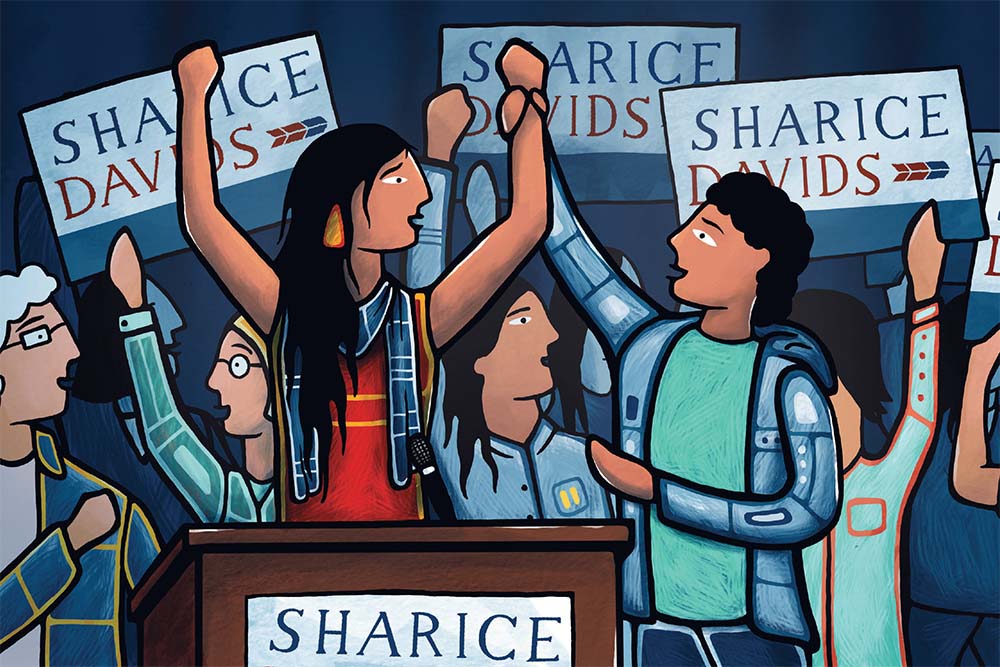 Details

By

Rob Capriccioso

Economic Development
U.S. Rep. Sharice Davids (D-Kansas) had convictions from an early age. Among them, she would not allow onions on her pizza, she liked to talk a lot (even when it got her into trouble), and she held an intense appreciation for mixed martial arts and Bruce Lee.
Those could be the most memorable stances that a 5-year-old might identify with in "Sharice's Big Voice: A Native Kid Becomes a Congresswoman," Davids' new autobiographical picture book aimed at elementary school-aged kids. (Pizza-loving children might like to know, too, that she shared with Tribal Business News that she also doesn't like anchovies, but she is a fan of Italian sausage.)
Slightly older readers could also learn more about what it took for the two-term Democratic U.S. Representative to become one of the first of two Native American women elected to serve in the U.S. Congress. Her historic victory in 2018 — alongside former U.S. Rep. Deb Haaland (D-N.M.), who now serves in President Joe Biden's cabinet as Secretary of the Department of the Interior — and some of the nuts and bolts of what it took for Davids to get there is served up in a smart, yet child-friendly manner.
Throughout 40 beautifully-illustrated pages by Anishinaabe First Nations artist Joshua Mangeshig Pawis-Steckley, Davids talks personally and candidly about her life's path, including her military mom's deep inspiration, the progression of her listening skills, and what it felt like to be singled out as a child — and how being made to feel different actually played a major role in helping her connect with others.
Displacement, forced assimilation, and a "warrior tradition" are all part of the story of Davids' Ho-Chunk Nation. It's an impressive feat that she gets those points across without fear of losing her target audience in the brief narrative of her June 1 HarperCollins release. In fact, she hopes that these realities being part of her autobiography could actually serve to inspire both Indian youths who see a part of themselves in her, as well as non-Indian children and adults who want to learn more about American Indians.
That Davids is already a leading legislator on economic issues — she is chair of the House Small Business Subcommittee on Economic Growth, Tax, and Capital Access and vice-chair of the House Committee on Transportation and Infrastructure — was perhaps too much for her to get into in her first book for children. However, she does explain that she didn't really enjoy being a finance lawyer ("it didn't feel like my path"), but she did like using her legal skills by helping Natives start small businesses ("my life is better for it") before deciding to run for Congress.
In an interview with Tribal Business News by phone from her office in Kansas, Davids shared more about the book, her legislative progress and congressional connections, and some nitty-gritty tribal economic development details.
Thank you for sharing your big voice with Tribal Business News, Representative Davids. Tell our readers how you came up with the idea for doing this children's book.
I had the idea shortly after getting in. There was the idea of, 'Let's tell the story of getting to Congress,' but also the story of how all the different things that I experienced growing up helped me find my big voice. When kids look at adults, they often think we have all the answers, or maybe they look at someone in my position and assume that I had all the answers when I was little, or that I was the valedictorian, or that I never made any mistakes. Of course, that wasn't my path at all.
And then the fact that only 1 percent of children's books have any Native representation in them at all, I just found that so stark. So that gave me a little more drive on nights and weekends to try to work on this, because we definitely need to see more Native voices in all aspects of our society. This is one of those ways that we can do that.
My kids loved your story — you had a couple of 5-year-old twins giggling about your distaste for onions on pizza, asking lots of questions — and the illustrations are so powerful. What's your favorite part of how the book evolved?
One of my favorite things was that my mom had an interesting role in all of this. She's in the book, but she also helped with the creation of the book. There are tons of stories that we could share, and my mom played a big role in helping figure out some of the good stories to share with folks. As the adult raising me, watching me grow into the person that I am now, it was interesting to hear her thoughts and how it was both the same and different from the way I remembered things or perceived it at the time. Those conversations with my mom and then watching her read the book for the first time, those are some of the coolest experiences I had.
How do you hope your book will resonate with Native American kids and adults? What about with non-Indian kids?
It's pretty amazing to be a part of a time in history where we're starting to see more and more stories being told by Native people. I think that that's very important for children and adults alike. When it comes to the hopes I have for impact, I think about how many of us know what it feels like to feel small or to feel invisible or to feel not heard. I didn't realize that that was what was happening to me as a kid, but for sure that's what happened. I think seeing other people talking about those kinds of stories can help.
For Native kids, there's a couple of specific stories in there. I was pretty intentional about including the story of me coming home one day and asking my mom, 'What am I?' and her wondering why I was asking it, and two, the fact that she was able to say that that isn't actually a very nice question for people to ask you. It can help you see that it's totally OK for you to not feel very good about it. The fact that I got to share a bit about being Ho-Chunk, about being the people of the big voice, of the sacred voice, that's all really important, too — not because every kid who reads this is Ho-Chunk, but hopefully kids, especially Native kids, will see that it's an important piece of who I am, and it's an important piece of who they are. There is also a part at the back of the book where we get to hear from Jon Greendeer, the former president of the Ho-Chunk Nation, where he shares information about the tribe's history and traditions and people. I hope both Native and non-Native readers spend some time with that.
You're serving in Congress at quite a perilous time, to say the least. Were you in any danger on January 6?
I was in my office, so I wasn't on the House floor. I think that one of the things that can be so impactful about what happened on the 6th — we all only know the outcomes of things in hindsight. And I can't speak for everybody, but for all the people who were in the Capitol — whether we're talking about legislators, people who are part of our teams, all the folks who work in different parts of the Capitol, from the foodservice areas to the police to the clerks to the post office workers — I think in some ways, everybody was in danger on that day. And nobody knew until everything subsided how it was all going to turn out.
Has the pandemic affected you in any personal ways?
One thing that I have talked about, especially in the early part of the pandemic, was the way that all our lives changed. Some people worked from home, some people lost their jobs, some people were essential workers, frontline workers, and they were still going to work every single day with a public health crisis going on. I try to keep that all in perspective. My mom worked for the post office. She literally just retired a couple of weeks ago, so I had a lot of anxiety about her going to work every day. I also had a couple of family members who got COVID and one who ended up in the ICU, but everybody in my family is at this point safe. It has just been such a hard year for so many people, and Indian Country obviously felt the impact. It exacerbated some of the issues that many of us know hit Indian Country disproportionately.
You've worked in Indian community economic development at Pine Ridge, which you noted in the book, and you have opened your own business. How do your personal experiences inform your economic work in Congress?
One is just recognizing the inherent federal tie when Indian Country is part of any legislation or program. The tribal-federal government-to-government relationship is really important, and it's something that not a ton of people have a really deep understanding of. Tribal sovereignty is another area where, because of the kind of work I did previously, I just have a deeper understanding of it than a lot of other folks might.
I am in the very fortunate position of being able to talk to other members of Congress as a peer about issues that impact all kinds of things happening in Indian Country when it comes to economic development. Because of the type of work that I did previously — financing, community and economic development with Native communities — I just probably have a more broad, deep understanding of those things, and I get the chance to share that with other members. It also helps in my conversations with tribal leaders and tribal advocates and folks who are doing business in Indian Country so that we can get to the substance of what's going on a little more easily. I can't speak for other members, but I do know that we're able to get into some much more in-depth conversations because I have a background in economic development in Indian Country.
What are the most important Native-focused economic issues that have your attention right now?
One thing that tends to happen is folks on the outside looking in often think of Native issues as solely being in the area of the Natural Resources Committee in the House, but certainly, pretty much every domestic issue touches Indian Country in one way or another. … First, I'll tell you a little bit about what happened when we passed the Paycheck Protection Program and started to get that up and going in the earlier part of the pandemic. Inadvertently, tribal organizations were not included, and that was not the intent of Congress when we passed the program. But, within the Department of Treasury and SBA, there were a lot of hiccups in getting that program going. I ended up having to lead a bipartisan, bicameral group of folks to push Treasury and the SBA to make sure that tribal organizations were able to get access to the Paycheck Protection Program. That was an example of a time where it really mattered that we had people who have an understanding of Indian Country in Congress and in the Senate.
A continued focus for me is being sure tribes and tribal entities have access to programs. And going forward, we are having all sorts of great conversations about access to capital, about making sure tribal entities are able to make use of federal procurement, whether we're talking about the 8(a) program or programs at the Department of Transportation. When it comes to the work that I'm doing on the Transportation and Infrastructure Committee, if you want to talk about ways we can get economic development going, of course investments in infrastructure are going to be a part of that.
Do you think a lot more infrastructure money needs to be going to Indian Country?
Yes. I think that when it comes to the infrastructure needs of Indian Country, there has been a long-term underinvestment. The tribal roads program, USDA programs, HUD programs — we need to make sure these programs all have the resources necessary. A lot of times, the tribal programs end up being oversubscribed, so we absolutely have to be increasing the amount of investment.
If we're going to really make sure that tribal governments and tribal organizations and Native entrepreneurs are going to be able to come out of the other side of this pandemic in a way that ensures that they're going to thrive, we've got to make sure that the infrastructure piece is there. That's roads and making sure that transit is covered for Native communities that use it, or pedestrian and other forms of intermodal transportation, that those investments are there. Making sure that tribal governments are able to access program dollars, different types of grant programs — I've been talking to tribal leaders and grants experts about that. And of course broadband. It's a huge issue that we have to make sure we address.
You talked earlier about peer relationships that you've been able to form with members of Congress. You had Deb Haaland recently leave the House to become the Interior Secretary. Do you miss having her as a friend and voice in Congress?
After she got nominated and then confirmed, but before she got sworn in, I remember telling my mom, 'This feels so bittersweet.' Because I got to be part of the collective joy that so many people across the country felt when she got confirmed, when she was doing the hearings and all of that. But on the personal level, we used to walk to work together. We would hang out after votes. We spent a lot of time together. Because of the different types of schedules we have now, that doesn't happen as often. I would have it no other way; she is such a phenomenal leader, and I'm so glad that she's leading at Interior. Now I just have to be a lot more intentional about making sure that we get to see each other.
Speaking about another colleague of yours, I'm wondering about your relationship with Speaker Nancy Pelosi. Does she ever ask for your input on Indian issues?
She and so many of the people, not just in the leadership ranks of the Democratic caucus, do reach out. And it doesn't seem to happen in a way that's pigeonholing. A number of colleagues have reached out to ask me about even how to approach certain issues, or they have a quick question that our teams could work on. Yes, I have had a lot of folks reach out and just ask for my thoughts and opinions on moving forward. It's been encouraging.
The $20 billion in American Rescue Plan funding to tribes: How well is that money going to filter down to the average American Indian citizen?
It's a great question. One of the big issues that we saw both with the CARES Act and then with the American Rescue Plan was just trying to make sure that we have real dollars going to tribes and to Indian Country. I think that the approach with the American Rescue Plan and its funding and relief for tribal communities involved a lot of conversation and consultation between the administration and various tribal governments. My role as a member of Congress is to make sure the administration and the Congress are really listening to tribal leaders and tribal communities. I also want to make sure that the federal government isn't infringing on or overstepping in a way that might impact a tribe's sovereignty to be able to make the decisions that the tribe needs to make around how to best take care of itself. I always keep in mind the historical context of the relationship between tribal governments and the federal government. I want to have policies in place where we don't just acknowledge tribal self-determination, but also practice it.
You mentioned in the book that being a lawyer wasn't your favorite job. Were you focusing on M&A?
Yes, and finance, which is actually when I got the chance to start doing tribal government deals involving financing. That helped me learn a lot about tribal sovereignty through the economic development work that I did.
How can more Indian kids get their voices heard?
I feel like just living their life and continuing to be themself is really important. That's what I did, and as the adults in kids' lives, we've got to make sure that we're supporting them and making sure that we're listening to their big voices.
This interview has been edited and condensed for clarity.
Want more news about the $130 billion tribal economy?
Tribal Business News publishes thoroughly reported and well-crafted stories about Native businesses and entrepreneurs, growth and expansion strategies, best practices, economic data, government policy and other relevant business news. Tribal Business News is required reading for tribal council members and leaders of Native businesses, as well as state and federal legislators, policymakers, economic developers, entrepreneurs, bankers, lawyers and anyone interested in doing business in Indian Country.
Sign up for our free newsletter to track Native business and the tribal economy. Or sign up for a premium digital subscription ($99/year or $10/month— cancel anytime) to gain full 24/7/365 access to our business news reporting. Megwetch.