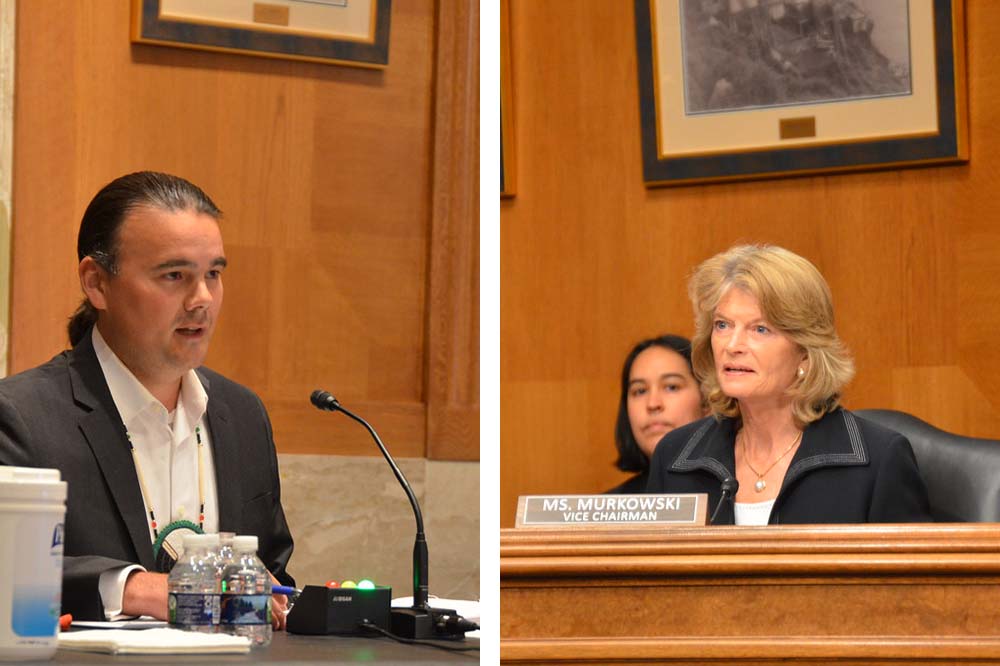 Details

Economic Development
WASHINGTON — Sen. Lisa Murkowski (R-Alaska), the vice-chair of the U.S. Senate Committee on Indian Affairs, made clear June 11 that she is not yet on board with supporting the nomination of Bryan Newland to be Assistant Secretary – Indian Affairs at the Interior Department.
Newland experienced a generally favorable confirmation hearing before the full committee on June 9, during which Murkowski was pleasant toward him and his attending family. But she did make clear that she thought his knowledge of Alaska Native governance issues and his past comments regarding Alaska Native Corporations involving funding for them during the pandemic posed a concern to her.
[RELATED: CLEAR SAILING: Newland progresses toward top Indian Affairs leadership post]
Jacqueline Bisille, Murkowski's spokesperson, told Tribal Business News that the senator is still researching Newland, who was previously the chairperson of the Bay Mills Indian Community in Michigan.
"Sen. Murkowski will continue to do her due diligence in vetting the nominee before making a final decision on how she will vote," Bisille said.
According to Bisille, Murkowski's review will include Newland's submitted nomination materials. During his hearing, Murkowski raised concerns directly to him that he had not previously answered in writing all questions that she had submitted to him on Alaska Native issues, and she said she knew some of those issues were new to him. She asked him to commit to doing so, and he testified that he would.
"She has spoken with Mr. Newland on the phone and will use his responses from the nomination hearing to gain a better understanding of his views and experience that will guide him in the position of Assistant Secretary – Indian Affairs," Bisille said.
"Sen. Murkowski is interested in his knowledge of the unique laws and different Native institutions across the United States, including as set up in the Alaska Native Claims Settlement Act," Bisille added. "She will also use his follow-up questions for the record to ensure the administration is committed to meeting the federal trust responsibility and promoting self-determination of all Native peoples."
That Murkowski had some lingering questions about Newland, a former Obama administration policy adviser and current principal deputy assistant secretary of Indian Affairs at Interior, was made clear on June 10 when she issued a press release, titled, "Vice Chairman Murkowski Examines Nomination of Bryan Todd Newland to be Assistant Secretary-Indian Affairs."
Murkowski noted in the release that there are more than 200 federally-recognized tribes in Alaska out of the 574 total federally-recognized tribes.
"You clearly can't take a one-size-fits-all and try to superimpose that over Indian Country," Murkowski said during the hearing and reiterated in the release. "There are treaties and unique laws to navigate."
"When it comes to Alaska, we had talked about two of those unique laws, the Alaska Native Claims Settlement Act, or ANCSA, and the Alaska National Interests Lands Conservation Act, or ANILCA," the senator said in referencing her talk with Newland before the hearing. "Fifty years ago, ANCSA was enacted into law as a new and different approach by the federal government to settling aboriginal land claims. It created Native corporations, referred to as ANCs, throughout the state, which is a very distinct approach to land and economic development from the reservation system of the lower 48."
Murkowski said she told Newland when she spoke with him before the hearing that ANCs are not like traditional for-profit corporations.
"Instead, ANCs are mandated by Congress to care for the social, cultural and economic well-being of their Alaska Native shareholders in perpetuity," she said. "It is through the federally recognized tribes, the tribal consortia and ANCs that Alaska Natives deliver self-determination and self-governance programs at scale. This includes providing services and programs to address the coronavirus pandemic throughout this last year."
"Even though Congress set up different types of structures for Native peoples across the country, whether tribes are located in [Public Law] 280 states or if they have different land claims settlements — it's important to understand and represent all of them," she continued.
In her press release, Murkowski highlighted that during her round of questioning she "reaffirmed her stance that Mr. Newland, as AS-IA, should continue to familiarize himself with and understand Alaska Native specific federal laws such as the Alaska Native Land Claims Settlement Act and the Alaska National Interests Lands Conservation Act."
"I also need to reinforce and make sure that you are aware of how important it is that ANCs serve as the recognized governing body of an 'Indian tribe' under ISDEAA (the Indian Self-Determination and Education Assistance Act) and DOI guidelines, sometimes only in limited circumstances," she said during her questioning.
Some Indian Country officials who have been monitoring the nomination closely felt the release was unusual because Murkowski already made clear in the hearing that she was going to seek answers from Newland on the Alaska Native issues. The senator may have her own political reasons, however, for placing special attention on Newland's knowledge of Alaska Natives. Murkowski has an upcoming re-election bid in 2022, and former President Donald Trump has vowed to make her bid difficult as she took positions against him several times during his administration — and she voted to impeach him.
The Alaska Native vote played a crucial role in re-electing Murkowski in 2010, especially when she was forced to run as an independent write-in candidate in the general Senate election after the Republican Tea Party turned its support away from her. Since that time — and before then, too — she has championed the needs of Alaska Native tribal communities and Alaska Native Corporations.
The Alaska Federation of Natives, which it bills itself as representing more than 140,000 Native peoples, is among more than 30 tribes and tribal organizations that have submitted letters to the Senate in support of Newland.
Another unusual occurrence surrounding Newland's hearing that may have irked Murkowski, tribal and federal officials monitoring the process said, was that U.S. Sen. Steve Daines (R-Montana) voiced his intention to vote in favor of Newland at the hearing after Newland answered to his liking his questions focused on Montana tribes.
Daines had unsuccessfully tried to block former U.S. House Rep. Deb Haaland's (D-N.M.) nomination to become the first Native American member of a presidential cabinet when President Joe Biden nominated her earlier this year to lead the Department of the Interior.
Waiting for the vice-chair to approve of Newland's positions on Alaska Natives before announcing his approval might have pleased Murkowski, the officials said.
Also on June 11, Murkowski announced that Kristi Nuna'q Williams is joining her team as staff director and general counsel of the Senate Committee on Indian Affairs. She said in a statement that Williams, of Gwich'in and Koyukon Athabascan descent and an enrolled Gwichyaa Zhee Gwich'in tribal citizen, will be the first Alaskan to hold this position.
Want more news about the $130 billion tribal economy?
Tribal Business News publishes thoroughly reported and well-crafted stories about Native businesses and entrepreneurs, growth and expansion strategies, best practices, economic data, government policy and other relevant business news. Tribal Business News is required reading for tribal council members and leaders of Native businesses, as well as state and federal legislators, policymakers, economic developers, entrepreneurs, bankers, lawyers and anyone interested in doing business in Indian Country.
Sign up for our free newsletter to track Native business and the tribal economy. Or sign up for a discounted subscription ($99/year — use coupon code "TBN21") to gain full 24/7/365 access to our business news reporting. Megwetch.