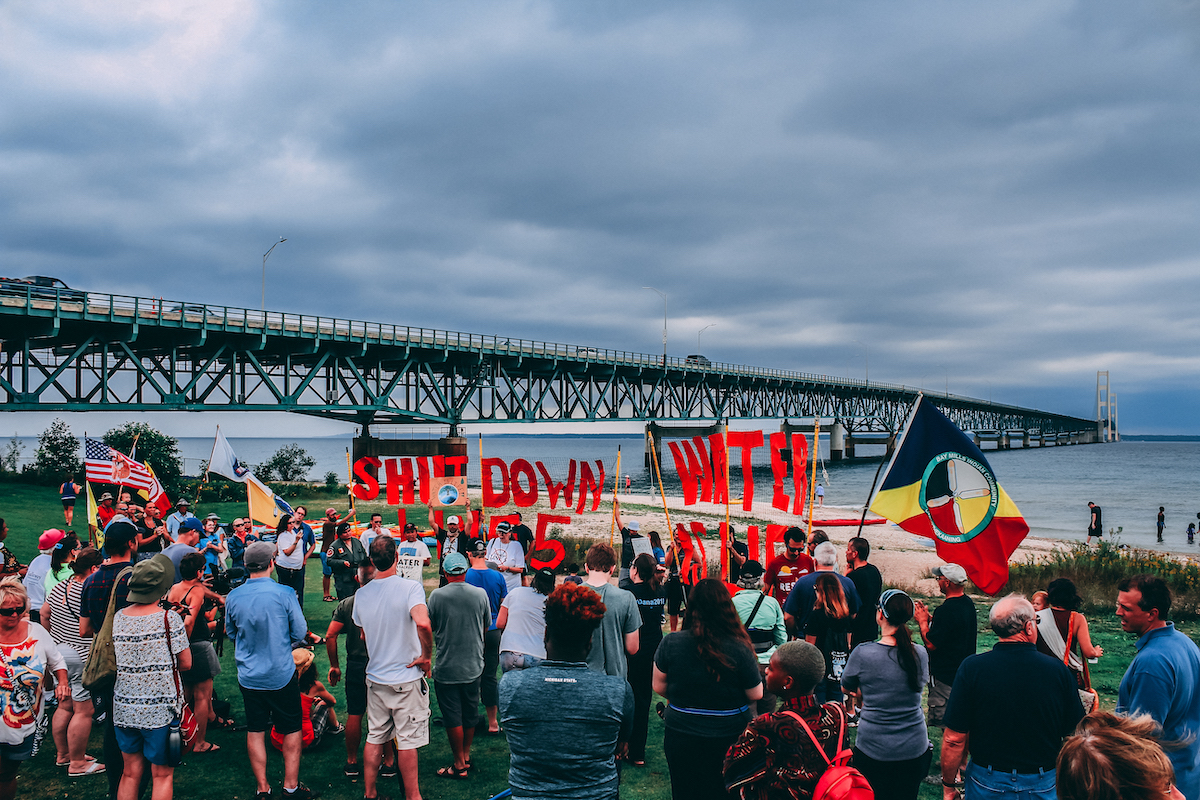 Details

By

Rob Capriccioso

Economic Development
Tribal leaders from the eastern Upper Peninsula of Michigan are celebrating a decision by the U.S. Army Corps of Engineers to conduct an environmental review of the Line 5 pipeline project proposed by Canada-based Enbridge Inc., which will likely delay the development for months.
USACE officials stated on June 23 that they will perform an environmental impact statement for the Enbridge Energy LP Line 5 permit application. The decision leaves the project in limbo and could lead to more Indigenous and environmental group protests and treaty-based legal challenges.
The company wants to construct a tunnel and pipeline under the Straits of Mackinac between St. Ignace and Mackinaw City, Mich. The proposed 30-inch pipeline would be used to transport light crude oil and liquid natural gas. It would replace existing dual submerged pipelines, in place since 1953 without tribal consent. They currently cross the Great Lakes near tribal homelands.
"I have concluded that an EIS is the most appropriate level of review because of the potential for impacts significantly affecting the quality of the human environment," Jaime Pinkham, acting Assistant Secretary of the Army for Civil Works, said in a statement.
"USACE will ensure all potential impacts and reasonable alternatives associated with this project are thoroughly analyzed and will ultimately support a decision on the permit application. The USACE received thousands of public comments and tribal input on the proposed project, which warrant further review through an EIS, including potential impacts to navigation."
'Threatens our way of life'
Whitney Gravelle, president of the Bay Mills Indian Community, told Tribal Business News that the decision "has enormous significance because the EIS will entail an in-depth analysis of the pipeline tunnel's environmental impacts."
"This Line 5 tunnel project is already facing public and legal opposition from numerous Indigenous tribes and environmental public interest organizations, including the Bay Mills Indian Community, which is represented by Earthjustice and the Native American Rights Fund," Gravelle said. "As part of this EIS process, the Corps will need to honor its treaty obligations to Bay Mills and other tribal nations, including considering the impact of the tunnel project on tribal resources."
Gravelle said her tribe is "encouraged to see that the Army Corps of Engineers heeded our call to undertake a more rigorous analysis of the environmental impacts — and impacts on treaty-protected interests — of Enbridge's massive tunnel project underneath the Straits of Mackinac."
"Bay Mills remains very concerned that the pipeline threatens our way of life."
Gravelle explained that her Bay Mills Indian Community is involved in the permitting process before USACE, as well as the permitting process before the state's Department of Environment, Great Lakes & Energy, where the tribe recently filed a contested case petition related to the approval of the tunnel permits in January 2021. Democratic Gov. Gretchen Whitmer had put the development on hold last fall, but Enbridge has continued on.
Bay Mills is also a litigating party before the Michigan Public Service Commission, and it served as an amici in Michigan, et al. v. Enbridge Energy, et al. It continues to engage in tribal consultation with numerous state and federal agencies on the Line 5 issue.
Aaron Payment, chairperson of the Sault Ste. Marie Tribe of Chippewa Indians, said the announcement is a "big one" that "hopefully leads to shutting down Line 5."
"Line 5 is an imminent spill just waiting to happen," he said in an emailed statement to Tribal Business News. "Line 6 at the Kalamazoo River was the worst inland oil spill in American history."
Payment noted that Line 5's original easement was issued without any consultation with tribes in the area and using technology that is now over 67 years old.
"Too many shortcuts and risks were taken in an earlier era," Payment said. "It is time to rectify this by conducting a full environmental impact study to determine whether having a million gallons of oil putting our Great Lakes [in danger] is responsible."
Evaluating 'reasonable alternatives'
USACE said in a news release that as part of its review process, it "will ensure all voices are heard in an open, transparent and public process through development of the EIS and is committed to ensuring that meaningful and robust consultation with tribal nations occurs per President Biden's Memorandum on Tribal Consultation and Strengthening Nation-to-Nation Relationships [of] January 26, 2021."
"The Army is committed to producing a thorough and timely EIS that rigorously explores and objectively evaluates all reasonable alternatives to render a decision within the scope of its authorities."
According to USACE, it received more than 15,000 comments regarding the Line 5 project after it published a public notice and held a public hearing in December 2020.
"The comments are being reviewed and the application is being evaluated in accordance with federal regulations and policies," USACE said in a statement. "Under Section 10 of the Rivers and Harbors Act of 1899 and Section 404 of the Clean Water Act, the USACE authority is limited to the proposed crossing of the Straits of Mackinac and impacts to adjacent wetlands."
'All voices will be heard'
Michael Barnes, a spokesman for Enbridge, framed the situation as a positive one.
"This action does not diminish prospects for the tunnel but ensures all voices will be heard, which is a good thing," Barnes told Tribal Business News. "It also stretches out or elongates the timeline for construction of the tunnel."
Enbridge preferred a federal environmental assessment of the project, rather than a full review, because it would have taken less time. It says the project provides "extra layers of safety and environmental protection and make what is currently a safe pipeline even safer."
The delay comes at a time when Indigenous water protectors and land defenders are ramping up their opposition to Enbridge's separate Line 3 rehabilitation project in Minnesota.
Ojibwe activist Winona LaDuke is currently leading a protest of Line 3 that is drawing increasing crowds and support.
[RELATED: PIPELINE PARADOX: Enbridge Line 3 sees Native contractors battling water protectors]
As for Line 5, Enbridge said in a statement that it will continue to work with USACE on its permit and will continue to advance the project, which the company says is supported by more than 60 percent of Michiganders.
The company says it has already spent more than $100 million on the project and is creating jobs for state citizens.