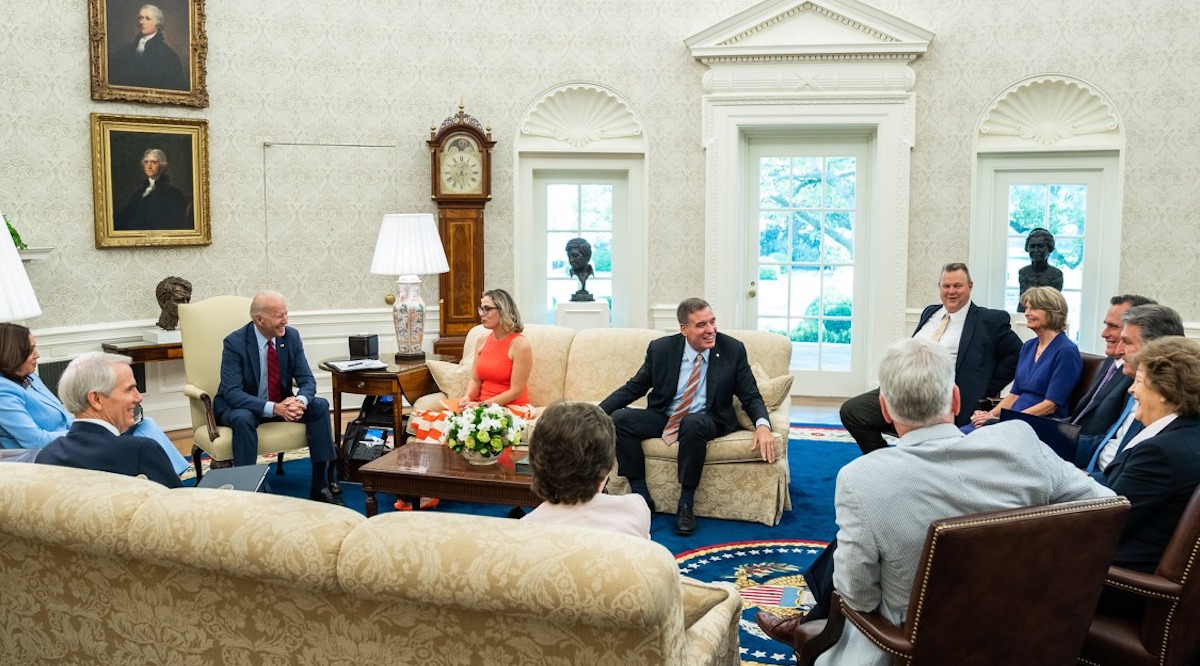 Details

Economic Development
WASHINGTON — The White House on the evening of June 29 released a list of tribal and Native American-specific components of the bipartisan infrastructure deal agreed to last week by President Joe Biden and moderate Democratic and Republican senators.
The White House calculates that the overall deal, if it passes both chambers of Congress, will inject $1.2 trillion in total infrastructure spending over eight years, $579 billion of which is new spending. A substantial portion would go to tribes, but a breakdown was not yet available.
The Indigenous components are part of what the White House is promoting as a "Bipartisan Infrastructure Framework: Advancing Economic and Public Health Opportunities for Communities of Color," which includes a wide variety of infrastructure improvement projects aimed at Native Americans, African Americans and Hispanics.
"The Bipartisan Infrastructure Framework addresses economic disparities in our economy and the consequences of decades of disinvestment in America's infrastructure that have fallen most heavily on communities of color," according to the framework's fact sheet released by the White House.
"Through critical investments, the Bipartisan Infrastructure Framework increases access to good-paying jobs, affordable high-speed internet, reliable public transit, clean drinking water and other resources to ensure communities of color get a fair shot at the American dream."
White House officials said in the fact sheet that these "critical investments are first steps in advancing equity and racial justice throughout our economy."
Libby Washburn, who serves as Biden's Special Assistant to the President for Native Affairs on the Domestic Policy Council, played a key role in getting Native provisions included in the plan, according to the White House. She is a citizen of the Chickasaw Nation of Oklahoma.
PaaWee Rivera, the Senior Adviser for Intergovernmental Affairs and Director of Tribal Affairs at the White House, has also conducted outreach on this matter, according to staffers. He is a citizen of the Pueblo of Pojoaque.
According to federal and tribal officials, the White House has held several meetings with tribal leaders to ensure that the infrastructure items included in the framework meet their needs.
White House staffers pointed to op-eds by tribal leaders in various publications as exemplifying Native support for the tribal infrastructure provisions. They include two opinion pieces by Marshall Pierite, the chairman of the Tunica-Biloxi Tribe of Louisiana, and one by Wilfred Herrera Jr., chairman of the All Pueblo Council of Governors.
Biden staffers said they could not predict whether there could be lawsuits involving their infrastructure equity efforts. There is ongoing litigation that has put a loan forgiveness program for Native farmers on hold at the U.S. Department of Agriculture.
The White House wants the plan to pass as quickly as possible, according to staff.
Senators who have worked on the framework include Alaska Republican Lisa Murkowski, ranking member of the U.S. Senate Committee on Indian Affairs, and Democrat Jon Tester of Montana, who previously served as chairman of the same committee. Officials close to the senators say they have both had a voice in negotiating Native-focused provisions of the infrastructure deal.
Some House Republicans have said the Biden administration is too focused on throwing money at tribal problems without specific rationale. A GOP minority plan for addressing tribal infrastructure needs has not been released to date.
Rebekah Hoshiko, a spokesperson for U.S. House Committee on Natural Resources Ranking Member Bruce Westerman of Arkansas, told Tribal Business News that the Republican congressman "agrees that Indian Country has significant infrastructure needs and supports investment."
"The ranking member also believes there should be a discussion about how federal agencies will prioritize projects into the future and whether changes are warranted," Hoshiko said. "This is in sharp contrast to the Democrat policies we've heard thus far. Instead of just using money as a temporary fix, we need to address the root issues at play."
The infrastructure framework can pass the Senate if 10 GOP senators join all 50 Democratic senators in voting in favor of it, which seems possible given the negotiations to date. While it doesn't contain all provisions that Biden and the Democratic-led Senate wanted, the Democratic House would likely support it to give the president a victory before the 2022 midterm elections.
Beyond the current deal, Biden hopes for future investments in caregiving infrastructure, housing supply, regional development and workforce development programs "to ensure that communities of color and other underserved communities can access economic opportunity and justice," according to the fact sheet.
Of note, the White House and the senators agree to spend $65 billion "to make high-speed broadband available to all Americans, to bring down high-speed internet prices across the board, and to close the digital divide," according to the fact sheet. Tribes would be included in that funding.
"(The president's) plan will also invest in long overdue expansion of broadband on Tribal lands, in consultation with Tribal Nations," according to the fact sheet.
More tribal and general highlights from the fact sheet follow:
• "In addition to achieving President Biden's goal of connecting every American to reliable high-speed internet, the Framework will drive down prices for internet service and close the digital divide by making broadband more affordable, including in low-income communities and communities of color."
• "The Framework makes the largest investment in clean drinking water in American history, replacing all of the nation's lead pipes and service lines. From rural towns to struggling cities, the Framework invests in water infrastructure across America, including in Tribal Nations and disadvantaged communities that need it most."
• "The Bipartisan Infrastructure Framework invests $48.5 billion to modernize transit, and improve accessibility for older Americans and people with disabilities. It will clear the backlog in public transit repairs, and build new transit. It will replace thousands of transit vehicles, including buses, with clean, zero emission vehicles."
• "The program will fund planning, design, demolition, and reconstruction of street grids, parks, or other infrastructure. This is in addition to other major grant programs that could fund elements of these projects."
• "The Framework will make a critical down payment on helping the more than 25 million children and thousands of bus drivers who breathe polluted air on their rides to and from school. Diesel air pollution is linked to asthma and other health problems that hurt our communities and cause students to miss school, particularly in communities of color and Tribal communities. The Framework will deliver more than 35,000 electric school buses nationwide, helping school districts across the country buy clean, American-made, zero emission buses, replacing a sizable percent of the yellow school bus fleet."
• "People of color are more likely to live in areas most vulnerable to flooding and other climate change-related weather events. For example, in the wake of Hurricane Harvey, Black and Hispanic residents were twice as likely to report lost income. Tribal lands are significantly at risk to the effects of climate change and Alaska Natives are particularly vulnerable, as they face multiple climate impacts."
• "The Framework invests $52 billion in helping communities build resilience to wildfires and floods through investments in forest management and upgrades to critical infrastructure — like elevating buildings, roads, and bridges, hardening physical infrastructure, and winterizing the power grid."
• "Black, Latino, Asian American and Pacific Islander, and Native communities are more likely to be burdened by pollution. Black people are almost three times more likely to die from asthma related causes than their white counterparts. And more than one in three — or over 23 million — Latinos in the U.S. live in counties where the air doesn't meet EPA public health standards for smog."
• "The Bipartisan Infrastructure Framework … (makes) the single largest investment in clean transmission in American history. It creates a Grid Development Authority at the Department of Energy to enable a national, clean energy power grid and funds to support activities that reduce the impacts to the electric grid, and protect communities from extreme weather, wildfire, and natural disasters."
• "It deploys long distance, high voltage transmission to enhance reliability and resilience, lower costs, and integrate the highest value clean energy resources. It invests in research and development for advanced transmission and electricity distribution technologies, and smart grid technologies that deliver flexibility and resilience. And, it invests more than $22 billion in demonstration projects and research hubs for next generation technologies like advanced nuclear reactors, carbon capture for industrial plants, and green hydrogen."
Tribal Business News will have continuing updates about the plan and its effects on Native America as it progresses.
Want more news about the $130 billion tribal economy?
Tribal Business News publishes thoroughly reported and well-crafted stories about Native businesses and entrepreneurs, growth and expansion strategies, best practices, economic data, government policy and other relevant business news. Tribal Business News is required reading for tribal council members and leaders of Native businesses, as well as state and federal legislators, policymakers, economic developers, entrepreneurs, bankers, lawyers and anyone interested in doing business in Indian Country.
Sign up for our free newsletter to track Native business and the tribal economy. Or sign up for a discounted subscription ($99/year — use coupon code "TBN21") to gain full 24/7/365 access to our business news reporting. Megwetch.