Here is a round up of business news from around Indian Country.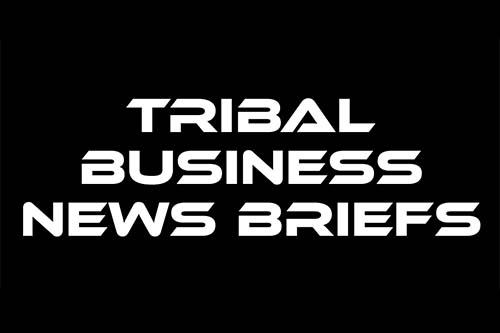 Government
• Bryan Newland, a citizen of the Bay Mills Indian Community (Ojibwe), was sworn in last week as Assistant Secretary for Indian Affairs within the Department of the Interior in a ceremony led by Secretary Deb Haaland. Newland was the president of the Bay Mills Indian Community from November 2017 until he stepped down this year to join the Biden administration as Principal Deputy Assistant Secretary for Indian Affairs. He was nominated for the Indian Affairs leadership position by President Joe Biden in April on Earth Day. Newland received his law degree from Michigan State University and has previously been a practicing lawyer in Michigan, as well as a tribal judge and a supporter of Bay Mills' tribal college. He served in the Obama administration as an adviser on Indian Affairs and counselor. "I am honored to be back at the Department of the Interior working on behalf of Tribal communities and alongside a historic Secretary," Newland said in a statement. "The Biden-Harris administration has made clear its priorities to respect Tribal sovereignty and self-governance, fulfill federal trust and treaty responsibilities to Tribal Nations, and make regular, meaningful and robust consultation with Tribal Nations cornerstones of federal Indian policy. I am committed to engaging with Tribes every step of the way and ensuring they have the support and resources they need to fully thrive."
• U.S. Senator Lisa Murkowski, R-Alaska, the vice chairman of the Senate Committee on Indian Affairs, announced Amber Ebarb (Tlingit) has joined the committee as Deputy Staff Director. Most recently, Ebarb served as legislative assistant for Murkowski with responsibility for the Alaska Native and Rural Affairs portfolio. Previously, she worked at the National Congress of American Indians (NCAI), where she worked with tribes to develop consensus policy positions and contributed to NCAI's Policy Research Center in coordinating research on tribal policy priorities. Ebarb holds a master's degree in public policy from George Washington University and an undergraduate degree from Whitman College.
• The Biden administration announced earlier this month that Keone Nakoa was appointed Deputy Assistant Secretary for Insular and International Affairs and Summer Sylva was named Senior Adviser for Native Hawaiian Affairs, both within the Department of the Interior. Nakoa, who is part Native Hawaiian, is coming to the post from the Office of Hawaiian Affairs. He previously served as speechwriter for the late Sen. Daniel Akaka, clerk for the Chief Judge of the Hawaii Intermediate Court of Appeals and as a lawyer at a private firm in Honolulu. Sylva is a Native Hawaiian attorney who most recently served as the executive director of the Native Hawaiian Legal Corporation (NHLC). Sylva has more than a decade of experience litigating before federal and state courts in Hawaii, New York and New Jersey.
Education
• Derrick Beetso, a citizen of the Navajo Nation, was selected as the new director of the Indian Gaming and Tribal Self-Governance program at the Sandra Day O'Connor College of Law at Arizona State University. Beetso is a 2010 alumnus of the college. Previously, Beetso served as general counsel for the National Congress of American Indians and was an attorney-adviser within the Office of the Solicitor's Phoenix Field Office, where he provided legal services for the Western Region of the Bureau of Indian Affairs and the San Carlos Irrigation Project. Beetso also was counselor to Assistant Secretary for Indian Affairs Kevin Washburn during the Obama administration. "Derrick Beetso has a deep understanding of Indian Affairs and has committed his career to advancing the rights of tribal nations," Patty Ferguson Bohnee, faculty director for the Indian Legal Program and director of the Indian Legal Clinic, said in a statement, calling Beetso a "perfect fit" for the position.
• Meredith Lam (Diné) has joined Salt Lake City, Utah-based American Indian Services as the nonprofit's new project and program manager. A longtime Native education advocate, Lam comes to AIS from the Provo City School District, where she served as director of American Indian/Alaska Native education, a role in which she oversaw the education and cultural preservation of 200 Native students. At AIS, Lam will manage federal grants and lead the development of the new AIS Trade School Scholarship Program. Lam has a bachelor's degree from Brigham Young University. "Working with AIS will allow me to continue to serve and highlight the voices of the Native American community," Lam said in a statement. "I have been fortunate enough to witness the power of education throughout my life. I am passionate about helping Native students achieve their dreams."
Funding
• The Saint Regis Mohawk Tribe will receive a pair of grants from the U.S. Department of Health and Human Services that collectively total nearly $621,600, according to an announcement from U.S. Rep. Elise Stefanik, R-N.Y. The grants include almost $538,000 from the National Institute of General Medical Sciences for pharmacology, physiology, and biological chemistry research, as well as approximately $82,600 for the Emergency Native Language Project from the Administration for Native Americans. "The Saint Regis Mohawk Tribe is an integral part of the North Country," Stefanik said in a statement. "I am proud to announce that these taxpayer dollars will be returned to our district to support the tribe's medical research and the preservation of Native languages."
Gaming
• The Eastern Band of Cherokee Indians' EBCI Holdings has completed the $250 million purchase of Caesars Southern Indiana, a commercial casino in Elizabeth, Ind., following regulatory approvals by the state's gaming commission, according to a report on Inside Indiana Business. The casino resort employs about 900 people. The tribe first announced the deal in December. As Tribal Business News previously reported, the deal included rights to use the Caesars brand and the commercial casino operator's loyalty program at the facility. The tribe will lease the property from owner VICI Properties Inc. for $32.5 million annually. The casino is the Eastern Band of Cherokee Indians' first commercial operation. The tribe currently operates the Harrah's Cherokee Casino Resort in Cherokee, N.C. and the Harrah's Cherokee Valley River in Murphy, N.C. under the Indian Gaming Regulatory Act, and announced plans for another tribal gaming facility in Washington County, Virginia.
Finance
• Brentwood, Tenn.-based Relevance Ventures, a Native-owned and -operated venture capital firm, participated in the $15 million Series B round of funding for Bellevue, Wash.-based Petabyte Technology Inc., a veterinary software company. Petabyte offers enterprise practice management software that helps veterinary practices to run more efficiently and deliver better patient veterinary care. Petabyte expects to use the capital to enable the firm to continue growing and forge new industry partnerships, according to a statement. Also participating in the capital round were National Veterinary Associates, UNAVETS, Norwest Ventures Partners and Halle Capital Management. Founded by brothers Cameron and Dean Newton, Relevance Ventures has more than $115 million under management and focuses on investments in health and wellness and fintech/enterprise software industries. The company is currently raising its fourth fund targeted at $75 million.
Nonprofit
• The National Association of Tribal Historic Preservation Officers (NATHPO) will hold its first ever Sacred Sites Summit virtual event on Sept. 22-23. The theme of the conference is "The Stars Align to Protect Native Places." NATHPO is a national membership organization of tribal preservation leaders working to protect culturally important places that perpetuate Native identity, resilience, and cultural endurance. In launching the summit, NATHPO is recognizing the need to bring together Native voices, legislators and agency leaders to foster understanding about existing law and policy and ways to strengthen protection of sacred sites. "In this historic moment, the stars have aligned — now is the time to work toward real, enduring solutions for protecting Tribal sacred sites. NATHPO has set the stage and this event is shaping up to be a powerful incubator of possibilities as we bring Tribes, legislators and agency leadership and staff together to share best practices, learn from one another and work together," NATHPO Executive Director Dr. Valerie Grussing said in a statement. For more information and to register, visit the NATHPO website.
Want more news about the $130 billion tribal economy?
Tribal Business News publishes thoroughly reported and well-crafted stories about Native businesses and entrepreneurs, growth and expansion strategies, best practices, economic data, government policy and other relevant business news. Tribal Business News is required reading for tribal council members and leaders of Native businesses, as well as state and federal legislators, policymakers, economic developers, entrepreneurs, bankers, lawyers and anyone interested in doing business in Indian Country.
Sign up for our free newsletter to track Native business and the tribal economy. Or sign up for a premium digital subscription ($99/year or $10/month— cancel anytime) to gain full 24/7/365 access to our business news reporting. Megwetch.