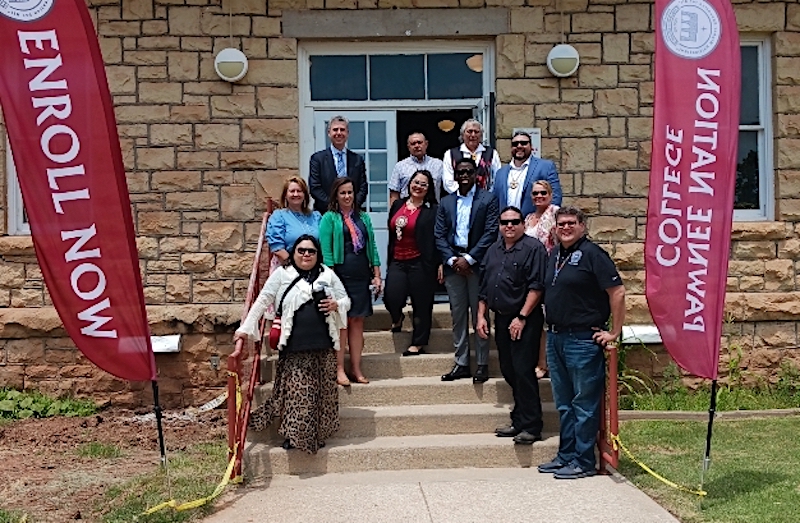 Details

Economic Development
PAWNEE, Okla. — Tribally operated Pawnee Nation College turned to digital learning as part of its strategy to reach more non-traditional students.
Parents, full-time workers and caretakers often struggled to meet the traditional college schedule, so the institution — a tribal enterprise of the Pawnee Nation — sought to identify ways to be more inclusive for those learners, said college President Michael Burgess.
The school grappled with the problem of deploying online learning on substandard internet infrastructure well before the pandemic hit in March 2020. However, the rapid transition to mostly online classes for everyone only exacerbated existing connection problems for the college.
"Many of our students had to depend on their cell phones or their tablets to have an internet connection," Burgess said. "At times, it was impossible for them to tell us why they missed class. We just didn't have what we needed out here."
Never miss the biggest stories and breaking news about the tribal economy. Sign up to get our reporting sent straight to your inbox every Monday morning.
To help address the problem, Pawnee Nation College plans to deploy $1.9 million in funding it received in the latest round of grants in the Tribal Broadband Connectivity Program.
The money, administered through the Commerce Department's National Telecommunications and Information Administration, will help build out a fiber connection to the school, Burgess said.
"I'm ecstatic," Burgess told Tribal Business News. "This grant will help our college set up its technology infrastructure, something that's highly needed for us. It's going to be of great benefit."
A stronger, more consistent internet connection will enable Pawnee Nation College to better serve its students in a number of ways, Burgess said. He pointed to potential improvements ranging from building a broadcast journalism program to offering a digital library and computer lab for enrolled students and the larger Pawnee community.
Getting the school on its own fiber network is "the obvious next step" in modernizing student services and education programs, Burgess said. As well, establishing the connection also marks a critical next step to full accreditation for the college.
Pawnee Nation College aims to become an accredited college under the American Indian Higher Education Consortium, a countrywide network of 36 tribal schools.
"We want to be 37," Burgess said. "This broadband infrastructure is highly needed for that. It's a requirement from the Higher Learning Commission, which is our accrediting agency."
Bringing fiber to Pawnee Nation College could also help improve broadband access for the tribe as a whole, Burgess said.
Connection tracker Broadband Now's breakdown of available internet providers in the city of Pawnee notes that most coverage comes from fixed wireless access and satellite providers. Only 20 percent of Pawnee residents have access to fiber, according to the tracker's estimates.
That's fairly typical for rural areas like reservations. As Tribal Business News previously reported in a June 2021 story, just 46 percent of Indigenous communities could access usable broadband.
The dire broadband situation in Indian Country prompted a historic funding push from President Joe Biden's administration through the Tribal Broadband Connectivity Program.
That program allocated an initial $980 million through the American Rescue Plan Act, and then received a $2 billion infusion through the Infrastructure Investment and Jobs Act in 2021. However, even with the additional funding, the program still falls short of the $5 billion in need outlined by initial TBCP applications.
The Pawnee Nation College announcement was part of the latest distribution of funding, which allocated $7.7 million across nine new grants. Among them, the Suquamish Tribe of Port Madison Reservation in Washington was awarded $1.09 million to develop workforce training and digital literacy programs. Other grantees receiving funding for a combination of planning, use and adoption assistance included:
Native Village of False Pass in Alaska, $409,311
Salamatof Native Association in Alaska, $90,000
Salamatof Tribe in Alaska, $1.06 million
Scotts Valley Band of Pomo Indians in California, $584,000
Rincon Band of Luiseno Mission Indians of Rincon Reservation in California, $1.23 million
Coushatta Tribe in Louisiana, $365,744
Catawba Indian Nation in South Carolina, $900,578
To date, the NTIA has awarded $91 million via 43 grants in the Tribal Broadband Connectivity Program. So far, the largest award of $35 million went to the 74-member Alaska Federation of Natives.
"Across the country, Tribal Nations have been disconnected from essential internet services for far too long," Alan Davidson, Assistant Secretary of Commerce for Communications and Information, said in a statement. "These awards will allow Tribal communities to provide the necessary resources their members need to thrive in our evolving digital economy."
Burgess echoed that sentiment, noting that tribes have gone too long without serviceable internet in an age where broadband has become the default method of communication with the outside world.
"This is government funding that should have happened a long time ago," he said. "Having broadband has become a necessity in our lives, and many folks are not able to connect and have no connection and end up left out of the loop or information.
"All Americans should be connected. It's become such an integral part of communications in this country, so all Americans should be connected."
Want more news about the $130 billion tribal economy?
Tribal Business News publishes thoroughly reported and well-crafted stories about Native businesses and entrepreneurs, growth and expansion strategies, best practices, economic data, government policy and other relevant business news. Tribal Business News is required reading for tribal council members and leaders of Native businesses, as well as state and federal legislators, policymakers, economic developers, entrepreneurs, bankers, lawyers and anyone interested in doing business in Indian Country.
Sign up for our free newsletter to track Native business and the tribal economy. Or sign up for a premium digital subscription ($99/year or $10/month— cancel anytime) to gain full 24/7/365 access to our business news reporting. Megwetch.