PORTLAND, Ore. — The city of Portland this month approved an inaugural fund awarding $8.6 million in grants to organizations, including Native American groups, aimed at addressing climate change through green construction and minority workforce training.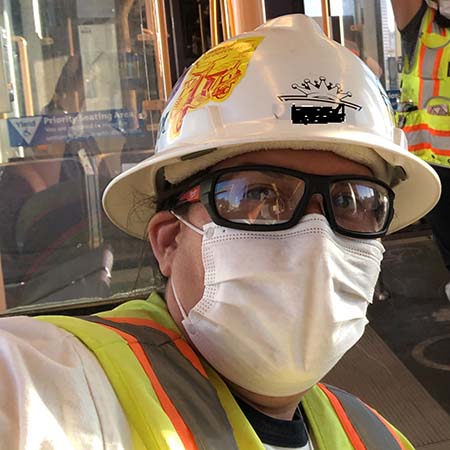 The Portland Clean Energy Community Benefits Fund (PCEF) awarded 45 grants, of which 29 are planning grants that provide funding for organizations to conduct assessments and refine climate action projects into full project proposals.
Included among the planning grant recipients is the Oregon Native American Chamber (ONAC), a group that provides educational opportunities and training through economic development programs for its members.
ONAC's Executive Director James Parker said the organization will use the nearly $90,000 grant to create a green construction and clean energy career track program for Native Americans and other people of color.
The one-year planning grant has four main components, according to ONAC's project summary. The first step is to research and create content on green construction career track for the organization's online center for entrepreneurship training; engage with large and small firms to understand how to support success for Native-owned green construction and green energy businesses; create online resources for construction opportunities; and support individuals seeking a career as an employee or business owner.
"It's all about opportunities, right? And this opportunity is really to ensure a culturally specific and competent kind of development and resourcing and visibility for both existing contractors, and then those who can really come in and vision that opportunity for growing their business or their skills within the space of clean energy and green construction," Parker told Tribal Business News.
The planning grant aligns with ONAC's curriculum models that develop educational pathways to small businesses told through stories and experiences of Native Americans in Oregon, Parker said.
However, given the relatively small number of Indigenous people involved in the clean energy space, the organization will have to adjust by relying on existing contractors in larger industry and agency partners, Parker said.
Little data exists on Native Americans in the clean energy space, in part because of underrepresentation and data collection restrictions, which is a problem ONAC has begun to address over the past year.
"ONAC has created, this year, its own database with Native serving partners across the state," Parker said. "We will cultivate and own our own data going forward."
The database is in its final stages of implementation and will track businesses, funding sources and more.
On a larger scale, the executive director said this new round of funding allows ONAC to explore economic opportunities with sensitivity to cultural significance, and prioritize land stewardship in a space Native Americans have largely been boxed out of in the past.
"We know our communities not only survive but thrive when we pivot from disruptive and extractive policies and really move toward a more holistic model that engages in practices of trade and commerce that support community-oriented goals," he said. "Typically, what you see in these businesses is education, capital access, employment opportunities. … Larger contracting opportunities — those who have been largely absent — this program in particular is meant to remedy."
"For too long, frontline communities have experienced the disproportionate impacts of climate change," Portland City Commissioner Carmen Rubio said in a statement. "We've been left out of discussions around solutions and been deprived of the resources to fund them. Step after step, PCEF charted a path to fix these problems, all while centering our frontline communities and lifting up their ideas and approaches."
Two other Native American groups were among the fund's grant recipients. The Affiliated Tribes of Northwest Indians, also headed by Parker, received $100,000 to plan a Tribal Solar Training Center. The Native American Youth and Family Center received two separate grants, one to construct 50 new high-efficiency affordable housing units, and another to increase cultural engagement opportunities and implement green infrastructure, according to project summaries.
The funding for the Portland Clean Energy Fund comes from a voter-approved tax on large retailers in the city that went into effect Jan. 1, 2019. The clean energy program's nine-person grant committee was assembled by the end of 2019.
"We're excited to see our larger sized businesses contribute to the growth of our smallest businesses run by communities of color," Parker said. "This is part of long overdue and hard fought effort and diligence in working toward recreating what would be considered the new normal. How do we properly steer strategic investments and support remedies in both policy and practice to really restore communities to the prosperous, self-determined communities that we were pre-contact?"