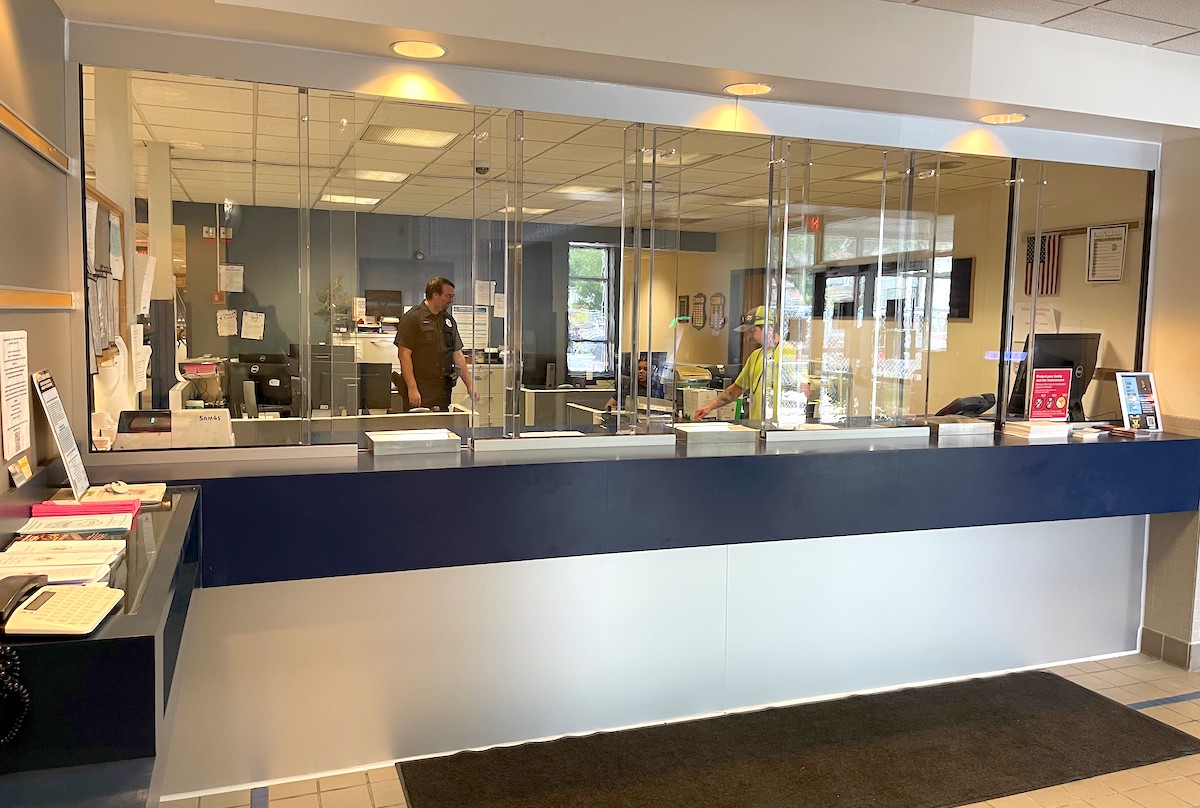 Details

Entrepreneurism
MILWAUKEE, Wis. — A Native-owned contractor is helping to make Milwaukee Police Department precincts a safer place for the community.
This month, B&D Contractors Inc. installed bullet-resistant glass at the District 5 office with a mid-July target of wrapping up similar installations at all seven police precincts across the city of Milwaukee.
The measure followed a February incident in which a man entered District 5 and shot at officers and staff, allegedly in retaliation for the death of Keishon Thomas, who had died in police custody a couple of days earlier.
At the time, the precinct only had bullet-resistant glass that went halfway up between the counter and the ceiling. In response to the incident, the Milwaukee Police Foundation worked with other community partners to address safety concerns inside the precincts by installing full-length bullet-resistant glass.
That's where B&D Contractors came in. The certified minority-owned small business had completed similar installations in the past, including for the Milwaukee County Sheriff's Office.
"This was a big deal for the Milwaukee Police Department, and rightfully so," said Brian Holmes, president of B&D Contractors, and an enrolled member of the Bad River Band of Lake Superior Chippewa.
"They reached out to us and said, 'Hey, we want you to take a look at the seven precincts,' and Lindsey Holmes, my daughter-in-law and our project manager, jumped on it," Holmes said. "Lindsey did all her homework and worked with the vendor, did the field measurements, and then they gave us a contract."
Never miss the biggest stories and breaking news about the tribal economy. Sign up to get our reporting sent straight to your inbox every Monday morning.
B&D Contractors specializes in glass and glazing and has worked on a number of high-profile projects, such as Miller Park in Milwaukee and White Sox Stadium in Chicago. The company currently is working on a large historical window project in the city of Milwaukee to replicate a steel sash window design from an old factory, Holmes said.
From the humble origins of "a bunch of old hippies trying to make a living," the company got its start on municipal projects in Milwaukee, notably for the city's housing authority, and grew organically from there by developing relationships with other municipalities.
"I utilized the certification of being minority-owned to our credit," Holmes said, noting B&D Contractors has a minority business enterprise (MBE) certification.
However, soon after starting the municipal work, Holmes ran into a roadblock getting work with larger projects. Taking advice from a couple of larger general contractors (GCs) in the area, Holmes set out to make B&D Contractors a union shop.
"We were starting to grow and I was starting to bid for bigger contracts with big general contractors and they said, 'We can't hire you. You're a non-union,'" Holmes recalled. "When we joined the Carpenters Union, that started the ball rolling. Then I started giving sub bids out for carpentry work. We did finish carpentry for all the big GCs, and they knew I was a minority contractor.
"I learned a lot. I didn't know anything, but there were a couple people that helped me along the way. They taught me about business, about financial statements. A very small group of people helped me, but I helped them by giving them MBE participation on a specific project."
As the business expanded, Holmes felt inspired to find ways to give back to Native communities, in part because he grew up outside of the reservation and the culture. His father, who grew up on the Bad River Reservation and received an allotment in northern Wisconsin, didn't tell Holmes about their Native heritage until he was 12 years old.
Holmes believes his father's silence could stem from the generational trauma his family faced, including several members who were forced to attend the notorious Carlisle Indian Industrial School in Pennsylvania.
To support and connect with other Native businesses, Holmes was part of a group that helped found the American Indian Chamber of Commerce of Wisconsin. He served as a board member for years and was president of the organization in the 1990s.
He also worked with the Chamber's sister organization, First American Capital Corporation, a Native community development financial institution, to expand its reach out of the urban areas in Wisconsin to work with Native entrepreneurs on the reservations or regardless of where they were in the state.
Gary Mejchar, co-executive director of FACC, previously told Tribal Business News that the organization aims to meet Native people where they're based. While FACC is headquartered in the Milwaukee area, it opened field offices all over the state to better serve Native entrepreneurs.
"Some of these people don't have a relationship with their home community, but we're there to be accessible and a helping hand up for all tribal members regardless of their (home) state and affiliation," Mejchar said in a January interview, noting that FACC has a statewide service area. "We have people scattered in several locations now to be more accessible to reach the state."
At this stage in his career, Holmes, 71, plays a key mentoring role in what's become a family business. His son, Cody Holmes, and daughter, Sera Kranz, are active in the business, along with their respective spouses.
"They're in their 30s and they're running a $6- or $7-million operation every day — with my help, of course — through my mentoring," Holmes said. "They do such a good job, not only in the office, but taking it to the field and performing. That's what it comes down to. They're very knowledgeable, they're very smart, and they're very reactive to conflict resolution, which is always hard sometimes in the family business.
"What they know is from the day-to-day. What I can add from my mistakes is what educated me. They don't have to make those mistakes because the old man already made them. I've had a lot of success and I've had some failures and you just keep driving."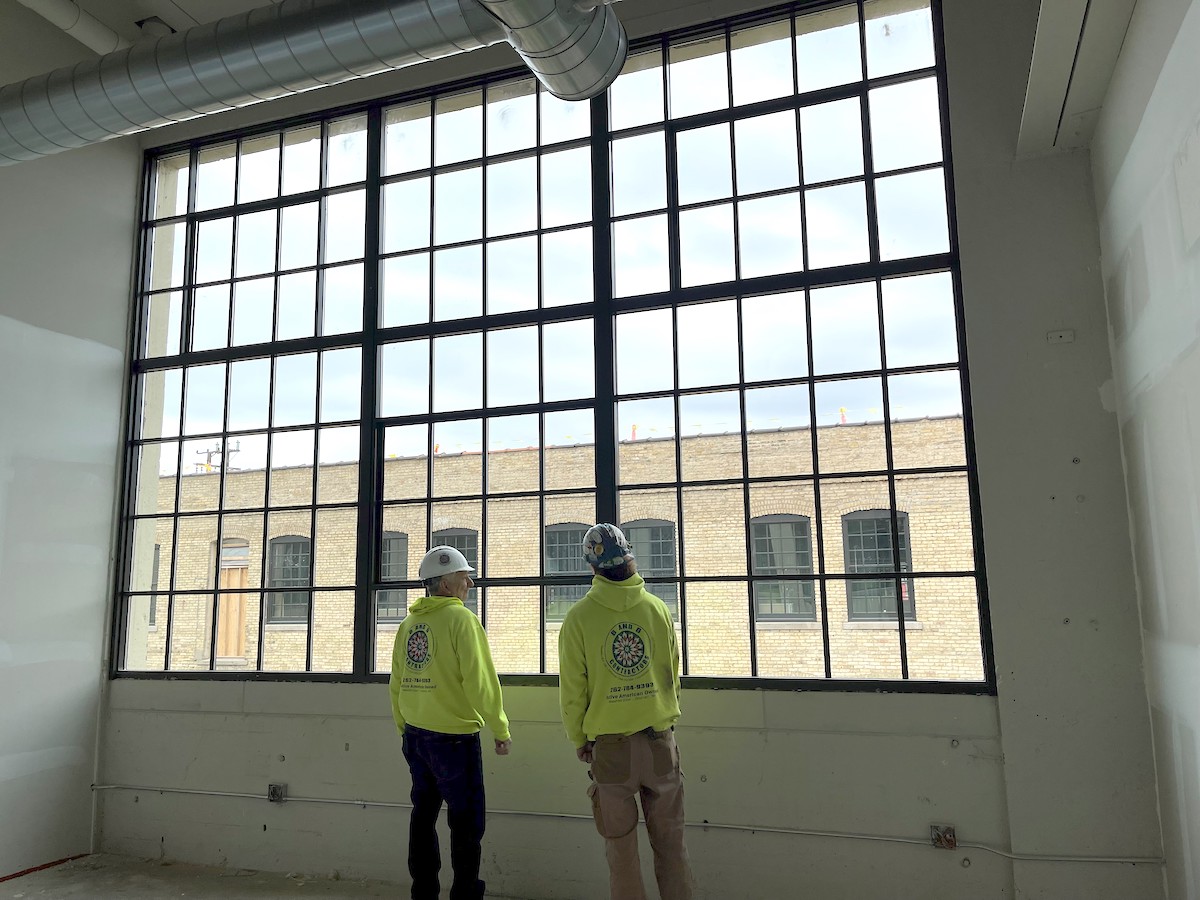 Native-owned B&D Contractors installed window systems at the Community Within the Corridor project in Milwaukee, Wis., which converted a former Briggs & Stratton factory into multi-family housing. (Courtesy photo)