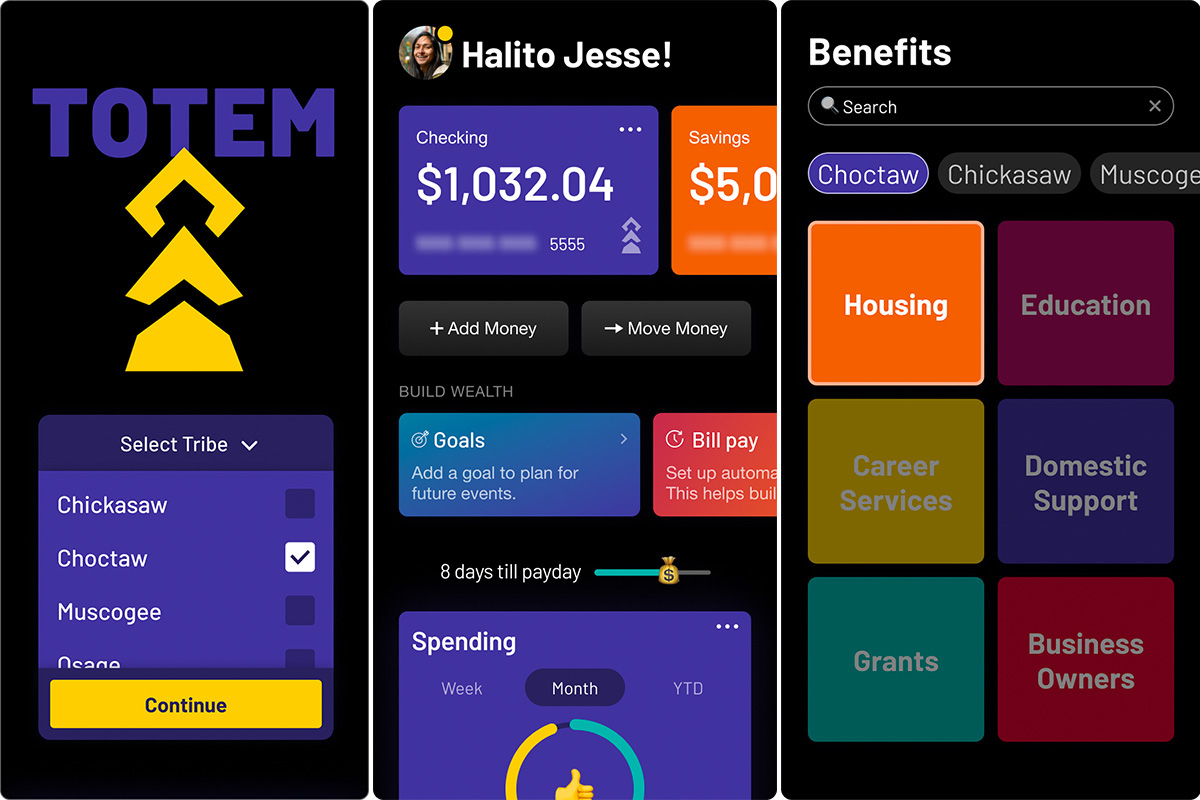 Details

Finance
TULSA, Okla. — An Indigenous-owned company aims to harness the power of technology to change how Native Americans bank, and in some cases, provide them banking and financial services for the first time.
Fintech startup Totem Technologies Inc. is currently closing on an initial pre-seed round of funding to build out its digital banking app. The technology will serve Native people by offering them the convenience of digital banking regardless of where they live, help them better engage with their culture and also keep more economic activity within Indian Country.
Totem is in the process of forging business-to-business relationships with tribal governments to help "streamline the process of distributing benefits" to tribal members, said CEO Amber Buker.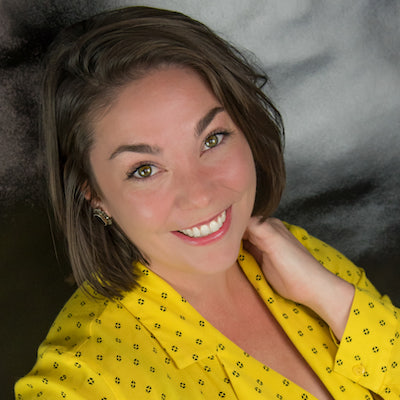 Amber Buker, CEO of Totem Technologies. (Courtesy photo)"Tribes are really sophisticated. They're sovereign governments with complex budgets and economic development," Buker, an enrolled member of the Choctaw Nation of Oklahoma, told Tribal Business News. "On top of all of that, they're trying to provide all these benefits, which requires skills, but they are not the main skills that a tribe needs to be worried about, like building apps. We can own that."
Totem can serve as a conduit for tribes to send out electronic distributions without the hassle of printing and mailing paper checks, plus it can help citizens to more easily access tribal financial services, such as down payment assistance programs or scholarships. Totem also plans to fill in some gaps with credit-building education.
As well, Totem is in the process of partnering with an FDIC-insured banking institution, which will enable the neobank company to offer checking accounts and debit cards to Native Americans who unbanked at a rate higher than any other group in the country.
According to data from the Federal Reserve, 16 percent of American Indians and Alaska Natives were unbanked as of 2019, and just one in three Native Americans has a strong or very strong relationship with a lender.
Totem will give tribes the option to brand the app and services however they want, or use the company's branding, Buker said. The company will lean on the tribes for help in spreading the word about the app and getting tribal members to use it for services. As part of the partnership, Totem also will share with tribes the interchange revenue that it receives whenever tribal members use their debit cards for purchases.
"The great thing is when we partner with tribes, value flows back into the community," Buker said. "You're actually getting a piece of every transaction back into the tribal community."
Michael Bell, the co-leader of the Financial Institutions Practice Group at Detroit-based law firm Honigman LLP, said the tribal partnership model helps differentiate Totem from other fintech services.
"I love the idea of (Totem's) tribal affiliation," Bell told Tribal Business News. "I think it's smart and it's 'sticky.' Tribal bonds are strong and something to be proud of, something to highlight. This gives Totem a key point of differentiation. This allows Totem to compete with other neo and non-neo providers on a different level — not on rates, fees or other bells and whistles."
Bell, who specializes in banking mergers and acquisitions and advises on financial regulatory matters, thinks the digital-only neobank model has potential to move the needle in addressing the chronic lack of services in remote portions of the country.
"The digital only model is a logical fit for rural areas or areas where building a traditional banking infrastructure would be cost prohibitive," he said. "It perhaps is the only way to provide banking services in a truly efficient manner."
Never miss the biggest stories and breaking news about the tribal economy. Sign up to get our reporting sent straight to your inbox every Monday morning.
Money as medicine
Buker expects to close Totem's pre-seed round later this fall. The company currently has commitments from Alloy Alchemist Fund LP, a bank-led fund that invests in fintech startups, and Debut Capital LLC, which invests in companies with Black, Latinx, and Indigenous founders.
Vancouver, British Columbia-based Raven Indigenous Capital Partners led the round.
"It's been amazing working with them because they get the issues that our people face so innately because they're facing them, too," Buker said of Raven. "We can skip all of the pretext and education and go right to the heart of 'what's the impact that we can have for our people.' … It really is like being in ceremony at times when we're planning out all the great things that we can do."
That wasn't the case with other, non-Native venture capital investors whom Buker spoke with in the lead up to launching the initial fundraising round. She recalls "a literal crazy experience" with an executive she met with for advice about seeking investments from large VC funds.
"He didn't get it. Our first two calls were basically 40 minutes of me educating him about what a reservation is and the fact that we still exist and all of these things," Buker said. "Then he suggested to me that I spend the first two pages of my deck writing out a story about what Native American people are. That would never in a million years be the experience that a non-diverse founder would experience."
The company also is open to bringing on tribal investors, she added.
Totem plans to use the proceeds from the pre-seed round to further develop and build out its app, with a target of having a usable version ready for the first customers by the end of the year.
Currently, Totem has a skeleton team of Buker and co-founder Richard Chance, an enrolled member of the Cherokee Nation. They also hired a chief design officer who started at the end of July.
Chance said Totem is building the app from scratch while leveraging various best practices and tools already in the market.
"The job is just to make sure that the security of the app is well taken care of," he told Tribal Business News. "We're using the latest and greatest technologies to make sure your money is secured, and of course, the best coding practices and just all that good stuff to make a solid product for our people."
'For us, by us'
Buker and Chance first connected via the nonprofit organization Natives in Tech, where Buker serves as a board member. She had been working in the fintech sector and realized the potential opportunities that a neobank could offer Indian Country. As the technology matured, Buker realized that the timing could be right to launch her own venture to serve other Native people.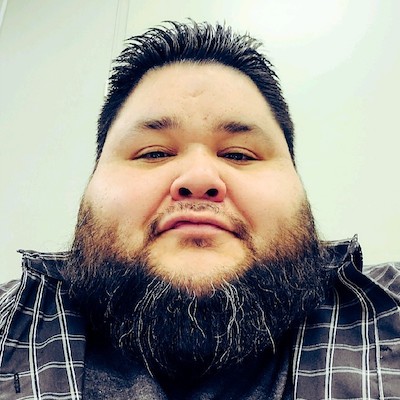 Richard Chance, chief technology officer at Totem Technologies. (Courtesy photo)The catalyst for the idea stemmed from Buker's experience a few years ago after she had steps to improve her credit so she could buy a house. In the process, her mother reminded her that she qualified for down payment assistance through the tribe, but Buker could never connect with the right person. She asked her lender for help, but they had "no incentive to do that."
"I remember thinking: If I just had a bank that understood what it is to be Native and what these benefits are, the whole thing could have gone really differently," she said.
Because of her background, she wanted the company to involve fellow Indigenous people at the highest level, including in the development of the technology, another industry where Native people struggle to gain representation.
"I was searching and searching and searching for a Native co-founder who could build Totem with me," Buker said.
She became aware of Chance and his expertise last fall "and basically just started LinkedIn stalking him until he took the time to talk to me."
"There are a lot of issues around Natives and technology when it comes to things like data sovereignty," Buker said. "I just wanted to be really intentional about making sure that we were building this for us, by us."
The partners also were quick to realize that Native people are not a monolith, and that helped to cement part of their mission to use Totem to assist Native people who live off the reservation and who may not be as connected to their culture.
That's why the designs for the app call for features like a powwow finder and list of vetted Native nonprofits to help facilitate charitable giving within a user's community. The founders also plan to incorporate profiles of Native creators and business owners.
"We think about our customers as a body of people that are both deep and wide. The deep part of that is for folks that already have really close ties to a particular reservation, enrolled tribal status and citizenship. Maybe those folks are already using tribal benefits to a degree. Those folks will probably find us through their tribe," Buker said. "But what we also have in addition to that deep customer is the wide customer. Basically, how we describe it is self-identifying Native Americans.
"A lot of people are now identifying this way that may or may not have those deep ties to a particular reservation or tribe. For those people, maybe they don't have a high enough blood quantum, for example, to get an ID card and get enrolled. They are, in our eyes, no less Native. We want to serve those folks with not just banking, but a way to engage with their culture that they may not have super strong ties to. That helps people find dances, places to go to learn more about their culture and to be around people that are members. Those are tools that we want to give people regardless of their enrollment status."