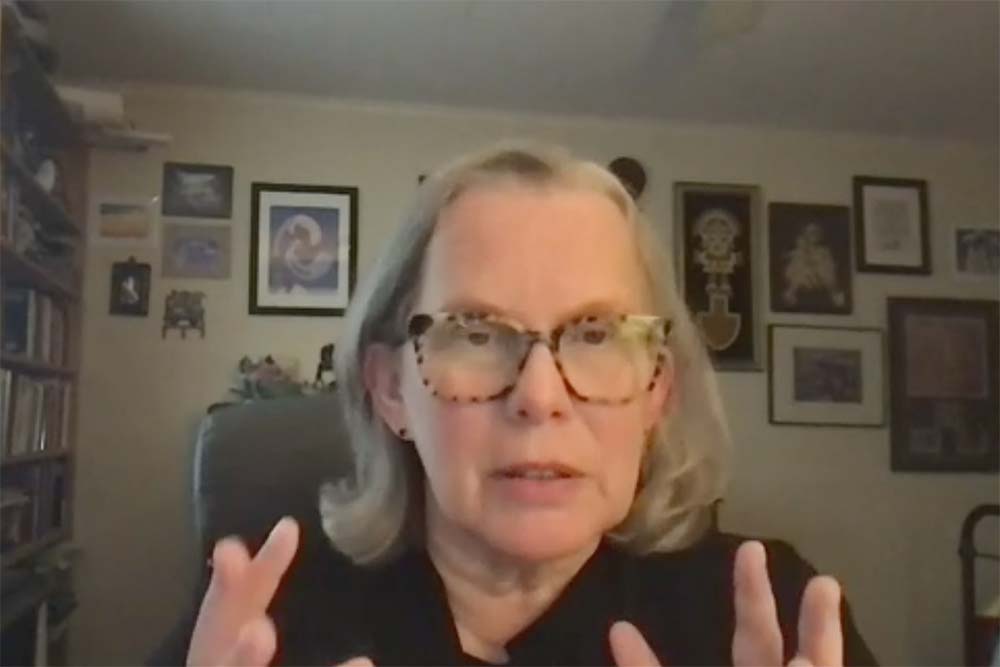 Details

Food | Agriculture
WASHINGTON — As the first Native American woman confirmed to the role of general counsel for the U.S. Department of Agriculture, Janie Simms Hipp returns to the agency at a critical time for Native farmers and ranchers.
Hipp, a citizen of the Chickasaw Nation and the former executive director of the Native American Agriculture Fund, was confirmed by a voice vote in the U.S. Senate at the end of July.
Newly appointed NAAF Executive Director Toni Stanger-McLaughlin said having a Native advocate with experience in agricultural law would be a "huge" benefit to Native Americans in the agricultural industry.
"Having somebody with some experience and knowledge related to Native Americans and the jurisdictional issues and layers of added difficulty related to tribal law — having someone who understands that federal and tribe law, that is going to be incredible," Stanger-McLaughlin said.
Stanger sees Hipp's appointment as a way for Agriculture Secretary Tom Vilsack, who also led the department under President Barack Obama, to continue efforts the USDA started under his prior tenure. Vilsack served as the department head during the landmark 2010 settlement of Keepseagle v. Vilsack, which awarded $680 million to Native farmers following discriminatory practices by the USDA's loan programs.
"Their big initiative during that time was to correct the civil rights harms that were still continuing," Stanger-McLaughlin said. "There was a lot of progress made in the first part of that administration, and I feel like Vilsack coming back to the department is picking up where they left off."
Hipp brings 35 years of agricultural law experience to her new position, as well as a long history with the department itself, having led multiple department programs. Those programs included Farm Financial Management, Trade Adjustment Assistance, Risk Management Education, and Beginning Farmer and Rancher Development.
"Adding Janie's expertise to the strong senior leadership team at USDA will only further our efforts to expand opportunity for those who live, work and raise their families in rural communities, especially in those communities that have experienced persistent poverty, make good on USDA's responsibility to provide nutrition assistance to children and families, and contribute to removing barriers to access to USDA programs wherever they exist," Vilsack said in a statement.
The experience prepares Hipp to help the USDA navigate often-labyrinthine questions of law surrounding trust land, tribal sovereignty and multi-agency programs.
"Having somebody understand how those applications (for use of trust land) happen, what those documents look like, it's going to be very impactful," Stanger-McLaughlin said. "Her background in working across the country is … going to allow her to be a stronger advocate. She's seen firsthand what these farmers and ranchers have had to deal with over the past 30 years."
During her late May confirmation hearing before the U.S. Senate Committee on Agriculture, Hipp fielded questions about carbon offsets, antitrust measures, and legal transparency, as Tribal Business News previously reported.
Hipp promised senators she would be transparent about the USDA's legal decisions, work to raise morale, and provide an update on an ongoing joint investigation with the Department of Justice regarding alleged violations of the Stockyard Act.
"I believe in transparency, I believe in frank discussions. Sometimes folks misinterpret the law, and you need to explain exactly what the language says, but sometimes we tend to be a little too technical. As a lawyer, I can be technical. Having spent so much time in government service, I can switch that on in a heartbeat," Hipp said during that confirmation hearing. "When you're doing front-facing work with your stakeholders, you actually speak in normal English, and I think that's really important in terms of communicating."
Hipp's nomination to a high office within the Biden administration was supported by a cross-section of food and agriculture organizations. Under the umbrella name of the Rural Coalition, more than 80 of these organizations encouraged the Biden administration to hire Hipp in March.
Hipp takes up the reins as USDA faces multiple challenges to its attempts at offering debt relief and other targeted assistance to socially disadvantaged farmers and ranchers, including Native producers. The legal challenges assert that race-based assistance is unfair to white producers.
While tribal advocates press to fold the debt relief program into the $1 trillion bipartisan infrastructure bill working its way through Congress, or even into the $3.5 trillion Democratic reconciliation bill, the USDA and Department of Justice plan to fight the issue in court.
Stanger-McLaughlin said that issue loomed large for many farmers during the pandemic and because of infrastructure crises brought on by climate change.
"Some of our grantees are dealing with water shutoffs, and it's impacting their forward thinking, and yet their loans are due right now," Stanger-McLaughlin said. "Dealing with all these droughts and natural disasters, it's like kicking them when they're already down."
Debt relief for minority farmers and ranchers could correct a century of disadvantages and discrimination, Stanger-McLaughlin said.
"This assistance, it's not new. But because it's labeled for minority farmers and ranchers, now it's an issue," Stanger-McLaughlin said. "A lot of people have benefitted from laws that were in their favor, and so this reconciliation is a small part of what others have had for hundreds of years.
"We do support this initiative. It's needed, and it's honestly about time."