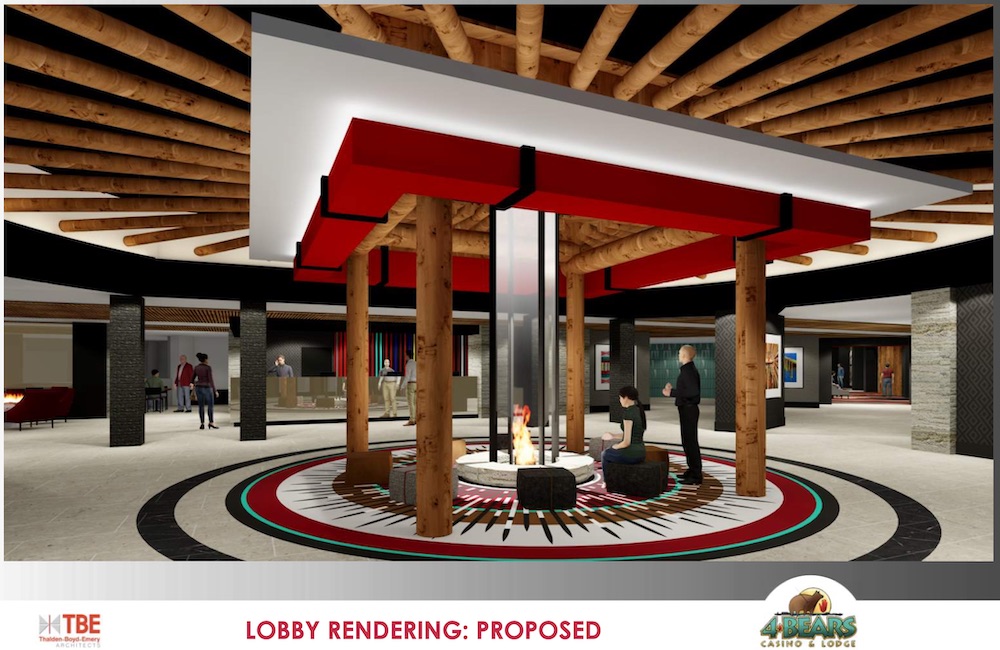 Details

By

Tribal Business News Staff

Gaming
The Three Affiliated Tribes of the Fort Berthold Reservation will add a $95 million hotel tower at its New Town, N.D.-based 4 Bears Casino and Lodge.
The seven-story tower will add 90 guest rooms, gaming spaces, offices, a 3,100 square-foot sports bar, as well as a 2,500 square-foot ballroom.
The new tower will replace an existing two-story tower, bringing the total number of guest rooms at the property to 264, according to a statement from the Three Affiliated Tribes. The Tribe has partnered with Native ownership firm Wenaha Group, general contracting firm Kraus-Anderson, and St. Louis-based TBE Architects, a Native-founded design firm known for its work with 121 tribes and First Nations communities.
Mark Fox, chairman of the Three Affiliated Tribes — also known as the Mandan, Hidatsa, and Arikara, or MHA Nation — called the investment a way of "protecting" jobs and revenues threatened by North Dakota's legalization of "off-reservation gaming."
"The 4 Bears casino is an integral part of our regional economy," Fox said in a statement. "The Nation supports the hotel development as a means to protect nearly 200 full-time jobs. The infrastructure reinvestment is also necessary to compete with the expansive, off-reservation gaming authorized by the state in the past three years."
That sentiment also pushed Fox and the tribal council to purchase multiple parcels of land in Las Vegas beginning in 2020, per prior Tribal Business News reporting. MHA Nation purchased 8.7 acres of land near the site of 2017's Harvest Festival shooting, then an adjacent 13 acre property.
The tribe's most recent Vegas investment is a $10.25 million bid on the White Sands Motel, subject to Clark County approval of the purchase. The White Sands Motel served as a launching point for the worst-ever mass shooting in United States history. The tribe has not yet announced any plans for any of the three Vegas properties.
"The land acquisition represents a substantial opportunity for investment and return for the Nation," Fox wrote in a prior statement. "Revenue realized in this particular business venture will continue to help fund important tribal projects and program development on Fort Berthold and for its membership. This includes infrastructure for roads, housing, new schools, healthcare, and drug treatment facilities."