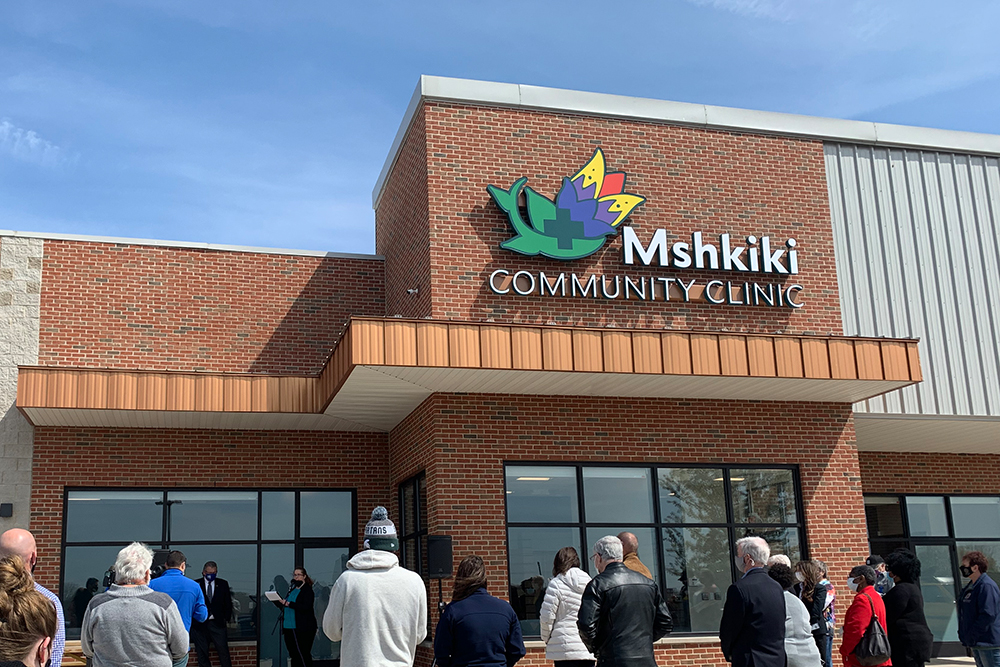 Details

By

Jenna Kunze

Health Care
BENTON HARBOR, Mich. — The Pokagon Band of Potawatomi finished construction this week on a clinic that will serve the low-income and Medicaid-eligible Native and non-Native residents in Southwest Michigan.
The Mshkiki Community Clinic, named for the Potawatomi word for medicine and operated by the Pokagon Health Services, will offer routine medical and dental services including acute care, chronic disease management, immunizations — including COVID-19 vaccines, minor procedures, routine exams and pediatric visits.
The tribe opened the clinic to address the disparities made evident by the COVID-19 pandemic, which studies show has disproportionately affected Native Americans more than any other group in the U.S.
"We wanted to help address health disparities and minority groups, because we saw how the pandemic affected Native Americans as well as other minorities," said Priscilla Gatties, director for Pokagon Band of Potawatomi's Department of Health Services. "Providing access for Medicaid individuals to primary care and dental services is definitely key. We don't have a lot of choice in the area."
In Michigan, single adults earning $16,000 or less, or a family of four earning $33,000 or less, qualify for Medicaid. At the tribe's main health care facility in Dowagiac, Mich. servicing about 2,500 predominantly Native patients, 20 percent are on Medicaid, Gatties told Tribal Business News.
According to the 2019 Census, 46 percent of Benton Harbor's 9,000 residents, and 33 percent of Benton Charter Township's 14,000 residents qualify for Medicaid and could receive services at the Mshkiki Community Clinic.
Because Mshkiki Community Clinic is a tribal health clinic, it can offer services to anyone regardless of tribal enrollment, and it is not required to charge copays for Medicaid patients.
The benefit is twofold: Non-Native Medicaid patients will be able to seek health and dental services for free, and the clinic will generate the majority of its revenue from the State of Michigan by billing for Medicaid patients.
"Not only are we providing those services to non beneficiaries, but we're using any income or revenue generated to provide services for beneficiaries," Gatties said.
Although the clinic is primarily focused on individuals enrolled in Medicaid, it also will accept private insurance, according to Gatties.
The $2.4 million construction project was 90 percent funded through tribal government funds. The remaining cost was covered by the tribe's CARES Act funding.
The clinic is slated for opening sometime in the next month once its employment positions are filled, Gatties said.
Since you're here.
Doing business anywhere is a challenge, but it's even more challenging in Indian Country. Tribes and their citizens face unique obstacles as they try to build Native-owned enterprises: the patchwork of federal laws, bureaucratic red tape, limited access to capital and the fact that most people are unfamiliar with what's involved in operating a business in Indian Country.
We believe Tribal Business News can help remove some of those hurdles by highlighting what tribes and Indigenous business owners are doing to build the tribal economy. We're committed to bringing you thoroughly reported and well-crafted stories about Native entrepreneurs, M&A, expansions, best practices, economic data, government policy and other relevant business news. Our goal is to make Tribal Business News required reading for tribal council members and leaders of Native businesses, as well as state and federal legislators, policymakers, economic developers, entrepreneurs, bankers, lawyers and anyone interested in doing business in Indian Country.
Hopefully, you'll consider supporting Tribal Business News through a discounted subscription ($99/year — use coupon code "TBN21") or a donation to help fund our reporting. Sign up for our free weekly newsletter that comes out each Monday morning.
Megwetch for your continued support.