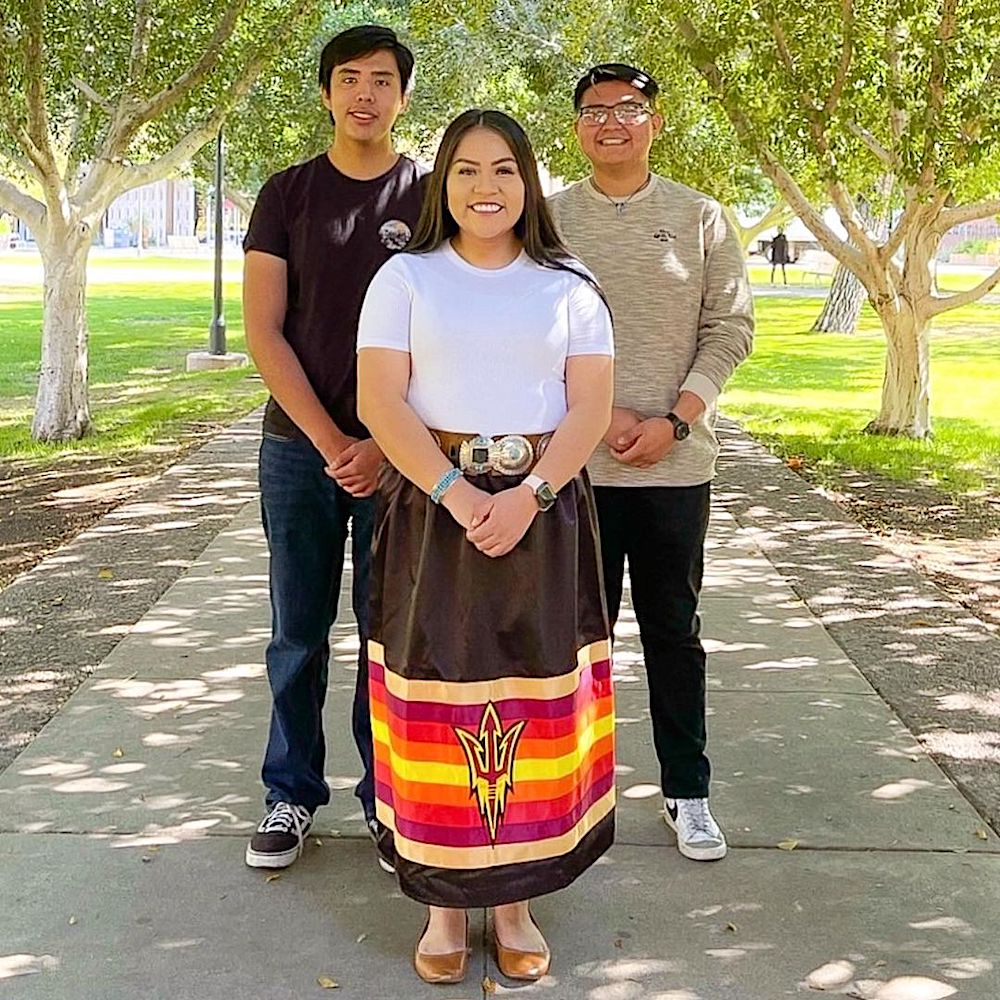 Details

By

Erin Tapahe

Higher Education
Three students at Arizona State University are breathing new life into the school's dormant Native American Business Organization.
In relaunching NABO after a four-year hiatus, Hiram Bowen, Lakota Kinlicheenie and Shaandiin Parrish hope to foster community and provide networking opportunities for Native American students.
In Parrish's case, she had prior experience with NABO, having been involved in the group during her undergraduate studies. Citing the value she gleaned from the organization, she wanted to help bring the group back when she returned to ASU for a master's program.
"We have young students who want to give back to their communities," Parrish told Tribal Business News. "A lot of Indigenous communities think of business as a taboo or something we shouldn't talk about, but the only way to improve our socioeconomic status is continuing to do business and learn about it."
Never miss the biggest stories and breaking news about the tribal economy. Sign up to get our reporting sent straight to your inbox every Monday morning.
Bowen and Kinlicheenie are both freshmen and individually had a hard time finding networking opportunities with other Native American students. They joked about carrying signs around campus to look for Native students.
"It's been a little difficult finding Native students but now (after reforming NABO) it seems like I'm seeing more," Kinlicheenie said.
Bowen agrees, noting that NABO could serve a key role in bringing ASU's Native student community together.
"The environment (at ASU) is different than a reservation school and we're trying to help them adjust and form a community to help them thrive here," Bowen said. "We're trying to form a community and network at Arizona State University for Native Americans."
The three students met through the university's Office of American Indian Initiatives and came to the realization that revitalizing the Native American Business Organization could be a good touch point for all Native American students, regardless of whether they're studying business. They believe even non-business majors can benefit from NABO because they can bridge skills and learn from one another.
"Business isn't just about small businesses or corporate business, but it's also about decision making, how to contribute to the conversation," Parrish said. "We don't have enough leaders who know how to read statistics, and how can we help our people when we don't know how to read the charts?
"I hope that all majors feel welcome here and be a part of the conversation with NABO because even if their majors are not at the business school, we can share some of the skills and ideas that we're learning in the business school with different departments and we can continue to collaborate."
The trio are working with campus organizations to help with recruiting Native American students and hosting events to share information about the organization.
"It's a lot of hard work, but we're learning a lot and we're developing a lot of skills in how to function, organize and outreach, which will better our communities back at home on the reservation," Bowen said.
According to a report in the student-run State Press, NABO had been in existence for about 40 years but disbanded in 2018, citing a lack of Native students in ASU's business program. Previously, NABO focused on hosting speakers, holding events and supporting cultural gatherings on campus.
While Parrish is graduating this year, she hopes that NABO will once again become a safe haven for Native American students and serve as a collaborative community to support and uplift one another.
"We all have a passion to help our people through business so that's a huge factor of what is really fueling the development of the community of NABO within the students but we're also trying to figure out a way to give back to our community," Parrish said. "As Native American students, we build each other up, create a community and continue to support one another because that's going to grow.
"When I leave and become an alumni, they have me as a connection so we're going to continue growing and fostering those relationships."
The three students currently are working with university officials to officially recognize NABO. They plan later this month to seek out leadership positions, build-out a social media presence and conduct broader outreach to other Native students.
As well, NABO aims to facilitate networking between current students and ASU Native American alumni.
"At ASU, we have a large Native American alumni network and there's a lot of Native American faculty who work at ASU," Bowen said. "I feel in the long run we could create a community where all those people can support each other and support incoming and current students."