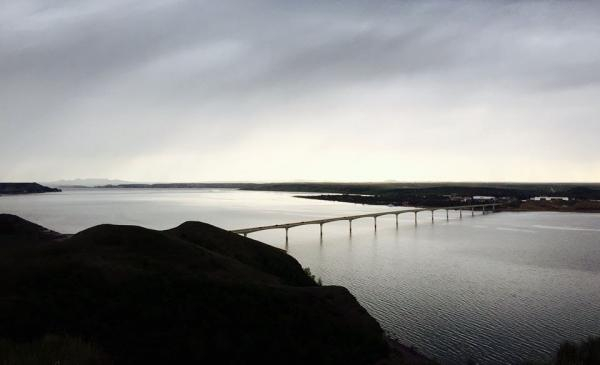 Details

By

Jenna Kunze

Sovereignty
NEW TOWN, N.D. — The owner of a South Dakota company has filed a civil complaint in federal court accusing the Mandan, Hidatsa, and Arikara Nation and a former councilman of racketeering and fraud.
While the case is the latest in a string of legal action between Brookings, S.D.-based Bird Industries Inc. and MHA Nation, legal experts say the lawsuit will likely serve as a demonstration of the power of tribal sovereign immunity in legal matters.
The company alleges MHA Nation, also known as the Three Affiliated Tribes, hid profits from the aggregates and ready-mix concrete joint venture in undisclosed bank accounts, as well as gave misleading and fraudulent statements in the process of breaking up the partnership, which led Bird Industries to accept an undervalued buyout, according to filings in the U.S. District Court for the District of North Dakota.
In the complaint, Bird Industries, which was owned by MHA Nation member Laura Bird, said it was defrauded of nearly $46 million in the venture, which was overseen by Frank Grady, a former councilman for MHA Nation.
Trent Shores (Choctaw Nation), a former U.S. Attorney for the Northern District of Oklahoma, said it is unusual for a tribal government to be named as a plaintiff in a civil Racketeer Influenced and Corrupt Organizations Act (RICO) lawsuit, although not entirely uncommon.
"It is even more uncommon that, if named, such a lawsuit would progress to a resolution that included a judgment against a tribal government because, like every other government, they enjoy sovereign immunity from suit," said Shores, now a partner at GableGotwals, a Tulsa, Okla.-based law firm.
'NO CHANCE FOR SURVIVAL'
The enterprise at the center of the most recent case began in 2015, when the Three Affiliated Tribes entered into a joint venture with Bird Industries for equipment, manufacturing and the production of ready-mix products for the general public, according to court filings. The partners formed Lakeview Aggregates LLC to conduct the business of the joint venture.
When the tribe did not meet its contribution agreement of 50 percent toward goods and services for the business, Bird Industries fronted nearly $3 million — which included the tribe's half — to cover initial expenses for the joint venture.
After a year in operation, former MHA Nation Councilman Grady informed the company that it was "being removed from all day-to-day activities of the aggregate and ready-mix operations," according to the filings. Bird Industries alleges in the complaint that the removal was predicated on false statements Grady made to the tribal business council about the company's nonpayment of its bills, which stemmed from the tribe not contributing its share of the startup costs.
Bird Industries also alleges the tribe offered "false and misleading information concerning past income and expenses" when the company sought to exit the joint venture.
According to the complaint: "Critical production, sales, and financial information about the aggregate and ready-mix operations were knowingly and purposely omitted and/or distorted in order to mislead and defraud Bird. Negotiators represented to Bird that the aggregate and ready-mix operations were losing money, that it was defunct and that it had no chance for survival."
Based on the alleged misleading information, Bird Industries accepted a $320,000 buyout, which was paid by a check signed by Grady. The buyout agreement included a provision requiring arbitration if any disputes arose in the process.
The plaintiff later found documents that showed that the aggregates and ready-mix operation had earned "tens of millions of dollars" that Bird Industries should have benefited from as a part of the joint venture, according to the complaint. The company alleges in the complaint that tribal officials set up accounts under the Lakeview Aggregates name in other states and funneled money through them in an attempt to deny Bird Industries its share of the income.
However, when Bird Industries uncovered what it described as "false and fraudulent representations made as an inducement to sell its interest in the Joint Venture for pennies on the dollar" and attempted to address those concerns through arbitration, the tribe claimed its sovereign immunity precluded arbitration.
The net result, according to Bird Industries' complaint, is that the MHA Nation's Tribal Business Council that oversees and manages economic enterprises on all segments of the reservation "engaged in fraudulent financial transactions" amounting to a $46 million loss for the company.
That included an alleged forged signature that transferred to tribal enterprises more than $660,000 worth of equipment Bird Industries' contributed to the joint venture.
LEVERAGING IMMUNITY
While tribal governments have sovereign immunity, private individuals — including tribal officials — do not. According to Shores of GableGotwals, plaintiffs can try to make an "end run" around the tribal immunity defense by instead naming individuals in a lawsuit, including tribal officials.
"That said, it is not likely that such a tactic would be or is successful," Shores said.
Along those lines, former MHA Councilman Grady has been twice named in similar suits involving fraud and bribery.
As well, Bird's civil suit comes on the heels of the U.S. Attorney's Office charging three MHA Nation officials, including Grady, with conspiracy and federal programs bribery for alleged criminal activity that took place from 2013 to 2020. The charges, filed last year, involve $1.9 million in alleged bribes and kickbacks paid by a construction contractor to the three officials, according to affidavits in the criminal complaints unsealed last August in the U.S. District Court for the District of North Dakota.
In a RICO lawsuit, a private individual may bring a civil lawsuit against a person, corporation or other entity that has allegedly violated federal statutes aimed at stopping organized criminal activity.
"The civil RICO also allows for recovery of treble damages and attorneys fees, which might at first blush explain why a plaintiff would want to pursue a civil RICO claim," Shores said, meaning the court can award a successful plaintiff triple the actual amount of damages.
Shores reiterated the challenges of suing a tribal government because of its sovereign immunity. Simply adding individual tribal executives to the suit does not necessarily ease the burden for a plaintiff, Shores added, noting that "to the extent that there is precedent, the relief awarded is typically limited in scope to injunctive relief against the individual's conduct as it occurs outside of Indian Country."
Shores cites a 2018 payday lending scandal in which two tribes entered into agreements to receive kickbacks in exchange for acting as a business front for former race car driver Scott Tucker, who is not Native. In court documents, Tucker claimed that his lending businesses were protected by sovereign immunity. Ultimately, the Modoc Tribe of Oklahoma and the Santee Sioux Tribe of Nebraska forfeited $3 million in a settlement with the federal government over their participation in the illegal enterprise; Tucker was sentenced to 200 months in prison.
To that end, the MHA Nation appears poised to leverage its sovereign immunity in the Bird Industries case, according to a statement provided by Lovell Overlie, spokesperson for the Nation.
"It is our position that the MHA Nation is not liable and we will seek dismissal of the suit," Overlie conveyed in a statement from the tribe's council.
Meanwhile, last year's federal charges are still pending against Grady and the other defendants, none of whom have gone to trial, according to Reed Soderstrom of Minot, N.D.-based Pringle & Herigstad PC, who is representing Grady in the bribery and conspiracy case.
Soderstrom, who does not yet represent Grady in the Bird Industries lawsuit, believes the additional new case might actually work to exonerate his client.
"I think the civil (RICO) suit has opened up a whole new can of discovery that in the end might be helpful to Frank," Soderstrom told Tribal Business News. "It's easy to throw blame on a councilman … but the truth of the matter is, they're so busy and they surround themselves with people who they think they can trust. That's where I think at this time the evidence is leading."
--
EDITOR'S NOTE: This story has been updated to clarify that Frank Grady was a councilman of MHA Nation, not the chair.
Want more news about the $130 billion tribal economy?
Tribal Business News publishes thoroughly reported and well-crafted stories about Native businesses and entrepreneurs, growth and expansion strategies, best practices, economic data, government policy and other relevant business news. Tribal Business News is required reading for tribal council members and leaders of Native businesses, as well as state and federal legislators, policymakers, economic developers, entrepreneurs, bankers, lawyers and anyone interested in doing business in Indian Country.
Sign up for our free newsletter to track Native business and the tribal economy. Or sign up for a premium digital subscription ($99/year or $10/month— cancel anytime) to gain full 24/7/365 access to our business news reporting. Megwetch.