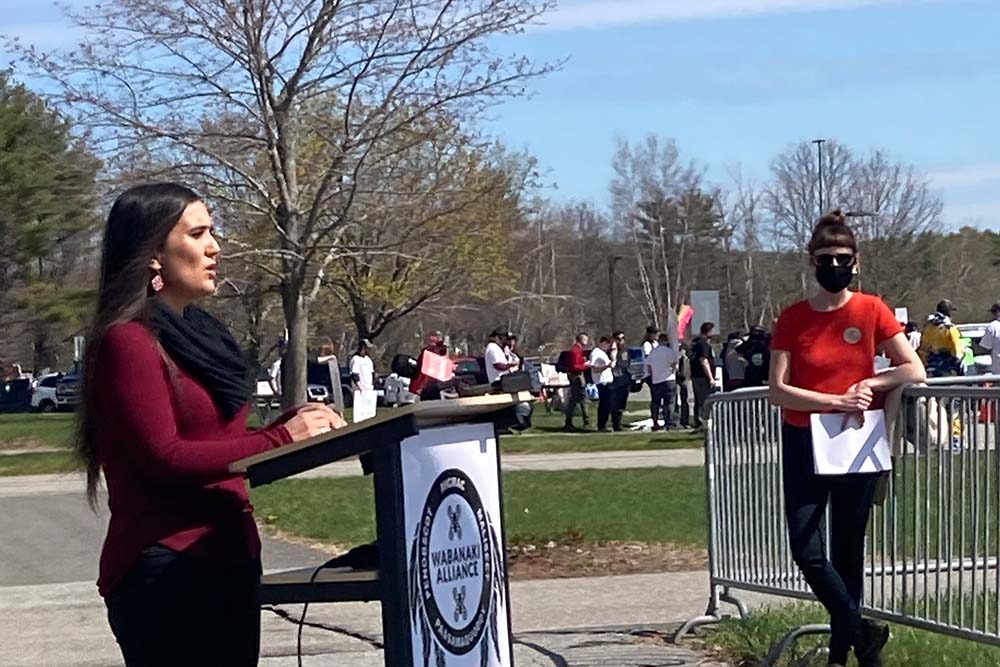 Details

By

Jenna Kunze

Sovereignty
AUGUSTA, Maine — Legislation aimed at reinstating sovereignty to Maine's four federally recognized tribes, collectively known as the Wabanaki Nation, stalled Tuesday for the second consecutive year, despite more than 140 written letters of testimony supporting the bill and only a handful of comments against it.
Improving tribal-state relations became a priority last legislative session after more lawmakers became aware of the fraught history. Lawmakers formed a task force to suggest amendments to the Maine Indian Claims Settlement Act, and they forwarded 22 recommendations to the state Legislature earlier this year that were rolled into one omnibus bill.
The Maine Legislature's Judiciary Committee ultimately decided to table the bill, LD1626, which was only drafted last week, to allow for more time to workshop it in the next legislative session beginning in January, said Penobscot Nation ambassador Maulian Dana.
The hurdle to passing what would be sweeping legislation for the state of Maine hinges on educating legislators on the reality of what Dana calls the "worst tribal-state relationship in the country."
"The state of Maine has spent 40 years relying on the Land Claims Settlement as the end-all, be-all for Indian law," Dana told Tribal Business News. "So it's been a big learning curve getting lawmakers and everybody in government to understand federal Indian law and how that should apply to the tribes in Maine."
The Maine Indian Claims Settlement Act of 1980, signed by President Carter, allocated $81.5 million in reparations to the Passamaquoddy Tribe and the Penobscot Nation of Maine to reacquire a portion of land that was taken from them in unratified transactions. The law also established a $27 million trust fund for the tribes for economic development, according to research from the Native American Rights Fund.
The law also bestowed federal recognition on three tribal nations: the Passamaquoddy Tribe, the Penobscot Nation and the Houlton Band of Maliseet Indians. The Aroostook Band of Micmacs refused the settlement, and later gained federal recognition in 1989.
Unlike in other states where tribes hold complete jurisdiction and sovereignty over their lands, the Wabanaki tribes remain under state control, despite their federally recognized sovereignty. That distinction limits their authority in setting their own tax structures, court jurisdictions, regulations on fishing and hunting on tribal land, and land use and acquisition rights.
As a result, Wabanaki tribes have missed out on federal funding that would first require them to pass state legislation to access it.
"There's been 151 pieces of federal legislation passed in the last four years that we've been blocked from," Dana said. "Like the Violence Against Women Act — we didn't have access to that until we made our own state law."
Building coalitions
The Wabanaki Nation tribes are joined in their push to change the state laws by environmental and faith-based groups across Maine.
The Environmental Priorities Coalition, a group of 32 organizations representing more than 120,000 local residents, has made addressing the Maine Indian Claims Settlement Act one of its top priorities this legislative session. Among its supporting organizations is Sierra Club Maine. Ania Wright, climate action organizer for Sierra Club Maine, has been educating Mainers on environmental justice as it relates to the tribes.
The Penobscot Nation is currently involved in litigation with the state over ownership of the Penobscot River. The tribe argues the river is part of its ancestral territory, but the state says only the islands in the river that were included in the tribe's reservation. The federal government previously sided with the tribe, citing two treaties dating back to 1796 and 1818 that include all of the river. However, the First Circuit Court of Appeals in Boston sided with the state.
The tribe has asked for an en banc review, which is pending. If the tribe wins, they expect to be able to regulate the river's water quality standards, Dana said.
"Historically, the environmental movement in Maine has not been super aligned with values of climate justice or environmental justice priorities," said Wright of Sierra Club Maine. "The Wabanaki people have been stewarding this land and have had the ability to manage tribal lands and waters and resources for thousands of years. Restoring that ability that is justly theirs will help protect all children and future generations in the state of Maine."
Another important aspect of the tabled legislation, and a segment of the bill that's been separated into its own legislation moving forward through the state Legislature, deals with land acquisition rights and the ability for tribes to build casinos. Despite two operational commercial casinos in the state since voters approved gaming in 2003, tribes have yet to gain state approval to build their own casinos.
"Indian gaming has been such an uphill battle in Maine and such a complicated issue that we wanted to wage that fight separately this time around," Dana said. "We firmly believe that the right to game under the Indian Gaming Regulatory Act is absolutely an issue about sovereignty. That grip that the state has been able to have through the jurisdictional control has really been used to undermine sovereignty and treat tribes like wards of the state."
'A justice issue'
Another ally in the push for Wabanki rights is Friends Committee on Maine Public Policy, a Quaker advocacy group. Member Shirley Hager, who chairs a tribal-state advocacy group under the umbrella of the committee, said that about 95 percent of the group's focus is on improving tribal-state relations.
Hager works with other members to track legislation, educate people on the issues, attend public hearings, and help coach interested participants in writing public testimony.
"It's a justice issue that really affects all of us," Hager said. "By Maine keeping Wabanaki communities at a disadvantage and oppressed and not able to access the resources they need for their own development, their own self determination, we're not only holding back and harming a group of people in Maine, but when the tribes do well, everyone does well."
Moving forward, tribal representatives and advocates say they are hopeful that the legislation will have legs when lawmakers reconsider it.
"If the legislation goes through, which I'm hopeful of, I think the lives of everyday Mainers won't change all that much," Dana said. "I think that the tribe will have increased jurisdiction and control over lands and waters and territories, and we'll have access to that federal legislation."
"It's not that the tribes are trying to take rights or resources away from anybody else," Dana added. "It's that we're just asking for equality and the kind of things we're entitled to as federally recognized tribes."
Want more news about the $130 billion tribal economy?
Tribal Business News publishes thoroughly reported and well-crafted stories about Native businesses and entrepreneurs, growth and expansion strategies, best practices, economic data, government policy and other relevant business news. Tribal Business News is required reading for tribal council members and leaders of Native businesses, as well as state and federal legislators, policymakers, economic developers, entrepreneurs, bankers, lawyers and anyone interested in doing business in Indian Country.
Sign up for our free newsletter to track Native business and the tribal economy. Or sign up for a discounted subscription ($99/year — use coupon code "TBN21") to gain full 24/7/365 access to our business news reporting. Megwetch.