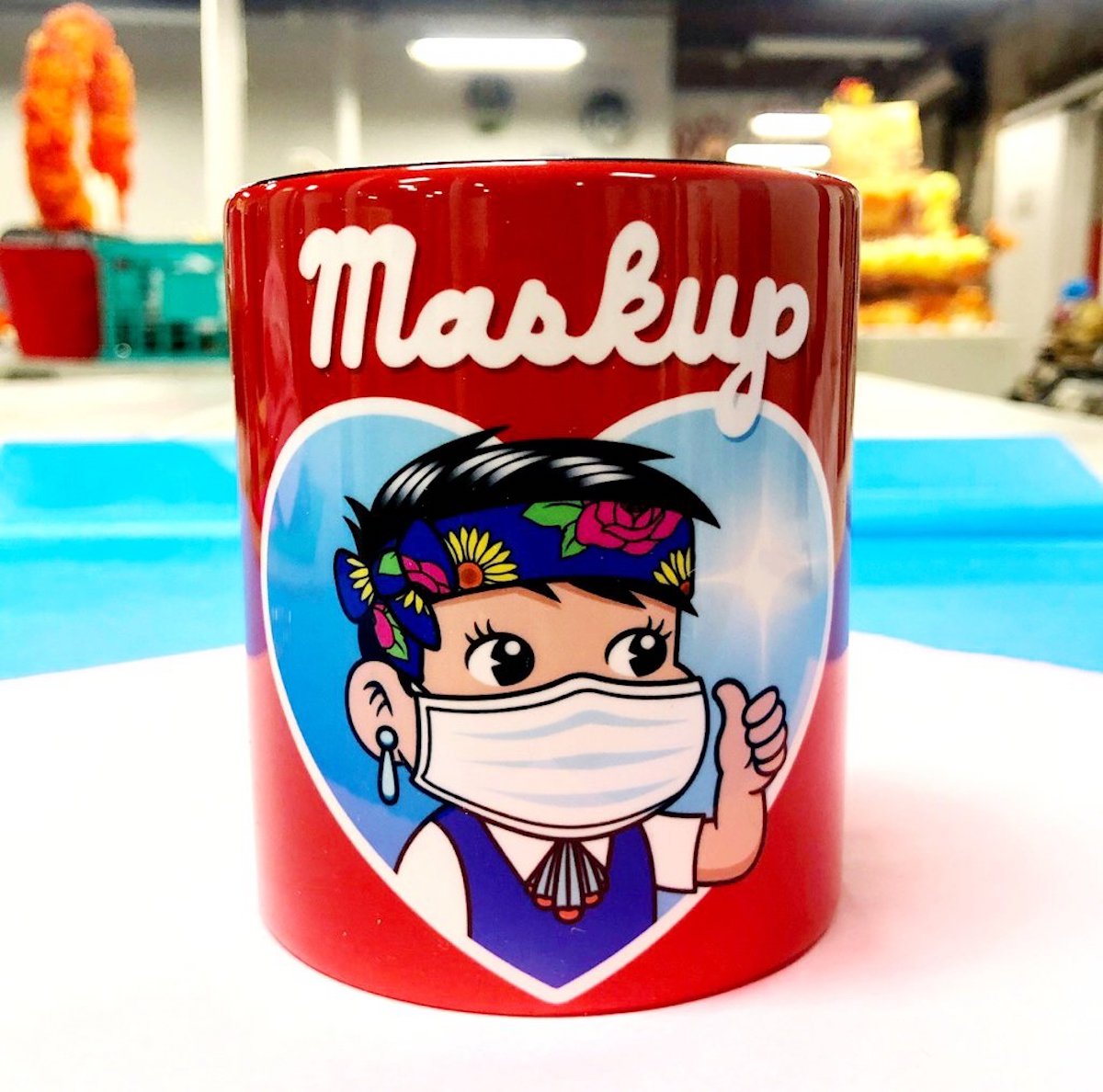 Details

Arts and Culture
Welcome to day eleven of Tribal Business News' 12 days of Indigenous holiday gifts guide. In the spirit of supporting Indigenous artists and entrepreneurs and drawing attention to some truly gorgeous and inspired items, we are presenting 12 consecutive days of Native-made products perfect for holiday gift-giving, including giving to yourself.
Day 10:
Maskup mug, $20; NSRGNTS
The cherubic Maskup mascot, originally created for a mural in downtown Albuquerque, has now made his way on to an ultra-giftable mug.
"It's a great piece because it not only reminds you to stay safe but also is a warm and cute message, just like the drinks you will be enjoying out of it," said artist Leah Lewis (Pueblo, Hopi, Zuni and Diné). "I've used my mugs more than ever during this pandemic to keep up my immunity with daily tea drinking."
And when the pandemic passes, the mug will be an inspired memento of the masked world.
In a July report about the Maskup mural, Lewis discussed the meaning behind the beaming masked boy.
"I did this piece because I'm a mother of two little Native boys and I have been encouraging them to stay safe, wear their masks and wash their hands," Lewis said. "It's geared toward showing our little ones that they themselves are being represented. … I drew the little boy like a little Zuni man," she said. "That's how they wear their bandannas – they tie them on the side."
She added that her ardor for Japanese pop art and the country's "kawaii" culture of cuteness also plays into the portrayal.
Lewis and her life and business partner Votan Henriquez (Maya, Nahua), are co-owners of NSRGNTS, an Indigeous streetwear and accessory brand and art collective championing sovereignty and contributing to Indigenous communities with efforts including providing PPE and food and creating epic murals promoting pandemic safety on Navajo Nation.
By funding activism and awareness through art, NSRGNTS demonstrates shopping Indigenous has immediate empowering effects.
"Shopping Indigenous is so crucial because for many of us, our art is what nourishes us and also what we have used to support ourselves financially for generations. Whether it was our grandmas and grandpas selling their jewelry or our children selling their crafts, the continuity of our arts is something that should always be cherished and supported by all of us," Lewis said. "Soulless mass-produced items will always linger, but pieces of art that have been made with love, creativity, and a message by Indigenous peoples will always prove to be more valuable."
Previous gift ideas
Day 1: Quirky, comical calendar by Ricardo Caté
Day 2: Stationery and scarf set by B. Yellowtail and Debbie Desjarlais Design
Day 3: Baby Yoda power by M Reed Designs Boutique
Day 4: Alaska Native ornaments by Trickster Company
Day 5: Sleek Salish jacket by Ay Lelum
Day 6: Far-out wall art by Johnnie Diacon Art
Day 7: Striking T-shirt by Kevin Coochwytewa
Day 8: Ermine earrings by Wawezhi Designs
Day 9: Legendary art by Karen Clarkson
Day 10: Beaded eagle feathers by Amy Wilson
Want more news about the $130 billion tribal economy?
Tribal Business News publishes thoroughly reported and well-crafted stories about Native businesses and entrepreneurs, growth and expansion strategies, best practices, economic data, government policy and other relevant business news. Tribal Business News is required reading for tribal council members and leaders of Native businesses, as well as state and federal legislators, policymakers, economic developers, entrepreneurs, bankers, lawyers and anyone interested in doing business in Indian Country.
Sign up for our free newsletter to track Native business and the tribal economy. Or sign up for a premium digital subscription ($99/year or $10/month— cancel anytime) to gain full 24/7/365 access to our business news reporting. Megwetch.