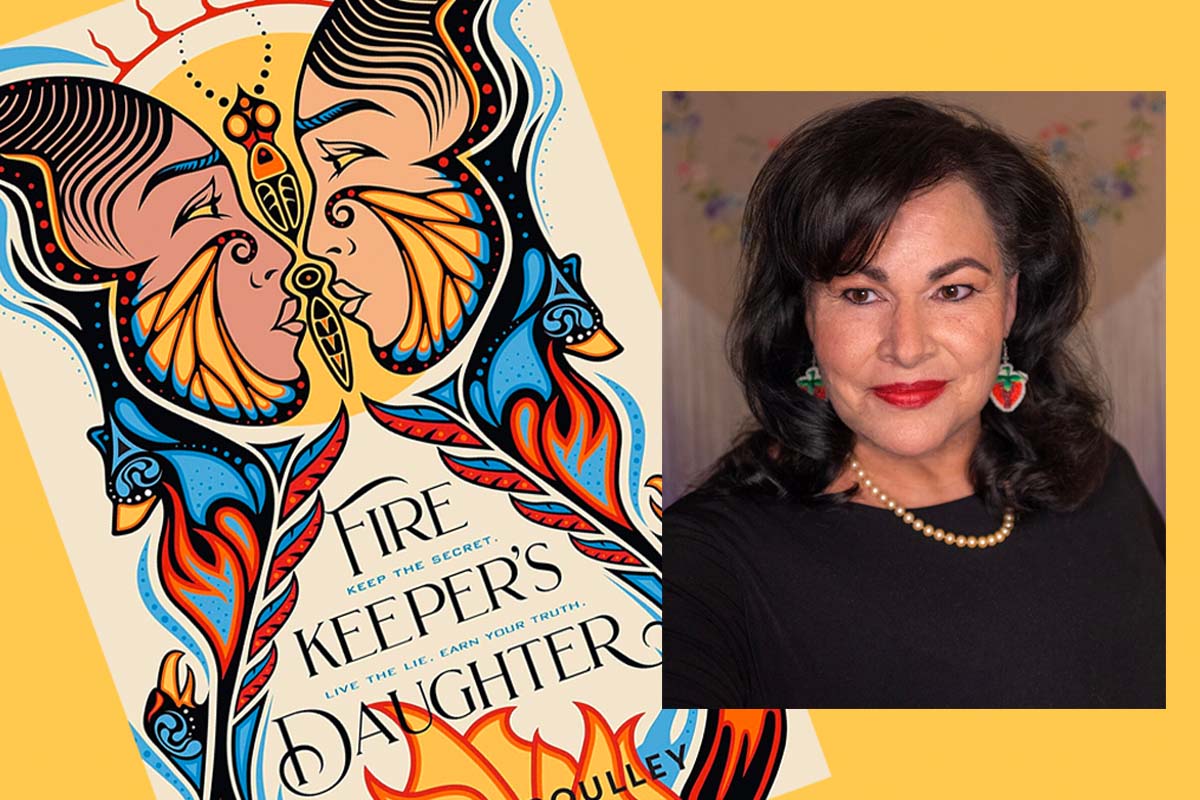 Details

By

Rob Capriccioso

Arts and Culture
SAULT STE. MARIE, Mich. — Author Angeline Boulley is on deadline, staring down a book tour, signings, and production and script consulting for an upcoming streamer. All during a mostly socially-distanced worldwide pandemic. And in the middle of writing her next book, which is due in 10 months.
The story of her recently released debut tome, a young adult mystery thriller, 'Firekeeper's Daughter,' has gotten plenty of attention in Indian Country, and in a unique phenomenon for a first-time Native novelist, in the mainstream, too. In a major way. There was an appearance on Good Morning America, inclusion in Reese Witherspoon's young adult book club, and Barnes & Noble recognizing her with its first Children's & Young Adult Book Award.
Boulley skyrocketed to number one on The New York Times' hardcover young adult bestseller list in March and almost concurrently inked an agreement for a Netflix series with Higher Ground, the production company founded by Michelle and Barack Obama.
Industry insiders say the advance she received for the book, and the deal she hammered out with her corporate publisher, Henry Holt and Co., is quite good — even unheard of — for a new writer, with lots of control and seven figures to boot.
[RELATED: WRITTEN IN STONE: Hoping for lasting progress in the Native book biz]
Talking to her by phone about the book business as she enjoyed a cheeseburger at the famous Clyde's drive-in restaurant in Sault Ste. Marie, Mich., Boulley, 55, does not seem to be getting a big head about any of it, even when waitresses in her hometown now whisper to her at the end of the meal that they knew it was her, but they didn't say anything because they didn't want to draw unwanted attention to her. The same goes even when students from the local high school class now clamor to take selfies with her, or when people ask her if she's hanging out with the Obamas. ("Not yet" is the answer).
During our talk, she sat looking at the small Sugar Island Ferry that had shuttled her back and forth from her tribal homelands in Michigan's Upper Peninsula countless times over the years. A citizen of the Sault Ste. Marie Tribe of Chippewa Indians, Boulley was already a tribal success story before ever publishing a single word, having served in the nation's capital for a long stint at the U.S. Department of Education that culminated in her directing the Office of Indian Education.
Since age 18, she always had the dream of writing a book, with many of the characters based at least in part on the quirky, cool people she knew in and around the Sault and in Indian Country at large. With work and familial responsibilities, she didn't start writing until she was 44, and she then took 10 years to workshop the novel, meeting many people along the way who wanted to help her succeed.
At one point in the conversation, a loud horn blasted from a Great Lakes freighter passing through the nearby Soo Locks. Like Boulley's writing career, the sound seemed to come out of nowhere, made its presence widely known, and maybe even surprised a few tourists who weren't expecting it. But while the noise from the boat quickly dissipated, Boulley has firm plans for carrying on, which she discussed in an interview with Tribal Business News.
Congratulations on your success! It's been quite a journey.
Yes, to say the least!
Did you expect the novel to take 10 years to write, and along the way, could you have ever anticipated that you would end up where you are right now?
No, I did not envision it taking 10 years, and I did not envision all of this! I always knew it was a great story, and I had faith that it would get published, but I just did not envision it landing as successfully as it did.
Why do you think it's resonating so much with people right now?
I think people are curious about Indigenous people and to read a story that is contemporary and doesn't shy away from some unpleasant truths in our communities. And yet, it also highlights the strength and joy and wonderful things about that community.
There have obviously been successful Native writers for a long time now. But it feels like the majorly celebrated ones have been kind of few and far between. Why do you think that is?
There have always been incredible Native authors, but in terms of representation in publishing, it has been well documented that … a publisher might say, 'Oh, we already have one Native book; oh, we already have one Native author.' And school librarians, people who make purchasing decisions, maybe would stop at one big name. That's it. And so I think that for so long, publishing has viewed us as a monolith and has not appreciated or really been aware of the diversity between us.
I definitely believe a portion of the success that I've had is based simply on luck. I do believe the market and timing had an impact, and I just happened to have the golden ticket. There have certainly been great authors out there, whose stories are incredible, and they just have not had the timing, or maybe the agent representation that I had. And so I take the success with a grain of salt. I know that it's not all about me. It's that fact that the publishing world was ready for a gritty thriller that shed light on contemporary Native teens. I just happened to have the manuscript that was ready that was out on submission, and the dominoes fell in line.
You mentioned your agent and publisher. How difficult was the process of securing them? Did they realize what you were trying to do with this book, and did they understand your vision right away?
Yes. Because all those 10 years I was working on writing, I wasn't thinking about the market, and I wasn't thinking about an agent yet. I'm a perfectionist, and so I wanted the story to be as good as I could get it. For me, that meant doing a lot of rewrites. Once I was ready, I was fortunate (that) I was selected to participate in a mentorship program through the We Need Diverse Books nonprofit organization. Agents were interested in finding out what was coming out of that program, so I was in the fortunate position of having multiple offers of representation by literary agents. I was able to really ask all these questions, and just find out who was going to be the best business partner for me. Faye Bender is my agent, and she's part-owner of The Book Group literary agency.
How did all the large publishers start finding out about your book?
I think my agent has such an outstanding reputation in the publishing world given her success with both literary and commercial fiction — adult and young adult. I think that when she has a submission going out to publishing houses, it gets put to the top of the stack because she's just that good at what she does. So we went out on submission on a Thursday, and we had our first offer before Monday morning, and then there were 12 publishing houses or imprints of houses that were interested. There was a book auction two weeks later. Timing mattered as well as her knowledge of which publishing houses made the best sense, which imprint to approach, which editors would see the value in this story.
Then the auction happens, and with the 12 competing, does it go to the highest bidder?
How this book auction worked: It was all by email. The 12 were sent an email inviting them to submit their initial bid by a certain time of the morning. And then my agent and I talked by phone to go over the initial offers and picked the top five that we were interested in having them submit a 'best and final' by the end of the day.
It's not necessarily what is the largest offer, but it's what is the best offer, and the way that it's structured so that you can have a two-book deal where you don't face earning your advance on your first book only after you earn out your advance on both books. There's different ways that deals can be structured, and that's why you need an excellent agent that's going to advocate for you and advocate for things like input on the cover and audiobook, et cetera. So that's where having a great business partner where it's not their first seven-figure deal is important.
Then a few weeks after the book auction, the same process happened with the film option. There was buzz about the book auction and the manuscript, and then it made the rounds in Hollywood. That's where the Obamas had started Higher Ground Productions. They have a production deal with Netflix, and they read the manuscript. Higher Ground just had the same core beliefs that I did that it wasn't just about representation in front of the camera, but behind the camera, and in the writers' room. That was non-negotiable for me.
Have you heard from Michelle or Barack yet?
I have not yet spoken with them, but the conversations I've had with everyone at Higher Ground, it's just been a really great relationship.
Has any part of all this been scary for you? It's obvious you're quite savvy, but at some point does any of it become so complicated that you wonder how you're going to make the right decision?
That's a really good question. One was when it came time for the film contract. I read through every single word and highlighted every word I didn't understand, and asked the film agent to explain it all to me because I wanted to make sure I knew as much as possible about it and make smart business decisions.
But I think the scariest part was when I decided to leave my full-time career at the Department of Education to be a full-time author. I was going through some extensive revisions with my editor. I just didn't have enough physical energy and the mental capacity to really keep up that pace of writing for a few hours every day and then working a 10-hour day. Making that decision to leave my career and my dream job, it was scary. But I also knew that the publisher was investing a lot in my debut and that I had better meet my deadlines and put forth the very best story that I could possibly tell.
Do you miss D.C., heading the Office of Indian Education?
I miss the people. I miss the travel to go see different tribal communities. I really feel like I was the right person in that position at the right time. I felt very much like I belonged there. Yes, it was difficult leaving and not because there was any unhappiness on either parties' part, but just that this bigger dream, this opportunity, came along that just eclipsed everything.
We're still in a global pandemic, so it's been a little bit different in terms of how you would have promoted the book otherwise. Has the pandemic made it any easier or more difficult for you to do promotion?
I think in a lot of ways it's made it easier. I do feel badly for those debut authors, whose books were hitting this time last year. I think that it took publishing a little bit of time to pivot to a completely virtual way of being. I was fortunate that by the time my book launched this year, people were more accustomed to the new ways. What I like about online events is that more people — particularly underrepresented communities, those emerging writers, students, who love books — they have more access to more authors than they've ever had in the past. That's the beauty of virtual events; when events were only in New York City, it meant that only people who could afford to spend that kind of money would get the opportunity to meet the authors and participate in these industry events. That's not the case anymore, and I think publishing is realizing how insular it has been. I think there's been some major shifts in the industry.
Speaking of online opportunities, you recently had a virtual conversation with one of your heroines of writing, Louise Erdrich. How was that?
Oh, it's still surreal. … Someone had done a screenshot of Louise holding up my book. I am sitting there about to burst into tears, and I have my hands up to my mouth because I'm speechless, and that is just such a pure, joyful moment for me. Just being able to meet your writing hero, and then that she's there to talk about my book, it was pretty wild.
Have you had a chance to talk to many Native authors about their experiences in the publishing world and how yours compares or contrasts?
The Native children's literature community is small and pretty tight knit. I do have a lot of friends in that community now, and we talked a lot, and then there's some authors that are kind of crossover where they're writing more for young adult crossing into adult. As for Native authors that write specifically adult fiction, I really haven't met many.
Was a second book part of your publishing deal?
When the manuscript was out on submission, and those 12 editors from different publishing houses were interested, they would say, 'Well, do you have anything else that you're going to be writing after this book?' And I said, 'Yes, if book one is Indigenous Nancy Drew, book two is Indigenous Lara Croft, Tomb Raider.' But instead of raiding tombs, the main character is reclaiming remains and sacred items from museums and private collectors' clubs to bring them back home. And then, over the course of one of our heists, things go very badly. So all of the editors that I talked with were really intrigued.
What point are you at with that book?
I'm on deadline, so I'm working on my first draft and outlining, and I've been doing research. I contracted with Shannon Martin, who is a Gun Lake tribal member. She, for the past 10 or 15 years, has been the director of Ziibiwing, a cultural center in Mount Pleasant [Michigan], which is such an incredible place. I'm contracting with her to help me with research.
You said in a recent interview that it's not going to take another 10 years for the second book. Is that right?
That's right. It's more like 10 months.
Is that a lot of pressure for you?
It is a little intimidating. But then I tell myself I'm a better writer now than when I was starting out on book one. A lot of those 10 years were learning how to tell a story and how to improve my craft of writing. And I have more support now; I have an editor, I have an agent, I have people who are writers and published authors who are friends now that I would feel comfortable having them read chapters and give some honest feedback. And I can afford to do this full-time. So I have some resources this time around that I didn't have back then. And I'm hoping that that makes the process go the way we all hope it does.
What is your involvement in the streaming series?
The film option was for a Netflix streaming series. So season one is going to be based on the book, and I am not going to be writing for it. I declined to do that. I would rather tell new stories. I don't have the training as a screenwriter, and I'm not willing to take the time that it would take to become good at it. I'm just going to stay in my lane, but I will be an executive producer and a script consultant on the project.
Do you think the time is ripe for more Indigenous authors to be published and get recognized?
I think so. We always fear Native authors being seen as a trend instead of a course correction. The hope is that publishers will recognize that there is lasting commercial and literary value to Native stories and stories by Native authors. That's what we all hope. And that it doesn't become another situation where all the attention goes to one, and yet there are so many other great stories and great voices out there. I'm really conscious of that. For as long as people are asking me, I want to make sure that I'm highlighting and spotlighting other Native authors. I don't believe in a zero-sum game where if my slice of the pie gets bigger, it makes someone else's slice smaller.
Is the corporate publishing world getting that message?
Well, they need to understand that there is no one single story that captures all of Native America. And there is no great Native American novel because we are just too diverse to have a singular story. I think that in publishing there have been some really positive things like the Heartdrum imprint launching with HarperCollins. That's an imprint devoted specifically to Native stories by Native authors.
Have any interesting things happened to you since you've been back in the Sault and Sugar Island given your new success?
(Laughter.) One of the things comes from my Cousin Deb. Oh my gosh, she's such an Aunt Teddy, the character from the book who, if you need to get your butt kicked, she's going to be the one to do it. She texted me and was like, 'Nickelback, really?' Because I make reference to a Nickelback song, but it was because the title of the song was important for the story. So my cousin is not pleased. She's not afraid to give a negative review.
This interview has been edited and condensed for clarity.
--
EDITOR'S NOTE: This story has been updated from its original version. Morgan Rath, a publicist with Macmillan Children's Publishing Group (Macmillan oversees Henry Holt and Co.), clarified that Boulley received a seven-figure two-book deal.