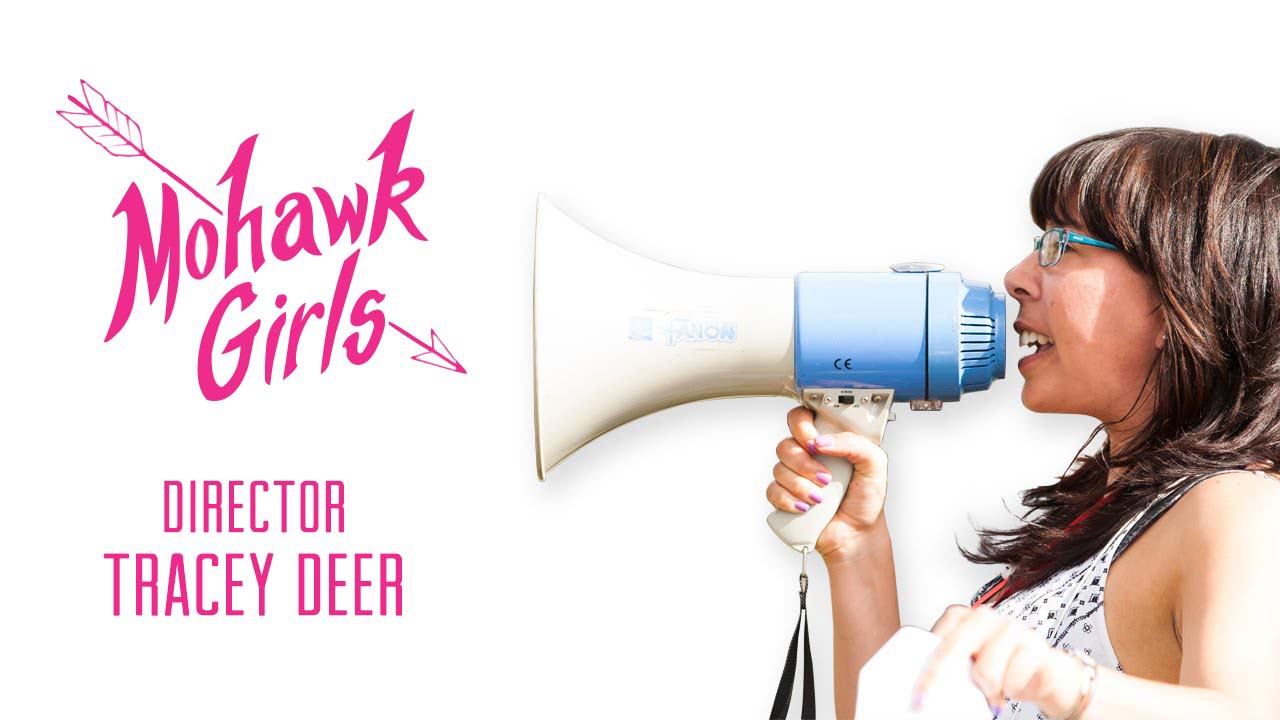 Details

By

Rob Capriccioso

Arts and Culture
Indigenous filmmaker Tracey Deer is riding a new wave of success based in part on her old Canadian comedy series, Mohawk Girls, freshly airing on Peacock TV.
"It went off the air around four years ago, so it is definitely an older property in that regard, but I've recently taken a new peek at it … and I think it holds up," she told Tribal Business News about the series she co-created and directed that originally aired in Canada from 2014 through 2017.
While Mohawk Girls is raunchy and comedic, the serious side of Deer's career also is holding up, with a new drama she co-wrote and directed, called Beans, out now on the festival circuit and scheduled to land in the U.S. this fall on video-on-demand services.
Beans takes a personal look through the eyes of a 12-year-old girl at the 78-day Oka standoff that took place in 1990 in Quebec between Indigenous people who were protecting their land and the Canadian government.
Deer herself lived through that crisis, and she says the experience inspired her to become a filmmaker in the first place, wanting to shine a spotlight on Native resiliency.
[RELATED: SEX AND THE REZ: Mohawk Girls joins Peacock TV as another Native streaming success]
She's since gone on to write for Anne with an E, a Netflix-CBC co-production in which she worked closely with Canadian actor Moira Walley-Beckett, the writer and director known for her work on Breaking Bad.
Next, Deer will collaborate with Amazon Studios where this fall she will begin co-directing Three Pines, from The Crown producer Left Bank Pictures. The police drama, based on Louise Penny's book series, will star Alfred Molina. She will also serve as an Indigenous consultant on the project, along with Katsitsionni Melissa Fox and IllumiNative.
Before streaming became her main emphasis, Deer for many years worked closely with the Aboriginal Peoples Television Network (APTN) in Canada. The TV network produced by and for Indigenous people across the country doesn't have an equivalent in the United States, although people on this side of the border have tried with varying degrees of success to make similar endeavors happen time and again.
Founded in 1992 and funded by the Canadian government, APTN has been licensed to broadcast across Canada since 1999. It bills itself as the first network by and for North American Indigenous peoples.
Deer thinks that the U.S. — and especially Native Americans — could benefit from a similar offering since her growth with APTN positioned her to become involved in the current momentum Natives are experiencing on multiple streaming services.
Tribal Business News caught up with Deer during a recent phone interview.
What does it mean to you to get Mohawk Girls on Peacock?
We're so excited! Oh my goodness, you make stories in order to reach audiences, and we certainly had a fabulous run here in Canada when the show aired (from 2014 through 2017), but definitely, the dream is always to get it to more people. Really, a global audience is a big goal, but the American audience is so huge. They are our neighbors. All of my work is about bridge building. Stories and media are a great bridge builder, and we need these bridges, desperately, in both our countries with our Indigenous people. To finally now be playing in and being available in the United States, both to an Indigenous audience and also to Americans at large, it's very, very gratifying. I'm so thrilled.
Is it strange for you to be promoting a project that was acclaimed in Canada years ago, and now you're coming back and re-educating an all new audience?
It is really weird. It went off the air around four years ago, so it is definitely an older property in that regard, but I've recently taken a new peek at it, for this reason, and I think it holds up. If anything, we were ahead of our time in the themes we explored and the boundaries we pushed. I think American audiences are ready for what we were doing almost 10 years ago up here.
Native entertainers in the U.S. are getting a lot of attention right now for Indigenous-focused streaming projects, like Rutherford Falls, Reservation Dogs, Rez Ball, and many more to come. What are thoughts on streaming and the potential here for Native creators?
It's crucial. For the longest time, our stories were shut out from the main networks, specifically because the networks believed that there wasn't a market for our stories, or the market was too small. Streaming platforms, meanwhile, have been looking to tell stories from very specific communities, and they have proven time and again that those stories travel the world and capture a global audience. Streamers have basically proven the networks' mindset wrong. They are taking bold steps to embolden not just Indigenous storytellers, but really storytellers from all communities. They're the ones putting out an accurate reflection of the make up of our world. It's absolutely changed the game. I know of plenty more (Native streaming projects) that are in the works, and it is a very, very exciting time.
It's been interesting lately hearing the voices of some major mainstream stars, Matt Damon included, who are being critical of streaming, saying it is hurting their box office abilities and maybe hurts authentic filmmaking.
Look, when the privileged have their platform a little shaken, it can be distressing. But privilege is the key word here. For the longest time, white people and their stories have dominated the mainstream media. It just hasn't been representative of what our world looks like. It's absolutely crucial that the stories we put out there reflect what the world looks like. Those with that privilege have to adjust and recognize that things are changing. The world is changing. And it's a good thing. I hope that they can get on board.
Talk about your filmmaking and development of your work over the years.
I have been in the business now for 20 years. I started my career in documentary and was in documentary for about 10 years before I hit a bit of a burnout, since documentary does deal with real people, and of course real issues and difficulties going on in our communities. I really carried those stories with me 24/7. After my last documentary, Club Native, was out in the world, I did hit a bit of a burnout and had trouble figuring out what was the next story. As time went on, I decided to go back to my original roots.
I was 12 years old when I decided I wanted to become a filmmaker, and the dream as a 12-year-old was to be a fiction filmmaker. So I was able to get a grant and produce, write and direct a short film to see whether my skills as a documentarian translated over into fiction. That short film, we then pitched it to the television network up here, the Aboriginal Peoples Television Network, as the basis for Mohawk Girls … and they loved it. That's how that show came to be and the next phase of my career came to be. I then worked in TV for six or seven years. Mohawk Girls really occupied my world for a good seven years. Then I went on to the drama series Anne with an E, which was a Netflix-CBC co-production. I got experience in the one-hour format, which was fantastic, working with Moira Walley-Beckett, who was incredible.
Then, it was time to do a feature. I had been working on Beans, my first feature, for years. It was finally ready, and we shot that in 2019. That is my most current work that is out in the world. It will be available in the United States in the fall. It's currently playing at film festivals right now, and will be available on VOD this fall.
What is Beans about?
Beans is a coming-of-age story about a 12-year-old Mohawk girl that takes place during the Mohawk uprising, during the 1990 Oka crisis dealing with Indigenous peoples protecting their lands. I know not many people in the United States are aware of it, but it is a bit of a watershed moment up here in Canada.
Your Mohawk citizenship obviously deeply informs your work.
When people ask how they should describe me, I tell them I am a Mohawk writer/director because it really informs everything. It informs the stories I am passionate about telling. It informs my perspective on the world. It informs the scenes that I want to portray. Also, my voice as a storyteller is very informed by my people and what I have learned from them and how important it is to speak up for what you believe in and how you need to persevere and resist.
That has been a big part of the trajectory of my career, the resiliency that I've learned from my people. It's really everything. My contribution is to put stories out there that are reflective of our communities that have full, three-dimensional, layered, flawed, beautiful characters so people can get to know us beyond stereotypes that have been presented over the 100 years of cinematic history and so that we can see ourselves reflected.
For so long, we couldn't see ourselves reflected on the big or small screen, and if we did, it was a caricature or we were the villain. That also takes a toll, especially on a young person's sense of self and self worth. I know it did for me.
How did people in Canada relate to Mohawk Girls, and how do you hope mainstream U.S. viewers will relate?
Many of the themes that we explore in the show are very universal. It's certainly a show that's about women, it's about friendship, it's about identity, it's about belonging, and I think that those are all questions that cross racial lines. In that way, it's for everyone. What makes it very special is that it's about a very specific community, a very specific people, and there are some differences that I think make us very special. We have our very unique problems that can also be quite hilarious, which is why the show is a comedy.
What was wonderful was that Canadian audiences outside of Indigenous people came to the show out of curiosity and stayed because of the emotional connections they ended up having with the characters and being able to relate to the struggles that these characters were having — even though they themselves were not Indigenous. I hope that the same thing can happen for American audiences.
Did the show evolve at all in the way you were presenting Indigenous issues?
It has always been the biggest challenge in my work. I've always wanted to create for two audiences: our own people, but also non-Indigenous people. It's always been this balancing act of these two audiences, and it's tricky because there's so much we as Indigenous people already get, and there's so much that a non-Indigenous audience really doesn't get. It's walking that fine line of being authentic and reality-based, but needing to provide enough context as well so that outsiders would be able to follow what is going on and why it's going on. It's hard.
Every year, we learned and grew as creators — me and Cynthia Knight — and every year we had new writers in, expanding areas, so there was definitely an evolution that happened. But I think we also stayed true to the heart of the show throughout, and we never compromised that. We were also never asked to change that by our main network, the APTN. What was so great about that is they really got what we were doing, and they never tried to come in and editorialize or scale back or want more explanation. They got it, so they told us just to go run with it.
The trick for us was to make sure that a non-Indigenous audience was also getting it and they were along for this ride. I think we were successful because we really captured a very broad Canadian audience, from young all the way into the elderly. So many elderly people would tell us they were laughing, loving how raunchy it was.
We don't have a nationwide outlet like the Aboriginal Peoples Television Network in the U.S. aimed at showcasing Indigenous creativity. Do you think that an outlet like that would be valuable here?
Yes, for sure. The only reason I am where I am and have been able to do what I've done is because of the Aboriginal Peoples Television Network. We are now at a time where the doors are opening for Indigenous creatives, and because of APTN, there are so many in my community up here that are ready to take on these incredible opportunities that are opening up. We are so fortunate, and I am so grateful for their support over the years. They've allowed me to develop my voice and to say exactly what I wanted to say. I've never had to convince a roomful of white people why what it is I want to talk about is important. I've been speaking to Indigenous people who say, 'Yes, that is important.' That's been incredible.
It did take some time to get greenlit at APTN for Mohawk Girls. Do you know why?
It is a smaller, national broadcaster up here. Their resources are only so big, so they can only do so many big shows at time. We were in development, and they loved it, but unfortunately, they already had a big show that they were doing, so basically we had to get in line and wait our turn. They were very open that that was the situation, so that's what we did.
What's your biggest and best advice for Native creatives just getting started in showbiz?
Two pieces of advice: It is so important to find the right partners who will support and amplify your voice as opposed to wanting to change it. Finding those people is absolutely crucial because when you do get involved in the project, it's not quick. These things take a long time. Whoever you end up partnering with, it's a relationship. It's like a marriage, so you want to be working with the right people.
The second piece of advice is to own your voice, trust and believe in yourself. It's very easy — especially when you're starting out — to want to give people what they want because you want to work, you want to have some space, but just remember that what you have to offer is incredibly special, and you need to hang on to that and not compromise what you know to be true.
What's next after Beans?
I am a director on a new Amazon show called Three Pines (starring Alfred Molina) that's shooting up here in Montreal. I'm one of the directors on that, so I'll be doing that this fall. I'm also in development on two different television shows at the moment, and I do have another feature that I've recently written. There are a bunch of things brewing.
If Mohawk Girls takes off on Peacock, would you ever create new episodes?
Oh my gosh, I would so love to. It was so hard to say goodbye. I love those characters. I love the world. There's still so much more to talk about, so yes, a resounding, 'Yes!' In fact, when we were finishing the fifth season, the only way I was able to get through it was to think that one day we would do a movie where the girls are now five, 10 years older. I still have that in my brain.
This interview has been edited and condensed for clarity.
Want more news about the $130 billion tribal economy?
Tribal Business News publishes thoroughly reported and well-crafted stories about Native businesses and entrepreneurs, growth and expansion strategies, best practices, economic data, government policy and other relevant business news. Tribal Business News is required reading for tribal council members and leaders of Native businesses, as well as state and federal legislators, policymakers, economic developers, entrepreneurs, bankers, lawyers and anyone interested in doing business in Indian Country.
Sign up for our free newsletter to track Native business and the tribal economy. Or sign up for a premium digital subscription ($99/year or $10/month— cancel anytime) to gain full 24/7/365 access to our business news reporting. Megwetch.