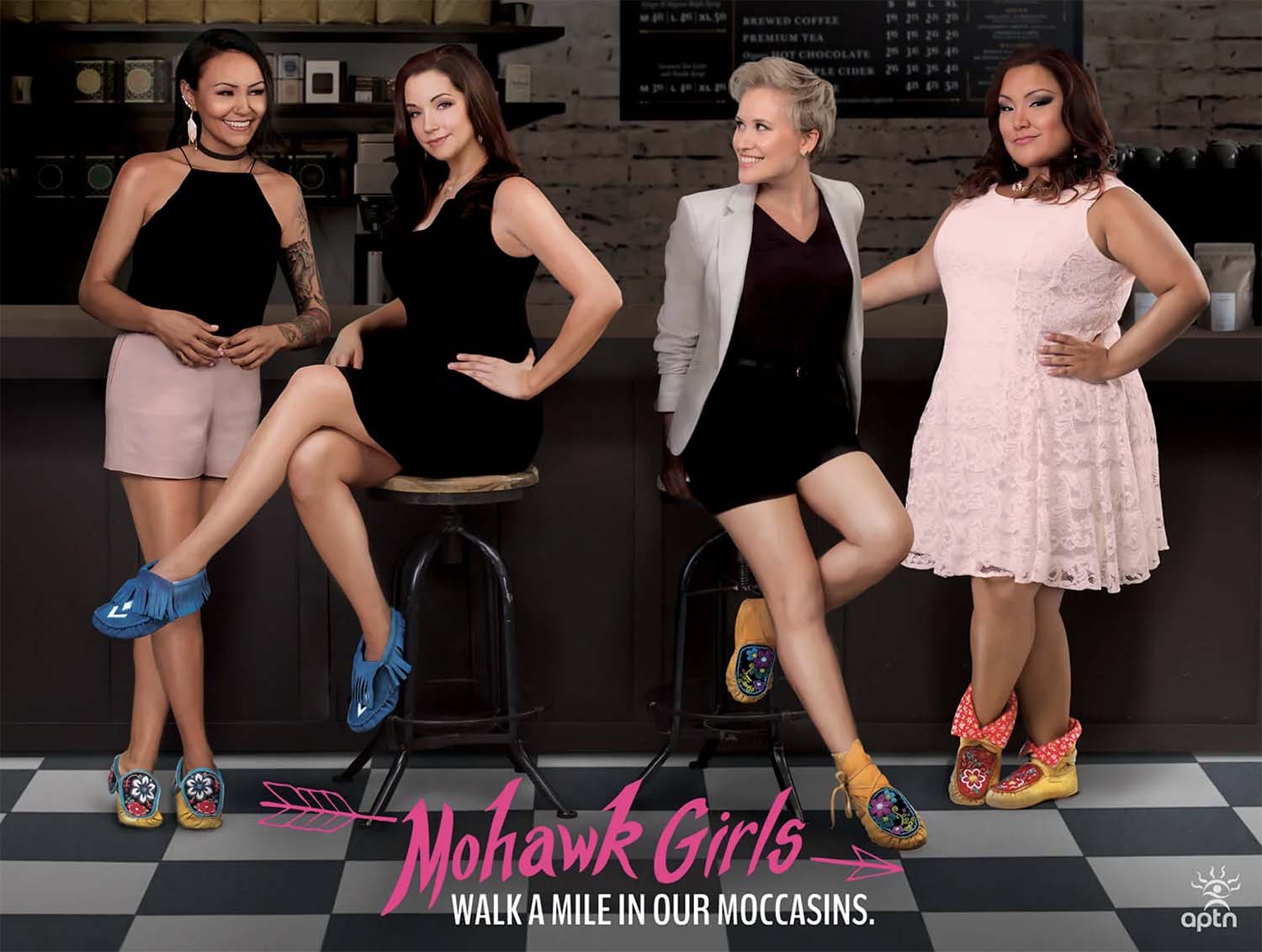 Details

By

Rob Capriccioso

Arts and Culture
Everything old is new again. It's a cliche worthy of the stars of HBO's Sex and the City, who are in the middle of producing a comeback. But it's an even more apt description of the TV comedy Mohawk Girls, whose creators describe the show as Sex and the City meets the reservation.
The acclaimed series, co-created by Mohawk filmmaker Tracey Deer, has recently come for the first time to the United States via a new partnership with NBCUniversal streaming service Peacock TV.
"We're so excited!" Deer told Tribal Business News, citing her optimism for increasing Native representation on streaming services. "For the longest time, our stories were shut out from the main networks, specifically because the networks believed that there wasn't a market for our stories, or the market was too small.
"Streaming platforms, meanwhile, have been looking to tell stories from very specific communities, and they have proven, time and again, that those stories travel the world and capture a global audience. Streamers have basically proven the networks' mindset wrong."
[RELATED: Streaming platforms offer pathway for enduring Indigenous success in Hollywood]
All 33 half-hour episodes of the series' initial five-season run, which aired in Canada starting in 2014, went live on Peacock in July. The deal is non-exclusive and open-ended, according to producers, who said the platform was one of many they pitched in the U.S. over the years.
Deer, who also directed the program, explained in an interview that she had previously filmed a documentary with the same title about twenty-something women on her reservation, the First Nations Kahnawake Mohawk Territory. She then approached Montreal-based Rezolution Pictures with the idea of a series based on her own romantic life, with a comedic twist.
[RELATED: BRIDGE BUILDER: Tracey Deer uses Mohawk Girls to get serious]
Rezolution, owned in part by Ernest Webb, who was raised in the Cree community of Chisasibi, took an immediate liking.
"We thought it was a great idea," Christina Fon, vice president and executive producer with Rezolution, told Tribal Business News. "It capitalized on a concept that was already understood and popular, while adding a new component that people could also find enjoyable and could maybe learn something about."
Sex and the City had already been a major hit internationally, and they all felt Mohawk Girls was an Indigenous take on that phenomenon, showcasing a unique spin on the dating lives of four Mohawk Indigenous women. So while Sarah Jessica Parker's Carrie Bradshaw has her "Big" love interest on Sex and the City, Heather White's Caitlin in Mohawk Girls has her "Butterhead," a widely lusted-after man on his reservation with an affinity for lacrosse and, yes, butter.
The show also tackles more serious topics in comedic ways, including the desire of many in the community for Mohawk women to settle down only with Mohawk men in order to maintain Native bloodlines and culture. Also fodder: the difficulties of having relationships in a closely-related, relatively small area where anyone can be an unrealized cousin, or a general dimwit, like Butterhead shows himself to be in an early episode.
The issue of Mohawk women being cruel to one another as they compete for a limited pool of partners is another common theme, as is familial expectations, especially if your mom is a respected chief, or if your aunt is a desirable woman about town. Through many ups and downs with men, one who refers to the largeness of his "drum" as a not-so-subtle euphemism, the friendships among the women and what that means remain the overarching goal and heart of the series.
While it might all sound like good fun, especially for Indigenous audiences that have longed for more Native portrayals in showbiz, Fon noted that nothing about the show's success happened overnight, either during its initial Canadian run, nor in its current spotlight on Peacock.
"To be honest, five or six years ago, the appetite for Native content was not as feverish as it is today," said Fon, an Emmy-nominated producer and Sundance and Peabody Award winner. "It was seen as more niche content. Some people felt there wasn't a big enough audience for it."
Fon said that she and her team first took the idea to Canadian broadcaster Aboriginal Peoples Television Network (APTN) about a decade ago. Eventually, Rezolution created a pilot episode to show the proof of concept. In all, it took five years for the show to get the go-ahead to be made.
"There was a lot of hesitation, even for APTN, because (we were) doing a comedy with women, it was racy, it was bold," Fon said. "It was controversial in that there was a lot of sex and a lot of risky business going on, but also, I think, most people had not seen Mohawk women in such a modern setting with comedy attached."
Monika Ille, the executive at APTN who supported the idea of trying to get the show made, was an early fan. When she eventually became the executive director of programming and scheduling at APTN, the show was greenlit. Everyone involved cites her as being a pivotal champion, but because of APTN scheduling and resource issues, the show still took much time to get to air. (Ille is a member of the Abenaki First Nation of Odanak.)
When the show began airing in Canada in 2014, accolades followed almost immediately. It was picked up for more episodes before its first season even broadcast, critics and audiences loved it, and it was nominated for multiple awards. But the biggest reward, its creators say, was that Mohawk Girls stakes the claim to being the first Native comedy created, written, produced and brought to market by female creators and executives.
Unique funding arrangements were also part of the journey. To secure financing for the first two seasons, the creators involved Canadian multilingual network OMNI, so there was a version of the series dubbed in Mandarin.
Before coming to the U.S., the show was eventually sold to SBS Australia, the country's multicultural and multilingual broadcaster, and to Air Canada, the Canadian national airline. Last summer, the CBC, the Canadian national broadcaster, picked it up for their GEM streaming service. APTN also bought the rights to air the show in French and have since bought the full streaming rights for their APTN LUMI streaming service.
Rezolution tried unsuccessfully for many years to get the show into the U.S. market, all along thinking that both Native and non-Native audiences alike would appreciate it here, Fon said.
Fon cited current Indigenous streaming successes, including Rutherford Falls on Peacock and Reservation Dogs on FX on Hulu, as helping to make the "timing right." Both have recently been re-upped for second seasons, and many more Indigenous projects are in the works at other streaming services.
"Audiences are craving modern Indigenous stories in the mainstream TV landscape," Fon said. "Native content is exploding in the U.S., so Mohawk Girls was the perfect fit."
Still, Fon, like many others, wonders whether the triumph will last, given historical trends.
"Native content is now being lumped in with broader BIPOC content, which is being spread out over the entire North American continent," she said. "This is what people want. This is what networks are looking for. Whether it's going to last or not, I don't know. I hope so."
One thing that is strange for everyone involved with Mohawk Girls is that they're promoting a project that ended four years ago, yet they all feel it still remains relevant today.
"If anything, we were ahead of our time in the themes we explored and the boundaries we pushed," Deer said. "I think American audiences are ready for what we were doing almost ten years ago up here."
"It's amazing," added Fon. "It was such an exciting time for us. To relive it now, it just makes me feel proud and happy that it's finally getting its chance to be viewed in the U.S. market. I always knew it would happen."
While nothing is set in stone, Deer said that the Peacock experience could lead to even more Mohawk Girls in the future.
"I would so love to," Deer said of perhaps creating more episodes, or even a movie to see what the characters are up to today. "It was so hard to say goodbye. I love those characters. I love the world. There's still so much more to talk about, so yes, a resounding, 'Yes!'"
--
EDITOR'S NOTE: This story has been updated from its original version.