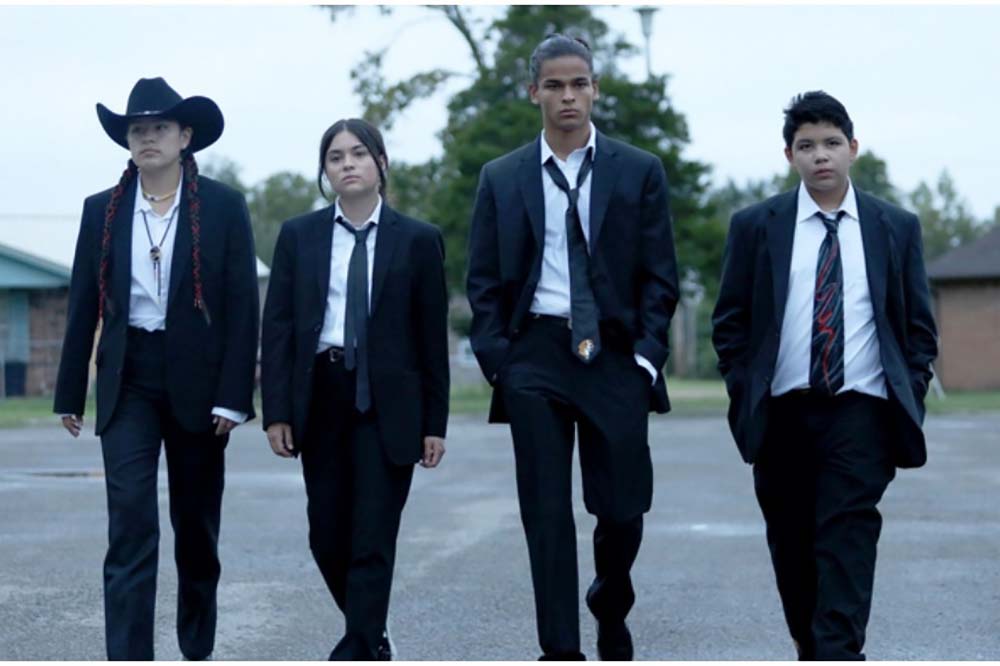 Details

By

Rob Capriccioso

Arts and Culture
In the days leading up to a renewal decision by NBC Universal's Peacock streaming platform, the prospect for a second season of Rutherford Falls was seeming rather iffy.
The show's breakout Native star, Jana Schmieding, was regularly tweeting and retweeting sympathy-inspiring missives that made clear she desperately wanted the show to be renewed. She was saying in spring interviews that she and the series' talent and crew expected to hear sometime in June, because that's when streaming companies usually make their final decisions on pickups. Rabid social media fans were threatening to boycott Peacock and cancel their subscriptions if there was not going to be a second season.
As that June renewal deadline came and went, NBC's press relations crew said that Schmieding's team wasn't making the Cheyenne River Sioux tribal citizen available for any more interviews, despite her having done a plethora of Q&As earlier in the year with Native and mainstream press. Some observers suspected that the powers that be were attempting to silence her because of her activism on social media.
When July 4 passed, the situation looked downright bleak. Liza Black, an assistant professor of Indigenous studies at Indiana University who is an expert in Native representation in show business, told this reporter that signs were negative.
"Yes, we should have heard by now if they are getting a second season," the professor lamented, concerned that Indian creatives were once again about to be treated badly by a mainstream entertainment studio.
[RELATED: NOW PLAYING: Warner Bros. versus the Native American studies professor]
Suddenly, though, on July 8, big news made it into the trade papers: The show that Natives fell in love with during the pandemic, which some claimed had been part of their binge-healing entertainment diets, would be returning in 2022.
Additionally, NBC was making the first Native American showrunner, Sierra Teller Ornelas, a Navajo Nation citizen, available for a chat with Tribal Business News.
"In streaming, they can kind of wait as long as they want, so we kind of just gave it up to the process and hoped it all worked out," Ornelas said in that interview. "We're so glad that it did."
[RELATED: ALGORITHM PIONEER: Rutherford Falls creator Sierra Teller Ornelas weaves TV success, preps for second season]
The show's return was far from a given. There have been many false starts and much mistreatment and poor representation of Natives in Hollywood over the past 100 years, and the algorithm for Native success on streaming platforms hasn't yet been written. Still, the possibilities loom large.
"TV streaming, I mean, it's my career now," said Sterlin Harjo, the Seminole/Muscogee co-creator of FX on Hulu's new Reservation Dogs comedy, which also features Schmieding in one episode. "It saved me."
[RELATED: 'NEVER STOPPING': Sterlin Harjo streams success with Reservation Dogs and Rez Ball]
The Rutherford Falls team had certainly been on edge, noted actor Michael Greyeyes, a Plains Cree citizen from the Muskeg Lake First Nation, who plays tribal casino magnate Terry Thomas.
"Heck!" he wrote on Twitter July 9 after the renewal came through. "The cast is texting each other like mad. We're so PUMPED!" (To really nail home that point, he punctuated his message with celebrating emojis and a fist knocking down a wall.)
The pressure had been palpable. Anyone who had been following the situation closely could sense the collective sigh of relief from everyone involved.
Someone unfamiliar with longtime Native setbacks in Hollywood might wonder what all the fuss was about. To Natives, though, the second-season achievement of Rutherford Falls was especially meaningful because it was the first major production in a wave of new Indigenous created, produced, written and acted-in shows, all of which are currently streaming, or set to stream, on major platforms in coming months.
If Rutherford Falls couldn't get renewed even with all its fanfare, especially from Indian Country, the wave could have already been showing signs of weakness.
But that was certainly not the case.
Multiple projects coming soon to streamers near you
A real streaming trend is ongoing and gaining steam, much like Native creatives have recently experienced in the mainstream world of book publishing and the arts in general. To industry watchers, it feels like it could be a lasting phenomenon because of a number of reasons, from the unique, ever-increasing content needs of streaming entertainment, to societal shifts, to even some positives brought on by the pandemic, of all things.
[RELATED: WRITTEN IN STONE: Hoping for lasting progress in the Native book biz]
"Native people have been the most underrepresented groups, period," said Susan Douglas, a professor of communication and media at the University of Michigan, who collaborated with noted Native scholar Philip Deloria before he left Michigan for Harvard. "The representation has just been so absent that even a couple of new shows makes for an exciting trend."
"The fact that there is an increasing recognition that there can be a market for programming for marginalized groups and we are at a time when there's increased attention to such groups translates to very good news for Native Americans in entertainment," she added.
Indeed, good news came for Ornelas when Rutherford Falls was renewed, and soon after that, she personally landed an extended production deal from Universal Television. She also has a project in the works at Apple TV+ starring Maya Rudolph of Saturday Night Live fame. On top of that, there's Harjo's own buzzworthy Reservation Dogs, which debuted to much fanfare Aug. 9 on FX on Hulu. It currently has a 100 percent "certified fresh" rating on the Rotten Tomatoes review site.
Netflix, still the king of the streaming platforms, currently has Harjo and Sydney Freeland's Rez Ball, Angeline Boulley's Firekeeper's Daughter, and Karissa Valencia's Spirit Animals all in various stages of development. Indians are at the same time starring in Martin Scorsese and Leonardo DiCaprio's Killers of the Flower Moon, now filming under the Paramount and Apple TV+ banner.
Major mainstream players are supporting all of them, with Ed Helms and Michael Schur co-creating Rutherford Falls; Taika Waititi co-creating Reservation Dogs, Lebron James producing Rez Ball, President Barack Obama and First Lady Michelle Obama's Higher Ground production company developing Firekeeper's Daughter; and animation mega-producer Chris Nee shepherding Spirit Animals and its all-Native writers' room.
Scorsese and DiCaprio have made many friends in Osage country during their shoot over recent months, attending Native dances, frequenting tribal establishments, and casting a bounty of Natives in roles, said to be small and large, both in front of and behind the camera.
Still other shows are in the works on various streaming platforms, including from the likes of Tazbah Chavez, Blackhorse Lowe, Anthony Florez, Lucas Brown Eyes, Migizi Pensoneau and others — all set to be announced in due time.
Changing landscape benefits Native creatives
Streaming makes sense for Native inclusion, representation and leadership for many reasons, according to some of the talent currently involved in the industry.
"All of a sudden, they need more content, and they need a lot of it," Harjo noted.
Having been missed by the mainstream for years, Native stories are ripe to fill that void, both he and Ornelas said.
Harjo added that the last independent film he made, only two years ago, took a ton of work, much promotion — all dependent on him — and it made him very little money in the end.
"Now I have a career in TV, and it's because of streaming and TV that I'm finally making a living at doing this job, not kind of just scraping by, going from small budget to small budget," he said.
Ornelas agreed, saying that the landscape of television has changed so much in such a short time, and that outcome has translated to great momentum for Native content.
"Twenty years ago, there was like three places to pitch your story and now there are literally hundreds of places," she said. "So yeah, I think streaming has definitely helped open up opportunities, but I also just think the television landscape is such that no traditional ways are working anymore. Across the board, people are more willing to take risks and try new things because nobody knows. I think maybe 20 years ago, everyone thought they did (know)."
Media expert Douglas said there is no doubt that streaming services have created a space for the representation of more marginalized people and groups considered to be specialized.
"They, being subscriber-based, have the luxury of dealing with niche markets and niche groups as opposed to what advertising-supported networks have been able to do so far," Douglas said.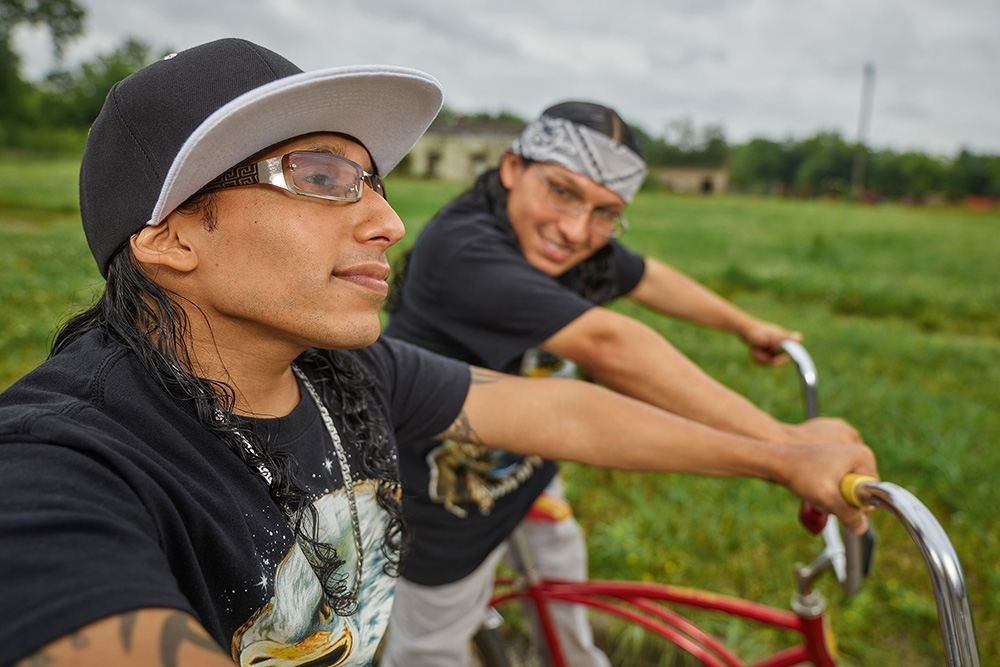 (l-r) Funnybone as Mekko, Lil Mike as Mose. (Courtesy FX on Hulu)
'Tired of the same old stories'
Besides the streaming services' need for content, societal changes and an increased taste for Indigenous storytelling also play a factor in all of this, according to many Native-focused entertainment scholars and producers.
"This industry has been a white boys club for a long time and that's been broken down from a lot of different places," Harjo said. "Whether it's a women's movement, whether it's 'Let's hear more voices because we're tired of the same old stories,' there are a lot of things that are helping change that, not just one thing."
Some Indian creators noted with irony that popular actor Matt Damon recently decried in the press the growing popularity of streaming as being detrimental to quality movie making. However, Native Americans have not noticed it ruining their prospects at all. Damon has had some race-based miscommunications in the past that he's been forced to correct stemming from his comments on diversity when filming Project Greenlight, so some think he needs to re-examine his position here as well.
"He and other actors should be embracing streaming and newer social media to applaud the opening of doors to less privileged groups," said Black, the Native film studies professor. "He should be finding ways to collaborate with those from less privileged groups rather than slamming a door that has already been opened."
Harjo also believes that Standing Rock and Indian water protectors' and land defenders' resistance to pipelines and so-called dirty energy in 2017 and beyond has helped put Indians back in the public eye.
"All of a sudden, there wasn't just this historical 1800s image of us," he said. "All of a sudden, we were in jeans, and we were in facemasks, and we were in bandanas, and we were in T-shirts. All of a sudden we were 'now.' And it was cool to be us. They thought, 'Wow, they are like fighting for this stuff.' So I think that also helped really turn people's heads when it comes to Native stories."
Angelica Lawson, a Northern Arapaho assistant professor in the University of Colorado's departments of cinema and ethnic studies, agrees.
"I believe the high-profile Indigenous activism of the past few years has raised awareness regarding contemporary Indigenous people, as has social media," Lawson told Tribal Business News. "People are interested in our stories, and it's just possible that people are finally realizing we are not relics of the past, and we are fighting for our futures.
"We have interesting lives. We have a lot going on and a lot to say. Maybe more people are finally ready to hear it."
Then there's just the simple fact that because of the pandemic more people were staying home, looking for new things to watch.
"[A]ll of a sudden they're binging TV shows," Harjo said. "People at home don't necessarily care if Tom Cruise is the lead in your show. They like new voices and new faces. They like discovering new worlds."
Douglas believes that many mainstream institutions, including those in Hollywood, have been forced to address systemic inequities as a result of their increased visibility during pandemic times.
"COVID cracked a lot of that open around gender, around race and ethnicity, around health problems facing Native Americans," she said. "COVID has really opened up a space that has interacted with some of these social justice movements."
"I do worry, though, now that we're watching Jeff Bezos going off into outer space and these billionaires doing all this stuff, whether some of the attention to inequities is going to wither," she added. "We'll just have to see."
Building a people pipeline
Brian Wescott, a long-time Native producer and actor of Athabascan/Yup'ik Alaska Native descent, is quite cognizant of the long road Natives have traveled to get to the point of finding the streaming avenue that appears to be opening up to them today.
"After years of our community being basically invisible, in the BIPOC era we suddenly find ourselves amid an explosion of production on network and streaming platforms," he told Tribal Business News.
Wescott has made a living over the years toiling in part in documentary productions, which he and others still believe hold much potential, especially given the renewed attention to the atrocities of Indian boarding schools. He was recently the executive producer on the feature documentary The Thick Dark Fog, and he produced Ishi's Return, a half-hour piece on the repatriation of the remains of Ishi that also did well on the award circuit and aired on PBS.
"It's not like we haven't been trying," he noted. "Unlike in Canada, where funding and broadcasting opportunities are meager but still far beyond what the government offers here, our production and broadcast opportunities have centered on public television via Vision Maker Media. And due to production costs, this setup has tended to favor documentaries, with Molly of Denali being a wonderful hybrid project that has broken through to combine fact-based content with scripted children's animation using actors."
Some successful Indian creators have found it useful to look to the Sundance Institute where Bird Runningwater and others have long been fostering and cheering on Native talent. Some have also turned to Crystal Echo Hawk at IllumiNative and other Native-led entertainment companies and cinematic efforts backed by tribes like the Oneida Nation of New York.
Advocacy is part of the overall effort. Barret Helms, inclusion and equity coordinator of the Writers Guild of America West, confirmed to Tribal Business News that his group is currently working on a guide, tentatively called "Do's and Don'ts for Writing Native Characters," and plans to soon post it on their website.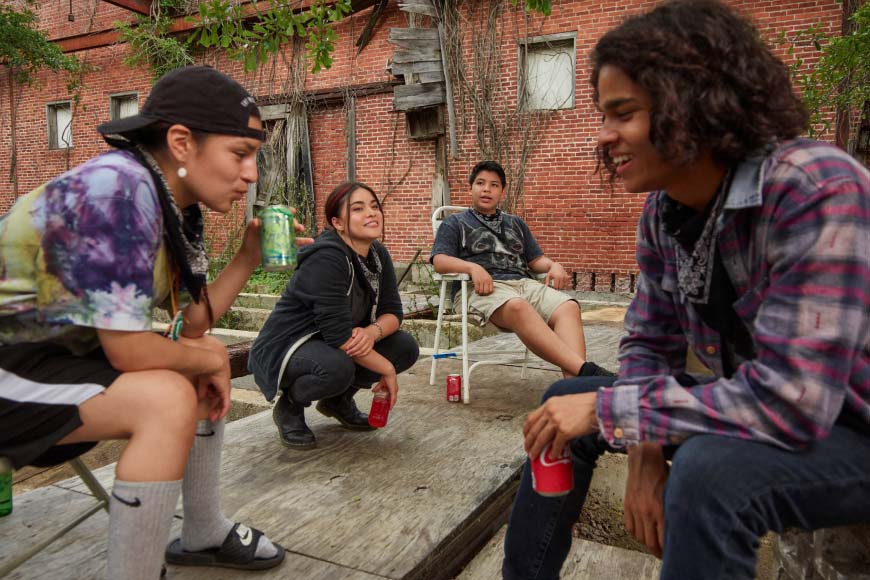 The main characters of Reservation Dogs are Bear Smallhill (D'Pharoah Woon-a-Tai), Elora Danan (Devery Jacobs), Willie Jack (Paulina Alexis) and Cheese (Lane Factor). (Courtesy FX on Hulu)
Remembering the past
Meanwhile, Ornelas thinks it's important to remember the contributions of many under-appreciated Native artists who have helped get her generation to this point.
"There were just so many Native actors and writers who were ready and who didn't get the shot," she said. "It wasn't because they weren't good enough, it was because of the system and things being incredibly unfair. We always want to acknowledge the folks who came before us and the folks who are coming after us."
Their choices may not have always been perfect, but Native actors who have walked on, including Jay Silverheels, Saginaw Grant and Russell Means, as well as experienced working pros like Wes Studi, Adam Beach, Irene Bedard and Tantoo Cardinal have long tried to make changes in Native representation within the Hollywood hierarchy.
Some have had major successes, but common laments over the years have stemmed from the setbacks in the ways Natives are presented on screen and a general lack of inclusion of their voices in top-level decision making.
"Charlie Hill should have had a TV show, and there's so many Native actors you could list," Ornelas said. "Wes Studi could have been an incredible sitcom actor on some kind of Frasier-like show."
Studi is appearing in a guest spot on Harjo's Reservation Dogs, and many observers believe more of these legacy Native actors also will eventually show up in the streaming space.
"He (Studi) laid the groundwork for a lot of the stuff that people are doing now," Freeland, now working on Rez Ball, recently told Tommy Orange in a GQ interview. Orange himself is part of the Native literary renaissance of recent times, having been a Pulitzer Prize finalist for "There There" with more hotly anticipated Native-focused fiction on the way.
Sonny Skyhawk, a Rosebud Sioux actor and producer, known for his work on Wampum, Young Guns II and Counting Coup, said the advocacy he and others have done through the years is finally paying off.
"We have waited in the wings long enough, it is our moment to shine, but as I have always stressed, be careful for what you wish, because you had better be ready when your turn comes," Skyhawk said. "In the forty years I have been advocating for our voice to be heard, we are now beginning to hear a murmur about our contribution. We have so much more to offer, but only if we are ready."
Another lesson he shares: "Once you gain or acquire a voice in Hollywood, you have to learn how to use it effectively and responsibly, because it then becomes what you represent. If you use it irresponsibly, you will soon find yourself being ignored."
Wescott said it is important to remember where Natives have been in this industry. He recalled that one of the "boldest and most fun jobs" he's had was co-producing the 2005 feature film Christmas in the Clouds, which he called the first comedy film in a Native American setting.
"Graham Greene showed his comedic chops as a vegetarian chef, Sheila Tousey rocked the biggest hair seen on any rez ever, and Wes Studi did a cameo as a celebrity bingo caller wearing a kilt," he reminisced. "The film turned out beautifully, it duly won awards, and I fondly recall many packed screenings at festivals and Native gatherings where it received a rockstar reception. But in national theaters with a miniscule marketing budget, it was too far ahead of its time."
Wescott says that Christmas in the Clouds today would easily be "a series on a streaming channel, but in 2005, Facebook was still a year away from going nationwide, and Netflix didn't start streaming until 2007."
Passing or lasting trend?
The major concern among all who are witnessing so much Indian progress in streaming right now is that little is known about how the companies make decisions on what they will keep funding and producing.
"Netflix and all the others don't publish — they don't let people know what their ratings are," notes Professor Douglas. "We don't know enough about their internal political debates to understand how much there is a sense of needing to promote social justice and social consciousness and how that relates to their efforts to find successful programming."
Lawson, the Native media expert, offers some suggestions for streamers on that front.
"If I worked at Netflix, I would like to take into account not just the number of watches and subscriptions — how they typically judge the success of a show — but I would also want to consider the impact of the show in Indian Country," she said.
"I think there are a number of ways to see if the series is gaining an audience and making an impact," Lawson added. "Social media would also be a strong indicator. I also think if a series were successful, many of the actors and directors would be offered additional projects, which would contribute to increasing and diversifying Native American representation, which is exactly what we want."
Princess Daazraii Johnson, of Alaska Native Neets'aii Gwich'in descent, worked as a castmate with Wescott on The Winter Bear Project and was a producer on Molly of Denali. She is hopeful for a lasting trend of Native participation in the industry, but she said that is rather difficult to predict given the current state of affairs in the world.
"We're still in the middle of a pandemic," she said. "So much is uncertain, but I do believe that stories told from an Indigenous lens are important, unique, and they share our Native values that the world is in dire need of."
Johnson's focus is to help build capacity in media production so that Indigenous communities can be self-empowered to tell their own stories on their own terms. In that effort, she is helping organize a filmmakers' initiative through the Native Movement nonprofit, the University of Alaska and Vision Maker Media.
Wescott, who'd be thrilled to highlight his skills in current Native streaming productions, offers one last word of advice about today's streaming wave and the moment in which it is taking place.
"Native people, as my grandparents told me about the Great Depression, actually (tend to) do well in times of upheaval," he said.
The notion just might be something for the Rutherford Falls writers to think about as they create their new storylines. They met for the first time for the new season on the same day Reservation Dogs started streaming, most of them celebrating in awe of the Native progress in such a short time.
Pride filled their (for now) virtual writers' room.
"Some good friends made a great show," tweeted Ornelas. "Sometimes it's THE BEST day to be Indigenous!"
--
EDITOR'S NOTE: This story has been updated from its original version.