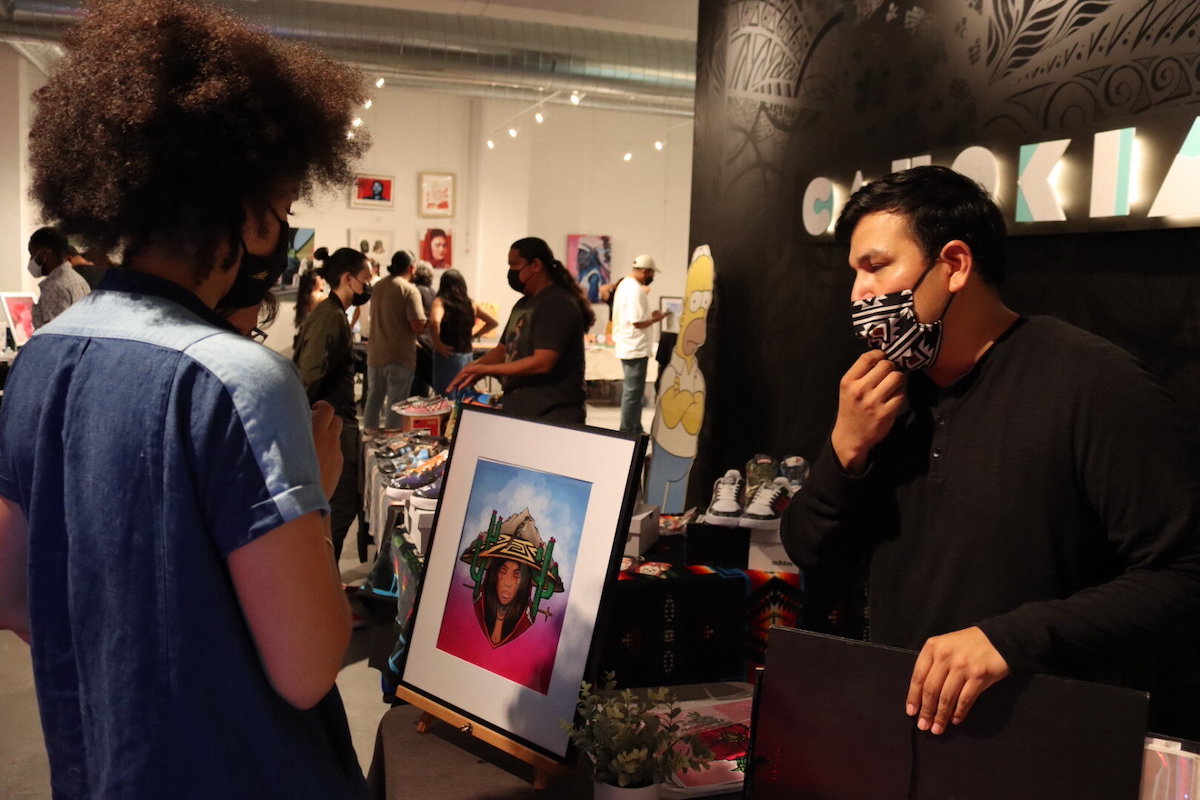 Details

By

Erin Tapahe

Arts and Culture
PHOENIX, Ariz. — After struggling for years as Native American women in the design industry where they did not feel welcome, Eunique Lewis and Melody Yazzie have partnered to create what they're calling an Indigenous-led social tech and art space.
Located in downtown Phoenix, Cahokia LLC has the capacity to serve as a retail space, host conference meetings and showcase artwork in a gallery form. The business, which Yazzie and Lewis launched in partnership with the Roosevelt Row Community Development Corporation, also serves as a hub for Indigenous creators to work on digital content such as YouTube video and podcasts, and offers space for co-creation between Cahokia members and ambassadors.
The 3,000-square-foot space held its grand opening on Indigenous Peoples' Day and currently features events every first and third Friday of the month.
"Every inch of the space creates an opportunity for all the creators and social entrepreneurs to venture into avenues that they have never ventured into to enhance their business," Lewis told Tribal Business News.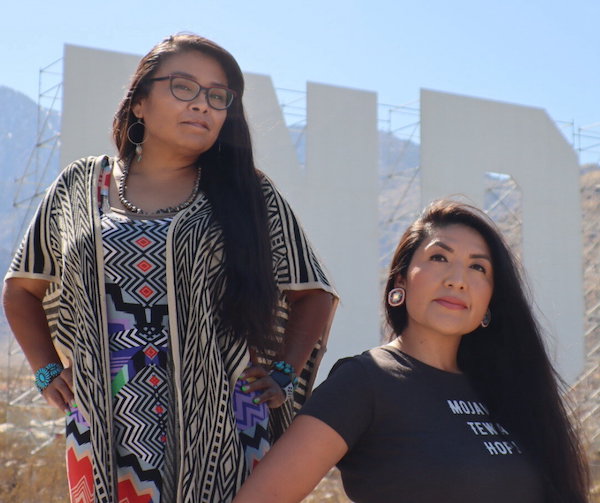 Eunique Lewis and Melody Yazzie, founders of Cahokia LLC. (Courtesy photo)Yazzie and Lewis met through a mutual friend at a pop-up event for Rise to Vote in October 2020. They originally were working individually to make space for Indigenous people in the Phoenix area, but decided to combine their expertise and efforts in launching Cahokia.
"The whole purpose behind Cahokia is we just wanted a space for Natives that was led by Natives for Natives in a safe environment," Lewis said. "We came together because we wanted to do similar work and just achieved it in a different way. We thought about how cool it would be to have a space and we just created a space."
Lewis, who is Mohave, Tewa, Hopi and an enrolled member of the Fort Mojave Indian Tribe, is a social entrepreneur and founder of Indigenous Community Collaborative.
Yazzie, an enrolled member of the Navajo Nation, is a designer who launched Indige Design Collab with a mission to build a collaborative community for Native creators. With a more than two decade-long career in the design industry, she constantly noticed the lack of Native representation at design-related get-togethers, pop-up events, shows and conferences. She began to ask herself, "Why am I the only one here?"
That led to the realization that the design community did not know to connect with or welcome Native communities. She sees Cahokia as a way to address the issue by bringing together members and ambassadors to find solutions for a variety of problems.
Yazzie says a lack of resources to experiment with different products or talk with others about concepts poses a big challenge for Native creators. Cahokia is providing the collaborative space for Native artists and entrepreneurs to interact and hash out ideas. The artists are able to put their artwork on a temporary marketplace to gain feedback and make any needed changes.
"They (artists, designers, social entrepreneurs) all have their own outlook and what we are doing is incorporating them into a larger strategy, which is placekeeping," Yazzie said.
Yazzie explains the concept of placekeeping as the way a community shares its story through public art and development. She says Cahokia enhances the movement because the tenants are able to bring their own story as Indigenous people.
Currently, Cahokia has 19 members and 31 ambassadors.
One ambassador, Rocio Francis, the CEO of Morning Mist Soap, said the collaboration with Cahokia has allowed her business to grow and empowers her to continue sharing her story. As well, Francis has learned about other tribal members and is building relationships with them at the space. She said she is eager to continue growing and using the teachings of her ancestors in her products and lifestyle.
"Whenever I go into Cahokia, whether it's by myself or with my children, we always feel as if it's like a second home and we are in a safe environment to practice our culture," Francis said.
According to Lewis, Francis' experience demonstrates the vision for Cahokia.
"We are a space for Indigenous creatives and social entrepreneurs to have the platform to do whatever they want," Lewis said. "We're a platform for them to express their creativeness."
So far, Lewis and Yazzie have self-funded Cahokia. The week of the grand opening, Cahokia also received a sponsorship from e-commerce company Square that included a monetary donation and a full hardware kit, which consists of a cash register and receipt printer.
The community response to Cahokia has been overwhelmingly positive, according to the founders. For example, more than 300 people registered for the grand opening celebration, well in excess of the space's maximum capacity of 136 people.
"It was amazing how many people came together," Yazzie said.
That included in June 2021 on the day after the founders received the keys to the building. Yazzie and Lewis had been planning an event at the Heard Museum for local high school students, but had to relocate because the facility did not allow the aerosol spray cans they wanted to use. The duo moved the event to the new space and had one of the members at Cahokia teach the workshop.
"It felt like this (building) was the space we always needed," Yazzie said.
Lewis and Yazzie have a passion to help the youth and are working hard to create opportunities for them to have space to be creative. They regularly reach out to high school students and younger youth to help them feel comfortable and find their inner creativity.
"As Indigenous people, it's in our DNA of being creative in the way we do things," Lewis said. "Not necessarily just in art, but the whole process of how we come to a solution is part of us as Indigenous people."