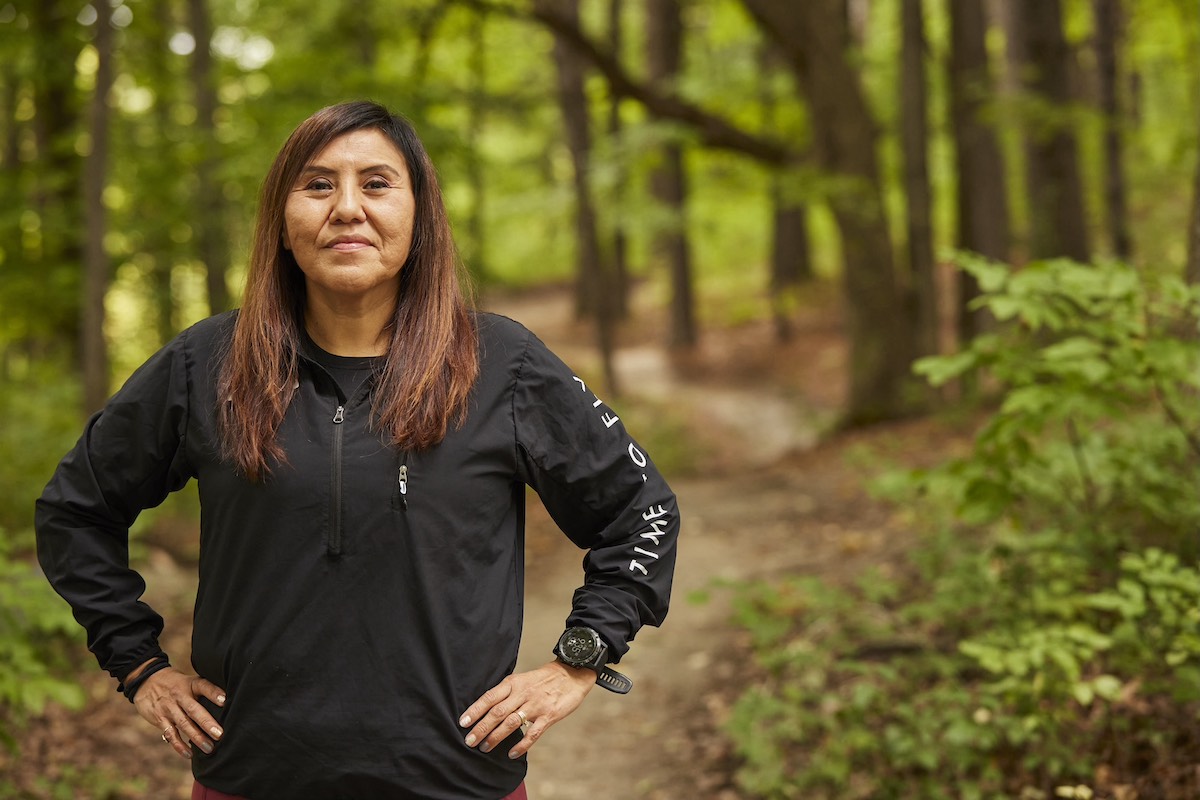 Details

By

Erin Tapahe

Arts and Culture
MINNEAPOLIS, Minn. — Verna Volker got the idea for what would become Native Women Running when she noticed that no one in the traditional media for the running community looked like her.
For Volker, there was a jarring disconnect between traditional media and her social media feeds, which featured stories of Native women running in the Boston Marathon and ultramarathon races, which are longer than 26.4 miles. She could see the accomplishments of her fellow Native women on Instagram, but not on the pages of Runner's World magazine or in advertisements geared toward runners, which featured mostly white and thin runners.
In response, Volker (Navajo) decided to start Native Women Running on Instagram in January 2018 to unite her running community.
"I didn't see myself and noticed there were a lot of Native women that were following my personal account," Volker told Tribal Business News.
Via the Native Women Running Instagram account, Volker shares Native women's narratives because she wants to show non-Natives that Indigenous women are more than negative stereotypical ideology. Rather, they are strong and accomplish many milestones in running.
For example, Native Women Running highlighted Dana Lovatos' story of finishing the Arizona Rock and Roll Half Marathon 2022. Lovatos dedicated every mile of her first half marathon to "someone special." She finished the race in her estimated time and looks forward to setting a faster time goal.
A year ago, Volker started promoting T-shirts designed by her nephew and worked with an online business to produce the merchandise. Based on the success of the products and the sense of community Native Women Running created, she decided to leave her job as an elementary school teacher to focus on the venture.
"I was asked to come back to school and I chose (Native Women Running) because I saw so much potential and it was growing so fast," Volker said.
Native Women Running has more than 27,000 followers on Instagram. Volker currently is working with a local shirt company that produces and sends out the T-shirt orders. She plans to use the proceeds from the sales to sponsoring races.
"One of the things I'm trying to focus on is sponsoring races because I'm all about our women being represented in the running world," Volker said, noting that many women face barriers to enter races because registration can cost up to $300, which does not include travel, boarding or food expenses. Volker is working with sponsors to help ease the financial burden so more Native women are represented in the running community.
"I run maybe two to three races just because it is expensive when you think about hotels, flights and even the race," she said.
Volker did not have a background in business, but sought help from people around her to help guide her transition to working full-time on the Native Women Running organization. She has included Melissa Buffalo, Alison Black and Joy Parker to the Native Women Running leadership team, which meets once a month and to focus on helping the organization grow. Volker is excited to see the group grow and expand the kinds of help it's able to extend to Native women.
Native people have a different perspective on running because there is a healing aspect to it, Volker said, noting it is seen as a form of medicine. She has seen stories of women running as a form a prayer for those affected by the COVID-19 pandemic, as well as to advocate for Every Child Matters and Missing and Murdered Indigenous Women (MMIW) causes through their participation in the sport.
To that end, one runner reshared by Native Women Running dedicated her first 10k to honor the residential school survivors and in support of Every Child Matters for the children who did not return to their families.
"I think Native Women Running has become a place for women to feel like there is a space created for them," Volker said.
As Native Women Running continues to grow and more people, it has inspired Volker to "dream big." She hopes to one day have a booth at the New York City, Chicago or Boston marathon expos and bring more Native representation to these world-class marathons, which attract people from all over the world.
"We, as Native women, have so much against us, but being able to use these spaces like Native Women Running in a positive way will allow our younger generation to aspire and hopefully it won't be as hard for them," Volker said.