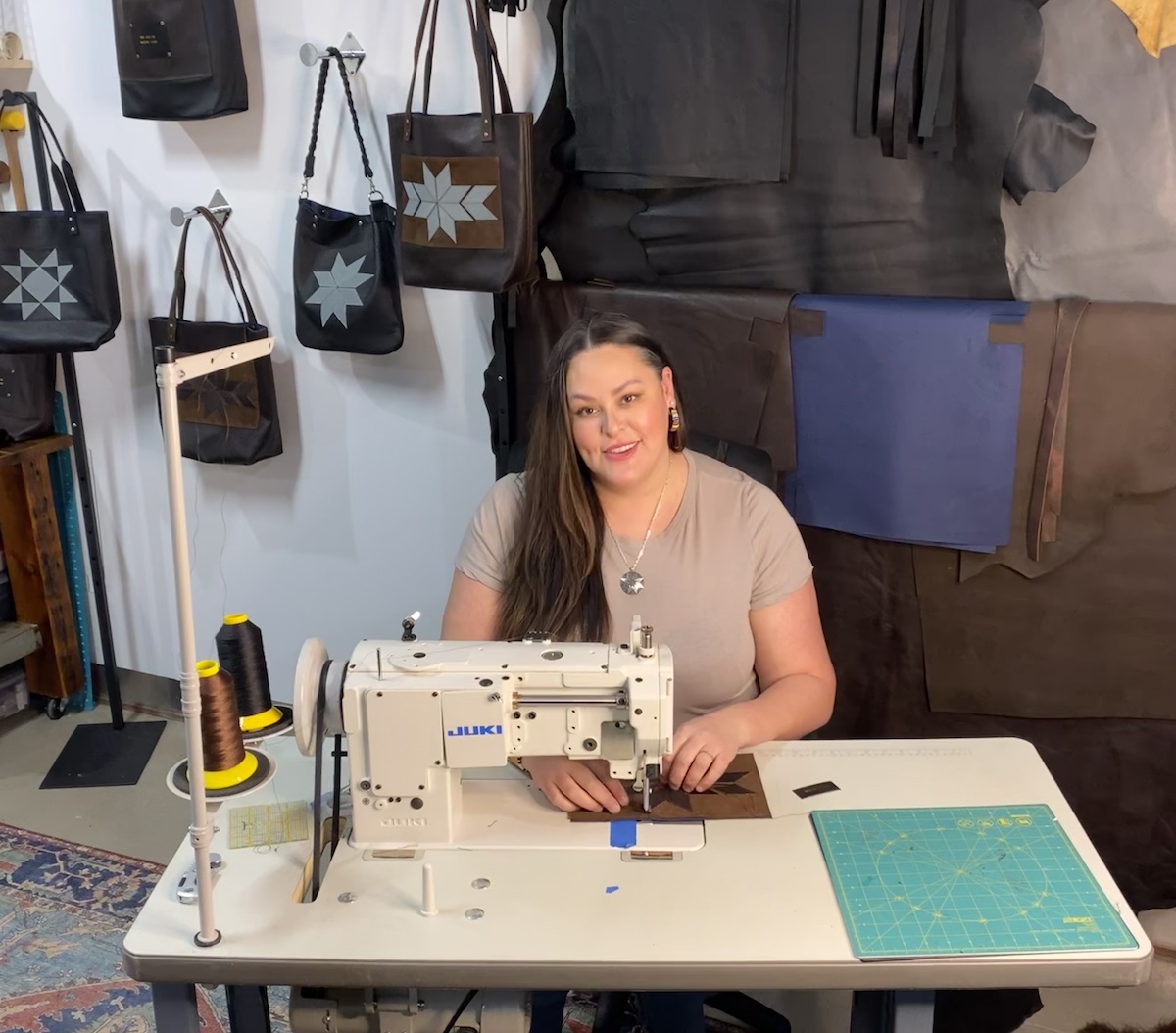 Details

By

Erin Tapahe

Arts and Culture
LINCOLN, Neb. — Over the years, Tasha Abourezk made many star quilts, which are popular among Native American people, particularly the Northern Plains tribes, as a form of gifting, honoring and expressing gratitude.
As she started exploring her creativity, Abourezk (Mandan and Hidatsa) knew she wanted to incorporate her culture into different mediums. Through a process of experimenting, the quilter ultimately decided to try her hand at making handbags, which would become a passion all its own.
Under the name Mhazuetsa, Abourezk started a leather bag company that incorporates a distinctive design inspired by star quilts. The business is named after her middle name, which was given to her by her grandmother and translates to "sweet grass" in the Hidatsa language.
"I always wanted to make bags but I was too scared because I didn't know how to do it," Abourezk told Tribal Business News. "I tried my first one and it was awful, but I figured out how to do it and then it snowballed really fast."
While Abourezk enjoyed quilting, the quilts required a lot of time to sew and were expensive, which made them less accessible for people. That's partially why she gravitated toward making handbags, including the first small clutch she made using cotton fabric before graduating to leather.
Never miss the biggest stories and breaking news about the tribal economy. Sign up to get our reporting sent straight to your inbox every Monday morning.
Once she started to master the art of making handbags, Abourezk explored ways she could incorporate her culture into the final product. Borrowing a page from her love of quilting and striving for a unique look, Abourezk decided to cut out stars and add them onto her bags in March 2021.
"I grew up with star quilts and so I cut out my leather using my quilting techniques and that's how it all began," said Abourezk, who previously participated in the First Peoples Fund Cultural Capital Fellow program in 2017.
She quickly found a market for the bags after her sister introduced her to Bethany Yellowtail, who runs B.Yellowtail Collective that features a range of Indigenous artists and designers.
When Abourezk listed her bags for sale on the B. Yellowtail website, they sold out almost immediately, "which is really an honor for me because I put so much work and so much of my soul into my bags."
"B.Yellowtail is the whole reason for my success," Abourezk said.
Balancing family life and owning her business, Abourezk and her husband have four children, and she works from her studio outside of her house while her children are in school.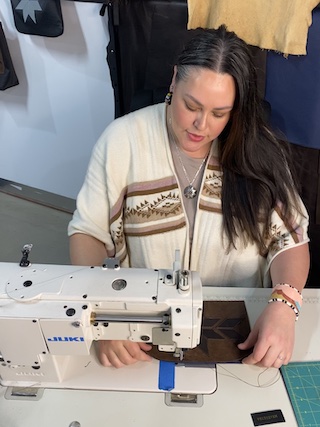 Tasha Abourezk, founder of Mhazuetsa. (Courtesy photo)"My husband works and is supportive that I am embarking on this creative journey where (Mhazuetsa) has allowed me to create my own job, and I can work around the kids," Abourezk said.
In addition to selling via the B.Yellowtail Collective, Abourezk also takes on custom orders, which she loves because of the creativity she feels in working directly with a customer to design a bag.
"It feels incredible because I am honoring who I am, I'm honoring my grandmas and anyone who's helped me," Abourezk said. "I get these messages (from customers) saying they love the bag and they're so proud to carry it."
Abourezk shared a story of a customer experience where she sent off a bag and did not receive a response, which made her nervous that the buyer did not like the bag. When she finally received a response, the customer said she received the bag before the birth of her first grandchild and explained she took the bag with her through the whole process of becoming a grandmother.
"I am so proud that I can send (bags) off to people and they feel a little bit of what I'm putting into it because it's not just an object," Abourezk said. "They see it's more than that."
Abourezk has contemplated finding ways to scale up Mhazuetsa to produce and sell more bags, but she's decided against it for now, citing a desire to maintain their handmade quality that allows her to put her creativity to work on every bag.
"I want to use the star as a way to honor my culture and to honor where and who I come from," Abourezk said. "If I allow anybody else to create that, it gets taken away. Right now, the business is going to be a small business. I'm not going to be a millionaire off of it, and that's OK with me because I don't ever want to take that feeling away."