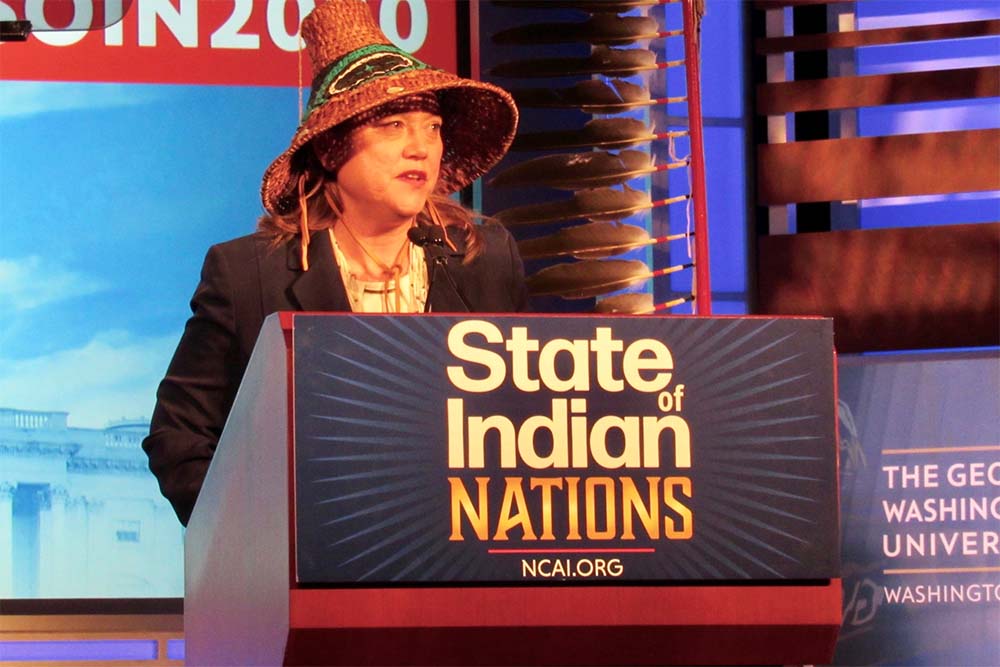 Details

By

Jenna Kunze

Economic Development
QUINAULT INDIAN NATION, Wash. — For Fawn Sharp to conduct an interview about gaps in broadband coverage across Indian Country, she has to get in her car.
From her home on the Quinault Indian Nation reservation in western Washington, Sharp drives 10 miles south, crosses a Bureau of Indian Affairs road to take her another 20 miles west, turns right onto a state highway and journeys another 8 miles north before reaching her destination.
In total, it's a 40-minute drive to reach her tribe's headquarters where she can access a reliable landline.
Sharp knows the journey well. The member of the Quinault Indian Nation serves as president of the National Congress of American Indians, a national organization that advocates for Native American and Alaska Natives in Washington, D.C. She's made the trip numerous times to be able to testify to policymakers about the needs and interests of Indigenous peoples.
"Under normal circumstances, actually accessing reliable communications channels within my reservation has been incredibly challenging," Sharp told Tribal Business News. "In the midst of a global pandemic … it's been incredibly frustrating. It has presented quite a barrier to effectively lead and advocate for the needs that we have."
Sharp's frustrations with accessing broadband connectivity within the borders of her home community, the 208,150-acre Quinault Indian Reservation, is a common experience for people living on remote tribal lands within the United States.
The U.S. Federal Communications Commission reported in April 2020 that 46 percent of households in rural tribal areas have basic broadband access, compared to 92 percent of non-tribal households. That means twice as many non-tribal households have basic access.
The FCC defines broadband as high-speed access to the internet via cable, fiber, wireless, satellite, and Digital Subscriber Line — essentially, at significantly higher speeds than dial-up services.
Although broadband access has been a pervasive problem since the internet became ubiquitous to the 21st century lifestyle, it started to capture the attention of the federal government about a decade ago. In 2010, the federal government created the Office of Native Affairs and Policy (ONAP) within the Federal Communications Commission (FCC) to address inadequate communications services on tribal lands nationwide. ONAP oversees the Native Nations Communications Task Force.
However, the digital divide became particularly stark when pandemic-caused shutdowns forced people across the country to stay inside and become reliant on their internet connectivity to remotely access school, work, or even health care services. While the situation was stark, it spurred the federal government to open its coffers to try to address the problems.
In March 2020, the federal government allocated $275 million in CARES Act funding for tribal entities to pay for internet access, distance learning and telehealth services. Then early this month, Department of the Interior Secretary Debra Haaland and Vice President Kamala Harris announced an additional $1 billion investment in the Tribal Broadband Connectivity Program as part of the American Jobs Plan.
But despite that pandemic relief funding and a range of creative new partnerships aimed at closing the digital divide in Indian Country, the ongoing struggle for rural tribal regions to secure broadband connectivity paints a cautionary tale for anyone looking for quick solutions, or a cheap fix. The net of the situation, according to experts who spoke with Tribal Business News for this multi-part series: Simply throwing money at the problem is not enough.
"It's a good downpayment," Sharp said, referencing the CARES Act funding. "But we have barriers inside Indian Country … as it relates to the private sector and the third-party providers, and we have barriers inside the federal government. Every one of those have made it next to impossible for us, in this day and age, to actually accomplish a minimum set of communication channels that we are all impacted by."
According to Indigenous and policy leaders from Arizona, Montana, Alaska and Washington, the barriers to equitable broadband across Indian Country can be broken down into three main categories: jurisdictional issues that complicate infrastructure development on tribal land, a lack of available broadband infrastructure in remote location where internet providers don't see a market, and "last-mile" connectivity where tribes don't own their own infrastructure and are therefore subject to private companies' rates.
EDITOR'S NOTE: In the ongoing "No Signal" series starting with this report, Tribal Business News will tackle these major challenges that tribal nations face in trying to secure reliable broadband for their citizens. The hurdles are complex and often exacerbated by issues related to sovereignty and the unique government-to-government relationship tribes have with the federal government. Here's a quick look at what's coming next.
'Very complex'
Since federally recognized tribes are sovereign nations, their lands are not subject to state regulations, although federal laws and policies apply. Tribal lands, often held in trust by the federal government, are managed by the federal Bureau of Indian Affairs (BIA) and treated similarly to a national park. In order to build on them, federal agencies must first consider potential environmental effects as described under the National Environmental Policy Act (NEPA).
As a result, broadband development on tribal land requires an additional layer of federal sign-off for securing rights-of-way, often serving as a disincentive for forging partnerships with private internet providers. Additionally, trust land-based tribes have less access to capital precisely because they are unable to collateralize lands held in trust, according to a report from the Native Nations Communications Task Force.
"Tribes have limited financial resources to call upon due to their inability to collateralize federal trust assets to secure loans for infrastructure deployment and maintenance, as required by financial institutions," according to the report. "This leaves Tribes uniquely dependent on federal aid programs for broadband deployment and service provisioning."
NCAI President Sharp told Tribal Business News that jurisdictional challenges are a symptom of a pervasive issue throughout tribal nations, where the federal government relies on a specific formula that accounts for population size when responding to critical needs. Often, tribal nations fail to meet the minimum threshold and must wait until there's an emergency for federal agencies to take action.
"Jurisdictional issues are always very complex," Sharp said. "They always strike a political calculus where our rights or our access to basic infrastructure becomes part of a calculus of others outside of Indian Country to make those decisions unilaterally that we just have to simply live with."
Lack of available infrastructure
For remote, sprawling tribal nations such as Sharp's Quinault Nation, reservations can span hundreds of miles, making infrastructure development more complex and expensive to scale.
Across the 574 federally recognized tribal nations in the U.S., approximately 40 tribally owned internet service providers operate on 65 Native nations, according to data from the Institute of Local Self-Reliance, a nonprofit research and educational organization aimed at equitable local economies. The group's data show another 37 Native nations are working in partnership with private providers.
On the Navajo Nation — the largest reservation in the country with a land mass the size of West Virginia at a sprawling 20,000 square miles across Arizona, New Mexico and Utah — 25 percent of the reservation presently has no form of internet connectivity.
Part of the problem is a mix of jurisdictional issues barring development, and a lack of incentives for public-private partnership with internet providers to service low-population areas on the reservation.
"One example we have is Tohajiilee, which is 20 minutes away from Albuquerque, New Mexico's largest city, and there is only one bar of cellular service," Navajo Nation President Jonathon Nez told Tribal Business News. "So we're trying to incentivize these companies and really the federal government to be able to intervene and to make sure that we do not get taken advantage of by these companies."
In May 2021, Walter Haase, general manager of the Navajo Tribal Utility Authority (NTUA), the Nation's own multi-utility services provider, testified before the House Subcommittee on Indigenous Peoples of the United States about his priorities for the American Jobs Act. In his testimony, Haase said that more equitable access to broadband will come from a change in spectrum licensing, which refers to the FCC's lease on radio waves that companies can use to build out internet access.
Haase described a current process wherein large internet service providers have snatched up available spectrum licenses in a given area, but have only developed small portions of the licenses' coverage area where the greatest population lies. The result often leaves rural tribal citizens underserved, and large swaths of spectrum licenses unused.
"Wireless spectrum is generally assigned in large geographic blocks and comes with the requirement to cover only a certain percentage of the population residing in those areas," Haase wrote in his testimony. "These larger carriers focus their resources on covering the smaller portions of those blocks that have the highest concentration of population (high density areas) – meaning only the areas that are financially viable receive coverage."
To help address a gap in coverage, the FCC in February 2020 created a Rural Tribal Priority Window to auction off a specific band of spectrum to tribal nations. The free licenses for tribes allowed them access to spectrum to provide broadband and other advanced wireless services, including 5G, to their rural tribal communities. To date, the FCC has issued licenses to more than 200 tribes.
When asked to provide "specific fixes" to the identified problems with spectrum grants to commercial operators, Haase told the subcommittee that the FCC should require license holders to work in terms of a percentage of square miles rather than the percent of population served. The change could drive license holders either to cover underserved rural areas or to sublicense the use of the spectrum to regional carriers to deliver the needed coverage.
Additionally, Haase said the agency should allow for parties such as NTUA Wireless, the Navajo Nation-owned provider he runs, to gain access to unused spectrum to serve areas that have not been built out by spectrum holders. He also testified for the FCC to support the current spectrum holders with incentives such as offer credit waivers to sublease spectrum for engaging rural and lease partners.
"With access to this unused spectrum — along with sufficient financial subsidies — customers overlooked by the large carriers could be served by NTUA/NTUA Wireless," Haase wrote.
Monopolizing the market
When tribes don't own their own infrastructure and instead must lease space on private companies' satellites, fiber optic lines, or another internet delivery system, they are subject to rates set by what the telecom industry calls the "middle mile" or the "last mile."
Last-mile and middle-mile connections describe the portion of the telecommunications network chains that physically reach or connect with the end-user — or the distance from the supply chain to the customer, such as a tribal member's home.
According to Heather Gate, the vice president of digital inclusion at Connected Nation, a Kentucky-based nonprofit with a focus on improving lives through technology, jurisdictional issues and last-mile connectivity are at the root of many of the nuanced issues stalling progress on tribal nations.
"With all this funding, the biggest challenge is still the (last) mile issue," said Gate, who also sits on the FCC Committee on Diversity and Digital Empowerment. "Part of that challenge is that it may be very expensive to deploy."
In addition to being expensive, last-mile infrastructure makes tribes beholden to providers who can charge high costs for access given the lack of competition in remote areas. This is particularly problematic in very remote communities such as the Alaskan Arctic, where the predominantly Alaska Native communities have long alleged that the telecommunications provider GCI Communication Corp. holds a monopoly over the state's broadband service, leading to exorbitantly high internet costs.
In Utqiaġvik, the northernmost city in the U.S., internet for town residents costs around $300 a month for 10 megabits, which is about four times the average national cost for about 10 times slower speeds, according to FCC data.
For some, a solution is satellite-beaming technology that eliminates the need for expensive in-ground infrastructure and allows for competition in some harder-to-reach areas.
In Alaska, SpaceX's Starlink — founded by Tesla CEO Elon Musk — entered the market this year after it received go-ahead from the FCC to launch more than 1,000 satellites into orbit with the goal to achieve global connectivity. SpaceX promises a flat rate of $100 a month for its unlimited broadband services, plus a one-time equipment fee of $500 for the SpaceX dish.
The result, if scaled to cover remote tribal regions across the country, could be affordable, high-speed internet access without barriers set by monopolizing providers, jurisdictional issues, and lack of infrastructure.
Utqiaġvik resident Jeremiah Leavitt (Iñupiaq) previously told Tribal Business News that the Starlink project would bring welcome competition to the small Arctic market, hopefully allowing families to better manage the cost of buying internet services. His monthly bill was as high as $800 earlier this year.
"Having Starlink will improve the lives of Alaskans statewide and will hopefully lead the way for more affordability in the rural communities," Leavitt said.
'So little time, so much money'
Tribal and policy leaders across Indian Country agree that, at its root, broadband connectivity is not solely an issue exacerbated by inflexible government policy that doesn't account for the nuances and specificity of tribal nations, especially not remote ones. Lack of available infrastructure, jurisdictional issues, and monopolies in the private market are each tied to barriers within the government that makes funding harder to get and restrictive to use.
H. Trostle has spent the last five years researching the broadband industry. Trostle serves as policy researcher at the American Indian Policy Institute and authored the "Building Indigenous Future Zones" report on broadband for the Local Institute for Local Self-Reliance.
Trostle said that some of the barriers within broadband development in Indian Country come from spending timelines imposed by the federal government. For example, the $1 billion announced earlier this month by the U.S. Department of Commerce's National Telecommunications and Information Administration came with a Sept. 1 application due date, and a two-year deadline for spending the funds and completing the work.
"What that means is tribes needed to have done all of this excess planning before," Trostle said. "So what is happening is all of this money is coming in, and no one has been able to devote the resources before to study the issue in order to figure out where they need to lay middle mile or where they need to expand into last mile."
Some federal dollars should be used for planning purposes, Trostle said, and also come with the guarantee of additional funding to execute the plans afterwards. The move would afford tribes the time to work out kinks ahead of their project, and give them more time and money to dedicate to the build-out of the infrastructure.
"People want to put money in now," Trostle said, "but are they going to also put money in when the plans are set up?"