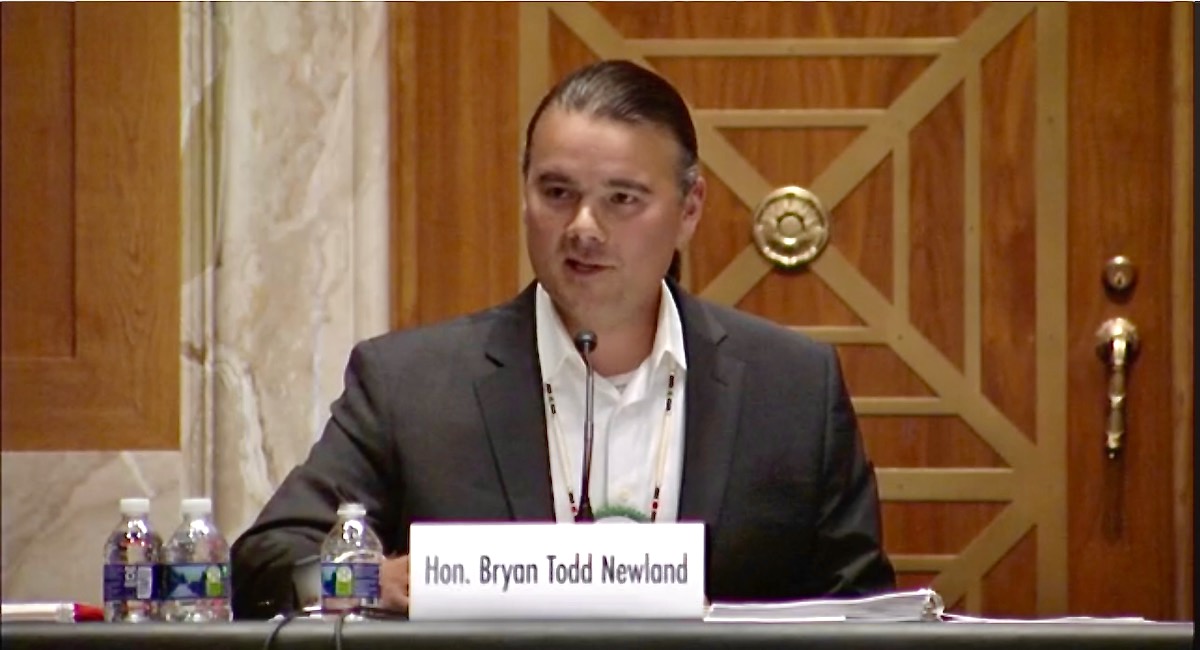 Details

Economic Development
WASHINGTON — Bryan Newland, former chairman of the Bay Mills Indian Community in Michigan's Upper Peninsula, made it one step closer to becoming Assistant Secretary – Indian Affairs at the U.S. Department of the Interior on the evening of July 14.
Sen. Brian Schatz, D-Hawaii, chairman of the U.S. Senate Committee on Indian Affairs, announced that Newland's nomination was proceeding to a full Senate floor vote.
[RELATED: CLEAR SAILING: Newland progresses toward top Indian Affairs leadership post]
Schatz's office said that Newland's nomination passed the committee by voice vote. There were reportedly no nays.
"It is clear from the record that Mr. Newland is uniquely qualified to succeed in this role, and to serve this country with honor as the chief federal advocate at the Department of the Interior for American Indians, Native Hawaiians, and Alaska Natives," Schatz said in a statement.
"Mr. Newland's combination of issue area expertise, previous public service, and genuine sincerity make him an ideal nominee to serve as Assistant Secretary for Indian Affairs.
"Moreover, I support his swift confirmation for the same reasons his Tribal supporters do — because of his invaluable experience as a Tribal Leader; his personal and in-depth knowledge of the issues facing Tribes; his expertise in the complex areas of fee-to-trust, treaties, gaming, and leasing; his understanding of Interior's unique role in fulfilling the federal trust responsibility to Native peoples; and his diplomatic and respectful approach to honoring Tribal sovereignty."
Newland's nomination was supposed to be considered by the full committee earlier in the day on July 14, but it was postponed until the evening because Sen. Lisa Murkowsi, R-Alaska, was busy with her U.S. Senate Committee on Energy & Natural Resources work.
During Newland's earlier confirmation hearing, Murkowski had told him that she wanted him to brush up on his knowledge of Alaska Native issues. She said that his past critiques of Alaska Native Corporations receiving a portion of the Coronavirus Aid, Relief, and Economic Security (CARES) Act funding intended for Indian tribes were of concern to her.
[RELATED: ROCKY WATERS? Murkowski highlights concerns over Newland nomination to lead BIA]
Sen. Steve Daines, R-Montana, blunted Murkowski's concerns somewhat when he announced during the same hearing that he supported Newland, thus making it likely that he would clear the Senate with Democratic and Republican support.
More than 30 tribes and tribal organizations have submitted letters to the Senate in support of Newland, according to Schatz's office.
Newland, who currently serves as principal deputy assistant secretary of Indian Affairs at the Department of the Interior, expressed his strong support for tribes during his June 9 confirmation hearing. He previously served at Interior during the Obama administration.
"I believe that tribal governments, rather than federal agencies, are best-suited to respond to the challenges their communities face," he testified. "Our job is to be a collaborative trustee and ensure that Indian Country drives our work. With your consent, I will be a leader for these important efforts."
Newland can't discuss his nomination as it is being considered, but he does call himself "a miserable & insufferable Detroit Lions fan" on Twitter.
Want more news about the $130 billion tribal economy?
Tribal Business News publishes thoroughly reported and well-crafted stories about Native businesses and entrepreneurs, growth and expansion strategies, best practices, economic data, government policy and other relevant business news. Tribal Business News is required reading for tribal council members and leaders of Native businesses, as well as state and federal legislators, policymakers, economic developers, entrepreneurs, bankers, lawyers and anyone interested in doing business in Indian Country.
Sign up for our free newsletter to track Native business and the tribal economy. Or sign up for a discounted subscription ($99/year — use coupon code "TBN21") to gain full 24/7/365 access to our business news reporting. Megwetch.