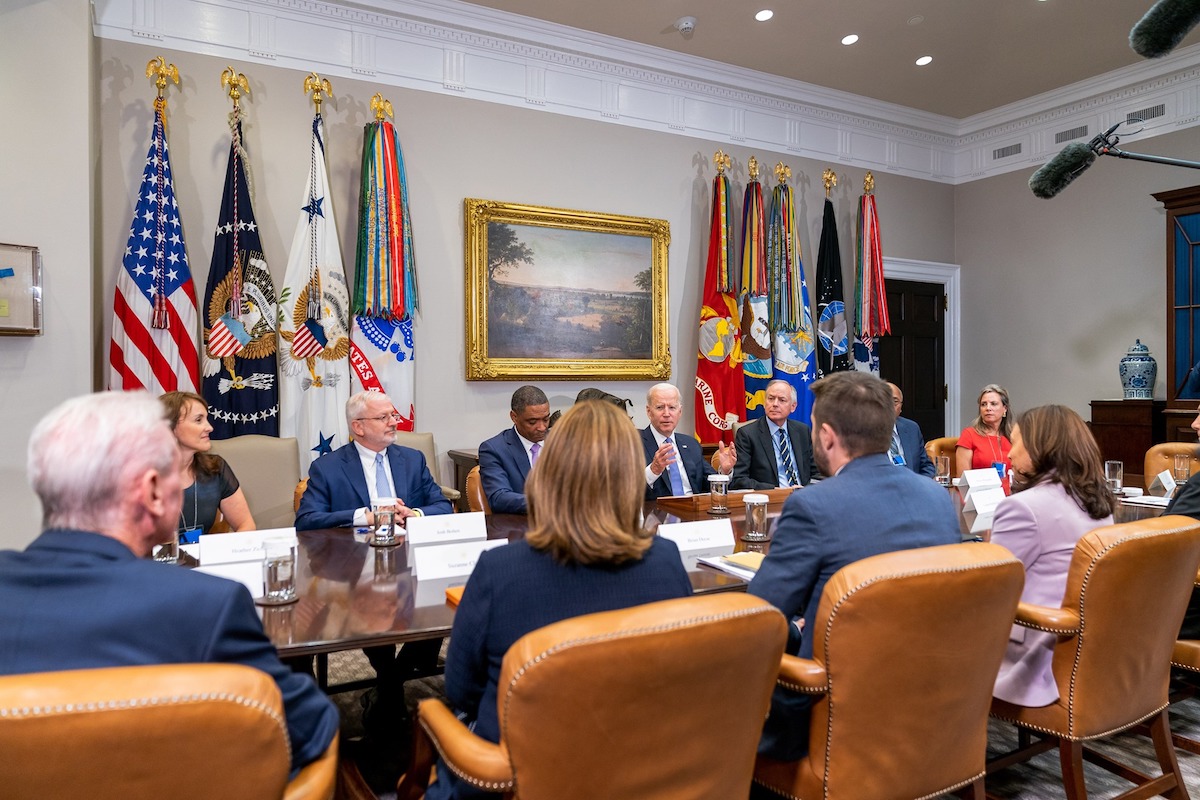 Details

Economic Development
WASHINGTON — A flurry of activity by tribal leaders, advocates and lobbyists has taken place in recent weeks to ensure that Native American needs are addressed in the long-negotiated bipartisan federal infrastructure plan.
On July 28, as the White House and legislators announced that a $1 trillion overall deal was ready for a vote, with legislative text still being finalized, glimmers of tribal inclusion were coming into focus.
That tribes would be included in some fashion had already been made clear in an announcement by the White House on June 28 called a "Bipartisan Infrastructure Framework: Advancing Economic and Public Health Opportunities for Communities of Color."
While that White House framework did not offer specific numbers designated for tribes, it did make clear that legislators on both sides of the aisle, as well as President Joe Biden, wanted to provide tribes with the opportunity to receive large amounts of funding for broadband, transportation, water and climate-related issues.
"A lot of negotiating has been going on at the committee level," Mark Van Norman, a tribal lawyer and former executive director of the National Indian Gaming Association, told Tribal Business News after it was announced that the Senate would hold a cloture vote on the deal that passed the evening of July 28.
[RELATED: White House details tribal components of bipartisan infrastructure deal]
Van Norman, a citizen of the Cheyenne River Sioux Tribe who has played a key role in making sure tribal needs are addressed by Congress, said that tribes had been feverishly reaching out to their own senators' offices, "trying to get them to recognize tribal needs, and I think that we have a core of western senators who heard the needs."
Van Norman also assessed that Democratic Senate Majority Leader Chuck Schumer "is good and has a proactive view for Indian Country."
Money, money, money
Precise tribal numbers have yet to be presented by the White House and Congress, but tribal advocates have received word that $2 billion dollars of the total $550 billion in new spending in the plan will be set aside for tribal broadband development. That's reportedly on top of more than $1 billion already offered to tribes on that front through recent pandemic-related funding.
"That money would be available to build the infrastructure, so it's a real game changer," said one tribal advocate who had reviewed portions of the plan. "But it requires development partners. It's not easy."
On water, the office of Democratic Sen. Jon Tester of Montana announced that the legislation would include $2.5 billion to complete "all authorized Indian water rights settlements," which included settlements for the Blackfeet, Crow, and Confederated Salish and Kootenai Tribes.
Tester's office said there would be $1 billion to complete all authorized rural water projects through the U.S. Interior Department's Bureau of Reclamation, and there would be $3.5 billion for an Indian Health Service Sanitation Construction program, aimed at "providing water, sewage, and sanitation services to tribal households."
There would be an additional $11.2 billion in grants for states and tribes to reclaim abandoned mine lands, according to Tester's office.
As for transportation and energy, details are yet unclear, but Republican Sen. Lisa Murkowski of Alaska has vowed in the past to make sure that tribes are included in those aspects of the plan. From the beginning, she has been part of the group of moderate senators working to ensure that Alaska Native and American Indian infrastructure needs are addressed in any bipartisan legislation that is to be considered.
"Many of the priorities that we've heard here in this committee from tribes across the country with regard to water and sanitation infrastructure, broadband, tribal energy — these are many of the pieces that we are trying to advance in this bipartisan proposal," Murkowski said at a July 22 hearing of the U.S. Senate Committee on Indian Affairs, for which she serves as vice-chair.
Advocates who have seen portions of the legislation said that some monies for tribes, like the approximately 230 tribes in Alaska, will force tribes to deal directly with their states to receive various infrastructure funds.
"There's (money) the state will get, like up in Alaska, that will require more outreach by Alaska tribes because there is no Indian Country at which to direct the funding," a tribal advocate familiar with the legislation told Tribal Business News.
Tribal lawyers said that Senate Committee on Indian Affairs Chairman Brian Schatz, D-Hawaii, has also made sure tribal infrastructure needs presented in various committee hearings he has overseen in recent days have been heard by negotiators on both sides of the aisle, as well as by Schumer.
Rumors of 'a huge set aside'
The potential of tribal set asides have been the talk of Indian Country ever since Biden first announced this spring that he wanted to undertake a bipartisan approach to funding so-called hard infrastructure projects across the country. He also plans to offer a soft infrastructure plan, focused on social, health and family concerns via a Democrats-only reconciliation legislative process to be voted on when and if the bipartisan hard infrastructure plan ultimately passes.
Some progressive Democrats in the U.S. House have said they won't vote for the Senate plan if moderate Senate Democrats do not pledge to vote for the soft infrastructure reconciliation plan. Democratic Sen. Kyrsten Sinema of Arizona has already said she does not support a $3.5 trillion soft infrastructure plan, so her position leaves House votes in doubt for the hard infrastructure deal.
Del Laverdure, a former acting Assistant Secretary – Indian Affairs at the U.S. Department of the Interior during the Obama administration, set off a firestorm of curiosity about what tribes could receive when he said during a July 21 Harvard University virtual call focused on the American Rescue Plan that there would be a "huge set aside" for tribes in the forthcoming infrastructure bill.
Some legislators, who were still in the middle of tribally-focused negotiations, were said to be upset that Laverdure, a Crow Tribe citizen, speculated about this information on a public call.
Perhaps sensing he had set off some heightened and maybe unwanted attention, Laverdure told Tribal Business News by email after the session, "There is a group of advocates that are pushing to have the tribal set aside in the infrastructure bill that is significant."
Laverdure pointed to Van Norman as a person to speak to about the details of the plan. Several tribal advocates have said Van Norman has played a key role in presenting tribal arguments to legislators.
Some tribal lobbyists and lawyers did not particularly like an infrastructure list drawn up by 30 tribal organizations in April. The 20-page wishlist sent to top legislators was seen by some as overly complex, especially for a negotiation that was expected to be tense for senators to get to the magic number of 60 votes to pass the Senate.
A much shorter two-page draft of tribal infrastructure must-haves soon began being promoted by many tribal advocates containing seven easier-to-understand key principles. It included:
Establish overall 5.5% tribal set-aside and require comprehensive reports to Congress;
Include broader Buy Indian Act application;
Remove state and local tax uncertainty and potential burdens on tribal infrastructure;
Adopt Sen. Kelly's discussion draft Tribal Clean Energy Development Act of 2021;
Bolster USDA programs;
Reduce barriers to Indian Country infrastructure development arising from land status; and
Enhance tribal transportation funds.
A word of caution
While many tribal leaders and advocates are cautiously optimistic about the prospects for some of those seven items to pass in the current Senate bill, they all know that legislators often can let down Indian Country.
When Sen. Joe Manchin, D-W.V., released his draft version of the legislation at hand, many Indian folks were left frantically searching the document to find any mention of tribes at all. To some, it felt very "urban" in nature with very little mention of rural needs, let alone tribal ones.
Tribal leaders realized that the 20 or so senators they were depending on to get their input in Manchin's draft were failing, and they stepped up their efforts, making calls to well-connected legislative staffers, lobbyists and others, focusing on the seven principles.
Turf wars sometimes sprung up among Indian lobbyists whose "sides" were each certain they knew the best path forward to get more tribal infrastructure funding in the final bill. Another inter-tribal letter to legislators was supposed to go out as a result of those battles, but it didn't materialize, according to legislative sources.
On the night of July 28, many Indian advocates, having not seen the full text of the legislation, were saying they were still not sure the final bill would address those key principles.
Before tribes get too excited about anything in the potential agreement, advocates like Robert Odawi Porter, former president of the Seneca Nation, offered a word of caution: "This money is simply being appropriated in broad categories and will be up to the agencies to distribute by formula. So it will depend upon tribal advocacy to make sure tribes are getting a fair share of what's available."
Added Porter, a lawyer with the Capitol Hill Policy Group: "Let's make sure it gets passed first!"
--
Tribal Business News will have continuing updates about the plan and its effects on Native America as it progresses.
Want more news about the $130 billion tribal economy?
Tribal Business News publishes thoroughly reported and well-crafted stories about Native businesses and entrepreneurs, growth and expansion strategies, best practices, economic data, government policy and other relevant business news. Tribal Business News is required reading for tribal council members and leaders of Native businesses, as well as state and federal legislators, policymakers, economic developers, entrepreneurs, bankers, lawyers and anyone interested in doing business in Indian Country.
Sign up for our free newsletter to track Native business and the tribal economy. Or sign up for a discounted subscription ($99/year — use coupon code "TBN21") to gain full 24/7/365 access to our business news reporting. Megwetch.