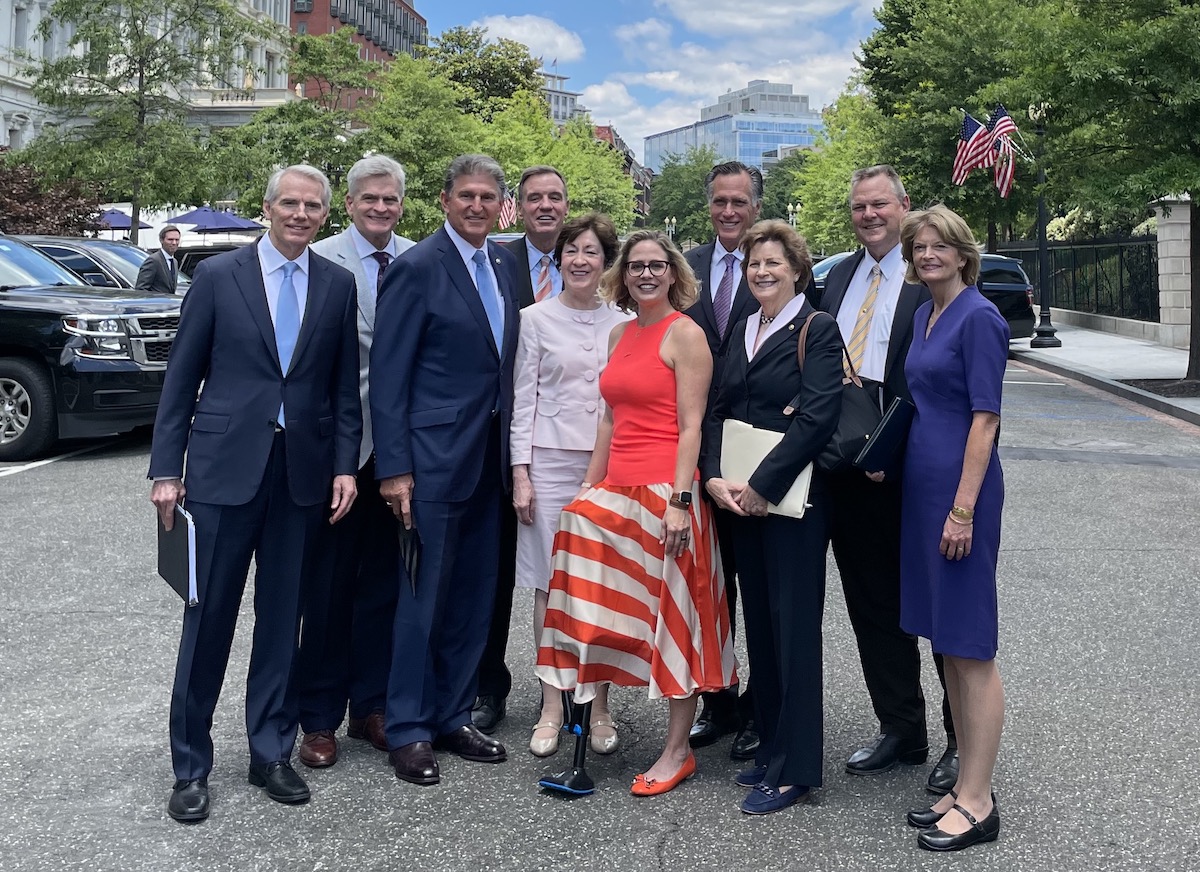 Details

Economic Development
WASHINGTON — The U.S. Senate pulled together plenty of bipartisan support on Aug. 10 in a vote of 69-30 to pass a $1.2 trillion hard infrastructure bill, containing $550 billion in new spending.
The bill includes $11 billion in funding set aside for tribes, according to a breakdown by the U.S. Senate Committee on Indian Affairs. It now heads to the U.S. House, where passage is not a given because of some progressive Democrats' concerns that they might not achieve an additional $3.5 trillion in social infrastructure funding under a separate, quickly proceeding, Democrats-only budget reconciliation bill.
Senate Majority Leader Chuck Schumer, D-N.Y., is already taking up the reconciliation process, and its framework reveals an additional $20.5 billion proposed for tribes.
Sen. Kyrsten Synema, D-Ariz., has previously balked at the overall $3.5 trillion proposed price tag, leaving progressives in the House unsettled, and some of them say they may need to modify the already-passed Senate bill.
All 50 current Democratic Senate votes would be needed to pass the more expensive bill through reconciliation.
Tribes are generally pleased with the $11 billion Senate-passed legislation for Native hard infrastructure programming. If the legislation becomes law, tribes will be eligible to receive $43 billion in new funding this year alone, including the $20 billion designated for tribes under the earlier American Rescue Plan and approximately $12 billion more in various grants and pots of money open to tribes throughout the federal agencies.
If the social infrastructure funding passes through reconciliation, the total would then reach $63.5 billion.
Tribes also received $8 billion in CARES Act funding last year.
[RELATED: SAUSAGE MAKING: Tribal components of bipartisan infrastructure deal come into focus]
"Our tribal provisions in the American Rescue Plan and the Infrastructure Investment and Jobs Act were the two largest investments in Native communities in American history. But our work has to continue, and this historic budget resolution is the next step," said Sen. Brian Schatz, D-Hawaii, chair of the Senate Committee on Indian Affairs, in an Aug. 9 speech on the Senate floor.
"For far too long, historical underfunding of federal programs serving Native communities and tribes has left them vulnerable. … The budget reverses these systemic injustices through a $20.5 billion targeted investment," Schatz said. "We have already made the biggest investment in Native communities in American history, and we're not done yet.
"This budget resolution would empower Native communities like never before."
'Really significant funding'
The amount of money that could go to tribes is historic, by any measure. But many tribal leaders and advocates note the federal government has much ground to make up, given its longstanding underfunding of Indian Country, eras of sequestration, broken treaties and poor trust relations.
"Between the CARES Act, ARPA and now hopefully the upcoming infrastructure bill(s), this is just some really significant funding coming into Indian Country," Karen Diver, who served as a Native affairs adviser to President Barack Obama, said during a recent Harvard Project on American Indian Economic Development session focused on pandemic funding.
Diver, who previously served as the chairwoman of the Fond du Lac Band of Lake Superior Chippewa, said the goal of all tribal stakeholders should be "to position Indian Country to make the best of these historic investments."
"Juice up your communications, juice up your politics," Wendy Helgemo, senior legislative attorney in the Washington, D.C. office of Big Fire Law & Policy Group LLP, suggested to tribes on the Harvard call. "That's going to help us (utilize) this historic amount of funding that's coming to Indian Country."
Various tribal leaders, lawyers, lobbyists and advocates worked hard throughout the Senate's three-month deliberation on the bipartisan infrastructure bill. Just as there were occasional tensions between the main group of 10 senators working on the bill throughout that time, the tribal voices also had some disagreements.
Some insiders believed that advocacy by tribal organizations and by tribes themselves was not as intense as it should have been because many tribal leaders were focused on meeting pandemic-related spending and application deadlines and compliance rules related to other relief monies.
In the end, everyone rallied together to achieve results, presenting a somewhat focused plan to legislators in an effort to get as much funding included as possible.
What's included, what's not
The $11 billion passed by the Senate contains a bevy of tribal intricacies. Alaska Republican Sen. Lisa Murkowski, vice chair of the Senate Committee on Indian Affairs who was part of the coalition of senators who negotiated the deal, released the following list of items the bill addresses for Indians and Alaska Natives:
• Major investments in Indian Health Service's sanitation facilities construction program — Provides $3.5 billion in technical and financial assistance to American Indian tribes and Alaska Native villages through IHS for cooperative development and construction of safe water, wastewater, and solid waste systems and related support facilities. This unprecedented investment in IHS sanitation will clear all known project needs.
• Funds congressionally authorized Indian water settlements — Provides $2.5 billion to fund the remaining portions of the authorized discretionary funding for congressionally approved Indian water settlements. The federal government is involved in Indian water settlements pursuant to its trust responsibilities. Funding these settlements will allow tribes to pursue authorized projects to access and develop their water resources.
• Building climate change resilience in Native communities — Provides $216 million to the Bureau of Indian Affairs Tribal Climate Resilience Program for adaptation project planning and development and community relocation for tribes contending with climate change impacts.
• Connecting Indian communities by investing in rural broadband — Provides an additional $2 billion for the Tribal Broadband Connectivity Program and extends the expenditure deadline. Creates a $1 billion Middle Mile program for the construction, improvement or acquisition of middle-mile infrastructure. The Middle Mile program includes a process for designating tribally unserved or underserved areas in consultation with tribes and Native entities. The bill creates a Digital Equity Competitive Grant Program, which includes a 5 percent set-aside to award grants to, or enter into contracts or cooperative agreements with, Indian tribes, Alaska Native entities and Native Hawaiian organizations. Additional funding is provided for the FCC's Emergency Broadband Benefit program, which subsidizes broadband service for eligible households.
• Cleaning up orphan and legacy wells — Directs funds to the Department of the Interior to clean up orphan wells on public lands and legacy wells in the National Petroleum Reserve-Alaska and to fund state grants for cleanup of wells on state and private lands. This includes more than $2 billion for state grants, $250 million for federal lands, and $150 million for a new grant program to help tribes clean up orphan wells. Across the country, more than 56,000 documented orphaned oil and gas wells can leak methane, contaminate groundwater and create other safety risks. Federal agencies and states responsible for plugging and reclaiming these wells have had limited funding to address this health hazard.
• Reducing wildfire risk and enhancing Native communities — Investments through hazardous fuel reduction projects, forest restoration and community defense grants to reduce wildfire risks, provide firefighter training to Native Village crews, Native Youth Public Land Corps and other programs focused on ecosystem restoration and tribal protection.
• Investments in BIA irrigation, power and sanitation — Includes $250 million for construction, repair, improvement and maintenance of irrigation and power systems, safety of dams, water sanitation and other facilities.
• Tribal transportation investments — Includes $2.9 billion for the Tribal Transportation Program, $110 million for the Tribal Transportation Facility Bridge set-aside, allows 100 percent federal share for tribal projects in the Nationally Significant Federal Lands and Tribal Programs, reinstates and provides funding for the Tribal High Priority Projects program at $30 million a year for a total of $150 million, increases the set-aside amount for the Tribal Transportation Program Safety Fund from 2 percent to 4 percent, and expedited environmental review for tribal transportation safety projects.
Murkowski's office further pointed to a 19-page list of tribal provisions and explanations of them.
The bill also includes the Padilla-Moran-Lankford amendment to allow urban Indian organizations "to use existing resources to fund infrastructure projects to better serve patients and families," according to a policy alert from the National Council of Urban Indian Health. The organization also said that the legislation did not include its $21 billion Native health infrastructure request.
More work to come
Senators involved in the negotiations who are close to Indian Country made clear that they worked diligently to include tribal needs.
Funds and provisions related to Indian housing and energy were particular areas that some tribes felt were not fully addressed in the bill, and they had hoped to achieve those items in amendments. However, that did not end up happening.
"The administration had both in their infrastructure proposal, but it was not going to fly with the Senate," W. Ron Allen, chairman of the Jamestown S'Klallam Tribe, told Tribal Business News.
Allen said that tribes have serious concerns about housing, "from the perspective of needs for the tribal citizens and employees, particularly affordable housing and the infrastructure essential to make it happen."
Sen. Mark Kelly, D-Ariz., tried to get his Tribal Clean Energy Development Act included via an amendment, but his effort failed. His office told Tribal Business News that he "secured commitments across the aisle to work with us on this as a bill in the future."
Tribes believe that Kelly's legislation is important because it would improve access to the federal energy marketplace for tribes.
Tribal advocates also were disappointed not to see any legislative fixes to the Drinking Water and Clean Water State Revolving Funds under the U.S. Environmental Protection Agency to make it easier for tribes to actually access these programs.
Sen. Jon Tester, D-Mont., the former chair of the Senate Committee on Indian Affairs who was also part of the bipartisan group of negotiators, has noted that all tribal interests could not be met in the hard infrastructure bill.
"There are a lot of needs across the country, but Sen. Tester is satisfied with how the legislation came out," his spokesman told Tribal Business News.
--
EDITOR'S NOTE: Tribal Business News will have continuing updates about the plan and its effects on Native America as it progresses.
Want more news about the $130 billion tribal economy?
Tribal Business News publishes thoroughly reported and well-crafted stories about Native businesses and entrepreneurs, growth and expansion strategies, best practices, economic data, government policy and other relevant business news. Tribal Business News is required reading for tribal council members and leaders of Native businesses, as well as state and federal legislators, policymakers, economic developers, entrepreneurs, bankers, lawyers and anyone interested in doing business in Indian Country.
Sign up for our free newsletter to track Native business and the tribal economy. Or sign up for a discounted subscription ($99/year — use coupon code "TBN21") to gain full 24/7/365 access to our business news reporting. Megwetch.