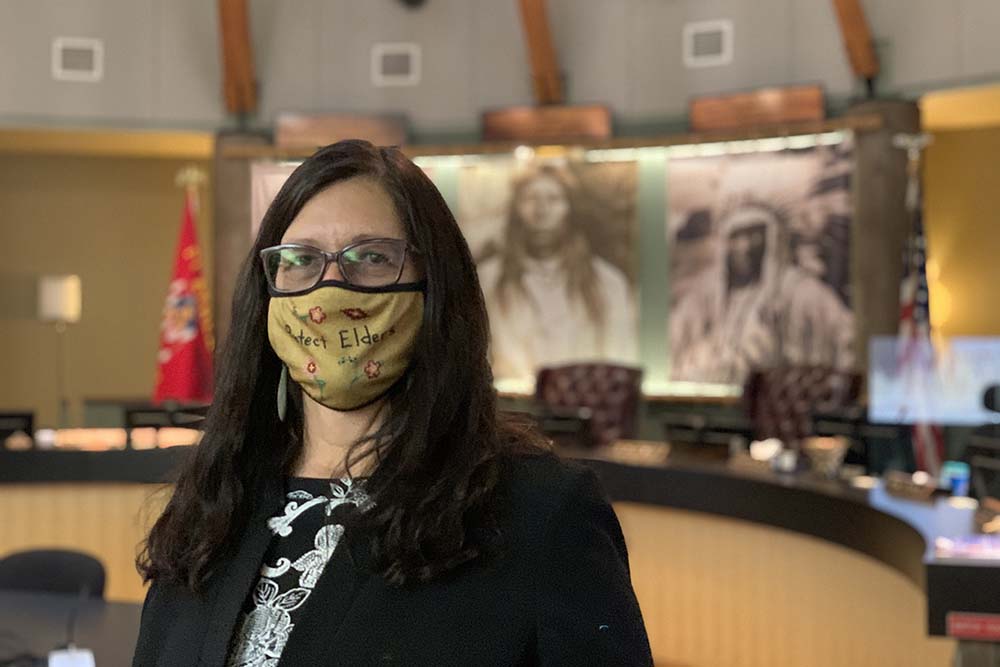 Details

By

Erin Tapahe

Economic Development
HELENA, Mont. — Confederated Salish and Kootenai Tribal Chairwoman Shelly Fyant will play an important role in tribal-state relations following her election as chair of the Montana's State Tribal Economic Development Commission.
Fyant, who is in her second three-year term on the commission, replaced longtime chair Shawn Real Bird, who remains on the commission.
The governor-appointed body, established in 1999 by the state of Montana, focuses on funding, assessment and partnerships between the state and its eight federally recognized tribes, with a goal of encouraging Native entrepreneurship and improving the tribal economy through business expansion, access to capital, manufacturing, tourism, agriculture and community development.
"Our vision is to create prosperous economies for the tribal nations in Montana," Fyant told Tribal Business News. "Our mission is to expand and improve those economic opportunities for each of the tribal nations."
Fyant acknowledges that "prosperous" has a different definition for each tribe, and she wants to help tribes individually with their goals of creating a prosperous community.
Joining her on the commission are Richard Sangrey (vice chair), Chippewa Cree Tribe; Cheryl Reevis, Blackfeet Tribe; Shawn Real Bird, Crow Tribe; Ray King, Fort Belknap Indian Community; Kaci Wallette, Fort Peck Tribes; Gerald Gray, Little Shell Tribe; Lane Spotted Elk, Northern Cheyenne Tribe; Misty Kuhl, Governor's Office of Indian Affairs; and Scott Osterman, director of the Montana Department of Commerce.
[RELATED: Montana seeks partnerships with tribes to grow state economy]
As chair of the commission, Fyant wants to work with tribes in a collaborative effort and help them pursue their goals for economic development. To that end, the State Tribal Economic Development Commission has been looking to expand funding resources to help tribal nations and individuals. The commission also hopes to conduct a forum for economic development opportunities for tribes.
Fyant plans to create an organized inventory of partnerships and have a strategy for those select partners and alliances to provide resources for tribal nations in Montana. She points to advice from Osterman, who attended strategic planning meetings and encouraged the commission to "think outside the box and be creative."
The steps come after the commission in June participated in a strategic planning process to return its efforts to its original purpose and regain its focus, according to Fyant.
Fyant said the commission is continually focused on gauging its effectiveness in providing funding, assessing the economic conditions on the reservations, and identifying key partnerships and alliances.
Two commissioners are preparing for a comprehensive assessment of the commission's work. Fyant then will report the findings to the state Legislature and work to coordinate with tribes.
"It's a really exciting process," Fyant said. "I really look forward to working."
Within the CSKT, Fyant has been active in the tribal government for a number of years, having been first elected to the tribal council in 2014. She currently serves as chairwoman of the 10-member tribal council that represents the eight districts of the Flathead Reservation in western Montana. Fyant represents the Arlee District.
In her tribal government role, Fyant said she is focusing on seven resolutions to improve the Confederated Salish and Kootenai Tribes. One would provide educational resources and job opportunities for every tribal member of CSKT. Another resolution is fostering business ownership among the tribal members.
"We have quite a diverse population and we're trying to provide those different opportunities," Fyant said. "We think that economic development and entrepreneurship is really important and a healthy tribal economy isn't one with only tribal businesses and corporations but also consists of tribal member businesses."
Want more news about the $130 billion tribal economy?
Tribal Business News publishes thoroughly reported and well-crafted stories about Native businesses and entrepreneurs, growth and expansion strategies, best practices, economic data, government policy and other relevant business news. Tribal Business News is required reading for tribal council members and leaders of Native businesses, as well as state and federal legislators, policymakers, economic developers, entrepreneurs, bankers, lawyers and anyone interested in doing business in Indian Country.
Sign up for our free newsletter to track Native business and the tribal economy. Or sign up for a discounted subscription ($99/year — use coupon code "TBN21") to gain full 24/7/365 access to our business news reporting. Megwetch.