Here is a round-up of business news from around Indian Country.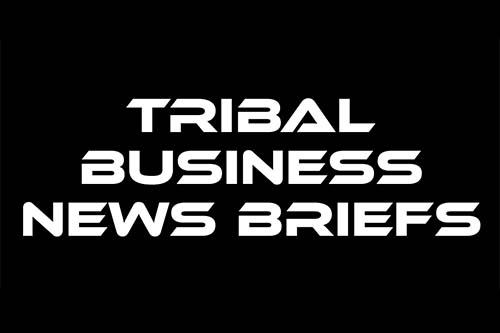 Economic development
• Yurok Tribe-owned Mad River Brewing Co., based in Blue Lake, Calif., has inked a partnership deal with the San Jose Barracuda, the American Hockey League affiliate of the San Jose Sharks, to serve its beer brands at TechCU Arena. The deal marks the first time a tribal beer will be served at the home of an AHL team, according to a statement from Mad River Brewing. Eric Grundfast, director of business operations for the Barracuda, said the partnership "highlights the team's continued mission to provide a platform for smaller businesses in our diverse community." The partnership includes an entitlement sponsorship of the East Bar at the arena. "This partnership represents a turning point for diversity and inclusion," Mad River Brewery CEO Linda Cooley said in a statement. "The San Jose Barracuda and San Jose Sharks are putting into action a need for visibility, recognition, and support for tribal business, which is directly tied to tribal sovereignty. As a Yurok Tribal member, Indigenous woman, and mom, it's a monumental opportunity. Mad River Brewery has been crafting first-class ales for over 30 years. Now it is time we share our craft and our story with Barracuda fans, the hockey fanbase, and all those who come to San Jose's newest arena." Earlier this year, Mad River Brewing also partnered with the San Francisco Giants to sell its beverages, as Tribal Business News previously reported.
Funding
• Rapid City, S.D.-based NDN Collective has opened the application process for its second year of its Community Self-Determination Grant. Eligibility is open to tribes, First Nations, Inuit, Metis and Indigenous-led nonprofit organizations. The grants are intended to support community-based and community-driven sustainable solutions that fit with NDN Collective's core strategies: defend, develop and decolonize. NDN Collective has $4 million of funding available in this round. Applicants can receive up to $100,000 per year for up to two years. Funds can be used for general operating support, power and capacity building and capital, as well as for support for comprehensive initiatives, specific programs and community development based on regenerative principles. The deadline to apply is Tuesday, Aug. 1. "Community self-determination calls on all of us to think creatively and innovatively, to address root causes of our struggles and design solutions that are shaped by and embraced by our own people, our own communities," NDN Foundation Managing Director Gaby Strong said in a statemet. "It's an honor to resource our people in this way. This is just the beginning."
Infrastructure
• The Santo Domingo Pueblo in New Mexico will receive more than $2.2 million in American Rescue Plan Act funding to replace aging and deteriorating wastewater infrastructure and improve service for new and existing businesses. The project is funded under the Commerce Department's Economic Development Administration via the $100 million Indigenous Communities program. The project was made possible by the regional planning efforts led by the North Central New Mexico Economic Development District, according to a statement. "The Santo Domingo Pueblo will receive $2.2 million in federal investments to make improvements in wastewater infrastructure that will help local entrepreneurs and businesses thrive," Sen. Ben Ray Luján, D-N.M., a member of the Senate Committee on Indian Affairs, said in a statement. "Access to running water and wastewater facilities was an enormous risk factor for many rural and Tribal households throughout the pandemic, and I am glad to see federal COVID-19 relief funding being directed at measures like this that will make our local communities and economies stronger. Tribes and Pueblos in New Mexico were hit hard by COVID-19, and I will continue supporting efforts to help New Mexicans recover and rebuild from the pandemic."
Agriculture
• The Native Agriculture Education Fellowship Program has named its inaugural class of 10 students in the Tribal Agriculture Fellowship (TAF) Program, which is aimed at helping Native American, Alaska Native, and Native Hawai'ian students advance their education and careers in an agriculture-related field. The Tribal Agriculture Fellowship program is sponsored by agriculture industry groups including Native American Agriculture Fund, Foundation for Food & Agriculture Research, Farmer Mac, John Deere and Farm Credit. The fall cohort of fellows includes: Marquel Begay (Navajo), University of Arizona; Nicole Benally (Navajo), University of Montana; Maddylon Burris (Chickasaw), Redlands Community College; Carson Capps (Citizen Potawatomi Nation), Oklahoma State University; Jaelyn Dove (Lumbee), North Carolina State University; Henry Hainzinger (Osage), Oklahoma State University-Institute of Technology; Gina McGuire (ʻŌiwi), University of Hawai'i; Santana Nez (Navajo), University of Arizona; Justina Slim (Navajo), Colorado State University; and Brendan Walker (Navajo), University of Arizona. "At TAF we want to support the next generation of indigenous agricultural leaders no matter what area of agriculture they are interested in pursuing," TAF Executive Director Nicole DeVon said in a statement. "This cohort is comprised of educators, scientists, lawyers, doctors, entrepreneurs, and cultural knowledge keepers all with the ultimate goal of fostering sustainability within tribal and indigenous communities."
Gaming
• California Gov. Gavin Newsom paved the way for the Tejon Indian Tribe to open a casino in Kern County after concurring with the U.S. Department of the Interior's determination to place 320 acres of land into trust for a Class III gaming facility. The tribe and Newsom also signed a tribal-state gaming compact last week. The Kern County location is about 4 miles from the tribe's government center. The casino development is expected to create more than 1,000 construction and 2,000 permanent jobs. The tribe plans to operate up to 3,000 slot machines at the site.
Entrepreneurship
• Tulsa, Okla.-based Amatoya, a manufacturer of custom-designed Native American furniture founded by Cray Bauxmont-Flynn (Cherokee Nation), plans to open six showrooms across the country this summer. Locations in Dallas, Denver and Washington, D.C. will open in June, followed by showrooms in Chicago, Seattle and Tulsa one month later. The Dallas location will operate under the Amatoya brand and include 38 pieces from the company's hospitality collection. The other sites will display between eight and 12 pieces in partner showrooms, according to a statement. "Amatoya has set a new bar for timeless, true Native American design, quality, and craftsmanship," Bauxmont-Flynn said in a statement. "Since starting our company three years ago, our handsome, sculptural pieces have caught the eyes of discerning designers, hotel proprietors, and even set decorators. Now we are offering our collection in showrooms across the country."
Housing
• Longtime affordable housing advocate Rebecca Louie, a member of the Tlingit and Haida tribe, took the reins as the new president and CEO of the Wakeland Housing and Development Corporation, a San Diego, Calif.-based nonprofit that has developed more than 7,500 affordable homes for low-income people over the past two decades. At Wakeland Housing, Louis will be responsible for an annual budget of $6 million, a staff of 44 employees in San Diego and Los Angeles, nine developments currently under construction and a portfolio of 41 affordable housing communities throughout California. Previously, Louie served as vice president and COO of Wakeland Housing, where she has worked since 2005. Louie also had prior stints at the San Diego Association of Governments, the Center on Policy Initiatives, and United Indian Nations Community Development Corporation. She currently serves as board chair for the San Diego Housing Federation. "Affordable housing is the solution to most problems – from homelessness to low school achievement to poor health," said Ms. Louie. "Again and again throughout the years I've worked in this industry, I've seen how affordable housing has transformed people's lives. My mission as the new CEO of Wakeland is to continue to build as much affordable housing as possible and to bring new resources into this sector so that our residents can thrive."
Want more news about the $130 billion tribal economy?
Tribal Business News publishes thoroughly reported and well-crafted stories about Native businesses and entrepreneurs, growth and expansion strategies, best practices, economic data, government policy and other relevant business news. Tribal Business News is required reading for tribal council members and leaders of Native businesses, as well as state and federal legislators, policymakers, economic developers, entrepreneurs, bankers, lawyers and anyone interested in doing business in Indian Country.
Sign up for our free newsletter to track Native business and the tribal economy. Or sign up for a premium digital subscription ($99/year or $10/month— cancel anytime) to gain full 24/7/365 access to our business news reporting. Megwetch.