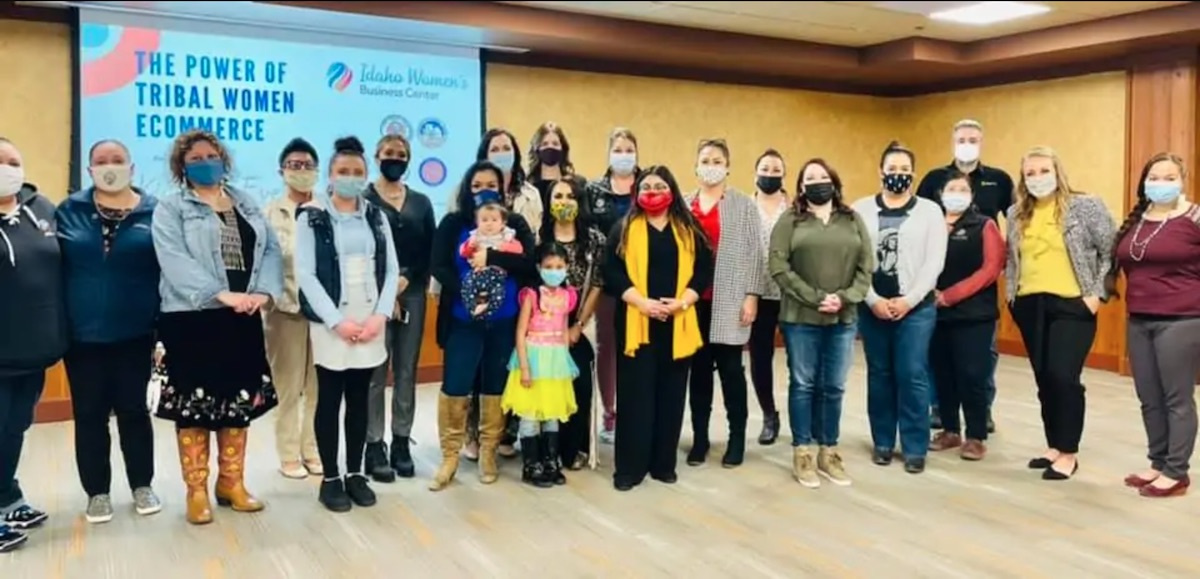 Details

By

Erin Tapahe

Entrepreneurism
In the 11 years Ann McCormack ran a small business, the Nez Perce tribal member rarely saw other women who looked like her or shared her goals.
Now an economic development planner at the Nez Perce Tribe, McCormack said it was difficult for her to network. Moreover, she often felt isolated as a Native woman small business owner.
"It was rather lonely because there weren't very many other women who were working toward the same aspirations as I was," McCormack told Tribal Business News.
That's why McCormack became an early supporter of the Idaho Native American Women Business Alliance, which she sees as a way to unify Native women and provide a space for them to create a community.
The Idaho Native American Women Business Alliance is a collaborative effort involving the Idaho Hispanic Foundation, Idaho Women's Business Center and the Coeur d'Alene, Nez Perce and Shoshone-Bannock tribes.
Diane Bevan, executive director of Idaho Women's Business Center, helped launch the Alliance as a way for the organization to better live out its mission. The Idaho Women's Business Center is housed within the Idaho Hispanic Foundation and supported with funding from the U.S. Small Business Administration.
"The Idaho Women's Business Center is growing rapidly across Idaho to engage, empower and encourage women who want to start or grow a business," Bevan told Tribal Business News. "Our mission states that we serve all women, cultures and communities."
Bevan wanted to find a way to include the Native American tribes in Idaho in the center's efforts. That led her to connect with McCormack and discuss ways the Idaho Women's Business Center could help Native women entrepreneurs start businesses.
"It is important because it provides a space for women who are members of Idaho tribes to ask for assistance, training and opportunities," Bevan said.
"The reason I recommended we form a Native Women's Alliance is because we (as Native women) could gain important knowledge about each other, to strengthen our business-to-business network within the five tribes," McCormack said.
The Idaho Native American Women Business Alliance is designed "to foster relationships with all Idaho Native American tribes and to link them with statewide partners who are dedicated to engage, educate, and empower tribal women to start and grow thriving businesses."
The Alliance aims to help grow Native communities in Idaho by planning workshops, offering training, providing counseling services for small businesses, connecting entrepreneurs to resources and helping with networking.
In the workshops, Native women entrepreneurs can learn how to develop a business plan and strategies for e-commerce, for example. The sessions also include testimonials from successful business women in the hopes that their stories can help guide new entrepreneurs. To that end, the Alliance's first session in March included Coeur d'Alene Casino Resort Hotel CEO Laura Penney and Stubby Lake Smoke Shop owner Margaret Jose. Subsequent events have featured talks by Muskogee apparel designer Leslie Deer and Jo Ann Kauffman, the owner of management consulting firm Kauffman and Associates Inc.
"We want to instill the 'I can too' attitude," McCormack said.
The Alliance currently maintains a dedicated Facebook group to offer additional resources and answer questions, as well as provide a like-minded community for buying and selling products.
"They want the capacity to be able to share what they're doing and also to be able to get guidance on mentorship and learn how to be a better business person," McCormack said.
Other Alliance partners include Yolanda Bisby at the University of Idaho and Stacia Morfin, owner of Nez Perce Tourism and Tradewinds Gift Shop.
This program is funded by the Nimiipuu Community Development Fund, the Coeur d'Alene Tribe's North Idaho Native Fund, the Nez Perce and Shoshone-Bannock tribes, and Idaho Women's Business Center.
Jonelle Yearout, executive director of Lapwai, Idaho-based Nimiipuu Community Development Fund, has noticed Native women are sometimes managing their households and serving as the primary breadwinners in their families. As such, they often need help with financial education to build credit or technical education for how to start their own businesses. She hopes the Idaho Native American Business Alliance will serve as that resource.
The Nimiipuu Community Development Fund provides technical support and business counseling to tribal members and non-members within the ancestral lands of the Nez Perce, which encompasses parts of Idaho, Oregon and Washington. The Native CDFI helps aspiring entrepreneurs with business planning, lends to small businesses, and assists community members in building credit.
Yearout believes that the tribes and the Alliance's partners are connected in wanting to support Native women succeed.
"We all have the heart to connect all these women and help empower them to start and grow their business," Yearout said.