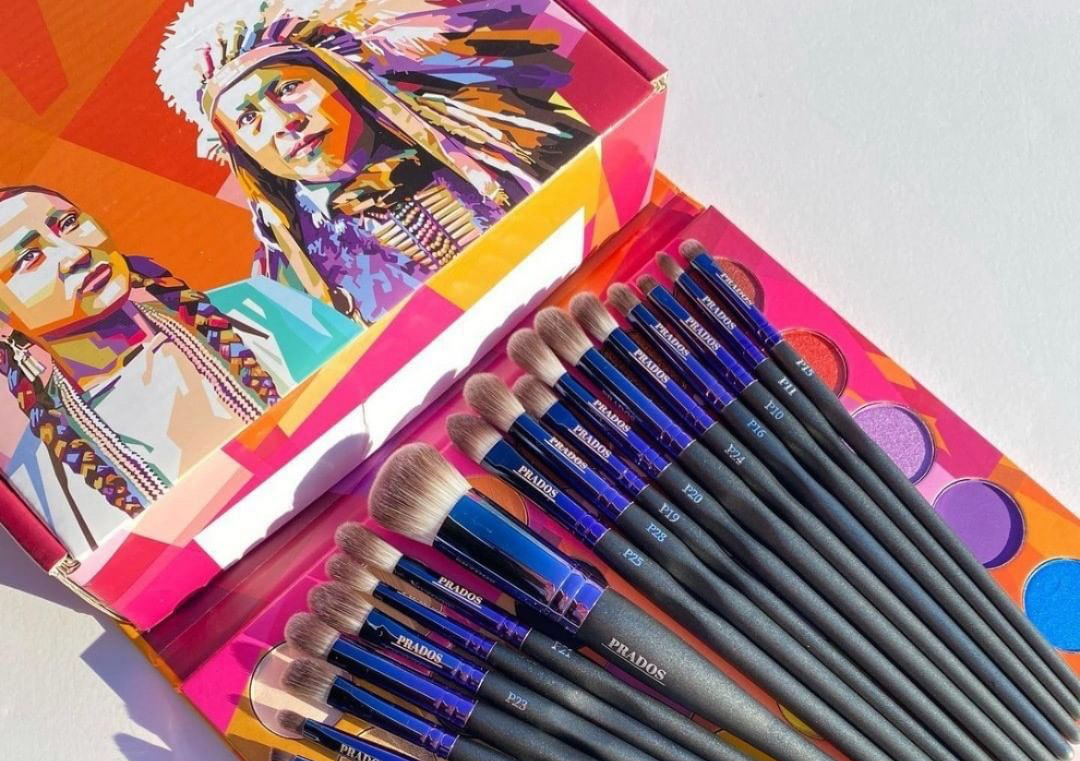 Details

By

Erin Tapahe

Entrepreneurism
LAS CRUCES, N.M. — When she worked as a makeup artist during New York Fashion Week, Cece Meadows knew she needed to do something about the lack of Native representation in the beauty industry.
In her daughter's nursery and with only $150 in hand, Meadows (Yaqui and Comanche) got to work on launching Prados Beauty LLC in 2018. While she didn't have business experience, she leveraged her years as a makeup artist and her drive to create high-quality products to create the inclusive and uplifting beauty brand.
Her first steps included quickly collecting the necessary trademarks and copyrights, and then she "snatched up" all the social media handles for her fledgling beauty brand.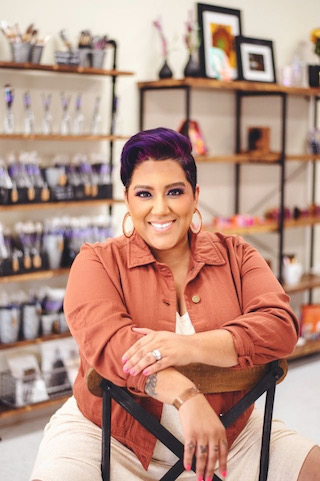 Cece Meadows, founder and CEO of Prados Beauty LLC. (Courtesy photo)"This brand allows me to express my love for color, shapes, and patterns that my people work with," Meadows​​, the founder and CEO of Prados Beauty, told Tribal Business News.
The brand and Meadows have been making waves in the industry in recent months, including a profile in the April 2021 issue of Marie Claire magazine. More recently, Thirteen Lune, an e-commerce company designed to market beauty products created by Black and Brown founders, included Prados Beauty products as part of a new online and brick-and-mortar partnership with retailer JCPenney.
The Thirteen Lune-JCPenney Beauty partnership kicked off on Oct. 18 with a grand opening in the retailer's Whittier, Calif. location. The products sold quickly, leaving only a couple lipsticks and brushes on opening day.
Meadows connected with Thirteen Lune co-founder and Los Angeles-based entrepreneur Nyakio Greico after joining BeautyUnited, which provides a community for beauty and wellness leaders in the hopes of making the industry more diverse and inclusive. Greico worked to include Prados Beauty as part of Thirteen Lune and brought Meadows into discussions with JCPenney in early 2021.
Prados Beauty is currently selling its products online and in 10 JCPenney stores, with plans to increase to 600 stores by 2023. Meadows said she was excited about the partnership and plans to scale up her company to prepare for the much larger exposure JCPenney will bring.
"It's kind of crazy to scale on the amount of products and stuff they want," Meadows said.
The $49.2 billion beauty industry can be tough for anyone to break into, even more so for a small business run by a Chicana and Indigenous entrepreneur from Las Cruces, N.M.
However, selling via Thirteen Lune and JCPenney marks a key inflection point for Prados Beauty, which first launched with makeup brushes and eye lashes designed by Meadows in 2019. The company released its first cosmetics collection in collaboration with artist Steven Paul Judd on Indigenous Peoples' Day in October 2020.
Meadows uses Native faces on the packaging for Prados Beauty products because she wants to empower Indigenous people with seeing images of themselves as well as educate non-Natives. She hopes her customers will be impressed by the high-quality products and learn about the stories and struggles of Native American people.
"My work will never be done as far as representation and telling the story of who we are," Meadows said.
Prados Beauty does not have a PR team but continues to grow because customers genuinely enjoy the products and support the brand, according to Meadows. She's also built a social media following for the company, which has more than 35,000 followers on Instagram and has been featured by the likes of drag queen Trixie Mattel, artist and entrepreneur Naiomi Glasses and actor Devery Jacobs of Reservation Dogs fame.
"I think people just really love what we've been doing as far as bringing attention to Indigenous peoples and Indigenous issues that are going on," Meadows said.
Prados Beauty currently ships and sells products from a warehouse in Las Cruces, but the company is working to buy property to build a new facility with a cosmetics lab.
For now, Meadows is concentrating on making products to fill the order from JCPenney and producing a new collection for 2022. As well, Meadows is devoting part of her time to a nonprofit called A Prados Life Foundation, which she created with her husband to help people in need.
Prados Beauty donates a portion of its sales to the foundation, which is currently accepting donations for a shoe drive for reservations throughout the U.S., Mexico and Canada.
"The reason I started this brand wasn't just about becoming a global cosmetics company," Meadows said. "It was about giving back to our communities and our people."