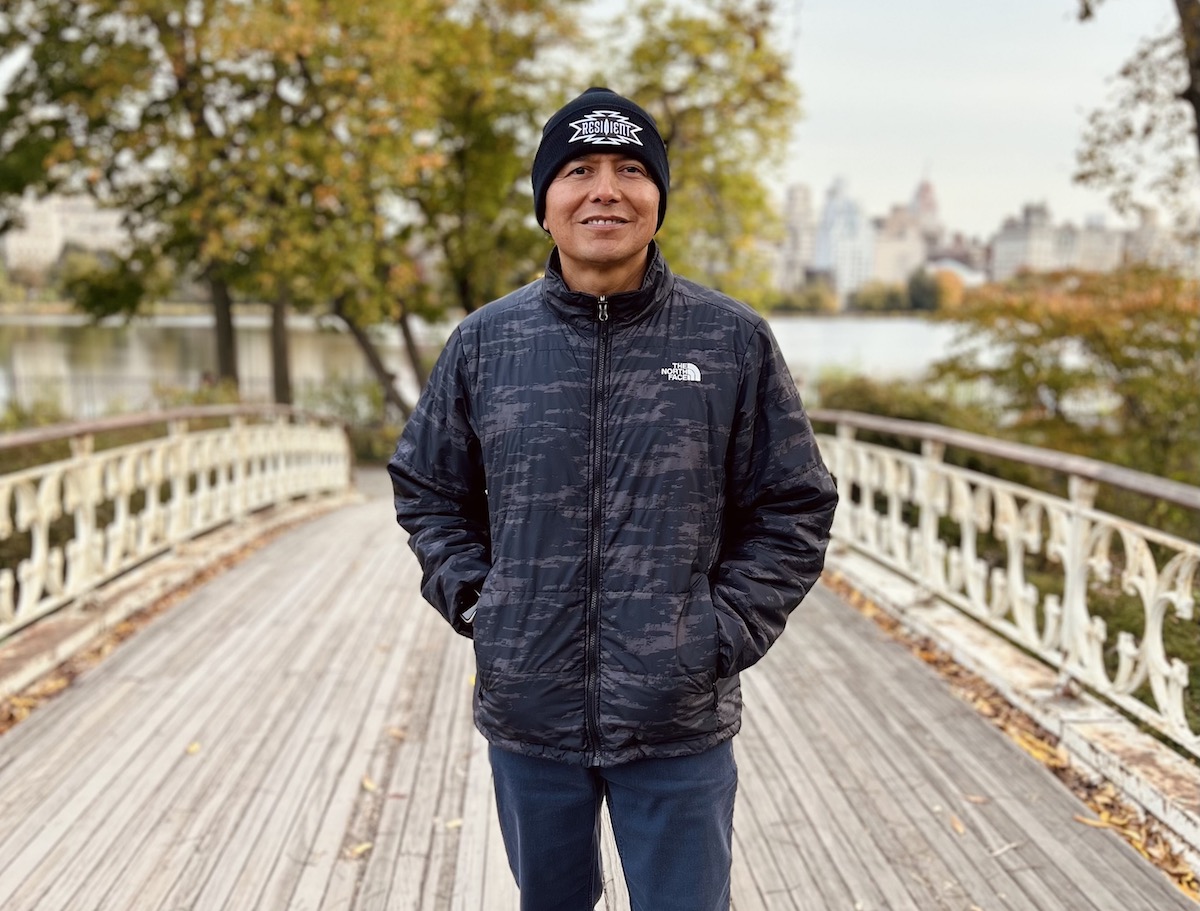 Details

By

Erin Tapahe

Entrepreneurism
CORONA, Calif. — What would develop into Anderson Gould Jr.'s purpose-driven entrepreneurial idea started with a single hat emblazoned with the word "Resilient."
He was at a point of reflection in his life, thinking about his family, military career and experience in higher education.
Originally from New Mexico, Gould (Diné) became a father at 18 years old. As he was figuring out how to be a dad and a husband, he joined the Marines, where he served for 10 years. After his service to the military, he earned a degree in graphic design and illustration from Saddleback College, later working as a graphic artist for thirteen years. One day, at his wife's suggestion, he went back to school, earning a degree in visual and performing arts and a concentration in photography and videography.
Gould's life experiences and the influence of his ancestors led him to the word resilient.
"I was thinking about all these chucks in my life and it just hit me," Gould told Tribal Business News. "You have to be resilient in order to change careers or take on new challenges and then thinking back to Native people in this country, that's what brought me to the word resilient."
Gould did not originally intend to start a clothing brand, but developed the Resilient hat for himself. To pay homage to his ancestors, Gould included a feather in the logo.
"Being resilient is more than just me, being a person, but it's our culture and other people can relate to that," Gould said.
After receiving many positive messages from people who were asking for a hat like his, Gould started the Resilient Wear brand in fall 2018.
Gould self-funded the startup and originally promoted the brand by word of mouth, only later on leveraging connections on social media.
"Little by little, people would ask for things like beanies, stickers, or T-shirts and I work on it based on my availability and the budget I have," Gould said. "Anything that I made from that process, I made sure I had enough to put something else together."
Gould's main trade remains his work in graphic design, photography and videography, but after losing his job, he used the time to focus more on growing Resilient Wear, crediting a business partner for helping him set up a website.
"People sometimes think things like this happen overnight, but it takes years, lots of patience and just doing the work," Gould said. "People buying clothing, giving donations or helping by sharing the brand information really helps."
As the business started growing in 2019, Gould launched the Resilient Scholarship fund, awarding $500 for a student at California State University San Marcos. Gould remembers when he and his wife pursued their individual college degrees and how they struggled financially. They applied for scholarships and the funding they received helped make a big difference for their family, Gould said.
"I always wanted to give back and do something like this because I remember how it felt to receive a scholarship," Gould said.
Gould sets aside $500 annually from the profits of Resilient Wear and accepts donations to add on top of the base level. Currently, the Resilient Scholarship is at $850, and Gould hopes to continue raising money with a goal of awarding $1,000-$1,500 in scholarships, or possibly splitting up the amount among a number of students to have an effect on more students' lives.
Gould hopes to help out as many students as possible and to pass along the lessons from his Diné upbringing that hard work and resiliency are key to making it through challenging times.
"I remember growing up my parents, grandparents and family would say 'Yeego', which means 'try hard,'" Gould said. "That's what resiliency is."