PHOENIX, Ariz. — The experience of selling snow cones at the flea market as a young "rez" boy would prove influential for Rocky Tano.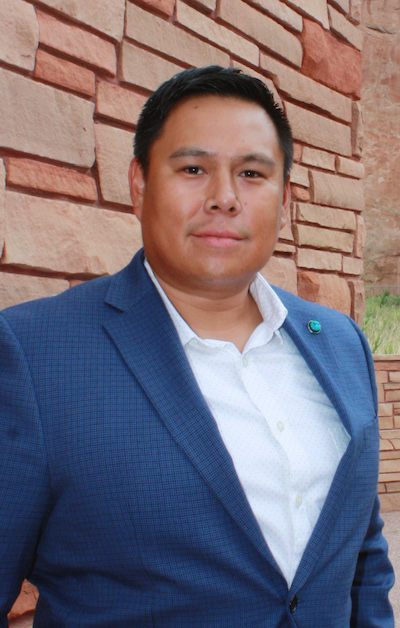 About 15 years ago, Tano founded Phoenix, Ariz.-based Obsidian Websites, a website design and brand marketing company that offers a range of services including design, development, security and training for website maintenance. The firm's brand marketing efforts include logo design and creative work for various marketing materials.
According to Tano, Obsidian Websites works primarily with Native-owned businesses including tribal government schools, large-scale corporations and many nonprofit organizations.
"I would say a majority of our clientele, a good 95 percent, is Indigenous, Native-owned organizations," said Tano, who is Navajo and Polynesian. "Our philosophy is: We take sincere interest in developing relationships and websites to empower and strengthen our clients' causes within our Indigenous communities."
Looking back on his upbringing, Tano identified threads of teachings about entrepreneurism from his mom, who showed her children how to run a business from selling shaved ice at the flea markets to marketing Avon products.
"She was training my siblings and I in how a business works," Tano said. "That's kind of small scale, but it does play a big part in where I am at now."
Tano graduated from Northern Arizona University with a degree in visual communications and worked in the field for many years after graduation.
He and his wife, Chelsea, had always wanted to start a business together, eventually hanging out their own shingle when they moved back to Kayenta, Ariz. at the start of 2010. The move offered them the perfect opportunity to follow their dream and venture out on their own, Tano said.
"The way we saw it was, I could continue working in building someone else's legacy, or I could invest this time in building something for our family," he said. "The pivotal moment for us was asking ourselves: 'Do we want to build something for someone else or do we take the leap for ourselves?"
With a background in accounting, Chelsea Tano laid out the business plan and took on financial responsibilities for Obsidian, with Rocky Tano taking charge of building a book of business and and managing design projects.
As he surveyed the many web development firms already on the market, Tano wanted to offer a different approach to customer service that would allow Obsidian to stand out because of the way it treats its customers.
"What sets you apart from hundreds of companies out there is how we treat our clients from the beginning," Tano said. "We're not going to treat you (our clients) like a number, we're going to embrace your identity."
That customer-centric approach took on added importance at the onset of the COVID-19 pandemic, Tano added, noting that the virus also forced him to look closely at Obsidian's own operations.
Early on, Tano held a meeting with his four employees and said: "One of two things is going to happen: Either we will go down or we'll get more busy."
Luckily for Obsidian, the latter occurred and the company got busier over the course of the pandemic. The company even added two employees to keep up with the added work.
Tano quickly transitioned the business to operate virtually, which puts an emphasis on communication, both internally and externally with clients. As well, many clients followed a similar path and put more of a concerted effort into their online presence, which led them to increasingly seek out Obsidian's services.
"Before, websites were awesome to have, but a lot of folks didn't really pay a lot of attention as they are now the past year and half," Tano said.
Currently, Obsidian works with an average of 30-40 clients a month. Past clients have included a range of tribal and Native American owned companies such as the National Center for American Indian Enterprise Development, Native American Development Corp., McCabe CPA Group LLC, United National Indian Tribal Youth Inc., Phoenix Indian Center, Sage Memorial Hospital, the Cobell Scholarship, Skokomish Indian Tribe and Yakama Nation.
In addition to growing Obsidian, Tano also sees an opportunity to do more outreach in bringing Native youth into website development and technical positions, whether with his company or others. To that end, Tano is making the effort to talk with the youth by visiting schools to show them what a Native-owned business looks like.
He said he wants to show the youth that there are options and encourage them to follow their passions.
"We have to do a better job in reaching out to the youth," Tano said. "We're here to help them avoid pitfalls and help in what to do and what not to do."
He also wants to empower employees within Obsidian so that he can focus more on client relationships and the strategic direction of the company. Ultimately, that transition would provide more opportunity to bring on younger Native employees and provide them with good hands-on experience, Tano said.