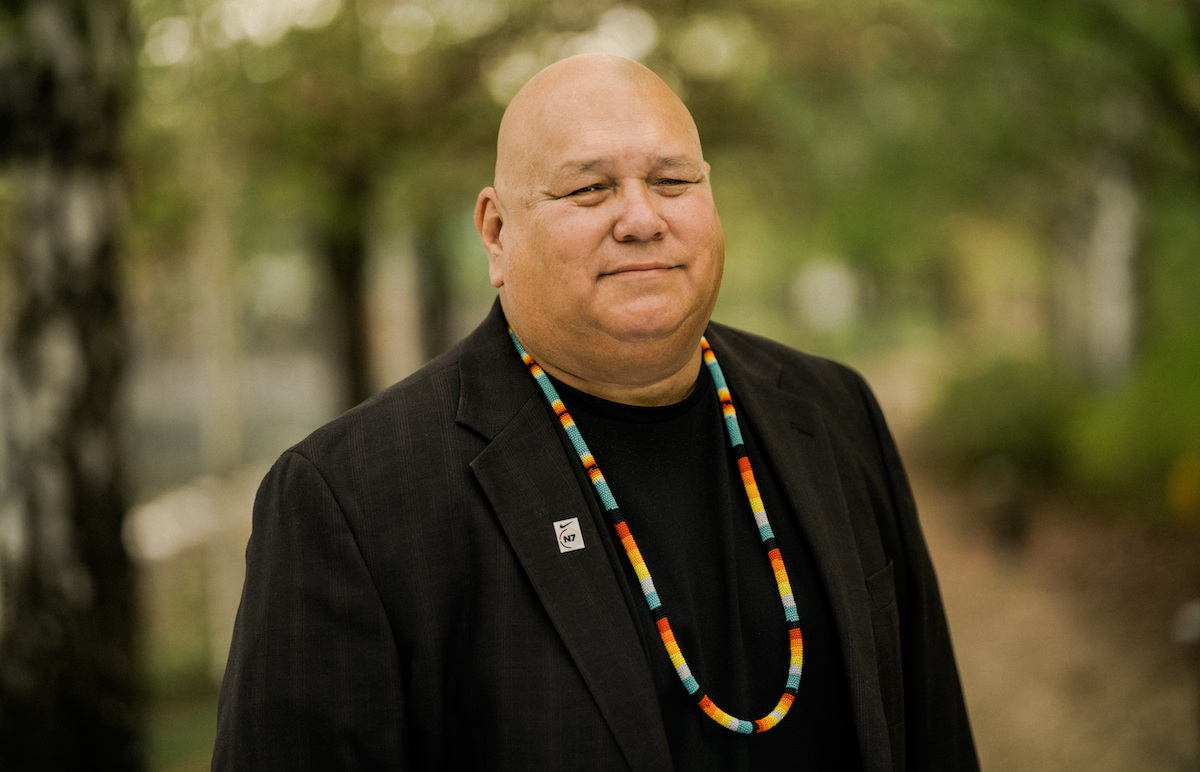 Details

By

Erin Tapahe

Entrepreneurism
BEAVERTON, Ore. — Sam McCracken found a way to blend his passion for community and his career at footwear giant Nike into a force for good for other Native Americans.
A member of the Fort Peck Assiniboine and Sioux tribe who grew up in rural Montana, McCracken was working as a forklift operator at a Nike distribution center when the company tapped him to manage its Native American Employee Network.
He recognized the potential to help Nike forge connections with new customers in Indigenous communities and, along the way, use the power of sport to improve the health and wellness of the people in those marginalized communities.
Armed with an idea and a business plan more than two decades ago, McCracken found support from within Nike to create the N7 product line, which features materials and designs that reflect Native culture.
"It was my passion for my community and an opportunity I saw that we were giving the Indigenous community access to the largest sports brand in the world," McCracken, general manager of Nike N7, told Tribal Business News.
The next step began in 2009, when McCracken helped to establish the Nike N7 Fund, which makes annual investments aimed at addressing health disparities in Native American communities. To date, the fund has awarded more than $8 million in grants, administered by the Charities Aid Foundation of America, to organizations in some 270 communities to support programs for Indigenous youth.
For his efforts in leveraging the footwear giant to drive change and healthy behaviors in Indigenous communities, the Schwab Foundation for Social Entrepreneurship — a sister organization of the World Economic Forum — named McCracken as one of its 2022 Social Innovators of the Year.
McCracken said he almost started crying from the award because he comes from a rural tribal community and being recognized by a global foundation raised all sorts of emotions. He hopes the recognition from the award will help bridge the gap between the Indigenous communities of North America and the rest of the world. Moreover, McCracken wants to give Indigenous people a platform to elevate and celebrate their voices, share their stories and honor their communities.
"If you have that infrastructure of people who care and want to support the vision you have, it makes it that much more rewarding," McCracken said. "I hope that years from now, the Indigenous community is in a better place than they were before I got recognized."
Margins to mainstream
For the first nine years, McCracken was the only person working day-to-day on the N7 brand, which he acknowledged posed its share of challenges. However, McCracken was determined to succeed and provide Native communities with the resources that a company like Nike could offer.
"I think one of the things we want to help our community understand is that we want to take them from the margins to the mainstream," McCracken said.
With the N7 Fund, McCracken applied a holistic approach to helping Native communities across North America. Because he's not an expert in the nuances of all tribal communities, McCracken said he focused on listening and seeking advice to determine how best to leverage the company's resources to provide help.
One of the first recipients of the Nike N7 Fund grant program was the Notah Begay III Foundation, created by the four-time PGA Tour winner Notah Begay III (Diné/Pueblos of San Felipe and Isleta) in 2005 to help children establish a life of "discipline, goal-setting, etiquette, pride and health."
"Nike N7 really helped us out in the NB3FIT program and we used the platform of sport to provide direct programming to get Native youth active, healthy and self confident," Clint Begay, director of the foundation's NB3FIT program, told Tribal Business News.
The Santa Ana Pueblo, N.M.-based foundation is dedicated to helping Native children achieve their full potential by advancing cultures of Native American community health, Begay said. The four core values of NB3FIT's program are physical activity, health-nutrition, youth development and cultural connections.
"I think N7 is important because it showcases the different cultures in the apparel and shoes they produce," Begay said. "It's important to show how different all Native Americans are because people usually group us together."
N7 funds organizations like Notah Begay III Foundation to help Indigenous communities at large address health challenges and bring hope and inspiration to Native children, McCracken said.
The Notah Begay III Foundation was among the 13 Native organizations that received a total of $625,000 in donations from Nike in the 2022 fiscal year. Other beneficiaries included the American Indian College Fund, American Indian Graduate Center, Center for Native American Youth, Indigenous Environmental Network, the National Native American Boarding School Healing Coalition and Running Strong for American Indian Youth.
Opening opportunities
In addition to the Schwab Foundation honor, McCracken's efforts via N7 also have been recognized by former President Barack Obama, who appointed McCracken to the U.S. Department of Education's National Advisory Council on Indian Education in 2010. As well, McCracken was inducted into the Montana Indian Athletic Hall of Fame in 2020.
He also works through the Nike Native American Network to help the company recruit from Indigenous communities, including via partnerships and supporting organizations such as the National Center for American Indian Enterprise Development.
Yet another benefit from N7's work comes in exposing Native youth to the accomplishments of other Native athletes, including NBA star Kyrie Irving, National Women's Soccer League player Madison Hammond, Lyle Thompson of the Premier Lacrosse League, and professional volleyball player Lauren Schad, among others.
According to McCracken, that representation can make a difference for Native youth.
"Visibility is power, and sport provides a platform for representation like no other," he wrote in a post on the Nike website. "I want our youth to look at sport and see themselves as athletes. Because if you can see it, you can be it."
While the awards and recognitions were never part of his plan, McCracken reiterated that N7 stemmed from his belief that Nike could offer the platform and resources to make a difference in the Native communities.
McCracken said he lives by the adage of "don't be afraid to take a healthy risk," adding that he is living proof of the power of taking the leap even though he was scared to start Nike N7.
"I hear from young people that they are scared of what's ahead, but you can't be scared," McCracken said. "If you take healthy risks the right way, then the door of opportunity is bigger than something you could have ever imagined."
Want more news about the $130 billion tribal economy?
Tribal Business News publishes thoroughly reported and well-crafted stories about Native businesses and entrepreneurs, growth and expansion strategies, best practices, economic data, government policy and other relevant business news. Tribal Business News is required reading for tribal council members and leaders of Native businesses, as well as state and federal legislators, policymakers, economic developers, entrepreneurs, bankers, lawyers and anyone interested in doing business in Indian Country.
Sign up for our free newsletter to track Native business and the tribal economy. Or sign up for a premium digital subscription ($99/year or $10/month— cancel anytime) to gain full 24/7/365 access to our business news reporting. Megwetch.