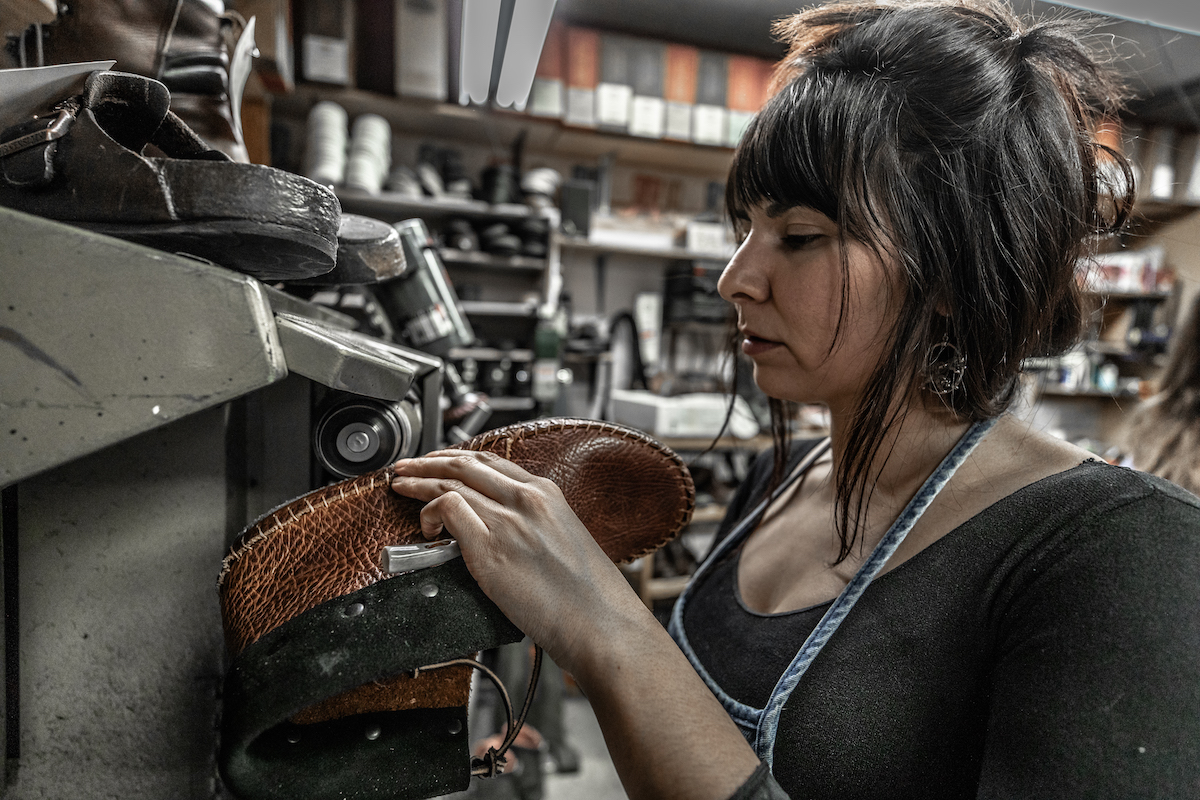 Details

By

Erin Tapahe

Entrepreneurism
BOZEMAN, Mont. — Shauna White Bear is on a mission to take moccasins back from the cultural appropriators who stole the hand-crafted footwear from Indigenous people and continue to profit from it.
She founded White Bear Moccasins in Bozeman, Mont. at the start of 2020, nearly two years after teaching herself to sew a pair using a pattern and some bison hide. She worked in the front of house operations at Carter's Boots and Repair and became interested in working with leather after seeing the cobblers ply their craft and breathe new life into old boots.
Her first pair of moccasins, however, were met with a less-than-enthusiastic reaction from her boyfriend at the time. White Bear refused to let his opinion define her creativity and continued working with leather, perfecting her sewing and tweaking her patterns to incorporate new materials like brass and copper. She used the tricks her coworkers at the shoe repair store showed her to improve the final products.
"My love for moccasin making stuck with me and it was kind of the only thing that kept my focus," White Bear (Arikara/Hidatsa) told Tribal Business News.
As she honed the craft, the self-taught moccasin maker even turned the creative outlet into a thriving small business. At the start, White Bear and her small team worked from the Carter's Boots and Repair space after the business would close for the day, but she moved to a different shared workshop last August so the company had more time to complete its growing number of orders.
That boost in business came after White Bear Moccasins became part of the B. Yellowtail Collective, a Native American-owned fashion brand and retailer that has worked with a range of artists, including Alaynee Goodwill, Tom Yazzie, Cheyanne Symone, Molina Parker and others.
Along her entrepreneurial journey, White Bear credits the advice and direction of her mentors, including Revivall Clothing owner Laura Fisher and Jeff Carter, owner of Carter's Boots and Repair.
"These people mentored me and I've taken my own experience in customer service and management positions to put all those skills into what I have today," White Bear said.
Buy Native
As a company, White Bear Moccasins faces steep competition in the market from many non-Native companies that have capitalized on and appropriated Native American culture, some of them for many decades.
That includes familiar brands like Minneapolis, Minn.-based Minnetonka Moccasin Co. Inc., which last fall apologized for its rampant cultural appropriation over the company's 75-year history.
"We recognize that our original products, some of which are still sold today, have been appropriated from Native American culture," CEO David Miller wrote in a letter to customers last October in which he also acknowledged that the company appropriated the word "moccasin" from the Ojibwe language. "We deeply and meaningfully apologize for having benefited from selling Native-inspired designs without directly honoring Native culture or communities."
For her part, White Bear wants to be part of the movement to take moccasins back for the Indigenous people who have made and created them for generations.
"They've completely taken over the moccasins and completely capitalized on it," White Bear said of Minnetonka. "I want us to have a voice and I want us to take our craft back.
"I don't think people understand that you can buy from an Indigenous artist and that's a good way to support us because we want to continue our craft and so wearing moccasins isn't cultural appropriation."
Honing the craft
As a craft-driven company. White Bear Moccasins eschews mass production and thrives on custom orders.
The company's intentional process to sew a Chukka-style moccasin takes approximately four to six hours. Instead of hole-punching the leather, White Bear uses an awl, which provides a more water-resistant shoe. She explains that prep work is most time-consuming, while adding features like a Vibram sole, wool/fabric lining, or copper/brass/turquoise rivets also leads to a longer process.
"They're more heavy duty so you don't have to be as gentle and they're made for all walks of life," White Bear said.
She also works closely with customers to produce a personal work of art. In one example, she worked with a Scottish customer and incorporated a tartan plaid design into the shoe.
"I find ways to incorporate their own heritage into their shoes," White Bear said.
The company hopes to purchase additional equipment to increase throughput for moccasins, since White Bear currently uses some hardware borrowed from Carter's Boots and Repair. Buying her own equipment will also enable White Bear to host workshop events to teach the craft to younger generations.
Indeed, passing on the craft forms a cornerstone of White Bear Moccasins, which makes a concerted effort to hire Indigenous women pursuing college education. For example, the company at one point had four employees studying at Montana State University, including three members of the Crow Nation and one from Blackfeet Nation.
The employees knew how to bead and previously made traditional Plains moccasins. White Bear taught them about her moccasin style using bison hide.
"I wanted to make something that was a little bit heavy duty and ruggedly handsome moccasins," White Bear said.
To date, the moccasins have been featured in Cosmopolitan and Huffington Post, and drawn praise from the likes of mountaineer and author Conrad Anker.
Finding her voice
As an entrepreneur and business owner, White Bear said she strives to listen, create a safe work environment and be a mentor to her employees. She refers to her employees as "my girls" and stays in contact with all the company's previous employees. As much as she teaches, White Bear explains her favorite part is learning from her employees.
It's a stark contrast from White Bear's younger days growing up in Washington, when she said she was quiet and timid. Because of a stutter, she tried to fly under the radar, which was hard for White Bear to do when everyone would ask her to explain last name.
As she got older, learned the craft of making moccasins and started her own business, White Bear said she also learned more about her heritage and her culture, all of which helped her find her voice.
"I have such a strong personality where I am not afraid to get my voice out there and interact with the community and speak my mind," White Bear said.
Want more news about the $130 billion tribal economy?
Tribal Business News publishes thoroughly reported and well-crafted stories about Native businesses and entrepreneurs, growth and expansion strategies, best practices, economic data, government policy and other relevant business news. Tribal Business News is required reading for tribal council members and leaders of Native businesses, as well as state and federal legislators, policymakers, economic developers, entrepreneurs, bankers, lawyers and anyone interested in doing business in Indian Country.
Sign up for our free newsletter to track Native business and the tribal economy. Or sign up for a premium digital subscription ($99/year or $10/month— cancel anytime) to gain full 24/7/365 access to our business news reporting. Megwetch.