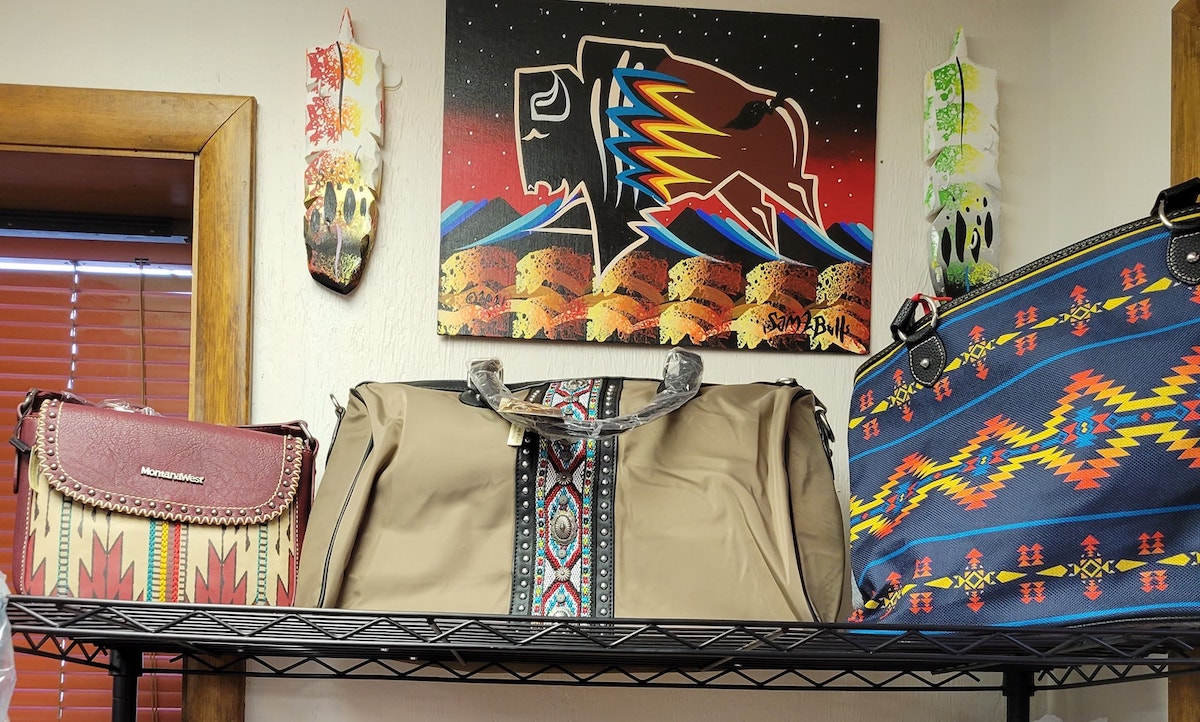 Details

By

Erin Tapahe

Entrepreneurism
CHUBBUCK, Idaho — Powwow regalia are widely used across many tribes, yet the supplies to make them can sometimes be hard to find. That's why Georgette Running Eagle launched Shokota Pow-Wow Supply LLC.
Running Eagle (Shoshone-Bannock) and her family are powwow dancers who travel to different parts of the country to attend celebrations. However, it was becoming increasingly hard for Running Eagle and her husband to find the materials needed to make their traditional powwow outfits and other items. Many of the items she needed were not easily accessible and required her to travel to a different state or purchase supplies online and pay extra for shipping fees.
Georgette Running Eagle, founder of Shokota Pow-Wow Supply LLC. (Courtesy photo)"We rely on our handiwork of items we've been taught to do culturally, like beadwork, tanning hides, making dresses," Running Eagle told Tribal Business News.
The sale of a few jingle cones to a fellow Native person proved to be a transaction that spurred Running Eagle along her journey as an entrepreneur. She started selling supplies from her home and at the powwows she attended.
At the beginning, she received help from fellow powwow supplier, Nichole Ray, who owns her own supply business called Powwow Fabrics and Designs, based in Eau Claire, Wis. Ray helped guide Running Eagle in filing the required business documents to start Shokota in 2019 and shared her experience of owning and operating a powwow supply business.
Shokota Pow-Wow Supply started out by selling basic items and took requests for other special supplies, mostly because Running Eagle did not have the funding to support a large inventory. She kept sinew thread, needles, beading supplies and other basic supplies on hand, and also likes to stock specialty fabrics from Teton Trade Cloth and 49 Dzine, both of which are Native-owned businesses and designs that cannot be found at JoAnn Fabrics or Hobby Lobby.
Running Eagle's original plan was to travel to at least two powwows a month, but the pandemic forced her to take an alternative path. Just like many businesses, Running Eagle was worried about the viability of Shokota at the start of the COVID-19 pandemic.
"When the pandemic first hit, I thought I was going to be taken under because I had just started my business and then couldn't sell to anybody," Running Eagle said.
In response, she pivoted to selling supplies via an online store and set up a makeshift physical storefront in her shed to schedule appointment times for people to shop.
"During the government shutdown, I realized this was going to last longer than expected and I needed to start hustling to make extra money to pay bills," Running Eagle said.
It was not until individuals received COVID relief money and started buying supplies that Shokota Pow-Wow Supply started gaining momentum. Running Eagle noticed her customers had more free time, which they used to work on projects to keep them busy.
"I'm a firm believer in just keep trying and it'll eventually work out how it's supposed to be," Running Eagle said.
Her home slowly became filled with supplies and the company, which was experiencing an uptick in orders, quickly outgrew her available space. Running Eagle moved Shokota into a separate space in Chubbuck, where it is open on the weekends to allow her to continue working her day job as a self determination specialist with the Bureau of Indian Affairs for the Fort Hall Agency.
Working primarily by herself, Running Eagle has received help from her family and lifelong friend, Karessa George, with the duo visiting powwows and craft fairs to sell supplies.
Owning a business has always been a dream for Running Eagle. For years, she had planned to start a trading post after she retired from the BIA. Her dreams came true sooner than anticipated with the launch of Shokota, and now the success of the company has accelerated her retirement plans so she can devote more time to the business.
Since launching the company, Running Eagle has received many positive comments from her community, who tell her they are happy with having Shokota Pow-Wow Supply as a place to purchase supplies for their artwork and crafts.
"I really didn't expect to grow so fast," Running Eagle said.
Her customers include both Native and non-Native people. Running Eagle thinks that customer mix offers a great way for Native people to be able to embrace and learn more about their culture, and for non-Native people to be educated about Native American people.
Despite the trials of operating during the pandemic, Running Eagle now wishes she had started Shokota Pow-Wow Supply 10 years earlier than she did. Before, she worried about waiting for the "right time" to take the leap, but she encourages others to not hold themselves back because of similar fears.
"I think what holds a lot of people back is fear of the unknown, but don't hold yourself back because when you have a problem, you'll find the answer," Running Eagle said, noting that she hopes to operate Shokota Pow-Wow Supply full-time when she steps down from her day job. She credits all the help she has received up to this point with putting her in a position to follow her dreams of owning a business.
"This is a dream come true and I never realized I could actually be living my dream," she said.
Want more news about the $130 billion tribal economy?
Tribal Business News publishes thoroughly reported and well-crafted stories about Native businesses and entrepreneurs, growth and expansion strategies, best practices, economic data, government policy and other relevant business news. Tribal Business News is required reading for tribal council members and leaders of Native businesses, as well as state and federal legislators, policymakers, economic developers, entrepreneurs, bankers, lawyers and anyone interested in doing business in Indian Country.
Sign up for our free newsletter to track Native business and the tribal economy. Or sign up for a premium digital subscription ($99/year or $10/month— cancel anytime) to gain full 24/7/365 access to our business news reporting. Megwetch.