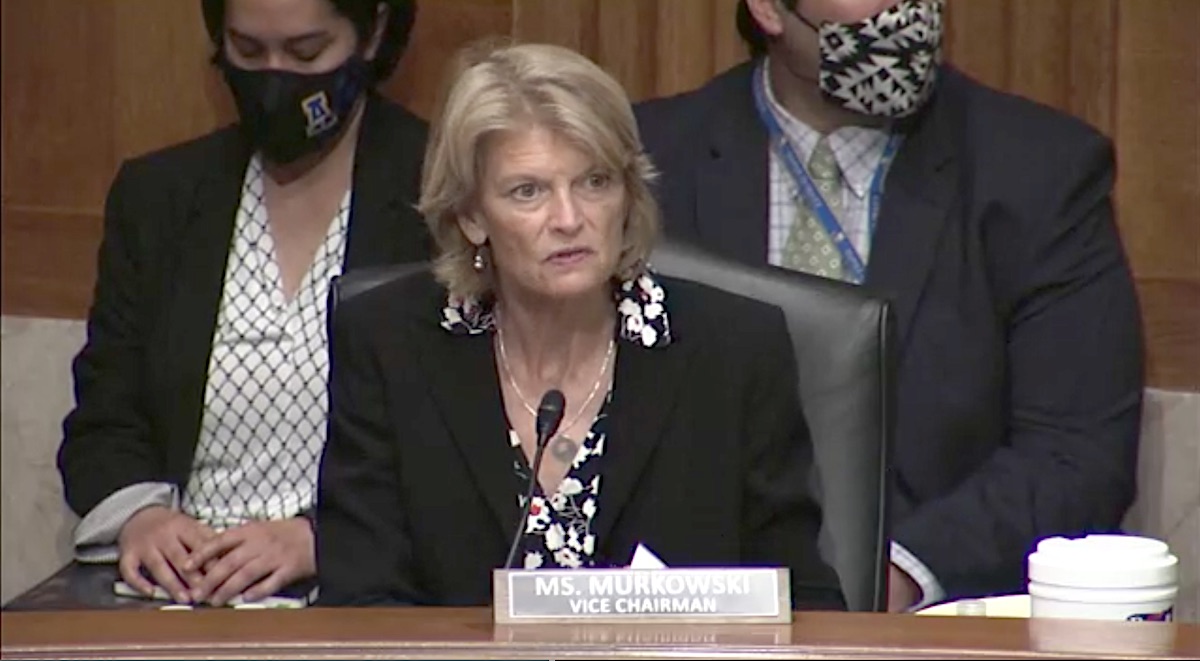 Details

Finance
WASHINGTON — Alaska Republican Sen. Lisa Murkowski is reiterating her call for the creation of an Office of Tribal Affairs in the U.S. Department of the Treasury.
A group of five bipartisan senators sent a letter on Sept. 29 to Treasury Secretary Janet Yellen asking her to immediately establish an Office of Tribal Affairs.
Citing a variety of Native concerns in dealing with the agency and its distribution of pandemic relief to tribes, the senators want better tribal consultation and improved outreach on tribal tax and finance issues, economic development, capital needs and trade policy.
While Murkowski didn't sign on to the letter from her colleagues who highlighted issues related to the billions of dollars in American Rescue Plan Act (ARPA) and CARES Act funding to tribes, she is pointing to her own efforts to establish an Indian-focused office at Treasury.
"I had introduced an amendment back with the American Rescue Plan — an amendment that directs the secretary of the Treasury to establish an Office of Tribal Affairs to protect technical assistance to tribes," Murkowski said during an Oct. 20 Senate Committee on Indian Affairs roundtable discussion focused on economic development in Indian Country.
"That amendment did not receive a vote," Murkowski lamented, adding that she and her Senate colleagues want to determine the level of support for such an office within Treasury.
"It's my understanding we haven't heard back from the Treasury Department," Murkowski said. The senators, in their letter, had requested a response from Yellen by Oct. 13.
Fatima Abbas, a senior advisor at Treasury in its Office of Recovery Programs, said during the roundtable discussion that she believes Treasury has a "forthcoming response" on the matter.
"I cannot give a personal opinion on the office, but I can relay the tribal concerns — comments — that we have received, and that they are under review," Abbas said.
Abbas said tribes have generally given three reasons for why they believe an Office of Tribal Affairs is necessary: for federal decisionmakers to understand the unique political relationships between tribes and the United States; for the federal government to address the inequalities that tribal economies have long suffered; and for the department to become a stronger leader on Indian Country's economic recovery, given the amount of money flowing through Treasury to tribes since the pandemic started.
"All of those concerns are under review by our leadership, and they will be providing a response to you and other senators soon," Abbas said.
Tribal Business News has confirmed that employees within Treasury, especially ones focused on ARPA, have expressed private support for the creation of an Office of Tribal Affairs.
Some tribal officials believe that had Murkowski's amendment passed back in February, at least a few of the problems involving inequities in distributing $20 billion in ARPA funding to tribes, along with widespread tribal compliance concerns, could have been alleviated.
Arlan Melendez, chairman of the Reno-Sparks Indian Colony, spoke in favor of an Office of Tribal Affairs office during the roundtable.
"From the tribal perspective, we really do need the new office in Treasury," Melendez said. "It would really help with communication as far as guidance."
Melendez noted that many tribes are worried about compliance rules involving pandemic relief funds issued by Treasury, and they are wondering whether they will be audited to determine if they spent the funds properly.
"Here we are with the second rescue funds, and we still don't have an answer on whether we're in compliance with using the money right," Melendez said. "Not only that, tribes are already allocating funding right now. And with this new infrastructure bill, we don't even know whether or not we should put infrastructure projects under the rescue funds right now or hold off to see what the infrastructure legislation looks like. Because you sure don't want to commit right now, and find out that it was already provided under infrastructure."
"That's a dilemma that we have now," Melendez added, saying that an Office of Tribal Affairs could provide better communication and guidance on the matter.
Pete Upton (Ponca Tribe), chairman of the Native CDFI Network trade group and executive director of Grand Island, Neb.-based Native360 Loan Fund Inc., said that the funding is "on the table," but better coordination from Treasury is needed.
"The Native voice is not heard, and it goes back to Sen. Murkowski's ask to create a tribal affairs division," Upton said at the meeting.
Murkowski further noted that the Senate on the evening of Oct. 19 passed the State, Local, Tribal, and Territorial Fiscal Recovery, Infrastructure, and Disaster Relief Flexibility Act, which includes a one-year extension of the CARES Act deadline to allow tribal governments more time to use their allocations.
"This extension will create parity for many tribes that received distributions more than a year after initial tribal disbursements began due to lengthy litigation," Murkowski said in a statement. "Tribes that did not receive timely access to funds deserve more time to responsibly spend their distributions and this bill will allow for that."
She urged the U.S. House to act quickly to pass companion legislation.
Want more news about the $130 billion tribal economy?
Tribal Business News publishes thoroughly reported and well-crafted stories about Native businesses and entrepreneurs, growth and expansion strategies, best practices, economic data, government policy and other relevant business news. Tribal Business News is required reading for tribal council members and leaders of Native businesses, as well as state and federal legislators, policymakers, economic developers, entrepreneurs, bankers, lawyers and anyone interested in doing business in Indian Country.
Sign up for our free newsletter to track Native business and the tribal economy. Or sign up for a discounted subscription ($99/year — use coupon code "TBN21") to gain full 24/7/365 access to our business news reporting. Megwetch.