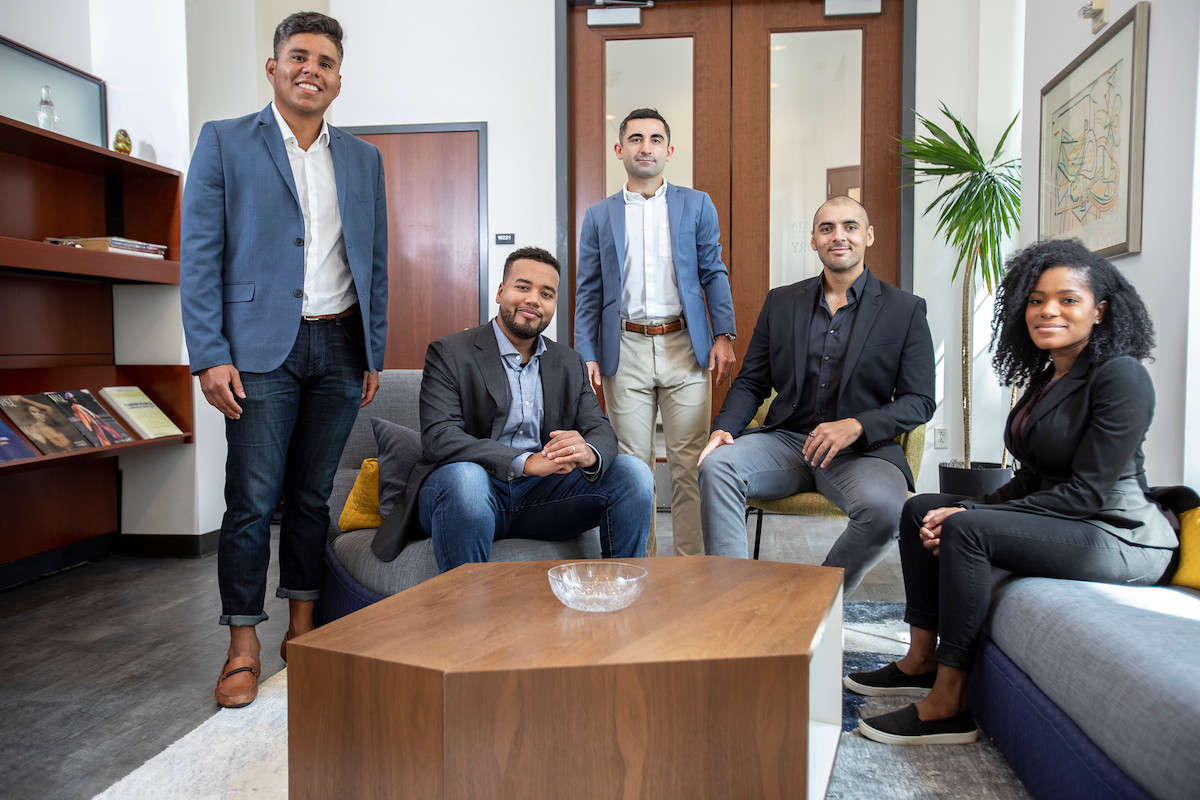 Details

By

Erin Tapahe

Finance
ATLANTA, Ga. — In launching the Peachtree Minority Venture Fund, students at Emory University want to address the wide disparity in the amount of venture capital invested in traditionally underrepresented minority groups.
That includes startups founded by Black, Latinx and Native American entrepreneurs, who receive less than 6 percent of total venture capital funding annually.
The situation is the worst for Native American startups, which receive less than 1 percent of funding, far below their percentage of the population, said Jack Semrau, the managing partner of Peachtree Minority Venture Fund and a student at Emory University, noting that Black and Latinx founders receive between 2 percent and 4 percent of venture capital funding.
"There's a severe funding gap happening and there's so many great creators and founders coming out of those communities that we really should empower," Semrau said.
To start, Peachtree Minority Venture Fund is planning to invest up to $100,000 a year with contributions ranging between $10,000-$50,000 per company. The fund hopes to make additional investments in the future, based on funding resources.
Robert Kazanjian, academic director for the university's Roberto C. Goizueta Center for Entrepreneurship & Innovation, said the idea to create the fund came about after students discovered the wide gulf in funding available for minority-owned startups.
"It's the students that came to us and said we should do this and they convinced us with their research and their energy," Kazanjian said, noting the school tapped into its own funds and plans to seek outside sponsors to help perpetuate the Peachtree Fund.
When the pandemic reduced a nine-week internship to just two weeks, former Emory student Willie Sullivan shifted his extra time to focus on a consulting project to determine how the university's School of Business could best engage Black entrepreneurs.
Sullivan talked with numerous professionals and community members about how to help these up-and-coming startup founders.
"One of the common things heard from all of them was that access to capital was still a large problem for all underrepresented minorities," said Sullivan, who served as a founding partner of Peachtree Minority Venture Fund.
Sullivan and three other students spent approximately a year in the planning process for the fund. That included talking with other student-led venture capital programs and researching venture capital funds and underrepresented minority founders to create a plan, before ultimately partnering with the university's Roberto C. Goizueta Center for Entrepreneurship for Innovation.
Sullivan saw a need to reach underrepresented minority groups and helped start Peachtree Minority Venture Fund as a way to invest in these communities but also educate the public about the issue.
"We are seeing this as an opportunity to not only provide equity investment but also educate more future investors on these issues of inequality for venture capital investing," Sullivan said.
Humza Mirza is a managing partner of the fund who started school during the pandemic and at the height of the social and racial justice movements. Wanting to do more as an ally, he attended the first meeting for the Peachtree Minority Venture Fund and was startled by the bleak investment figures for minority-owned startups. That convinced him to get involved, and he applied to become a managing partner.
"It felt like such an amazing way to put action and real dollars to deploy it in a real way that hasn't been done," Mirza said, nothing he was surprised this fund was the first of its kind. "It makes sense, but it's just never been done before."
Kazanjian said the students wanted to form the fund and begin investing quickly because they wanted to start helping the underrepresented entrepreneurs. Emory pledged some of its endowment funding to the Peachtree Minority Venture Fund, and is looking for corporate sponsorships.
The fund plans to begin investing in 2022.
The Peachtree Minority Venture Fund has five managing partners and a couple of faculty advisers. The fund is building out its team and aims for 25-30 members, including three to five senior associates who will each work with three to four analysts.
"Our hope is to bring students who wouldn't really have an opportunity in venture capital," Mirza said.
Semrau said it's common that "the first dollar comes from friends and family" of the startup founders. However, most people of color do not come from generational wealth and cannot explore these avenues. That's where Peachtree can step in to help these startups succeed. He hopes to build the Peachtree Fund so it can serve as a template for other organizations to implement to help create a movement to better serve minority entrepreneurs.
"There's an injustice being done and certain groups of people don't have access to (venture capital funding)," Semrau said.
With Native Americans making up less than 1 percent of the Emory University student population, Sullivan said the fund managers need to work to create connections and drive awareness.
"We have to find and make relationships with people from Native communities in order to properly go through this," Sullivan said.
One way the fund will do that is to reach out to the Georgia Council on American Indian Concerns, a group created by the state Legislature to address Native American issues in the Peachtree State.
"We are currently in the process of identifying those key stakeholders, reaching out and making connections and relationships so we can understand the needs and make sure we create real value and impact," Mirza said.
Want more news about the $130 billion tribal economy?
Tribal Business News publishes thoroughly reported and well-crafted stories about Native businesses and entrepreneurs, growth and expansion strategies, best practices, economic data, government policy and other relevant business news. Tribal Business News is required reading for tribal council members and leaders of Native businesses, as well as state and federal legislators, policymakers, economic developers, entrepreneurs, bankers, lawyers and anyone interested in doing business in Indian Country.
Sign up for our free newsletter to track Native business and the tribal economy. Or sign up for a premium digital subscription ($99/year or $10/month— cancel anytime) to gain full 24/7/365 access to our business news reporting. Megwetch.