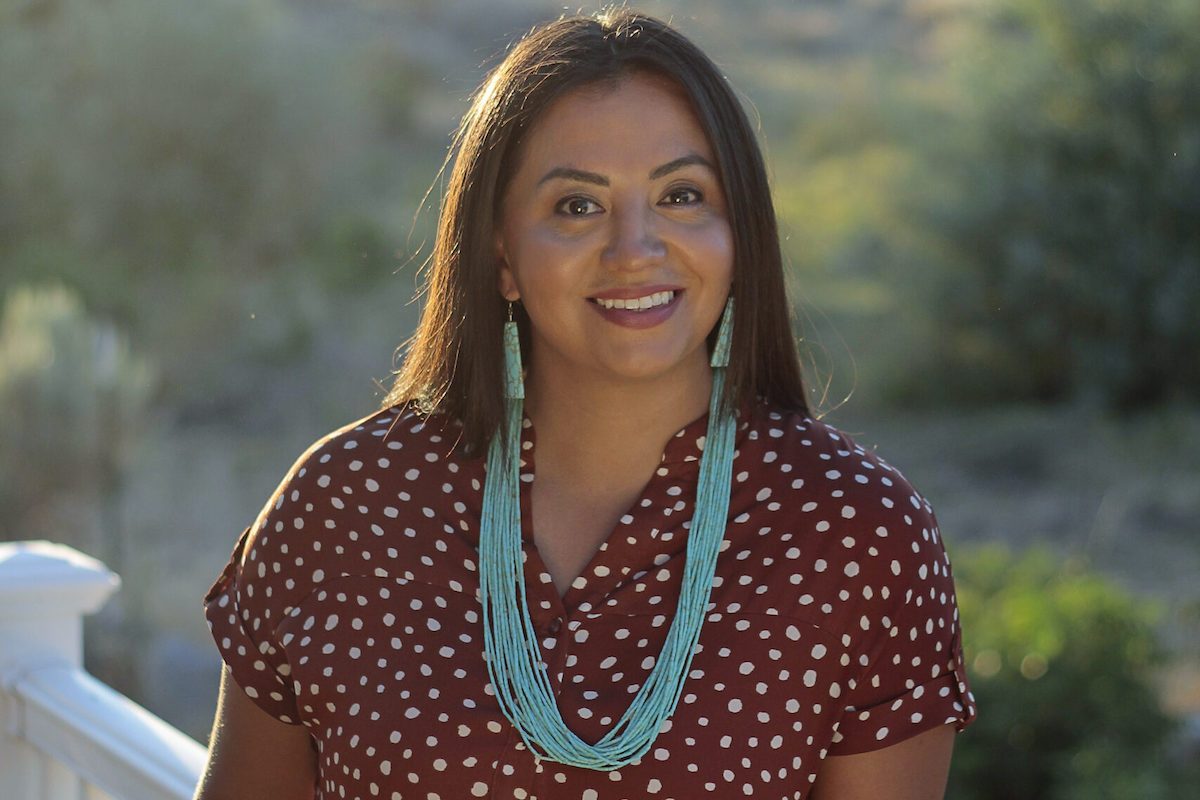 Details

Food | Agriculture
Citing a persistent lack of access to capital for Native farmers and ranchers, the Native American Agriculture Fund is working to create a new, separate organization that will leverage the federal Farm Credit System to increase the availability of loans in Indian Country.
NAAF is contributing $10 million to start the as-yet-unnamed nonprofit financial institution, and added another $1 million for a loan loss reserve. The new institution will have access to more than $380 million in low-interest financing through the Farm Credit System.
To start, the institution will engage in participatory lending next year with four Native community development financial institutions (CDFIs) that serve Native farmers and ranchers, said NAAF CEO Toni Stanger-McLaughlin.
The fund's creation is the culmination of a process kicked off two years ago by former NAAF CEO Janie Hipp, who now serves as general counsel at the U.S. Department of Agriculture.
"We're now at the point where we were able to make the announcement, but we're building this as we speak," Stanger-McLaughlin (Colville) told Tribal Business News.
NAAF is launching this new financial tool at an important time for Native American agricultural producers. Earlier this year, white farmers sued to block a USDA program funded by the American Rescue Plan Act that created a $4 billion pool and would have made direct payments to socially disadvantaged farmers, including Native Americans, to cover up to 120 percent of their debt.
With the program stalled in the courts, some tribal advocates pushed to modify the provisions via new federal infrastructure legislation. Congress included language in the Build Back Better Act, or soft infrastructure bill, to provide loan relief to farmers based on their economic insecurity. However, the bill has met an impasse in the Senate, with Democratic Sen. Joe Manchin of West Virginia signalling on Sunday that he could not support it.
While NAAF is "encouraged" by the steps the Biden administration is taking to right the historical discrimination that Native farmers have faced, "we cannot wait or rely on the federal government," Stanger-McLaughlin said.
NAAF itself was created out of leftover funds from the 2010 Keepseagle class action case that aimed to settle long-standing claims of discrimination against Native farmers and ranchers in the USDA's loan programs.
As a private, draw-down trust, NAAF sees the investment in creating the new financial institution as a way to further its mission to support business assistance, agricultural education, technical support and advocacy services, and take action at a critical time for Native agricultural producers.
In a sign of solidarity, NAAF also is collaborating with the Federation of Southern Cooperatives/Land Assistance Fund, which was created in the wake of the 1999 Pigford case to settle claims of distrimination against African American farmers and is pursuing the creation of its own financial institution under the Farm Credit System. Both groups are working with the same consultant to set up their respective institutions, Stanger-McLaughlin said.
"We're sharing our knowledge and we're working together because everything that we build, we want to invite them to be part of," she said. "They've also shared knowledge with us on work that they already did."
Stanger-McLaughlin spoke with Tribal Business News about what NAAF hopes the new entity will accomplish.
Talk a little bit about the lead up to NAAF taking this action to start this new entity.
The whole Keepseagle class action was certified because of violations to the Equal Credit Opportunity Act. Thus, the case was based on lack of access to credit and credit servicing within the Department of Agriculture, which is only one part of overall agricultural lending in the United States, and so it's one part of the solution.
In order to add other layers and additional opportunities for agricultural lending opportunities for Native American farmers and ranchers, we needed to look outside of the department. We also had a lot of Keepseagle claimants that said, 'I will never ever get a USDA loan again' because of what had happened to them.
If you look at (Zach Ducheneaux) the current administrator of the Farm Service Agency, he is a tribal member who was instrumental in helping get the Keepseagle class settled and servicing his own clients as a member of the Intertribal Agriculture Council. So there has been progress and we welcome that and we're excited about that, and we work with them to make sure that our constituents, Native American farmers and ranchers, are aware of that. But the Farm Credit System is another opportunity.
How does this new "other financial institution" fit within the framework of the Farm Credit System?
An OFI is not necessarily a traditional lending body that exists within the Farm Credit System (because) we are not a cooperative, we're not a brick-and-mortar bank. But being an 'other financial institution' allows you access to the funding and the lower interest rates that Farm Credit System entities have privy to. We can offer that, too.
We're going to start small. We're building this as we speak, and we are going to, as the first part of it, engage in some participatory lending. As this entity is built and it has its own leadership — because it will not be part of NAAF — it will be its own nonprofit and any certification they should seek out beyond that will be up to their new board and their new leadership.
NAAF is assisting in standing it up. It will be incorporated in North Dakota and our board members voted to fully capitalize it, opening up the full breadth of what exists within the Farm Credit System at the time. It's around $380 million.
Does NAAF expect to make additional contributions to this institution over time?
It's a one-time infusion at this point. We were established for 20 years. We have 17 years left, but five years prior to NAAF's end date, an entity that exists as an eligible organization at that time can receive any of those leftover funds at the end of our 20-year life cycle. So this entity could potentially be one of those. It will be up to that final board to make those decisions.
You mentioned the new institution will start by doing participatory loans. Who will you partner with on those loans?
NAAF funds CDFIs. That is one of our four eligible entities. For the past three years, we have had … in the high 99-ish percentage rate success of our CDFIs being able to take our funding and then roll that out into their communities. Some of them are regionally based. Some of them are nationally based, but their funding is going toward agriculture — but agriculture in a broad sense. Some of those entities receive funding from us so that they could research how they could engage agriculture or any eligible entity. When I say agriculture, NAAF funds a broad spectrum of that, including fisheries. Often people don't equate forestry or grasslands as being part of agriculture, but it is.
As we start, we're just getting our feet wet. We're putting our toe in the water and that's through participatory lending because we know that our CDFIs have been successful in doing this already.
In talking to directors of Native CDFIs, their challenge is always that the demand outstrips the availability of capital to lend in Indian Country in general. How does that play out within Native agriculture?
In the first year that (NAAF) launched our applications for our CDFIs, we told them to ask for whatever they wanted. We had roughly $52 million requested. The first year, we had a $2 million pool. We know that the need is out there. When CDFIs come to us, we have a number of them that, the day we make their deposit, within a week, they have spent all that money down. They have given it out to their producers.
How can Native agricultural borrowers use that funding?
Our funding is private: It is not federal funding, it is unrestricted. We have our trust agreement, which is our governing document, and within the trust agreement, it has to go to Native American farmers and ranchers. But our funding being unrestricted allows our CDFIs to be creative in how they can use that with their producers. A lot of their producers are carrying federal loans and they could use our funding to help make payments during hard times to help get them through disasters. They can use it for equipment without the restrictions that they would have within a federal loan package.
The federal regulations for OFIs within the Farm Credit System allow for them to do rural home loans. Is that an eligible lending activity under this new OFI?
I'm initially going to say no. … When the Keepseagle case finally came to fruition, and it was a certified class and they entered into negotiations, no housing loans were included. It was all operating at that point. We — as a cy pres (charitable trust) — have to get as close to the initial harm in solving those issues, making sure that those types of harms don't exist anymore. That's what cy pres provisions in class actions are for. They're not 'you get that funding and can do whatever you want with it.' … For us, we are restricted to that as well.
So I initially say no. But again, this entity will be its own body. It will grow. It will develop over the years. Eventually, maybe they will become a brick and mortar bank. Maybe they will do direct loans.
What are you hearing from Native CDFIs about this new institution?
The CDFIs that we have talked to that are eligible, that have received grant funding from us, they are planning on using this funding to get it right out the door. For instance, we had one CDFI that capped out on (loans at) $100,000. That's what they could afford to provide to their producer. Well, they received other funding recently that will allow them to go to $200,000, but they know that they have operators that have been holding out and they want equipment and that equipment costs $300,000. We know that they're looking at us as able to add to what they can provide and they want to get it out really quickly.
We likely will only start with four CDFIs this first year. But again, it will be up to that new leadership and that new board as they grow in this.
Speaking of the new board and leadership, who are the ideal candidates to be involved with this new institution going forward?
We're going to look at making those announcements this summer. Summer 2022 is when we'll advertise for board members, we'll advertise for the leadership of the entity itself. In the Farm Credit System, a majority of the entities that exist within that system are producer led. Their boards are based on producers themselves, and then a handful of people with financial or investment experience. The institutional knowledge to carry those loans exists within the entity. The president or executive director — whatever they'll be called — and their staff will do the day to day, but that board will be made up largely of producers because they understand what will and will not work. And they understand how pricing works, what they deal with in the field, the impediments that they face in their own communities. That's what I love about the Farm Credit System.
It sounds like there's still a lot more to come on what this looks like in function and form. Will NAAF be hands-off after the new entity gets going?
Yep. That's the goal. The good news is we already have the funding approved to get this started and we already have our application submitted for the nonprofit entity in North Dakota. … As soon as we get that, then we can start working on the advertisements for the positions that will exist to build this. But in the meantime, NAAF will have an agreement to help stand it up and then step away.
--
EDITOR'S NOTE: This story has been updated from its original form.