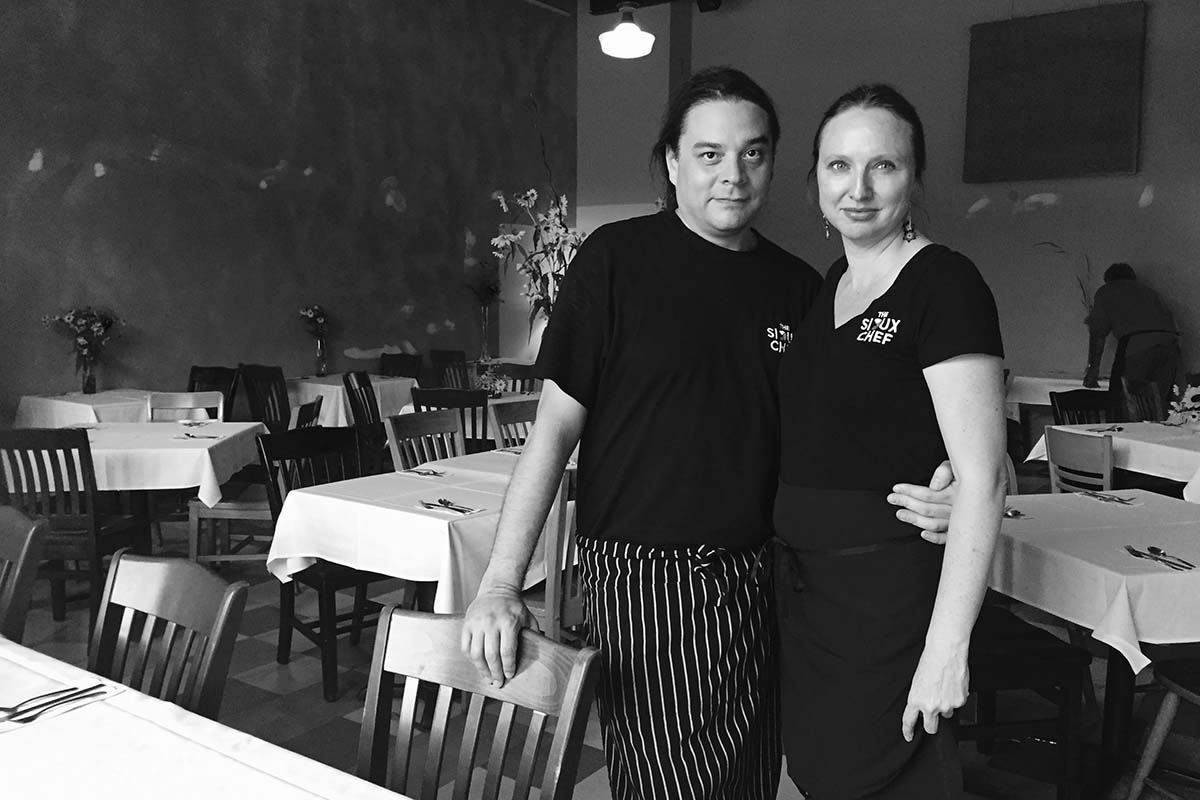 Details

Food | Agriculture
If Sean Sherman needed any more proof of concept for the Owamni restaurant he launched in 2021 with his partner Dana Thompson to celebrate Indigenous foods, he received a loud and clear message last week.
Both Sherman, who is Oglala Lakota and known as The Sioux Chef, and Minneapolis-based Owamni earned semifinalist nods last Thursday in the James Beard Awards, an annual program that acknowledges the culinary contributions of innovative chefs and restaurants across the country.
The wildly popular Owamni features decolonized foods and has sold out every day it's been open since debuting in July 2021, but being named a semifinalist in the Best New Restaurant award "is proof of concept that this works and that we can make it happen," Sherman told Tribal Business News.
"There was a lot of buzz — our social media was blowing up," he said about the James Beard announcement. "It keeps us moving and pushes us to be the role models we want to be."
[UPDATE: Indigenous chefs, restaurant advance to finals in James Beard Awards]
Owamni was among the 30 restaurants nationwide that James Beard Foundation selected as a semifinalist for the Best New Restaurant award. The honor recognizes a restaurant that opened in 2020 or 2021 and "already demonstrates excellence in cuisine and Hospitality" and is poised to have an effect on the culinary industry in the years ahead.
Individually, Sherman also was recognized as one of the 20 regional semifinalists for the Best Chef award in the Midwest region, which includes Iowa, Kansas, Minnesota, Missouri, Nebraska, North Dakota, South Dakota and Wisconsin.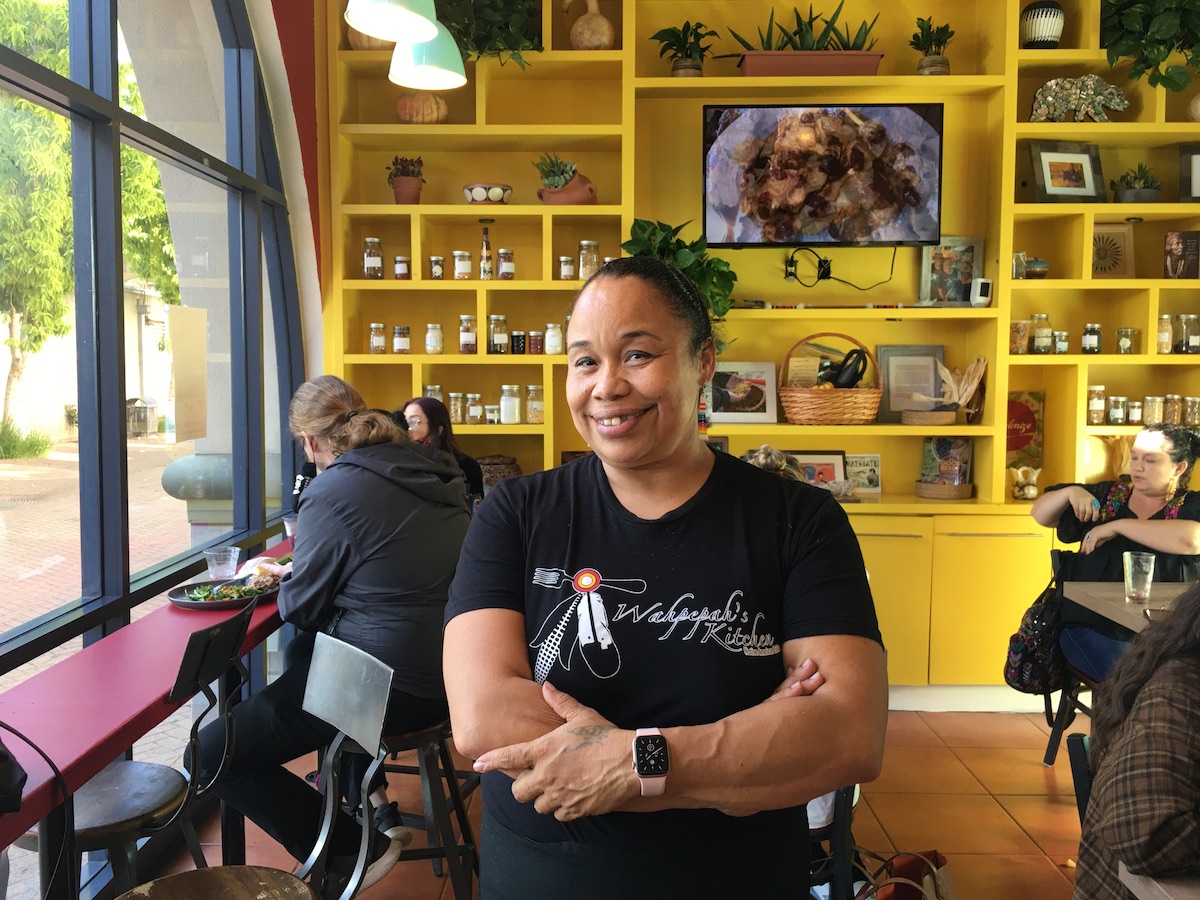 Crystal Wahpepah launched Wahpepah's Kitchen in Oakland, Calif. in late 2021. (Photo/Nanette Deetz via Native News Online)The foundation also selected Crystal Wahpepah, an enrolled citizen of the Kickapoo Nation of Oklahoma and founder of Oakland, Calif.-based Wahpepah's Kitchen, as one of 20 national semifinalists in its Emerging Chef award, which recognizes a chef "who displays exceptional talent, character, and leadership ability, and who is likely to make a significant impact in years to come."
Wahpepah, who had worked as a caterer and gained a following several years ago as the first Native American chef to compete on the TV cooking show "Chopped," opened Wahpepah's Kitchen last November. She said the recognition brought out a series of emotions, and served as validation for the grueling work she and her team have poured into opening the restaurant.
Reached by phone, the affable Wahpepah exuded an infectious joy when asked about the honor.
"We just opened up this restaurant. It's been our little baby that's becoming something," Wahpepah told Tribal Business News. "And it's not about Wahpepah's Kitchen, it's about our community. People need to see restaurants with Native foods. Half our staff is Native. They're proud to serve our food and our people around the community."
Between elation and laughter, Wahpepah said the James Beard recognition for her and Sherman — and the success of their two concepts 2,000 miles apart — shows that the culinary world and the general public are beginning to pay more attention to Indigenous foods.
"I'm happy, I'm excited — this is our time," Wahpepah said, noting that she thought about her grandmother and others who inspired her to explore Indigenous foods. "I meet so many different people from all over the world. People are coming here to look for healing and to have that connection to Native foods. We're in an urban area in Oakland, and we get people who are wanting to eat healthy, people who want to know about Native foods. We have so many different tribes, so we're trying to embrace our beautiful foods and put that on a plate."
For his part, Sherman was pleased to see the James Beard Foundation recognize BIPOC chefs in this year's semifinals announcement. Sherman and Thompson serve on the leadership committee for the Food and Beverage Investment Fund for Black and Indigenous Americans that the James Beard Foundation launched in 2020 and have been active in the organization's inclusion efforts.
"Historically, if you look at a lot of the awards over the last few decades, they primarily went to people who were white European descendants, some of whom have access to more funds to open a restaurant," Sherman said, noting the barriers to entry that many Indigenous chefs face. Many of those barriers stem from the lack of intergenerational wealth compared to their white counterparts because they've had to deal with decades of colonial oppression and have had their culture appropriated.
Never miss the biggest stories and breaking news about the tribal economy. Sign up to get our reporting sent straight to your inbox every Monday morning.
"It's taken centuries for Indigenous people to normalize our own food in our own space," Sherman said. "It's great to see the inclusion of BIPOC people in general to be recognized."
For Owamni, Sherman and Thompson (Mdewakanton Dakota, Wahpeton Sisseton) focused specifically on sourcing foods from Indigenous producers and other BIPOC and local sources, which has allowed the restaurant to avoid many of the supply chain issues that have plagued the rest of the industry over the last couple of years.
"We buy local and build our menus around what's available," said Sherman, who previously was awarded the James Beard Leadership Award in 2019. His "The Sioux Chef's Indigenous Kitchen" also won a James Beard book award in 2018.
As well, the duo operate the Native American Traditional Indigenous Food System (NATIFS) nonprofit in Minneapolis, which includes the Indigenous Food Lab training kitchen that focuses on healthy Indigenous foods. Last winter, the lab began working with tribal communities to supply them thousands of the healthy meals each week.
Now, Sherman and Thompson are eyeing the launch of Indigenous Food Lab extensions in Alaska and South Dakota that would include a similar training kitchen, small market for Indigenous foods and a community classroom to help the locals be "good stewards" of Indigenous knowledge and tradition around foods.
The goal is to work with tribes to help them develop healthy culinary programs for their communities, as well as support Indigenous people who want to get into the food industry, whether by opening restaurants or selling food products.
"We want to create a regional center and point for support," Sherman said.