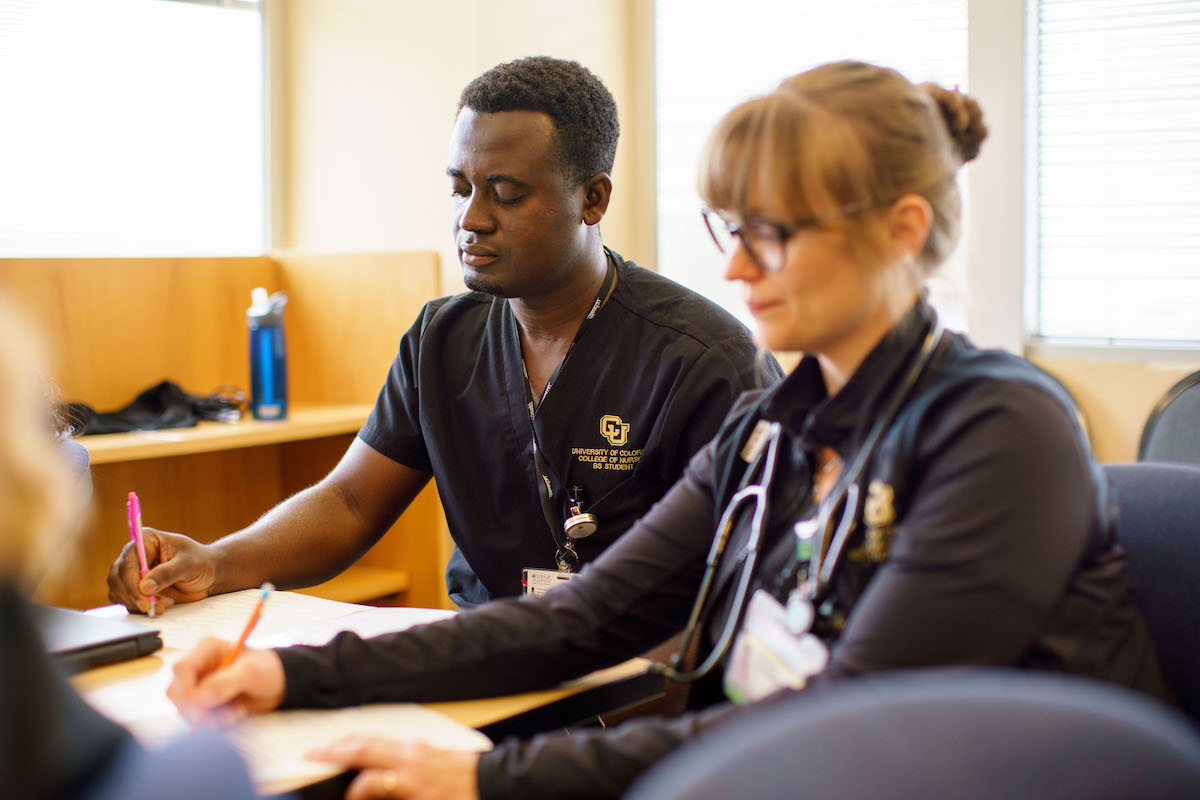 Details

By

Erin Tapahe

Health Care
Two health-focused partnerships in Colorado aim to bolster Native American representation in the nursing profession and give visibility to efforts focused on improving health equity in the state's Native communities.
With First Nations Development Institute, the Longmont-based organization received a two-year $1.5 million grant from the Colorado Health Foundation to create the Native American Fund for Health Equity. Both organizations plan to raise money to match the grant over the next two years, creating a $3 million pooled fund to support tribal nations and Native-led organizations working to improve health equity in the state.
As well, the fund aims to increase the amount of philanthropy flowing into Colorado's Native communities, which currently receive only 0.1 percent of all philanthropic dollars in the state, according to a new report from First Nations.
"Native communities across the state are doing amazing work to promote health equity, including perpetuating Native languages and cultural practices," Raymond Foxworth, vice president of grantmaking, development and communications at First Nations, said in a statement. "Sadly, this work is largely invisible and unsupported by philanthropic organizations in Colorado."
Meanwhile, Durango, Colo.-based Fort Lewis College is working with University of Colorado College of Nursing at Anschutz Medical Campus to offer a four-year culturally sensitive nursing degree program steeped in Indigenous perspectives on health care and healing. While neither of the partners are tribal — to the point of the First Nations research — the collaborative is focused on improving diversity in nursing by delivering the specialized nursing curriculum at Fort Lewis College's Indigenous-serving campus in the southwestern part of the state. The partnership is billed as a new model for the cross-state sharing of educational resources and knowledge.
School officials expect many of the newly trained nurses will remain in the Four Corners area to serve their communities, many of which are in desperate need of additional health care practitioners.
"We feel we've got this amazing student body that is interested in getting trained in health care professions because they want to go back to serve their home communities," said Cheryl Nixon, provost and vice president of academic affairs at Fort Lewis College.
Creating a pipeline
As the two schools continue fundraising for the CU Nursing Fort Lewis College Collaborative, they're aiming for the program to launch in Durango in 2023, with a focus on patient-centered health care that incorporates new trends like telehealth, which has grown exponentially in the months since the onset of the COVID-19 pandemic. The program will build off Fort Lewis College's liberal arts strengths and the University of Colorado's respected research-driven nursing school, which helped launch the nurse practitioner program years ago.
Nixon hopes to include Indigenous perspectives of healing into the nursing program and is exploring ways to integrate Native American elders into the curriculum, which will combine STEM training and nursing courses that align with rural and Indigenous perspectives on health care.
She also aims to find ways to work with students and tribal representatives on topics to help students learn about Indigenous healing practices or Indigenous understanding of health in the community.
"We don't have all the answers upfront but we want to work with different tribes to learn what they need and what they want represented in our program," Nixon told Tribal Business News.
Fort Lewis College is located on the ancestral lands of the Ute, Apache, Pueblos, Hopi and Navajo people. Its proximity to many Native American communities also has attracted many Indigenous students to attend the school. To that end, Native Americans make up 42 percent of the Fort Lewis College student population, which is 57 percent students of color.
In launching the nursing program in southwest Colorado, the schools also aim to increase diversity in the field and help to alleviate the nationwide nursing shortage that is perhaps most acutely felt in Native American communities, many of which are located in very remote and rural areas.
For example, just 13,000 American Indian and Alaska Native nurses work in the field, according to the National Sample Survey of Registered Nurses.
Nixon feels Fort Lewis College — which claims the highest Native population of any non-tribal four-year, baccalaureate-granting institution — is better equipped to help Native American students become nurses because of those close connections.
"We're really proud that we get more Native American students' degrees than any other school," she said. "As we add nursing, we will be able to produce more Native American nurses."
'Change the landscape'
Both the University of Colorado and Fort Lewis College are reaching out to private donors, individuals and foundations to support the collaborative program ahead of its launch. Among the contributors the partners have reached so far, the Karen Zink Family Fund for Nursing Education Leadership has issued a $1 million challenge grant to hire the first leader of the CU Nursing Fort Lewis College Collaborative and support students with scholarships, mentorships and peer-to-peer programs.
A successful nurse who founded Southwest Women's Health Associates in Durango, Zink cited the need to increase diversity in nursing and to have more "culturally relevant caregivers" serving Indigenous populations.
"This partnership between FLC and CU has the creative potential to change the landscape and show how healthcare can and should look. This program will help prepare the nurses of the future," Zink said in a statement from Fort Lewis College.
Additionally, Zink's brother, Steve Short, the retired chairman and CEO of First National Bank in Durango, established a $30,000 nursing scholarship fund to help the collaborative.
'Landmark investment'
With its investment in launching the new Native American Fund for Health Equity, Colorado Health Foundation hopes to improve the overall health and well-being for the state's Native communities, as well as serve as a catalyst for other philanthropic organizations to directly fund tribal and Native-led groups.
The foundation focuses the bulk of its work on addressing health equity for people affected by unfair and systematic racism.
"This landmark investment partnership with First Nations Development Institute represents a compelling pathway to focus the voice, power, and agency of Native leaders to act upon resonant self-determination — a pathway of healing, community-driven outcomes, and racial justice," Sean Dollard, program officer at Colorado Health Foundation, said in a statement.
The Native American Fund for Health Equity will include a Native American advisory committee that includes the Southern Ute and Mountain Ute tribes and Native nonprofits, all of whom will work to establish guidelines for the fund.
"We commend the Colorado Health Foundation for not only recognizing this inequity in investment, but also leading the philanthropy community in addressing the inequity in funding," Foxworth said in a statement.
Want more news about the $130 billion tribal economy?
Tribal Business News publishes thoroughly reported and well-crafted stories about Native businesses and entrepreneurs, growth and expansion strategies, best practices, economic data, government policy and other relevant business news. Tribal Business News is required reading for tribal council members and leaders of Native businesses, as well as state and federal legislators, policymakers, economic developers, entrepreneurs, bankers, lawyers and anyone interested in doing business in Indian Country.
Sign up for our free newsletter to track Native business and the tribal economy. Or sign up for a premium digital subscription ($99/year or $10/month— cancel anytime) to gain full 24/7/365 access to our business news reporting. Megwetch.