The National Science Foundation has awarded a $10 million grant to a higher education program aimed at broadening Indigenous career pathways in food, energy and water systems.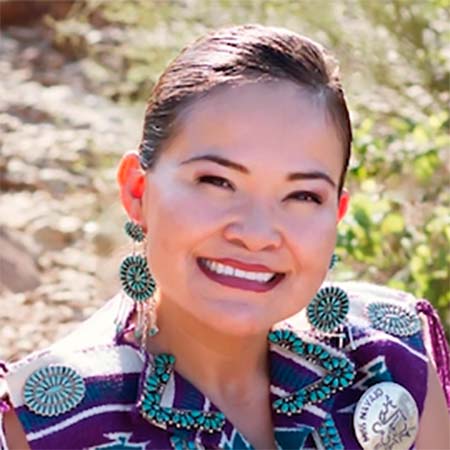 The awardee, called the Native FEWS Alliance, focuses on expanding the career field in food, energy and water systems (FEWS) within Native American communities. It also provides educational resources for Indigenous students to build these systems within their own communities.
The alliance includes the University of California at Berkeley and the University of Arizona in collaboration with the American Indian Higher Education Consortium's network of tribal colleges and more than twenty other partners.
Both the University of California at Berkeley and the University of Arizona had previously offered training programs that provided educational resources for the Native FEWS Alliance.
Karletta Chief, an associate professor of environmental science at the University of Arizona and a leader with the alliance, says she wants to bring communities together and build a network to help Native American students excel in careers of food, energy and water systems.
"We came together because we had a lot of synergy between our training programs, and we were thinking about how we can take this to the next level and really increase the reach more times than our existing programs," Chief said about the alliance.
The next step was creating workshops on food, energy and water systems, which partners expected to happen in June 2020, but these plans were altered because of the COVID-19 pandemic.
"We convened three workshops on the subject, and it was supposed to be in person at Diné College in Arizona and then COVID struck," said Alice Agonino, Blum Center education director and professor of mechanical engineering at the University of California at Berkeley.
Eighty people were expected to attend the in-person workshop, but the COVID-19 pandemic changed those plans, transitioning it into a virtual experience.
"We converted to an online format, and we were worried, but it was actually good for us because we had over four hundred people registered for the event," said Agogino.
According to Agogino, the workshop consisted of conversations with representatives from governmental agencies, students from tribal colleges, and the general public about challenges American Indian people face in these topics.
They asked the students, "What are your biggest challenges?" said Chief. "How can we better support you?"
"We learned from these workshops that there is a crisis in access to food, energy and water systems in Indigenous communities, and they're limited in educational and career pathways available to Indigenous populations to address these needs," Agogino said.
Chief said these challenges in Indian Country should be addressed and solved by Native American people.
"We used our knowledge and understanding that came out of all these discussions to write this NSF INCLUDES proposal," Agogino said.
The partners incorporated their findings from the workshops into their proposal, which was submitted to the NSF in January 2021, and the project officially started this month.
"We actually made it happen relatively fast," Chief said. "It was even more at the forefront of our minds because of the pandemic."
Chief said that the first year of the project will consist of developing the curriculum. The second through fourth years will be a refining process, including workshops and trainings, collecting feedback from the communities and making alterations to the curriculum. The group will publish its curriculum in the final year.
"It's a five-year program, and we are using an Indigenous framework, which will be really interesting," said Kathy Isaacson, a leader with the American Indian Higher Education Consortium, an organization described as the backbone for the alliance. "We're planning the evaluation will be ongoing, so the project will adjust based on evaluation activities."
Isaacson explains her hopes for the Native FEWS Alliance in four steps: "First, doing the actual work; second, we want to develop an appropriate curriculum; third, we want to transform the STEM field to be more relevant and accessible to Indigenous communities; fourth, increase the Indigenous students studying FEWS so they can bring back the knowledge to their communities," she said.
"We hope to produce Indigenous FEWS experts who are educated within their higher education settings so they can bring that knowledge back to their communities and address those urgent challenges," Isaacson added.
Chief wants to create a network for Native American students to have better connections and resources to help them in their educational and careers in food, energy and water systems.
"I wanted to work with my own community, but that wasn't supported in my field, and I never was able to do that until I got my Ph.D.," said Chief, a citizen of the Navajo Nation. "I hope this network will be that type of support for students to more easily find those opportunities to go back and work with their communities."
"Our ultimate goal is to recruit, retain, and graduate Indigenous students in education, particularly with food, energy and water systems," added Agogino. "​​I think the youth are particularly important because they are the future."
Diana Dalbotten, director of diversity and broader impacts program at the St. Anthony Falls Laboratory at University of Minnesota, said that when Native students broaden their networks and meet Native scholars in their academic fields, they tend to be more successful.
According to Dalbotten, the decisions concerning food, energy and water systems are largely being made by non-Indian politicians, scholars and scientists. And she believes that these decisions should include Native voices.
"Diversity in sciences is more than just an issue of fairness about who gets to be a scientist or who gets to participate in science, but it's about who gets to participate in all of the big decisions in making what happens in our country," Dalbotten said.