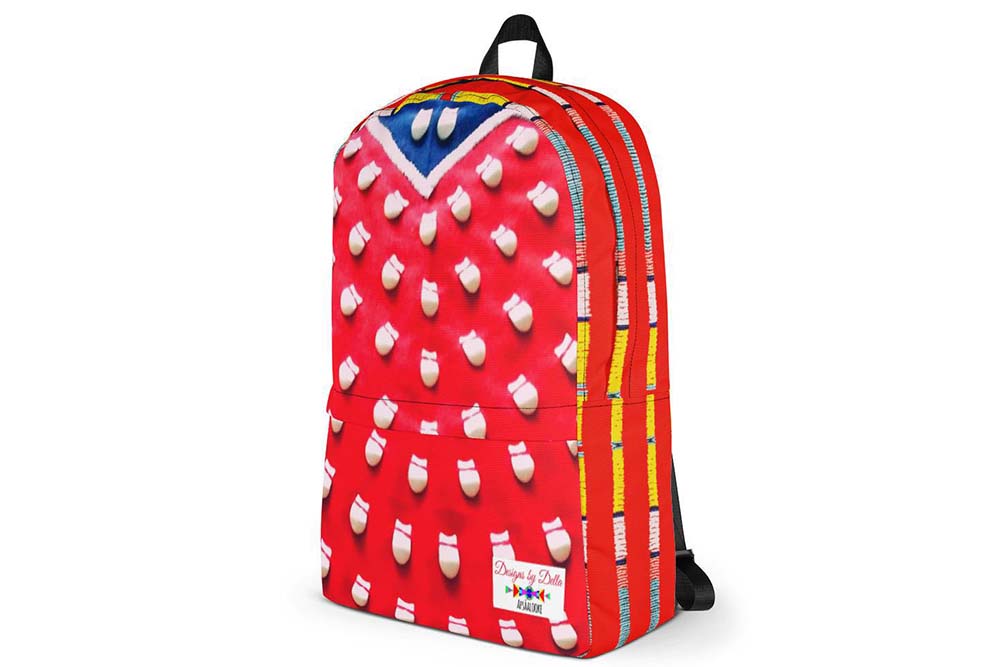 Details

Arts and Culture
Welcome to the final day of Tribal Business News' 12 days of Indigenous holiday gifts guide. In the spirit of supporting Indigenous artists and entrepreneurs and drawing attention to some truly gorgeous and inspired items, we are presenting 12 consecutive days of Native-made products perfect for holiday gift-giving, including giving to yourself.
Day 12:
Elktooth Style Backpack, $55, Apsaalooke Designs by Della
At first glance, this stand-out backpack appears to be brimming with real elk teeth and beads. But it's just an awesome optical illusion.
"No elk teeth are actually on the backpack. It's a printed image from an elk tooth dress I made." said Apsaalooke Crow designer Della Bighair-Stump. "I'm incorporating my work into modern apparel and accessories. I contemporize it. My slogan is: 'When culture meets fashion."
No actual beads are on it either. The bead print on the sides is also an image from one of Bighair-Stump's dresses.
The affordable medium-size water-resistant backpack with a laptop pocket big enough for a 15-inch computer is perfect for sports and everyday use, Bighair-Stump said.
With her Designs By Della brand, which has been featured in Teen Vogue, Bighair-Stump creates couture, accessories and more, mingling traditional materials and methods with contemporary style.
Elk teeth are an essential element of Crow style and culture, and Bighair-Stump discussed their significance in a September Native News Online report.
"Elk teeth are popular with the Plains Indians of the north. I was given the right and teachings to make our elk tooth dresses. They're our traditional dress as Crow women. You lay each row of teeth one by one and make your way down after each row is attached," she said. "Elk only have two ivory teeth and nowadays we use imitation elk teeth. Back then, only real elk ivories were used. If you had a full dress of elk teeth, you were considered wealthy because your husband was a good hunter."
Keep that history and pride in mind when you strap on the elk tooth style backpack for school, work, sports practice, or simply going to a cafe. The bold and authentic accessory is bound to invite plenty of compliments and curiosity.
"Each Indigenous artist has their own unique style. You can't find these designs at Walmart or Macy's," Bighair-Stump said. "For me, my designs and art are teachings from my grandparents, passed down from generation to generation. A lot of Indigenous artists are the same way. Buying Indigenous helps not only the artist, but you're buying a piece that you can't find anywhere else."


Previous gift ideas
Day 1: Quirky, comical calendar by Ricardo Caté
Day 2: Stationery and scarf set by B. Yellowtail and Debbie Desjarlais Design
Day 3: Baby Yoda power by M Reed Designs Boutique
Day 4: Alaska Native ornaments by Trickster Company
Day 5: Sleek Salish jacket by Ay Lelum
Day 6: Far-out wall art by Johnnie Diacon Art
Day 7: Striking T-shirt by Kevin Coochwytewa
Day 8: Ermine earrings by Wawezhi Designs
Day 9: Legendary art by Karen Clarkson
Day 10: Beaded eagle feathers by Amy Wilson
Day 11: Maskup mug by NSRGNTS
Want more news about the $130 billion tribal economy?
Tribal Business News publishes thoroughly reported and well-crafted stories about Native businesses and entrepreneurs, growth and expansion strategies, best practices, economic data, government policy and other relevant business news. Tribal Business News is required reading for tribal council members and leaders of Native businesses, as well as state and federal legislators, policymakers, economic developers, entrepreneurs, bankers, lawyers and anyone interested in doing business in Indian Country.
Sign up for our free newsletter to track Native business and the tribal economy. Or sign up for a premium digital subscription ($99/year or $10/month— cancel anytime) to gain full 24/7/365 access to our business news reporting. Megwetch.