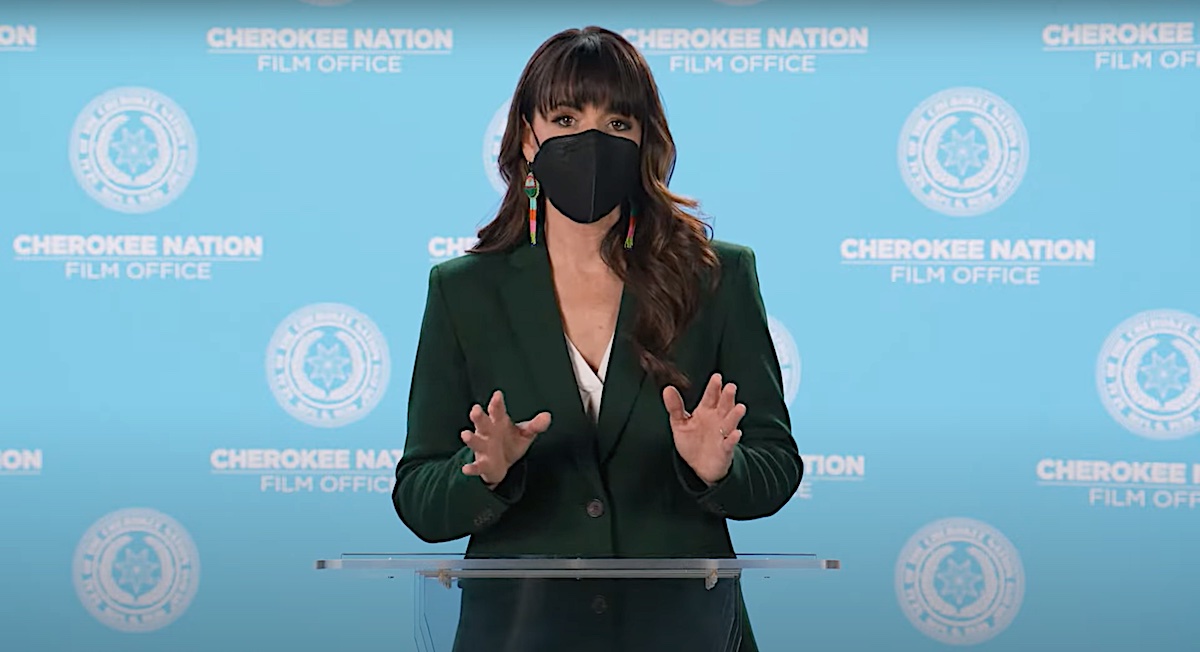 Details

By

Erin Tapahe

Arts and Culture
TULSA, Okla. — With the launch of a new $1 million annual incentive program, Cherokee Nation is hanging out the welcome sign for the film industry to come to its 14-county jurisdiction in northeast Oklahoma.
Cherokee Nation Film Office executives hope the new incentive — the first of its kind in Indian Country — lures in productions to increase the tribe's economic development and diversification, support Native American filmmakers and provide job opportunities for tribal members.
"We created the Cherokee Nation Film Office because we saw a need for supporting both our local filmmakers and Indigenous filmmakers," said Jennifer Loren, director of the Cherokee Nation Film Office and Original Content. "We really wanted to help correct the issues with Native representation."
The application for the incentive program launches March 1. Applicants will be graded by the Cherokee Nation Film Office committee and the number of awards will change year-to-year based on the applicants' economic impact to the Cherokee Nation and Native representation. For example, productions including Native Americans or using Native-owned companies will be able to receive more funding via the incentive.
Loren describes the film incentive as a way to attract the film and television industry and help the Cherokee Nation to be economically competitive when it comes to filming locations. As well, the Nation's jurisdiction spans 7,000 square miles and offers a variety of different landscapes, including tall grass prairies, rolling hills, a bison ranch, pine tree forests, rivers, mountains, small towns and a city setting.
"We hope that it will help the Cherokee Nation become a hub for Indigenous filmmaking," Loren said. "We know that is going to help diversify the Oklahoma economy and Cherokee Nation."
Many people from various career backgrounds are needed to create a movie or television series. The Cherokee Nation Film Office also is interested in providing the surrounding communities with job opportunities, all while helping to increase Native American representation.
"(The film industry) is growing and provides high-paying jobs and can create jobs for anybody in almost any field of work," Loren said. "Not only are we interested in bringing those movies here for economic reasons, but we're incentivizing hiring Native Americans to increase representation in the industry."
Creating opportunities
The tribe is launching the incentive as the state of Oklahoma also ramps up its bid to lure in additional film and television productions. In August, Gov. Kevin Stitt signed into law the Filmed in Oklahoma Act, which enables the state's Department of Commerce to offer a rebate of up to 20 percent to qualified productions, as well as other additional benefits. The new law lifted the cap on the state incentive from $8 million to $30 million annually.
Cherokee Nation Principal Chief Chuck Hoskin Jr. previously told Tribal Business News that the tribe's film office worked with lawmakers to pass the state incentive, noting that it would also help the tribe develop the industry across its reservation.
"This effort, led by the Cherokee Nation Film Office, helps create opportunities for Native films, more Native actors and actresses on screen and shooting on location throughout the Cherokee Nation Reservation," he said at the time, noting the office maintains a database of Native American talent "which has been used to cast Natives in major motion pictures and television series as well as commercials and PSAs."
Oklahoma appears to want to continue cashing in on the state's recent film successes, including projects created by and including Native Americans such as Reservation Dogs, Killers of the Flower Moon and Wild Indian, all of which were filmed in the state.
As Tribal Business News reported in September, tribes and Native producers have called out Stitt's hypocrisy of celebrating the state's successful Native American productions like Reservation Dogs while simultaneously suing to limit tribal sovereignty in the wake of the Supreme Court's McGirt decision in 2020.
In the report, Hoskin described Stitt, who is also a citizen of the Cherokee Nation, as "the most anti-Indian and anti-tribal sovereignty governor in generations."
A seat at the table
By offering the incentive, Loren hopes the tribe is able to seize a bigger piece of the projected $18.2 billion film and video industry, which is still clawing its way back to normal from the steep fall-off caused by the pandemic, according to estimates from Ibis World. As well, she wants to help Cherokee youth understand that the industry is more attainable than they might initially think.
She encourages Native youth to seek out opportunities that the Cherokee Film Office has to offer.
"Our biggest challenge is helping Native youth to understand there is a seat for them at the table and it is not a far-off Hollywood dream," Loren said.
A multiple Emmy-award winning filmmaker, Loren has extensive experience in the industry, and serves as the executive producer for television series, Osiyo, Voices of the Cherokee People. Over the last decade, Loren has observed a shift in the film industry, with better Native representation and an increase in Native people involved throughout the spectrum of productions.
"When you are surrounded by people who understand Indigenous issues and representations, then you're going to end up with a better Native project and that's what we're seeing today," Loren said.
Even so, the industry still has plenty of room for improvement, Loren said, explaining that part of her role is to help change the stereotypical image of Native Americans. Diversifying the stereotypical Native American story also serves as a driver behind Cherokee Nation's film incentive program, she said.
"In three to five years, we would love to see more Native television series and several Native films, both historical films that are correcting false histories that have been put out there in the past and also films and series that are telling stories that involve modern natives," Loren said.
In a statement announcing the tribe's new film incentive, Hoskin reiterated Cherokee Nation's collaboration with state and local partners to grow opportunities for Oklahoma.
"There are substantial benefits in launching this powerful economic tool within the Cherokee Nation Reservation," Hoskin stated. "In addition to expanding career opportunities for Indigenous filmmakers, producers, directors, actors and behind-the-scenes crew members, this new incentive program reinforces Cherokee Nation's commitment to creating quality jobs and supporting small, family-owned businesses within our tribal communities."