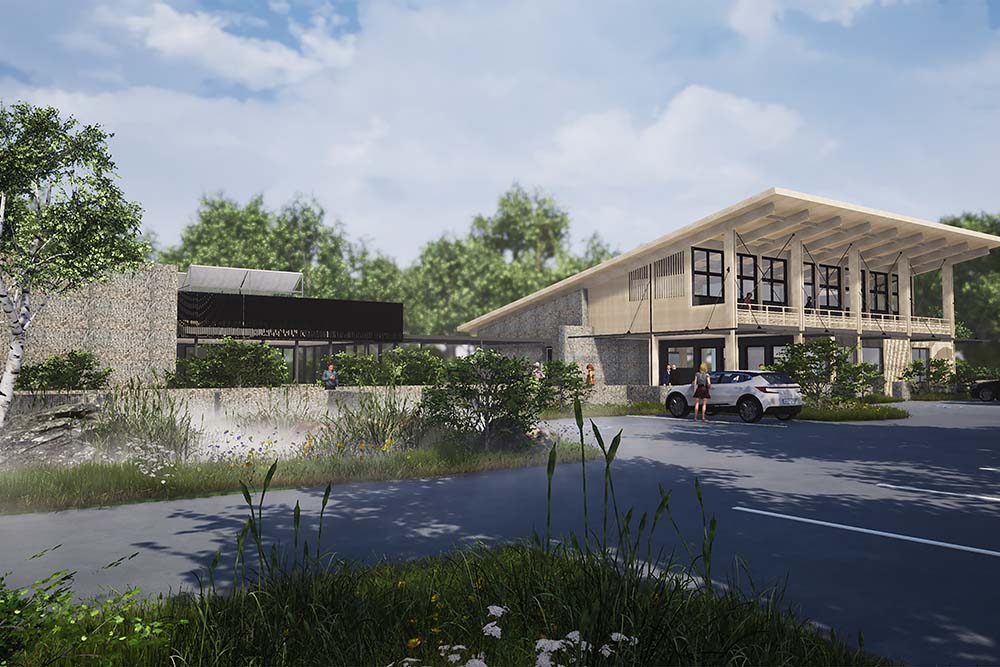 Details

By

Jenna Kunze

Economic Development
SOUTHAMPTON, N.Y. — The Shinnecock Nation plans to reclaim some tribe's traditional use of cannabis while simultaneously generating millions in much-needed annual revenue for the tribe, which currently lacks an economic enterprise despite neighboring some of New York's wealthiest residents in the Hamptons.
The tribe originally planned to open a dispensary, wellness center and indoor cultivation facility for medical-use cannabis in response to New York state legislation in 2014 that legalized medical marijuana. Under the Little Beach Harvest LLC entity, the Nation joined forces to start the operation with Conor Green Consulting LLC, a Chicago-based firm specializing in economic development through cannabis in partnership with tribes.
But before the partners were able to break ground on the project, COVID-19 hit and shut down construction, stopping the Nation in its tracks.
Chenae Bullock, managing director of Little Beach Harvest and a member of Shinnecock Nation"And now, just ironically, when cannabis is now legal in the state of New York, we're actually ready to push the full go button," said Chenae Bullock, managing director of Little Beach Harvest and a member of Shinnecock Nation.
The tribe is positioning the facility to be one of the first recreational cannabis retailers in the state after New York Gov. Andrew Cuomo signed legislation last month legalizing adult-use marijuana. While there are 10 other existing licensed medical marijuana operators across the state, the tribe is expected to launch the first cultivation facility on Long Island.
Although the state government expects to take 18 months to define its regulations, the Shinnecock Nation, as a sovereign government, is not beholden to them, giving the tribe the potential to be the first operator to market.
"The tribe does sit with a bit of a unique advantage from a time perspective to maybe be able to enact their rules, regulations, and launch their business sooner than what New York State is going to be able to do," said Todd Bergeron, managing partner at Conor Green who has worked with the tribe for six years. "Just as the state of New York has created its own rules and regulations — even though it's still federally illegal — tribes have that same capability."
Bergeron worked as an angel investor in the cannabis industry for nearly a decade before joining Conor Green.
Even though Shinnecock Nation is not bound by New York regulations, it has set up its cannabis program to mirror the state's, Bergeron said. The tribal government and its cannabis regulatory group will likely enact regulations for production and safe adult use of cannabis sometime in the coming months. Bergeron expects the retail operation to be open to the public by year's end.
The tribe expects the new enterprise to create more than 100 jobs in addition to generating $20 million a year in revenue, with the possibility of financial growth in orders of magnitude as the Nation looks to take advantage of selling on the wholesale market in the future, Bergeron said. He added that business opportunities will likely grow and piggyback off Little Beach Harvest, such as in landscaping, cleaning services and more.
When it opens, the Shinnecock Nation's cannabis operations will join numerous tribal ventures in Oregon, Washington, California, Nevada, Michigan and elsewhere across the country that have made an entrance into the burgeoning cannabis industry.
Beyond generating revenue, the holistic approach of the business will help the tribe move toward healing by sharing knowledge about hemp and cannabis, which have been used medicinally for thousands of years, Bullock said.
To that end, the concept behind Little Beach Harvests' Wellness Center focuses on educating visitors about plant medicine and traditional uses.
"We have always used fibrous plants," said Bullock, who has authored a book on Indigeous plant use. "It's important that we teach our kids about these types of uses of the plant, because as they get older, they won't abuse it. Our children don't abuse sage, they don't abuse sweet grass. If we start teaching them about our sacred plants, such as cannabis and hemp, when they get older, they'll be able to protect it."
--
EDITOR'S NOTE: This story has been updated from its original form.
Want more news about the $130 billion tribal economy?
Tribal Business News publishes thoroughly reported and well-crafted stories about Native businesses and entrepreneurs, growth and expansion strategies, best practices, economic data, government policy and other relevant business news. Tribal Business News is required reading for tribal council members and leaders of Native businesses, as well as state and federal legislators, policymakers, economic developers, entrepreneurs, bankers, lawyers and anyone interested in doing business in Indian Country.
Sign up for our free newsletter to track Native business and the tribal economy. Or sign up for a premium digital subscription ($99/year or $10/month— cancel anytime) to gain full 24/7/365 access to our business news reporting. Megwetch.